ASUS E2KM1I-Deluxe, ARES II Graphics Card, & RAIDR Express PCIe SSD
Mon, Jan 07, 2013 - 2:30 PM
ASUS E2KM1I-Deluxe mITX AMD APU Motherboard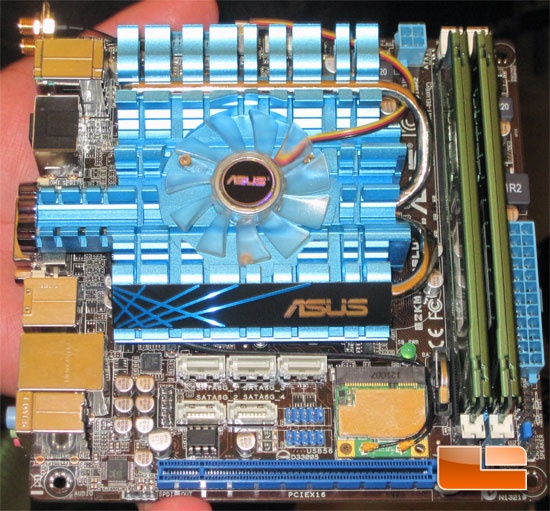 Here in Las Vegas at CES 2013 we were able to spend some quality time with our friends over at ASUS. While there they just happened to be showing off several new products. Among them is the mITX motherboard that we can see above. This is the ASUS E2KM1I-Deluxe. The ASUS E2KM1I-Deluxe is powered by a AMD Dual-Core E2-2000 APU. Inside the E2-2000 APU we can find discrete level graphics in the form of a AMD Radeon HD 7340 GPU. The chipset on the E2KM1I-Deluxe mITX motherboard is the AMD FCH A50M. In addition to the APU and chipset, the E2KM1I-Deluxe features several of ASUS's own technologies, including Wi-Fi GO!, USB 3.0 Boost, and Network iControl.

The I/O panel of the ASUS E2KM1I-Deluxe has everything we have come to expect in todays motherboards. There is a total of six USB ports, four that are USB 2.0, and two that are SuperSpeed USB 3.0. In order to connect to our display we have the option of using either DVI, or HDMI. Along the left side, we can find the antenna ports for the Wi-Fi GO! with a single PS/2 port that can be used for either a keyboard or a mouse.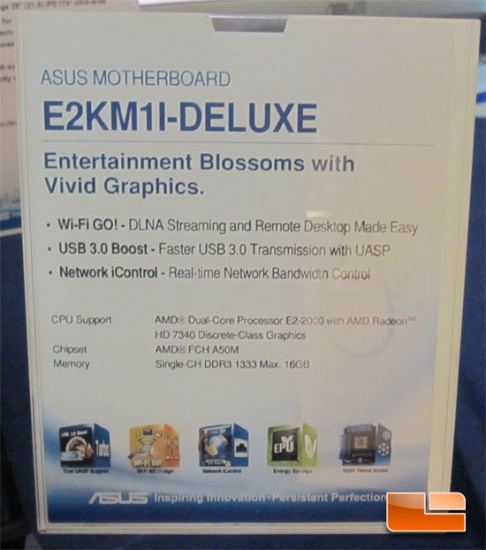 Next to the ASUS E2KM1I-Deluxe ASUS was kind enough to supply a placard with some of the specs on it.
AMD dual-core E2-2000 CPU
AMD FCH A50M chipset
Single-channel DDR3 RAM (16GB max)
5x SATA 6Gbit/s
1x eSATA
4x USB 3.0, 8x USB 2.0
HDMI/DVI-I port
The ASUS E2KM1I-Deluxe is aimed at those looking for solid performance at a low energy cost, this would ideal for something along the lines of an HTPC.