Asetek Releases 4th Generation of All-In-One Liquid Coolers
Tue, Oct 30, 2012 - 10:06 AM
Asetek started off the week by announcing its fourth generation of All-In-One liquid CPU coolers! Asetek is simultaneously releasing the next generation of their flagship ChillControl software, giving computer enthusiasts greater control over acoustics tuning, temperature monitoring and cooling performance.
The new Gen4 cold plate is paired with a completely redesigned pump that provides better coldplate efficiency. Asetek's new pump produces higher pressure and distributes coolant more optimally. Gen4 products provide 20% less thermal resistance than the previous generation, resulting in lower CPU core temperatures. This provides computer enthusiasts the highest thermal headroom for overclocking at the lowest noise possible.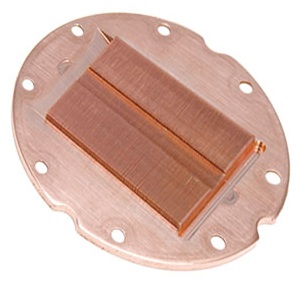 The Asetek Gen4 micro-channel cold plate shown above incorporates a center inlet, with dual outlet flows. Do-it-yourself enthusiasts can expect Asetek's Gen4 based products to be out by the end of the year.
"Asetek Gen4 products combine the micro-channel cold plate technology from our Gen3 products with the center inlet, split-flow design of Asetek's WaterChill Antarctica architecture cold plates," said André Sloth Eriksen, Founder and CEO of Asetek. "The split-flow Antarctica architecture was state-of-the art when we introduced it back in 2004 and by combining it with newer micro-channel technology, we are pushing the theoretical performance limits of copper cold plate design."