AMD Radeon HD 7990 6GB Malta Video Card Review
Tue, Apr 23, 2013 - 11:00 PM
The AMD Radeon HD 7990 6GB Arrives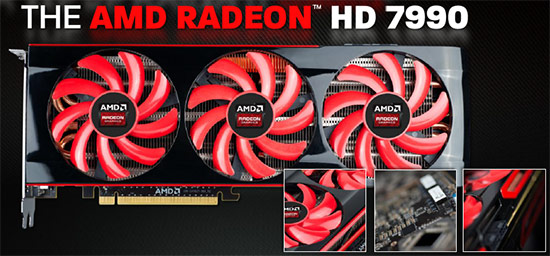 The AMD Radeon HD 7990 6GB dual-GPU behemoth is finally here. We've been talking about the AMD Radeon HD 7990 for years, so to finally see AMD release a card is exhilarating and saddening at the same time. This card is the culmination of years of work and likely marks the pinnacle of the AMD Radeon HD 7000 series of GPUs. Then again it's also likely the fastest AMD Radeon HD 7000 series card to ever be released by AMD. The AMD Radeon HD 7990 was designed from inception to be a juggernaut and to challenge any and all discrete graphics cards on the market. This video card has 4096 stream processors, 6GB of GDDR5 memory, 8.6 billion transistors, 576.0GB/s of memory bandwidth and 8.2 TFLOPS of compute power. This card doesn't command respect, it earns it! AMD also says that it is the world's fastest graphics card, so you shouldn't be shocked to learn that it features a nail-biting, second mortgage inducing price tag of $999.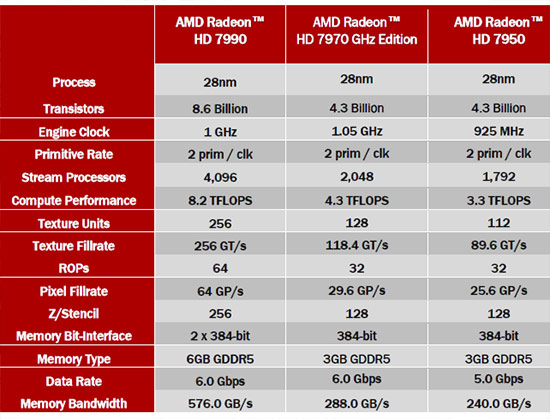 The AMD Radeon HD 7990 goes by the codename Malta and features a pair of Tahiti XT2 GPU cores that operate at 1000MHz and 6GB of GDDR5 memory running at 6000MHz. These cores are not brand new, but they are the best GPU AMD has to offer and you are getting two of them on one board. This GPU is used on the AMD Radeon HD 7970 GHz Edition card, so you get AMD's 28nm Graphics Core Next (GCN) architecture with all the bells and whistles. AMD had to reduce the core clock by 50MHz versus the single GPU card to keep the power draw and temperatures down, but this is just a minor drop. AMD was able to leave the memory at 6000MHz (effective) though and is why the card has an insane 576GB/s of memory bandwidth.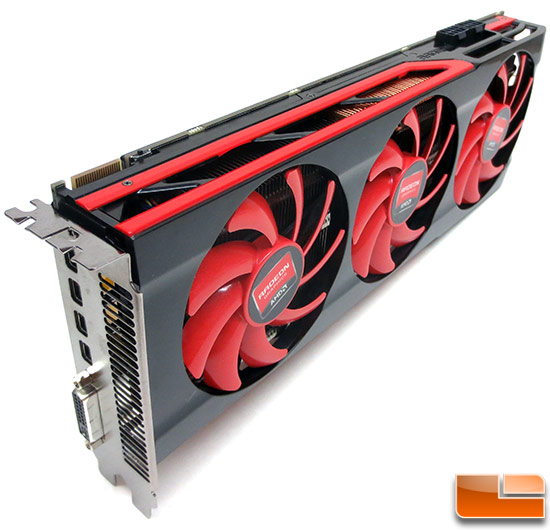 In order to keep the temperature and noise at bay, AMD developed a radical GPU cooler that features three cooling fans and a each GPU gets a massive heatsink that each has four U-shaped copper heatpipes! The AMD Radeon HD 7990 video cards are part of the Never Settle Reloaded game bundle promotion, so you get a ton of games with this card. The exact number is eight: BioShock Infinite, Tomb Raider, Crysis 3, Far Cry 3, Far Cry 3 Blood Dragon, Hitman Absolution, Sleeping Dogs and Deus Ex Human Revolution. These games will be included directly in the HD 7990 product box in any region this bundle is available. AMD informed us that the full retail price (not including sales) on these game titles would equate to $334.94! Having eight good game titles coming with the card certainly helps take the bite out of the $999 video card.

The Radeon HD 7790 video card is 12-inches in length and is fairly hefty at 2 pounds and 11 ounces in weight. It looks pretty tough with the three cooling fans and glossy black fan shroud with red accents.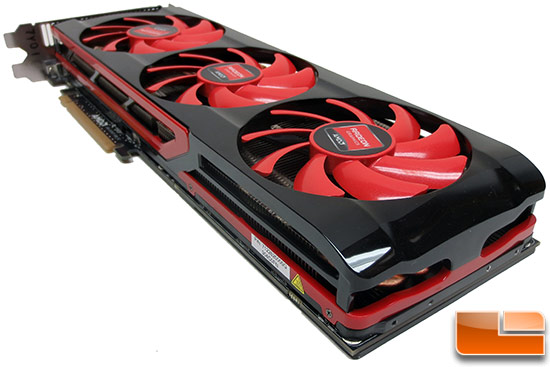 The fan shroud on the AMD Radeon HD 7990 6GB video card is open all the way around, so the hot air is spread out in pretty much all directions. With three fans, this is the only real way to do it due to airflow restrictions and trying to keep the noise levels down.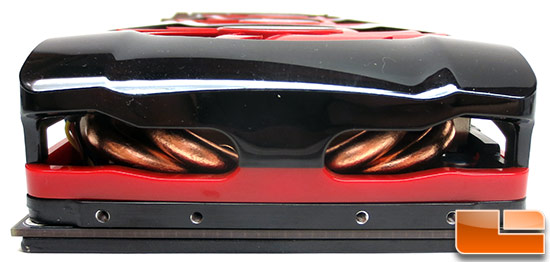 At each end of the card you can make out the four u-shaped copper heatpipes that help keep the Tahiti XT2 cores that run at 1GHz nice and cool.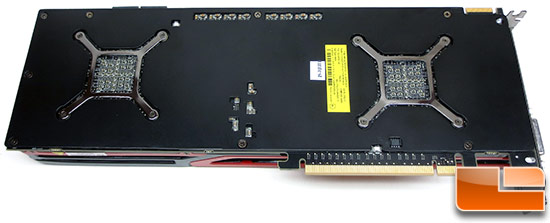 For a foot long graphics card having a backplate for reinforcement is a given and here we see that is covers up pretty much everything.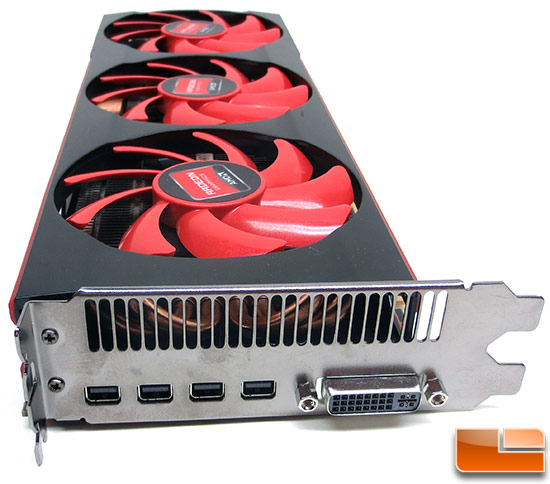 AMD Eyefinity Technology on the AMD Radeon HD 7990 allows the option to expand a single monitor desktop all the way up to five displays at once on a single HD 7990 thanks to the dual-link DVI and four mini-DisplayPort video outputs. The nice thing about the rear bracket on this card is that half of it is open for ventilation!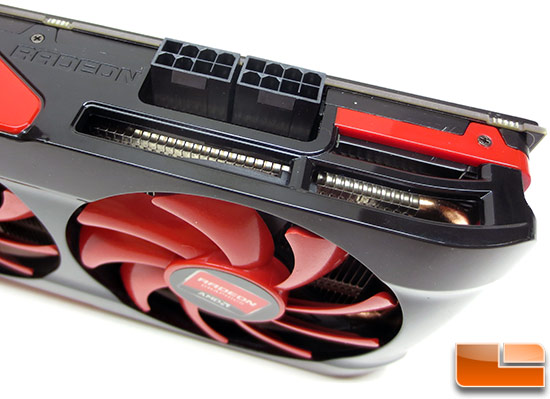 Here we see the AMD Radeon HD 7990 6GB 'Malta' video cards pair of 8-pin PCI Express power connectors that are located along the top of the video card near the end of the PCB. AMD suggests a 1000 Watt or 1kW power supply when running this graphics card.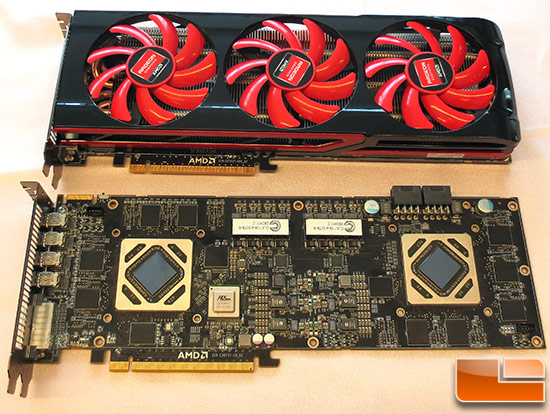 On a recent visit to AMD we were able to see some bare AMD Radeon HD 7990 video cards and this is an image of what the front of the PCB looks like of this foot long card. You can clearly see the two Tahiti XT2 GPUs and even the PLX PCIe bridge chip that pairs the two together.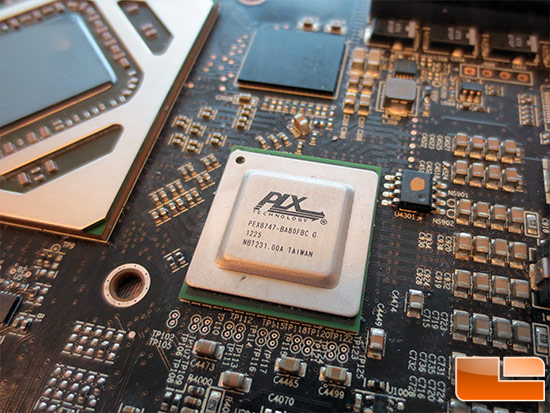 AMD is using a PLX PEX8747 PCI-Express 3.0 48-lane bridge chip that is capable of 96GB/s of interGPU bandwidth to keep data flowing between the processors and to the motherboards PCIe 3.0 x16 slot.

Not too much is going on underneath the backplate, but you can see half of the 6GB of Hynix branded GDDR5 memory ICs.
Now we can get to testing since we know what the AMD Radeon HD 7790 is and more about the Gigabyte and Sapphire retail cards!