AMD Radeon HD 7950 w/ Boost Versus NVIDIA GeForce GTX 760
Fri, Jun 28, 2013 - 9:00 AM
Final Thoughts and Conclusion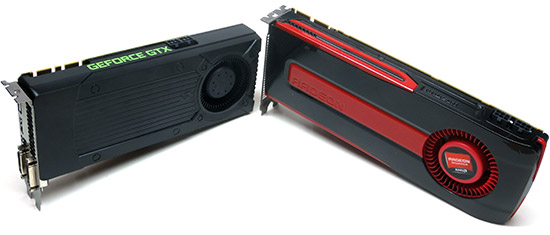 At the end of the day, the NVIDIA GeForce GTX 760 2GB and the AMD Radeon HD 7950 3GB video cards perform very closely together. For right around $250 either of these cards are more than capable of powering a single monitor gaming system without a problem. We were also impressed by what they could do on a 5760×1080 triple monitor setup thanks to NVIDIA Surround and AMD Eyefinity.
The AMD Radeon HD 7950 has 3GB of GDDR5 memory that runs on a 384-bit bus and we expected it to excel at higher resolutions. The NVIDIA GeForce GTX 760's 2GB of memory on the 256-bit bus performed well except in Far Cry 3 and Hitman when our 8xAA setting filled the frame buffer. It was impressive to see the GeForce GTX 760 winning at times in the higher resolutions despite having less memory, a smaller pipe and less memory bandwidth.
When it comes to pricing you can find the EVGA GeForce GTX 760 2GB w/ ACX Cooler for $249.99 Shipped and the PowerColor Radeon HD 7950 3GB w/ Boost for $264.99 Shipped After Rebate. The GeForce GTX 760 2GB and the Radeon HD 7950 3GB w/ Boost are both excellent cards. The performance between the cards is very close as is the price point, power consumption, noise and so on. The AMD Radeon HD 7950 comes with a nice game bundle, but are they game titles that you still need or want? The choice here is really yours and it will come down to brand preference, driver preference and the software features available to both cards. We didn't want to get caught up in that for this performance review, so we stuck to just the numbers and hope that we have helped you in your search for the right graphics card!
Legit Bottom Line: The AMD Radeon HD 7950 and NVIDIA GeForce GTX 760 perform at the same level and are also in the same price segment. It all comes down to brand preference and software features!