AMD Radeon HD 7950 w/ Boost Versus NVIDIA GeForce GTX 760
Fri, Jun 28, 2013 - 9:00 AM
Radeon HD 7950 versus GeForce GTX 760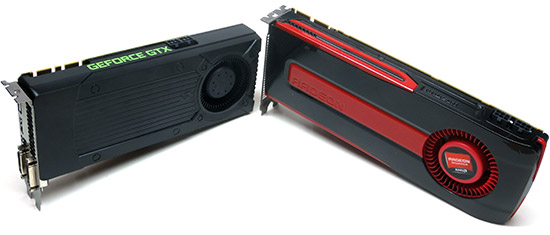 Earlier this week NVIDIA released the GeForce GTX 760 2GB video card at the $249.99 price point. The day the GTX 760 was released you could find board partners cards online for $249.99 Shipped, so it was a hard launch with product immediately available. That is priced very close to the AMD Radeon HD 7950 3GB video card that can now be found for $264.99 shipped (After a $20 Rebate) and it comes with four game titles (Far Cry 3: Blood Dragon, Crysis 3, Bioshock Infinite and Tomb Raider). So, there is just a $15 price difference between the cards and one comes with no game bundle and the other comes with four game titles worth ~$170 if you paid full retail price for them. It looks like you have a pretty tough choice to make at the $250-$270 price point, so we figured we'd do a real quick performance shootout between these two desktop graphics cards. We won't be covering the software/driver features of the cards, but rather a real quick comparison of the AMD and NVIDIA reference cards and then we are jumping right to the performance numbers.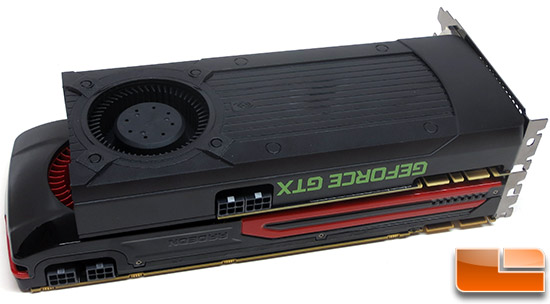 When it comes to overall length the AMD Radeon HD 7950 3GB video card measures in at 11-inches in length and the NVIDIA GeForce GTX 760 2GB is just 9.5-inches in length. Sometimes in life size matters, but when it comes to computer cases, most prefer a smaller card since it usually fits better and offers improved airflow.
When it comes to power supply connectors, both cards use a pair of 6-pin PCIe power connectors. NVIDIA recommends a 500W Watt or greater power supply and AMD suggests the same.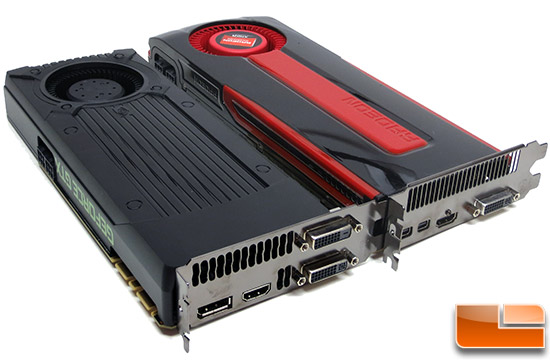 When it comes to video outputs the AMD Radeon HD 7950 has a pair of mini-DisplayPort 1.2 connectors, a full size HDMI 1.4a output and a dual-link DVI-I. The NVIDIA GeForce GTX 760 has dual-link DVI-I, dual-link DVI-D, HDMI and DisplayPort outputs. Depending on your monitor arrangement one of this configurations might be better than the other, but it really depends on your individal preferences as both cards offer great monitor support right out of the box.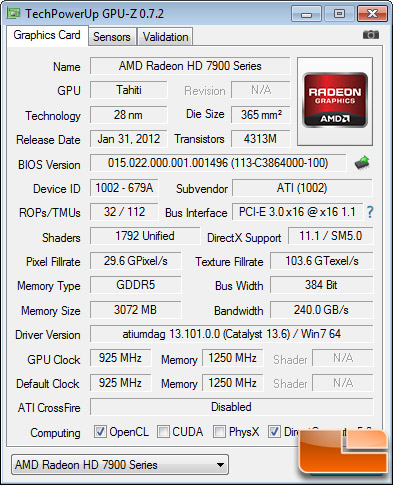 The AMD Radeon HD 7950 3GB reference card that we are looking at today features the 'Tahiti' GPU with boost and comes clocked at 925MHz core and 1250MHz (5000MHz effective) on the 3GB GDDR5 memory. All new AMD Radeon HD 7950 video cards come with this product specification and the GPU Clock has been increased 75MHz from what it was originally released at.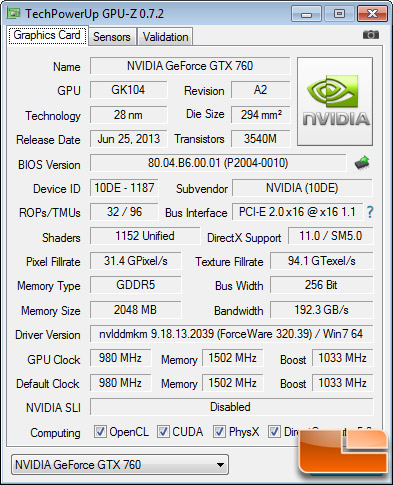 The NVIDIA GeForce GTX 760 2GB reference card uses the GK104 'Kepler' GPU and comes clocked at 980MHz on the 1152 CUDA cores and the 2GB of GDDR5 memory runs at 1502MHz (6008MHz effective). This GeForce GTX 700 series card supports GPU Boost 2.0, so it has a boost clock speed of 1033MHz.
| | | |
| --- | --- | --- |
| | GeForce GTX 760 | Radeon HD 7950 w/ Boost |
| Shader Units (ALUs) | 1152 | 1792 |
| ROPs | 32 | 32 |
| GPU | GK104 – Kepler | XT2 – Tahiti |
| Memory Size | 2048 MB | 3072 MB |
| GPU Base Clock | 980 MHz (1033 MHz Boost) | 925 MHz |
| Peak Pixel Fill Rate | 33 Gpixels/s | 30 Gpixels/s |
| Memory Clock | 1502 MHz | 1250 MHz |
| Memory Bus | 256-bit | 384-bit |
| Memory Bandwidth | 192 GB/s | 240 GB/s |
| Peak Power Draw | 170W | 200W |
| Power Supply | 500W | 500W |
Now that we have the bare essentials covered we'll jump straight into testing!