Acer Debuts Aspire M5 Ultrabooks with Touch for Windows 8
Thu, Oct 11, 2012 - 9:36 AM
Acer America today announced the Aspire M5 series of Ultrabooks, available exclusively at Best Buy stores in the United States. Featuring Microsoft Windows 8, the slim and stylish Aspire M5 series combines the portability of an Ultrabook with powerful performance, 8-hour battery life and outstanding value. Select models also include 10 point touch for easily navigating digital media and Windows 8 touch apps. The Aspire M5-481PT and M5-581T Ultrabooks are equipped with 3rd Generation Intel Core i5 processors with Turbo Boost Technology 2.0. A 500GB hard disk drive offers plenty of space for large files, while a 20GB integrated solid state drive enables instant-on capability.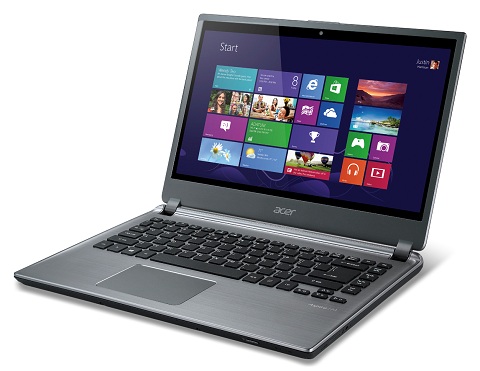 The Acer Aspire M5 Series of Ultrabooks will be offered exclusively in Best Buy stores across the U.S. on Oct. 26. Prices for the Aspire M5-481PT featuring Windows 8 and touch support begin at $799.99, while the 15.6-inch Aspire M5-581T configurations begin at $699.99.
Offering consumers a premium Windows 8 touch experience in a traditional clamshell notebook design, the 14-inch Aspire M5-481PT's features a 10 point multi-touch display, allowing users to efficiently open and close programs, browse online, and breeze through applications using nothing more than a simple touch. The Aspire M5-481PT features a vivid HD display with a frameless, edge-to-edge design, which provides a larger viewing area for the Ultrabook's intelligent multi-touch interface. The combination of a touch display and Windows 8 creates a faster and more fluid working environment. Users can quickly zoom in or out to customize their screen view, swipe in and out of applications and commands, or scroll, flick, pinch and rotate motions to accomplish tasks more quickly.