iStarUSA HDD Docking Station – Prepare to board
Storage is cheap these days and if you are like me, you have several SATA hard drives lying around not being used and don't have an eSATA port on your motherboard. Ok, maybe you aren't like me but you need extra storage and you are squeamish about opening your case and adding additional hard drives or just don't have the room. The solution? A hard drive docking station that plugs conveniently into a USB 2.0 port making it easy to expand your storage.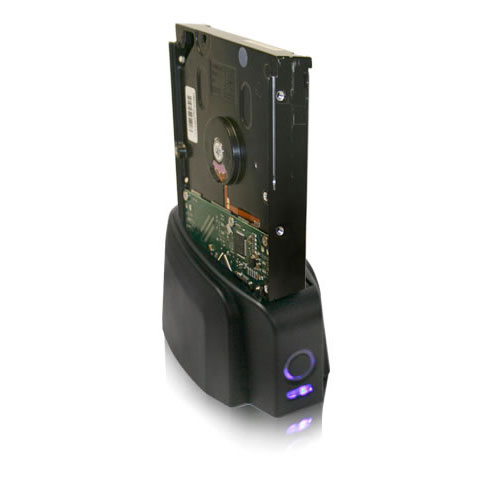 The iStarUSA HDD Docking Station (model xAGE-N99-US) provides up to 480Mbps of data transfer rates for both 3.5" and 2.5" SATA hard drives in a compact, attractive design. It can be found on the web for between $22 and $27 which is a good price range if you consider a simple HDD enclosure will cost you slightly less but lack the flexibility of this device. This is perfect for backing up multiple computers or even other external drives and in today's world of ubiquitous digital video, audio, and pictures you can never have enough storage.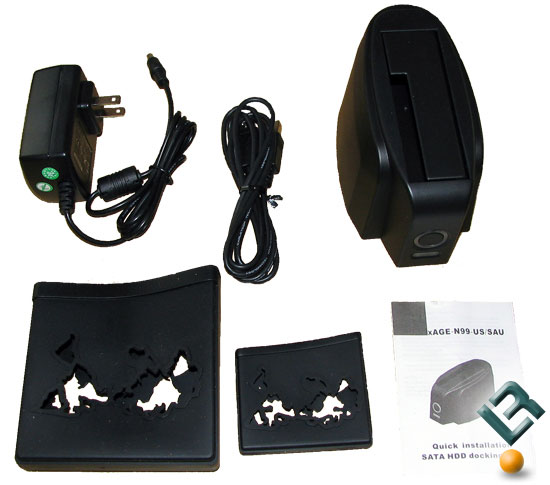 The docking station comes with a power cord (more on that later), the USB cable and an optional set of HDD rubber covers. It's fully PC, MAC and Linux PC compatible, supports Plug and Play, SATA I/II, RoHS compliant and supports drives up to 1TB. The manufacturing does not feel cheap and it has a very stylish design which won't look bad on your desktop; especially with the blue activity LED's on the front.
Setup: Plug, Plug, Plug and Play!
Setup couldn't be easier for the iStarUSA HDD docking station. Plug the power cord into the wall and into the back of the station. Connect the USB cable in the same area and connect it to a USB port on your PC. Gently plug a 3.5" or 2.5" HDD into the docking station. I say gently because these HDD connector parts on the backs of drives are sensitive and made of thin plastic. While the docking station helps guide it in for you, be careful and NEVER force it. Remember, you might have important data on that drive!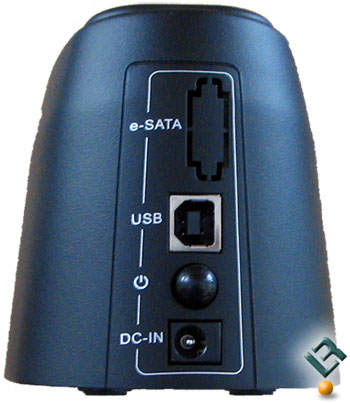 OK, with the lesson in electronics handling over and all that is left is to hit the power button. The drive should show up as any other hard drive on your system, similar to a thumb drive. At this point the LED's on the front should be lit and you may hear the hard drive spinning and making various noises. This is one drawback to an external drive for some, but it doesn't bother me and it's barely audible when I have other ambient noise. My only complaint at this point is the rather short power cord that comes with the unit – just shy of 4'. Since the outlets closest to my PC are taken up with other components, I had to get an extension cord. This may not be a problem for some but I felt it was worth mentioning.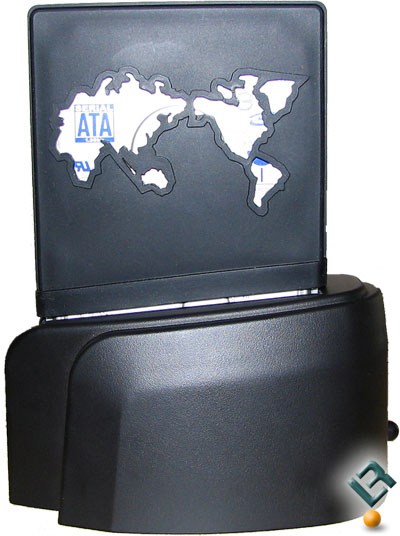 The optional HDD covers are a nice touch for added aesthetic appeal but that is probably the limit of their functionality. They could potential dampen some noise and/or vibration but not enough to be noticeable. They tend to collect dust and lint easily (this made image editing tedious) and don't slide on as easily as I would like but I do like the way they look. Since I tend to swap out drives regularly, I'll probably leave it on one and not move it from drive to drive.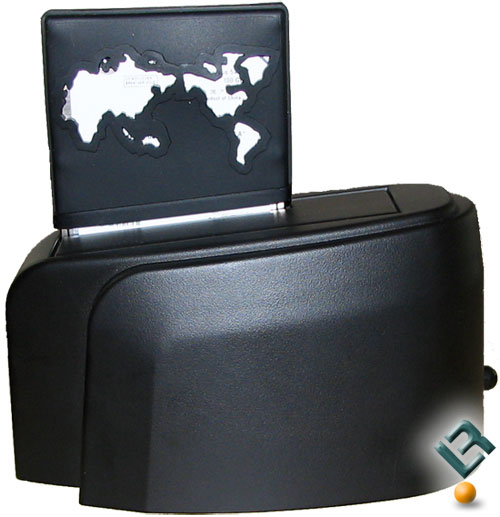 As you can see, there is a smaller opening for the 2.5" drives and a rubber sleeve for those as well. Removing the drives is easy as well, but again I preach caution. Turn off the unit before removal to be safe and gently remove the drive. Some other docking stations have a button that pops the drive up off of the connectors which helps a lot and lessens the chance of damage. Unfortunately, the iStarUSA docking station does not have that feature so you'll just have to be careful.
Performance and Conclusion
I'm not putting a large emphasis on performance because this product is all about functionality and flexibility. After all, if it was speed you were after, you would have installed the drive internally or via an eSATA connection which are inherently faster than a USB 2.0 connection. For my testing, I will be using a Western Digital Caviar SE16 drive.
HD Tach is a low level hardware benchmark for random access read/write storage devices such as hard drives, removable drives (ZIP/JAZZ), flash devices, and RAID arrays. HD Tach uses custom device drivers and other low level Windows interfaces to bypass as many layers of software as possible and get as close to the physical performance of the device possible.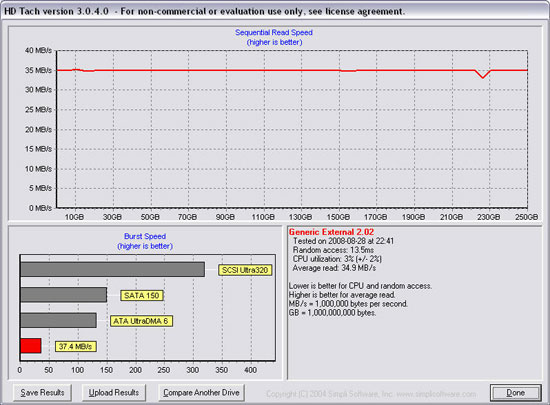 Obviously, as expected there were no speed records broken here but the connection is definitely fast enough for backups and general use. HD Tune is another hard disk benchmarking and information tool and we see much the same results using it as well. However, if you really are interested in performance, they also offer another model (xAGE-N99-SAU) which has an e-SATA connection.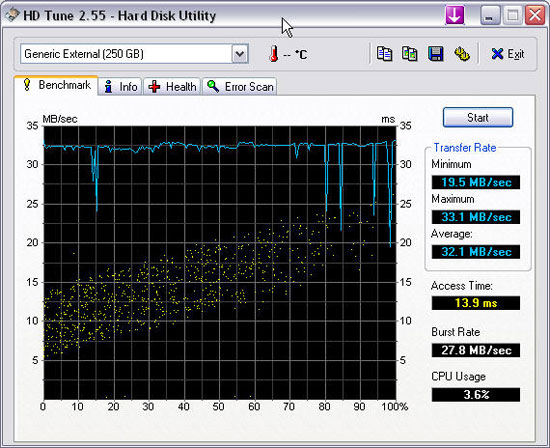 Final Thoughts and Conclusions:
Overall, I think the iStarUSA HDD dock is a great device to recover the use of dormant drives or to expand your storage options. With backups being so important, this gives you one less excuse for getting them done. Found online for less than $30, this is also a relatively inexpensive solution to your storage needs. Aside from a short power cable, I found no other flaws with the docking station and was easily able to add a variety of drives without compatibility issues and even hooked it to my Apple MacBook Pro for a quick compatibility check.
Legit Bottom Line: With an appealing design, flexibility to use 2.5" and 3.5" drives and ease of use, the iStar HDD Docking Station is a solid choice for those wanting more storage without the hassle of external enclosures or adding them to their system internally. I only had one minor complaint with product so I'd gladly recommend this to anyone wanting an easy storage solution.