Sapphire Radeon HD 4850 Graphics Cards Appear Early
UPDATE: Since posting this article we have completed a full review of the Radeon HD 4850 graphics card and you can find that article here. We also worked with ATI to solve our driver installation problem and the glitch has been resolved.
The scheduled release for ATI's upcoming RV770 parts, the Radeon HD 4850 and Radeon HD 4870, was scheduled for next week, but it seems that it got bumped up to today. Some European e-tailer has started to sell cards and AMD/ATI had no choice other than to remove our gag order on the video cards we already have. The sad thing is that we just got the cards this week and the Windows Vista 64-bit drivers won't install because their might be an installer issue. Why a company would sell cards before the final driver is complete is beyond me, but today we can show you the upcoming ATI Radeon HD 4850 in a preview of sorts. AMD doesn't want us to discuss the details of the Radeon HD 4850, so we are just going to show off the card and some power point presentation slides. Not much else we can do since we don't have drivers and we worked with ATI from 8pm CST to 2AM CST trying to get it some in our hands without success.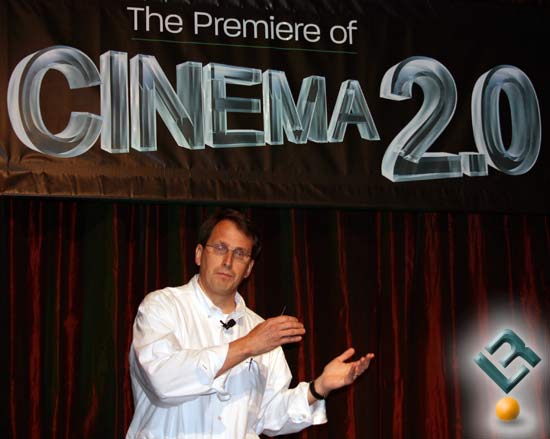 We just got briefed on the Radeon HD 4850 graphics cards during and after the Cinema 2.0 launch in San Francisco that took place Monday! We've had the cards in our hands for a short period of time and can't use them on our 64-bit test systems, but at least we can look at them.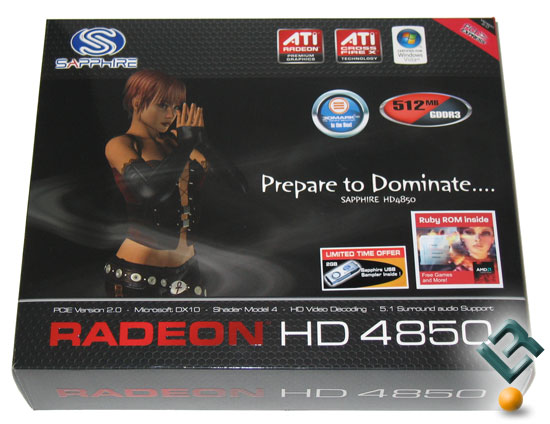 The retail card that we have is the Sapphire Radeon HD 4850, which features an MSRP of $199 and will be the jewel in the price versus performance charts for months to come. It is also the first card that has a TeraFLOP of compute power. Not bad at all for a price tag of just $199!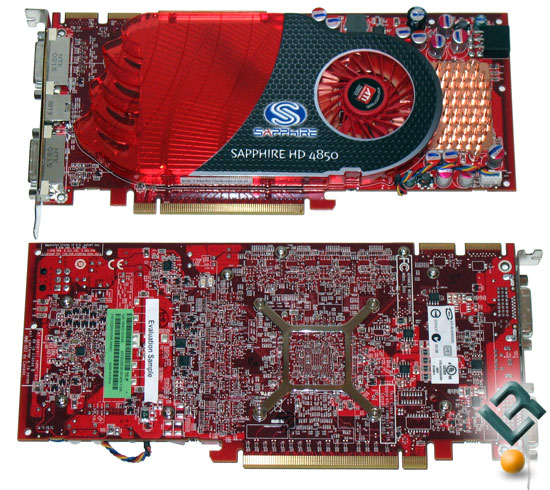 Here are a pair of cards laying opposite directions, so you can get a feel for the layout of the Radeon HD 4850 series. Sapphire used the reference design from ATI, so the PCB and heat sink should be good to go. Notice the Radeon HD 4850 takes up just a single slot! This is good news and it means that CrossFireX with four cards is possible in boards that have four PCI Express x16 slots.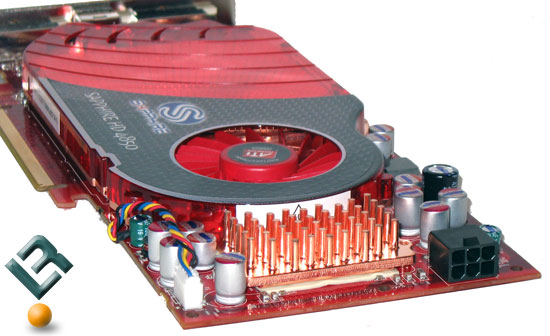 You'll notice that the Sapphire Radeon HD 4850 has just a single 6-pin PCI Express power connector on the board and that is because it uses just 110 Watts of power during peak usage! The box of the Sapphire Radeon HD 4850 states that a 450W or greater power supply with a 75W 6-pin PCI Express power connector is recommended for use. If you want to run these cards in CrossFire you'll need at least a 550W power supply and two 6-pin connectors. The box doesn't say want you need for 3-way and 4-way CrossFireX and we are still under an embargo on information that isn't on the box or in the presentation deck, but you can figure out the math on that one.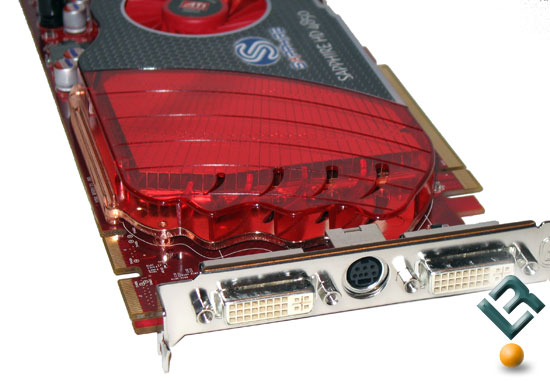 The Sapphire Radeon HD 4850 comes with two dual-link DVI outputs, an HDTV output and HDMI output support through the DVI-to-HDMI adapters included.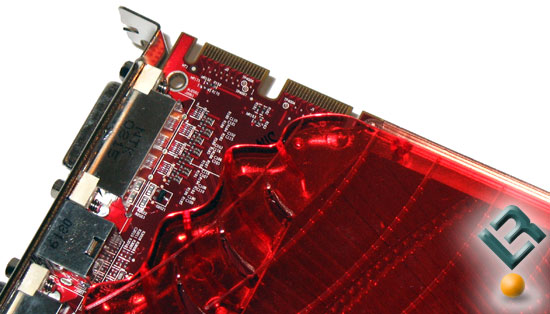 As previously mentioned the board supports CrossFireX for those that want more performance!
The AMD/ATI Presentation Slides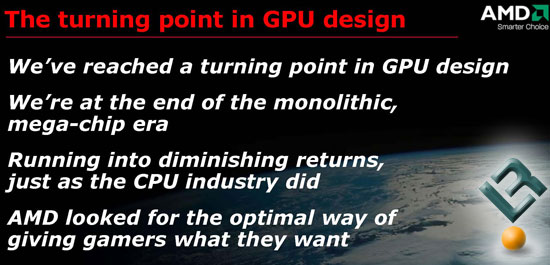 AMD says that we are at the end of the monolithic, mega-chip era and that the entire industry is running into diminishing returns, just like the CPU industry did. Our sources outside of NVIDIA and AMD/ATI informed us that the just released GeForce GTX 280 has some really small yield numbers. If you read our article on the GeForce GTX 280 video card you should recall that just over 90 GT200 cores are produced per wafer. Our sources informed us that the wafer costs roughly $5000 to produce and only 40% of the dies actually meet the requirements to become a GeForce GTX 280 chip. This puts the raw cost per GPU at nearly $140 per die before packaging if this is true. This pushes up card prices and the fall out is high as you can imagine.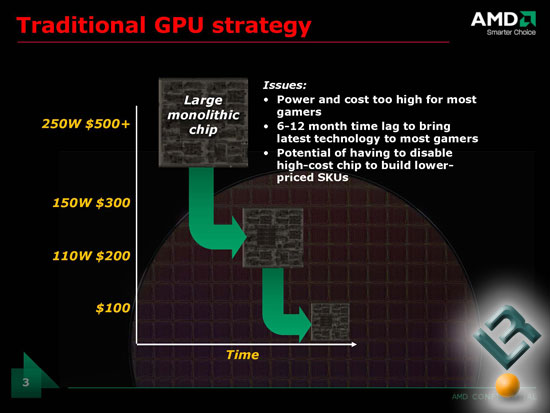 AMD hits on this subject different than the example we just gave you, but the point they are trying to make is the same. The large monolithic chip takes longer to design, consumes more power and costs more to produce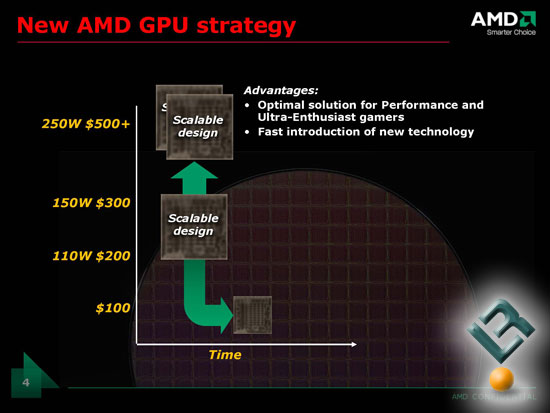 AMD is now taking the approach of quantity over size as it keeps costs down and means they can be produced faster.
Here AMD shows what they hope to get from scalable designs and claim that it's what gamers want. We're not too sure if that is true, but remember these are marketing slides.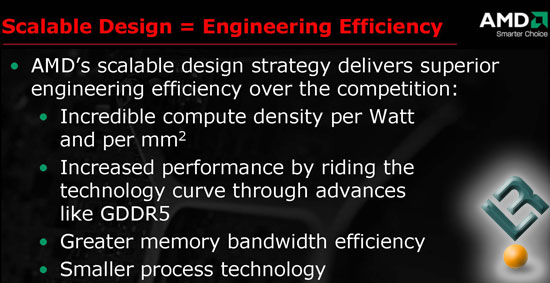 Here they talk about Engineering Efficiency and introduce advanced memory technology with the likes of GDDR5, but that isn't on the Radeon HD 4850 graphics card. AMD has implimented GDDR5 on the unreleased and unannounced ATI Radeon HD 4870 graphics cards. The ATI Radeon HD 4850 uses GDDR3 memory, which helps keep costs down as the ICs are cheaper and the PCB uses far less layers.
The AMD/ATI Presentation Slides Continued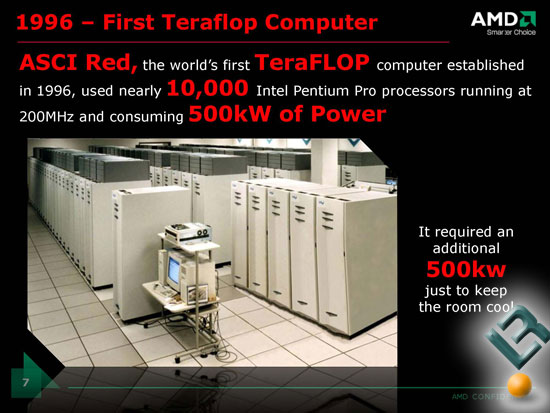 AMD informed us at the Cinema 2.0 launch that the world's first TeraFLOP computer was built back in 1996 and used 10,000 Intel Pentim Pro Processors running at 200MHz to reach the mark. The machine was called ASCI Red and consumed 500kW of power to run and needed 500kW of cooling just to keep the room temperature normal for a server floor.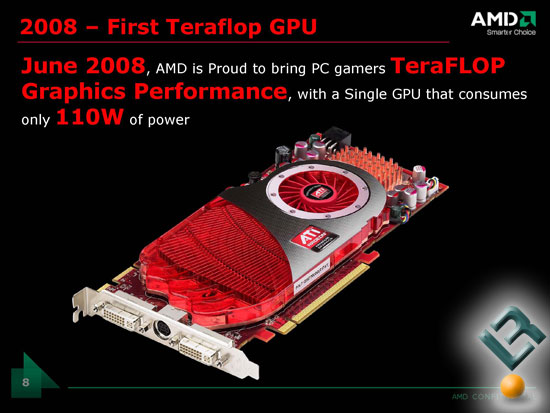 With the launch of the Radeon HD 4850 each and everyone of us can have a TeraFLOP of processing power from a GPU that costs just $199 and consumes only 110W of power. This is impressive to say the least! NVIDIA really wanted to hit a TeraFLOP with their GT200 core, but was just shy.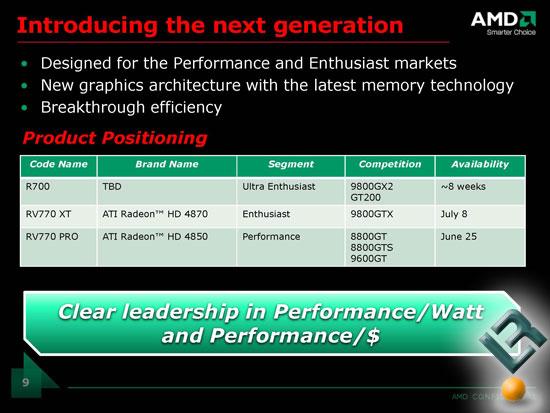 We thought it was strange that ATI included this slide to use last night at midnight, but what the heck. It shows that the RV770 XT is the ATI Radeon HD 4870 and it will be launched on July 8th, 2008. The R700 doesn't have a name yet (Radeon HD 4870 X2) and is roughly two months away from being completed. You can also see that the original launch date for the ATI Radeon HD 4850 that we have here today should have been June 25th, but since retailers want to sell cards before the drivers are done and the product is launched you get what we have here today - a mess for AMD.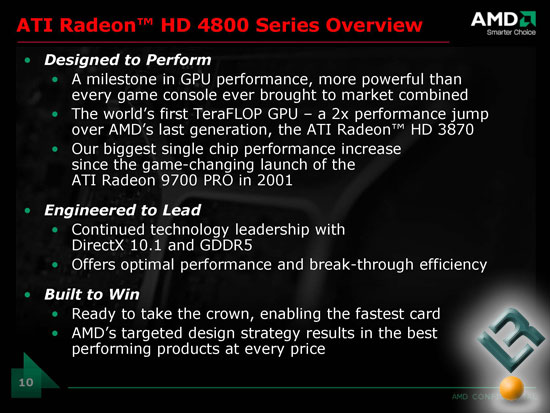 This slide has an overview of the information that you just saw. Notice AMD says they are ready to take the performance crown... Wish we had some 64-bit drivers!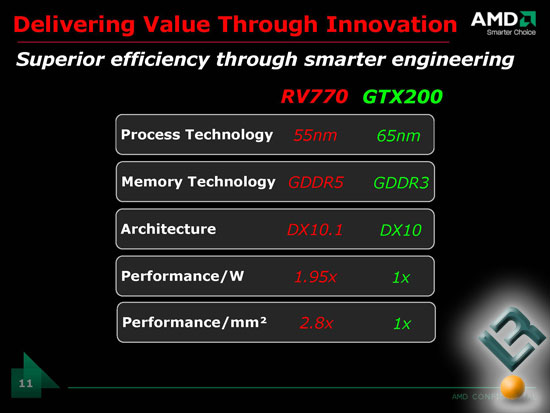 Here we see the RV770 compared to the GTX200 in order to compare some key features that AMD wants shown. That's if for the dog and pony show with the power point presentation. We hate to bring you a power point presentation when we have cards sitting here, but we had no choice. The embargo was pushed forward by a week and we didn't have anything in our hands till the very last minute.
Driver Installation and GPU-Z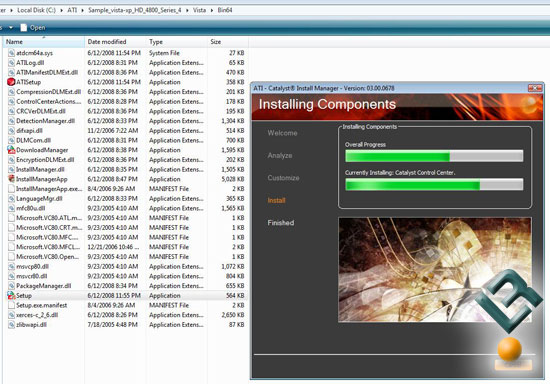 We tried to install the press drivers to bring you some benchmark numbers today and all was going good during the installation.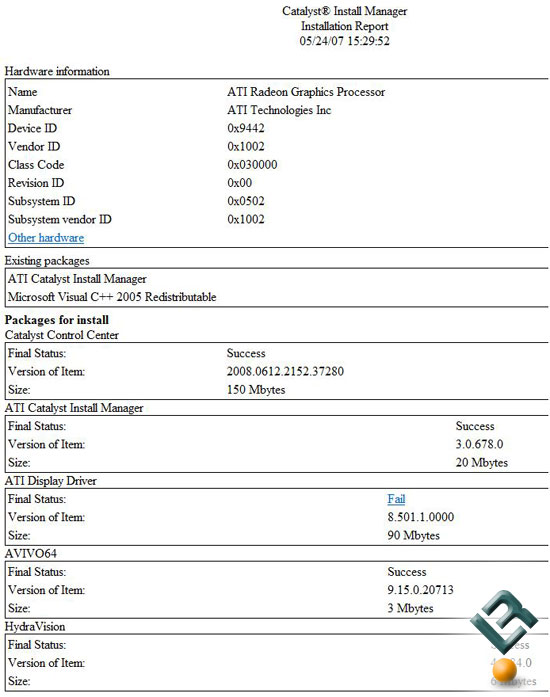 Looks can be deceiving though and at the end of the installation process the final statu of the ATI Display Driver was a failure.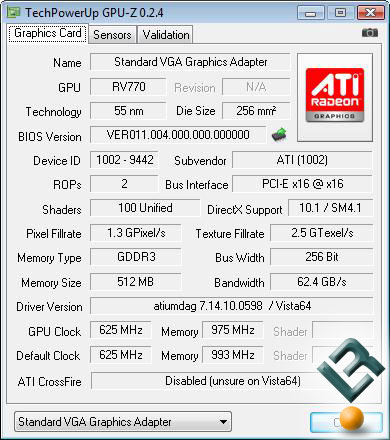 We managed to grab a GPU-Z 0.24 version screen shot for you though. Here you can see some of the basic information of the card. Our Sapphire Radeon HD 4850 was running a core clock of 625MHz and the memory clock was at just 975MHz. The default speed for the memory is 993MHz, so we are not sure why it was reading slower.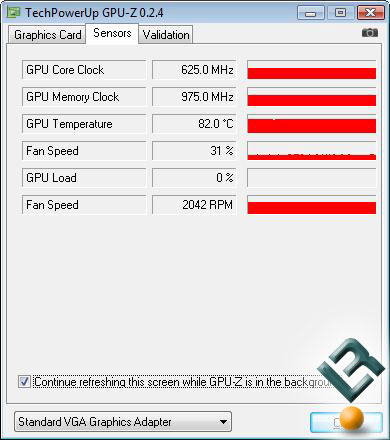 With the Sapphire Radeon HD 4850 sitting at idle on the desktop for a couple hours we observed It is nice to running at 82C. Without the drivers being installed the card can't clock down for power savings. Without working video card drivers we can't test the Radeon HD 4850, so that concludes our preview!
To make things even tougher NVIDIA just released the NDA on the GeForce 9800 GTX+, which is clocked faster than a normal GeForce 9800 GTX! The GeForce 9800 GTX+ is coming out in July and will put some serious pressure on ATI as it will be priced at $229. We have one of these cards with working 64-bit drivers, so stay tuned for a preview of that one real soon. To hold you over here are the stats and a picture:
NVIDIA GeForce 9800 GTX+
MSRP - $229

Core Clock: 738MHz

Shader Clocks: 1836MHz

512MB of GDDR3: ~1000MHz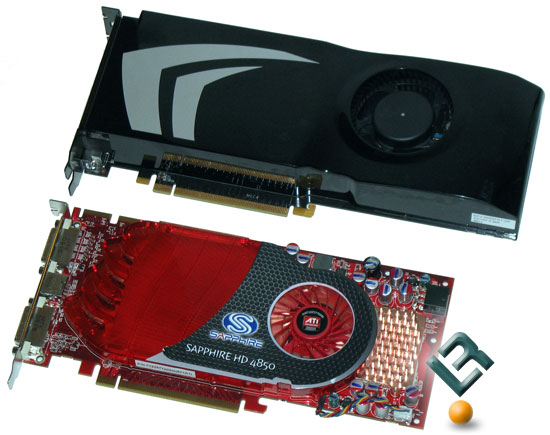 Looks like things just got a little more interesting in the $199-$229 price range!