ECS Does Intel, Nvidia and SLI
ECS has long been recognized as one of the largest producers of affordable motherboards in the industry. Most users of ECS boards have historically been mainstream builders that are looking for a cost effective way to build a computer for their use, or for someone else. ECS has always been affordable, but affordable usually means that you give up someof the bells and whistles that most enthusiasts are looking for. Recently, ECS has tried to build their image to include the enthusiast, while still trying to keep prices at a reasonable level. We have one such affordable solution on the bench today from ECS in the form of the ECS C-19A SLI motherboard, which features the Intel NF4 SLI XE chipset.
ECS has already produced an Intel NF4 board, but this update of the Intel NF4 chipset MCP adds HD audio to the board, and at a pricing of under $80, I think anyone that is looking for a board that supports Intel s775 CPUS and is not wanting to spend huge dollars will be tempted by this offering from ECS. No longer can anyone claim that SLI boards are just too expensive, and both the AMD and Intel sides have boards that are well within the budget of anyone DIY system builder. Let's look at the specs of this board:
CPU

| | |
| --- | --- |
| | LGA775 socket for Intel Pentium 4 / Pentium D processor |

| | |
| --- | --- |
| | Support Hyper-Threading Technology |
CHIPSET

| | |
| --- | --- |
| | North Bridge: NVIDIA C19XE |

| | |
| --- | --- |
| | South Bridge: NVIDIA MCP51 |
MEMORY

| | |
| --- | --- |
| | Dual-channel DDR2 memory architecture |

| | |
| --- | --- |
| | 4 x 240-pin DDR2 DIMM socket support up to 16GB |

| | |
| --- | --- |
| | Support DDR2 533/667 DDR SDRAM |
EXPANSION SLOT

| | |
| --- | --- |
| | 2 x PCI Express x16 slot ( SLI mode: x8, x8 ) |
STORAGE

| | |
| --- | --- |
| | Supported by NVIDIA MCP51 |

| | | |
| --- | --- | --- |
| | -- | 4 x Ultra DMA133/100/66 devices |

| | | |
| --- | --- | --- |
| | -- | 4 x Serial ATA devices |

| | |
| --- | --- |
| | RAID0, RAID1, RAID0+1, RAID5 configuration |
IEEE 1394a (optional)

| | |
| --- | --- |
| | VIA 6307 support 2 x IEEE1394a ports |
AUDIO

| | |
| --- | --- |
| | Realtek ALC883 8-channel audio CODEC |
LAN

| | |
| --- | --- |
| | Marvell 88E1115 Gigabit LAN controller |

| | |
| --- | --- |
| | Realtek RTL8100C 10/100 Mbps Fast Ethernet Controller(optional) |
REAR PANEL I/O

| | |
| --- | --- |
| | 1 x PS/2 keyboard & PS/2 mouse connectors |

| | |
| --- | --- |
| | 1 x Audio port (Line-in, Line-out, Mic-in) |

| | |
| --- | --- |
| | 2 x Digital SPDIF (Optical & Coaxial) out |
INTERNAL I/O CONNECTORS & HEADERS

| | |
| --- | --- |
| | 1 x 24-pin ATX Power Supply connector |

| | |
| --- | --- |
| | 1 x 4-pin ATX 12V connector |

| | |
| --- | --- |
| | 1 x FDD connector supports two 360K~2.88MB FDDs |

| | |
| --- | --- |
| | 1 x Auxiliary 4-pin +12V connector |

| | |
| --- | --- |
| | 4 x Serial ATA connectors |

| | |
| --- | --- |
| | 2 x USB 2.0 headers support additional 4 USB Ports |

| | |
| --- | --- |
| | 1 x Front panel switch/LED header |

| | |
| --- | --- |
| | 1 x Front panel audio header |

| | |
| --- | --- |
| | CPUFAN/NBFAN/SYSFANx2 connectors |
SYSTEM BIOS

| | |
| --- | --- |
| | AMI BIOS with 4Mb Flash ROM |

| | |
| --- | --- |
| | Supports Plug and Play 1.0A, APM 1.2, Multi Boot, DMI |

| | |
| --- | --- |
| | Supports ACPI revision 1.0 specification |
The Layout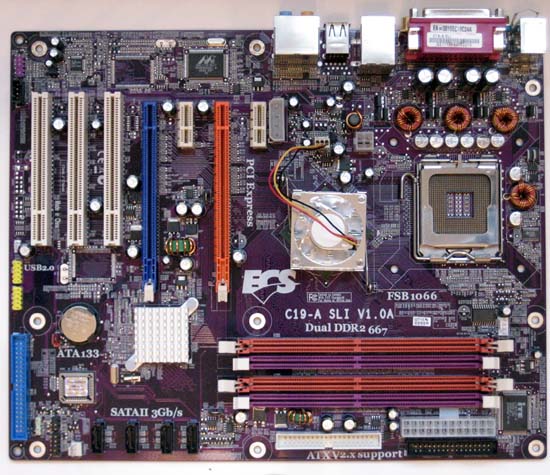 For the most part, the layout of this board was just fine, with only one or two minor annoyances, which we will see. Let's take a close-up look of the board.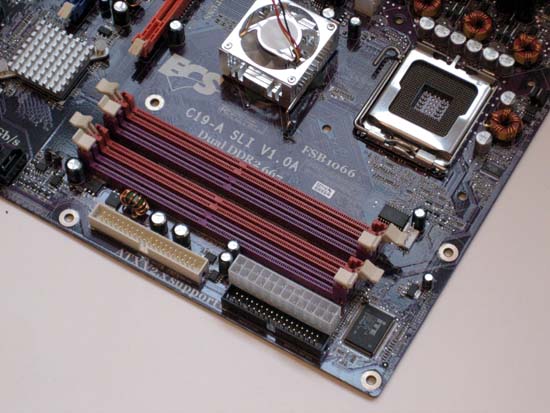 First, at the top right of the board we have the floppy, and an IDE connector. That is right, one IDE connnector is located here. This is one of the annoyances that I was talking about. There is another IDE connector on the board, which we will look at is just a moment. But it is suffice to say that placing the two IDE connectors apart like this is annoying at best, and makes for some akward cable management.
Also on this part of the board, we have our 24-pin power connector. This is a typical placement, and works just fine. The dimm slots are also right here, and are color-coded for ease of use in a dual channel configuration. The board supports DDR2 533/667 DDR SDRAM in 4 x 240-pin DDR2 DIMM socket configuration up to 16GB.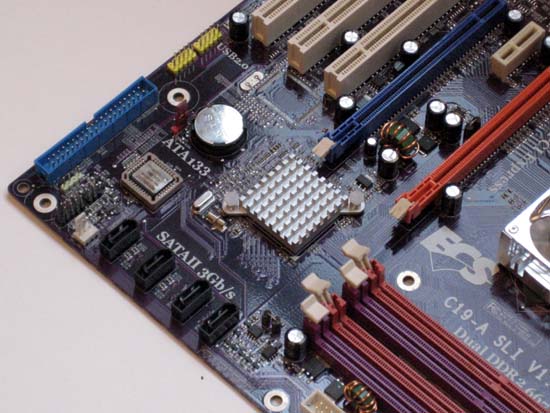 On the bottom right portion of the board, we see the SATA connectors which are SATA II compliant and support transfer speeds up to 3Gb/s. We also see the bios chip on this part of the board, along with the clear cmos jumper and battery. You can also clearly see the placement of the NVIDIA MCP51 southbridge, which is passively cooled. The updated southbridge adds support for HD audio, which will be a nice touch to this board. This area is also where you will find the USB headers as well as the front panel connections. One of the irritating placements on the boards is also here. The IDE connector at the bottom of the board is rather annoying and can make for some awkward cable management if you happen to need to use this connector with more than one drive.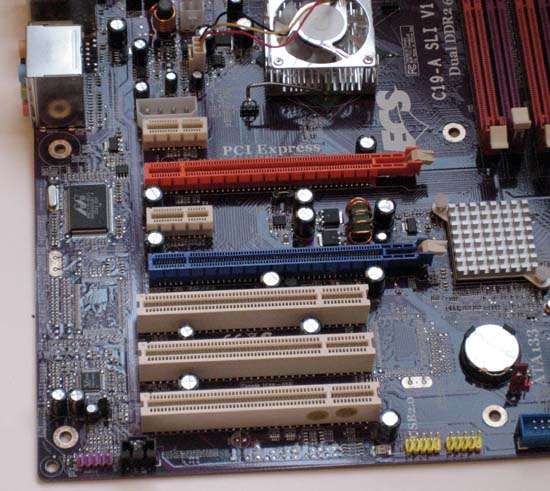 The bottom left part of the board is where we find all of our pci and pcie slots. The board has a total of three pci slots, which should be more than enough. You will not be able to use the top pci slot if you are running SLI with card that have oversize coolers on them. As stated, this board does support SLI, so it has two x16 pcie slots for your cards. Also included are 2 x1 pcie slots. Just to the left of the top pcie slots you can see the Marvell 88E1115 Gigabit LAN controller. To the left of the pci slots is where we find Realtek's ALC883 audio solution which supports Intel's High Definition 8 channel Audio.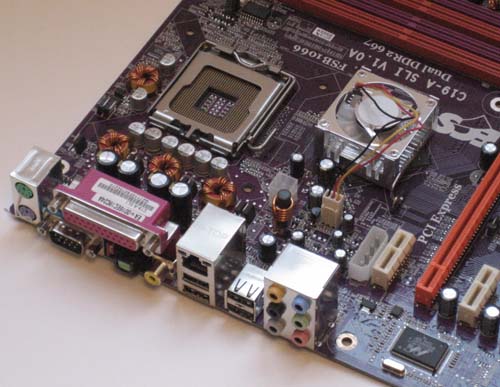 At the top left of the board the first thing we notice is the actively cooled NVIDIA C19XE northbridge. The fan was not too noisy at all, and seemed to keep things cool enough enough during our overclocking. To the left of the NB, we see a standard four pin molex power connection that provides the extra power that is needed for stability when running in an SLI configuration. Just above that is where we find the four-pin 12v connector. This is an ok placement, though I prefer to see it at the very top edge of the board. Above that is the CPU socket, which has plenty of room to use any cooling that you would like. We also see the I/O connections here. The standard ps/2 for keyboard and mouse are present, as well as quite antiquated serial and parallel connection. Also included are 4 USB ports, a gigabit lan connection, the audio port, and two SPDIF out connections.
The Bundle
ECS includes a very thourough manual, disks for driver installation, and IDE and SATA cable, an SLI bridge and stabalizer, and the back I/O plate. Obviously the bundle can be expected to be a little thin when you are looking at the price range that this board come in.
The Bios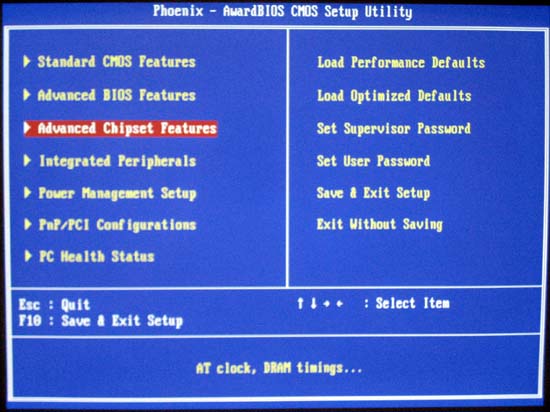 This board comes with the ever popular AWARD bios, so navigating through it will be familiar. There are a few things to note in this bios, so let's take a look: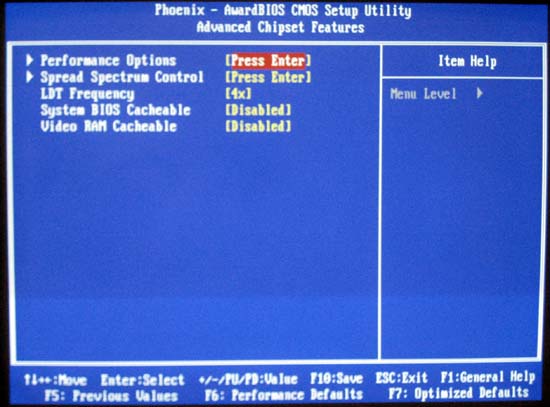 The interesting options that we will find in this bios are found under the Advanced Chipset Page, under the Performance options area.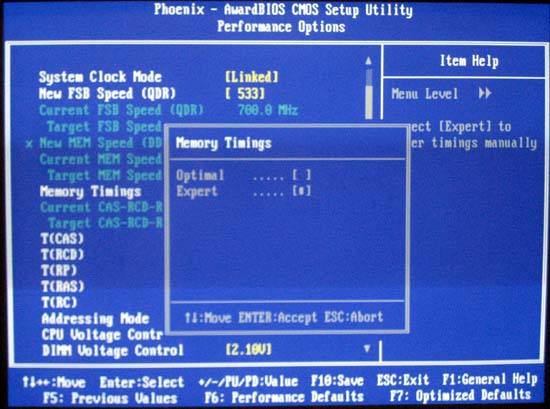 Under the Performance options you can set memory to automatically set timings, or set it to expert so you can control the options.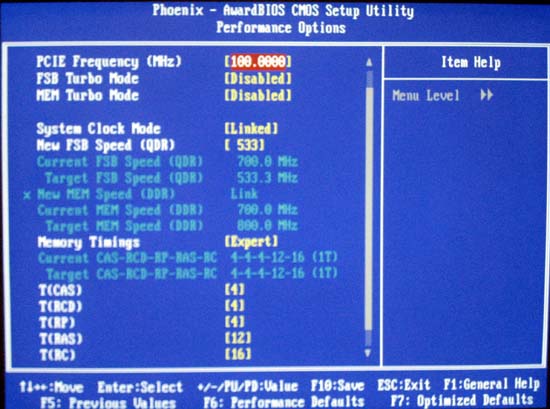 Notice the System Clock Mode settings here. You can run your FSB at 1:1 (linked) or change the setting to use a divider for your ram. A couple of other settings here did not reallly prove useful to use for our overclocking adventures.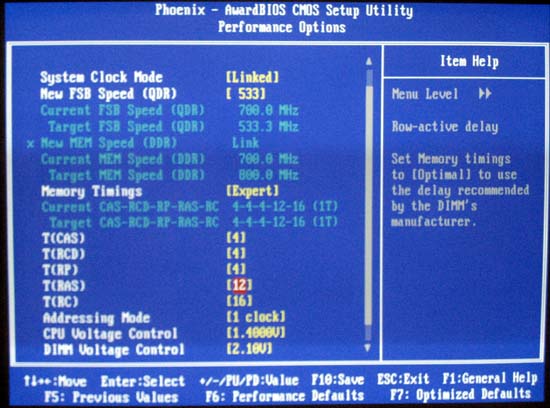 You have just the basic timings to set in this bios. After working with some of the AMD boards lately, this bios seemed really easy to use, if not just plain stripped down to hardly anything! Notice, you can also set the timings to 1T or 2T.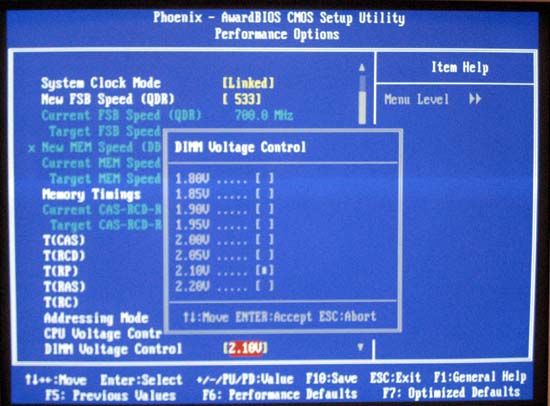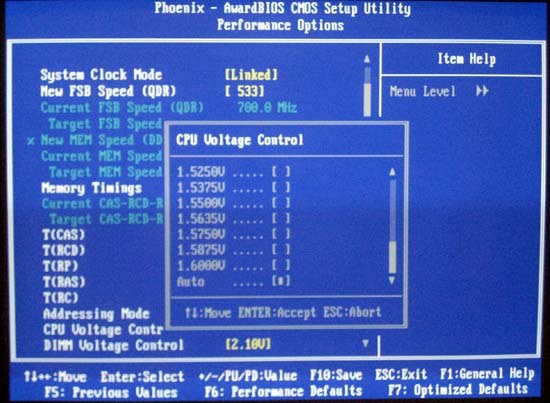 These two pictures show us the voltages that are available. vDimm has options from 1.8v up to and including 2.2v, which should be plenty for the current market of ddr2 modules that we have. Our CPU voltage goes all the way up to 1.6v, which also should be plenty with the Pentium D processor that we are using.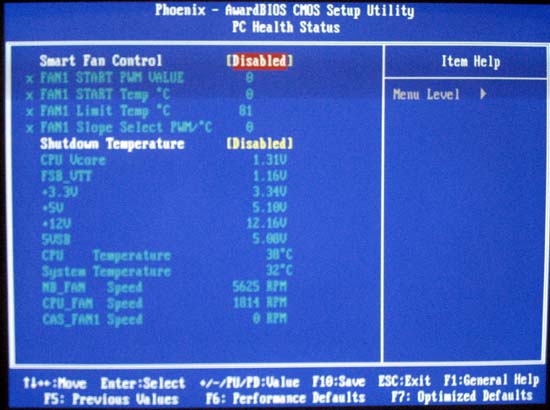 One other interesting page is the PC Health Status page. You will find valuble information here about temps and voltages. You can also set your shutdown temps here to avoid burning anything up.
Ok, enough of these "blue screens," let's look at the performance.
The Test Setup
The Test System
Benchmarks and Testing Setup:
Test Platform:

Intel Test Platform

Component

Brand/Model

Live Pricing

Processor

Intel Pentium D 805

Motherboard

ECS C-19A

Intel Reference 955

Video Card

BFG Tech 7800GT

Hard Drive

Western Digital 250GB, 16mb Cache

Cooling

Corsair Nautilus

Power Supply

Antec Neo HE 550

Operating System

Windows XP Professional
All tests were run using a clean install of Windows XP Professional with SP2. Both boards were using the latest official bios. For both boards, our stock speed testing used Adata PC2 6400 2 GB kit, at speeds of 4-4-4-12 DDR667, and 2.0vDimm. CPU was running at default vcore and its default speed of 2.66. The video card was left at its default timings as well for all tests. For this review, stability was determined by running our battery of tests 3 times, plus being able to complete 3 passes of memtest86 and the ability to complete a SuperPi 32mb test run.
Lets look at the benchmarks!
The Tests: Overall System Performance - World Bench 5
PC World; WorldBench 5.0
WorldBench 5 runs on PCs using the Home, Professional, Media Center, and Tablet PC versions of Windows XP. Fifteen applications (counting the components of Office XP), make up the WorldBench 5 suite.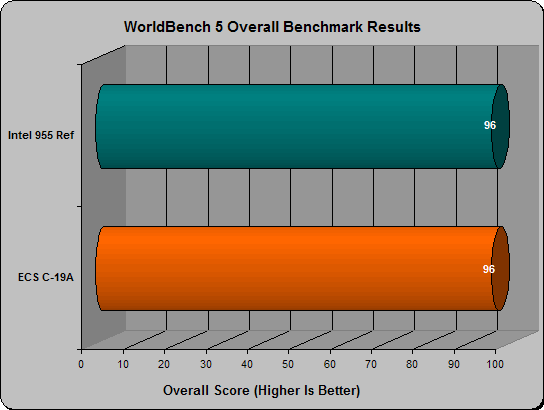 As you can see, the ECS board scores the exact same as the Intel reference 955 board. It is good to see thos low cost solution perform so well.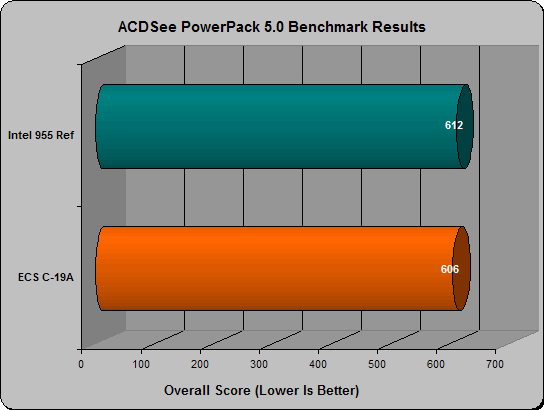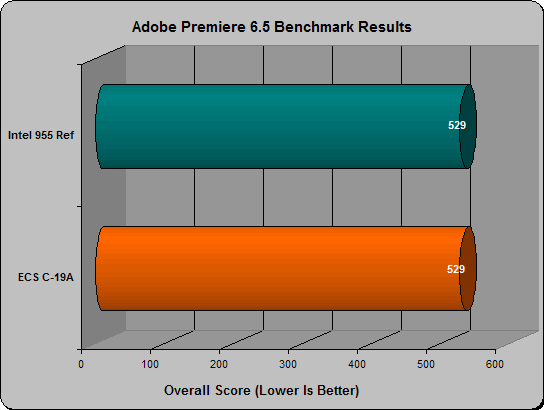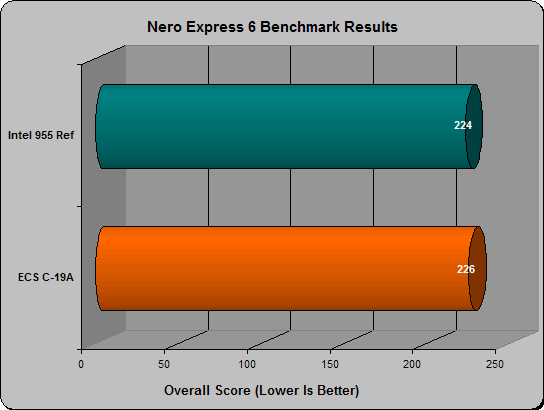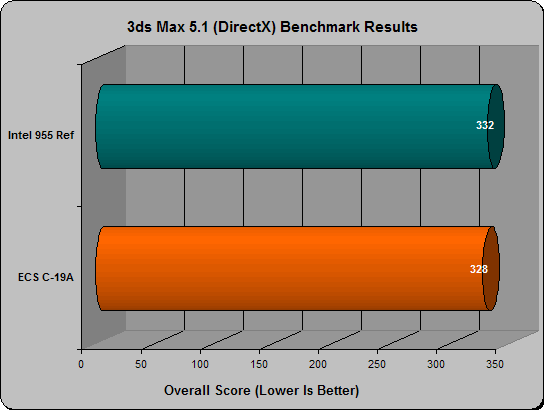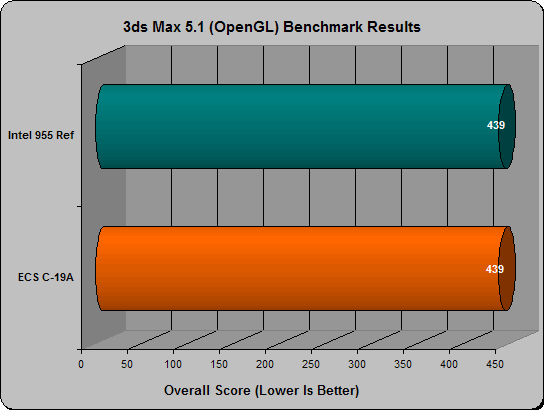 The results stay the same across the board, as we see the ECS board and the Intel board running neck and neck. ECS has produced a board that is able to perform very well.
The Tests: Overall System Performance - World Bench 5 Continued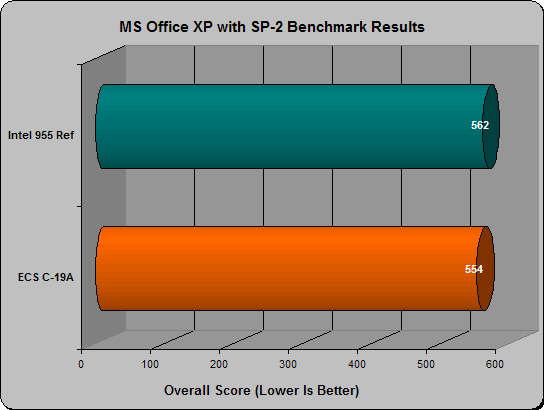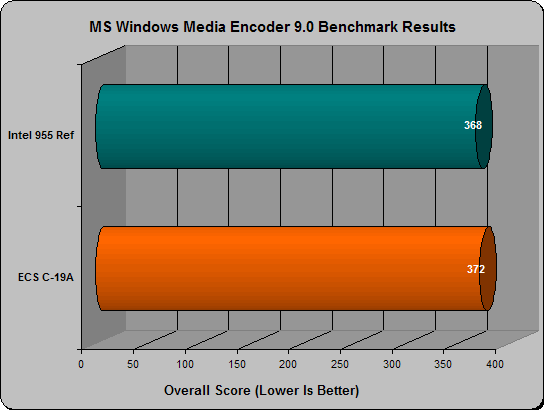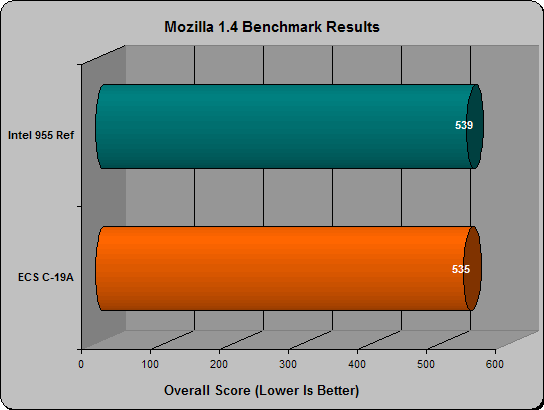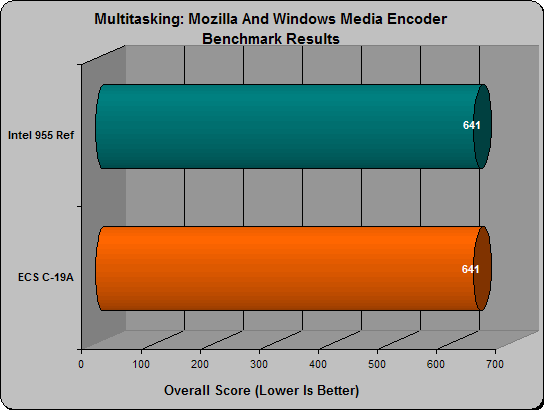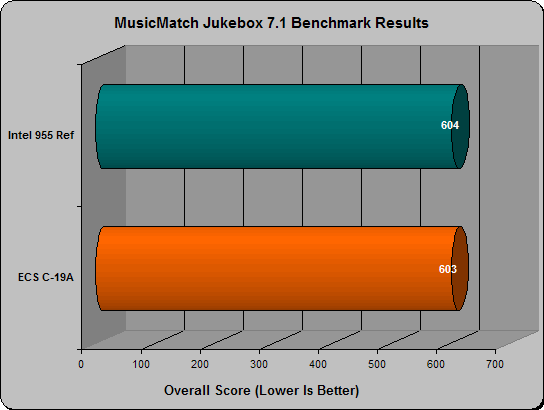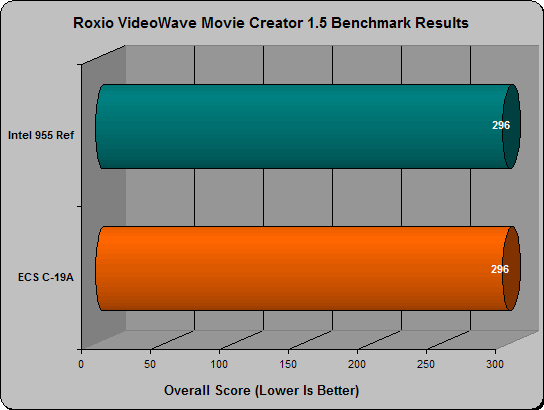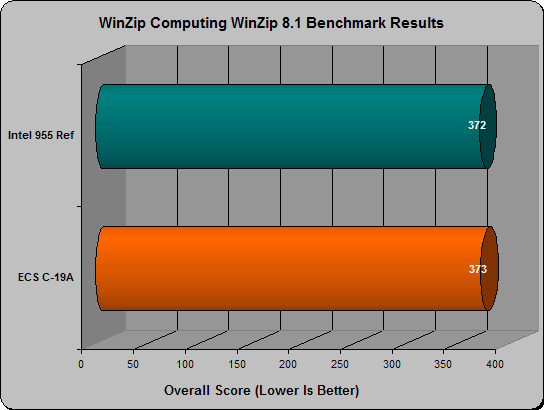 As we expected, we see the same results on the last of the WorldBench tests. Bottom line: The ECS board is a great performing board that has a great price point. At stock settings, you get a board that is able to keep up with the more pricey Intel board. What more can you ask for! Well, this was just one test, what we would ask for is a board that will do well in the rest of our tests! So let's look and see how it did!
The Tests: Overall System Performance and Memory Bandwidth
PCMark05:
PCMark05 is an application-based benchmark and a premium tool for measuring overall PC performance. It uses portions of real applications instead of including very large applications or using specifically created code. This allows PCMark05 to be a smaller installation as well as to report very accurate results.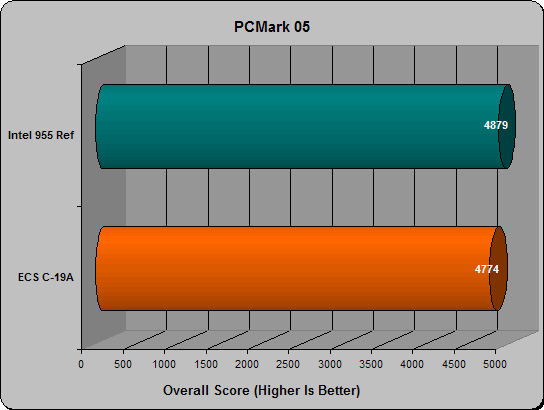 Everest Version 2.20:
Everst 2.20 is a professional system information, diagnostics and benchmarking program for Win32 platforms. It extracts details of all components of the PC. It also tests the actual read and write speeds of your memory giving a fairly accurate look of true memory performance.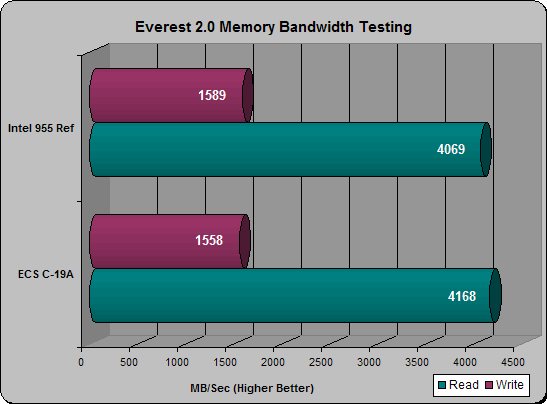 Sisoft; Sandra 2005 SR3a:
Sisoft Sandra 2005 is designed to test the theoretical power of a complete system and individual components. The numbers taken though are, again, purely theoretical and may not represent real world performance. Higher numbers represent better performance in memory bandwidth. The chart was based off of the unbuffered bandwidth scores.
ScienceMark 2.0 Final:
Science Mark 2.0 is an attempt to put the truth behind benchmarking. In an attempt to model real world demands and performance, ScienceMark 2.0 is a suite of high-performance benchmarks that realistically stress system performance without architectural bias. All of our testing was completed on the 32 Bit Final benchmark version that is dated March 21st 2005.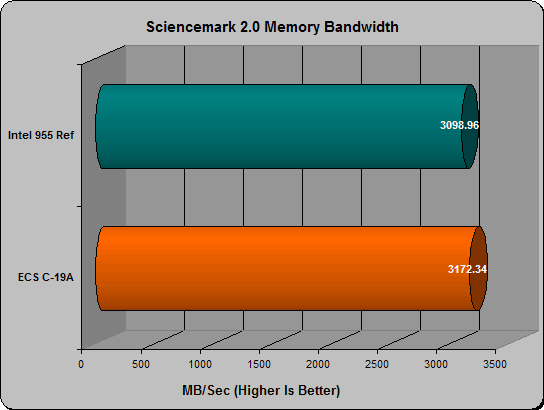 Super PI Mod v1.4:
Super PI is a program a lot of enthusiasts use to benchmark overall system performance, as the program is capable of calculating pi up to 33.55 million digits on a timer. Many overclockers and enthusiasts are in a battle to get the lowest Super Pi times possible. We use the 2MB test this time, as it demands quite a bit more stability than a 1MB test. Of course, most believe using the 32MB test is a must to prove stability.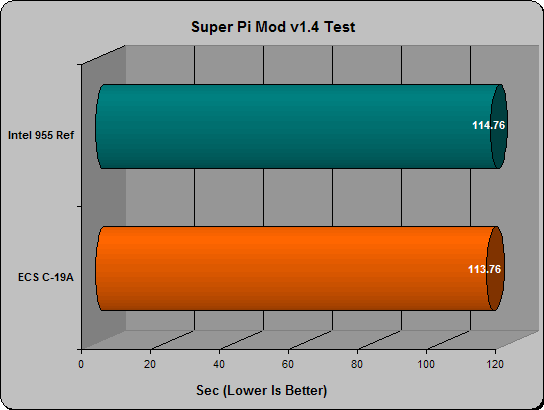 The ECS board plods right along! In our system performance and bandwidth tests, the ECS and Intel board trade off taking the lead in these tests. Very impressive indeed for ECS! Now, let's see how it does in gaming.
The Tests: 3D and Gaming Performance
3DMark05
3DMark05 is best suited for the latest generation of DirectX 9.0 graphics cards. It is the first benchmark to require a DirectX9.0 compliant hardware with support for Pixel Shaders 2.0 or higher! By combining high quality 3D tests, CPU tests, feature tests, image quality tools, and much more, 3DMark05 is a premium benchmark for evaluating the latest generation of gaming hardware.
3DMark06
3DMark06 is the latest version in the popular 3DMark series, including advanced SM2.0 and HDR/SM3.0 Shader graphics tests and now including single, multiple core and multiple processor CPU tests as part of the 3DMark score!
AquaMark3
AquaMark3 is a powerful tool to determine reliable information about the gaming performance of a computer system. Again, resolution is set 1024x768.
Doom 3
Doom 3 is a great choice for system benchmarking because of its built in time demo. For this test, we used Time Demo 1 with resolution set to 1024x768 with detail set to high.
Far Cry
Far Cry is another super popular FPS title that seriously taxes your systems graphics. HardwareOC developed this specialized benchmarking utility that automatically runs the test twice and averages out the score. V 1.41 was used here, with a resolution of 1024x768 and detail levels set to high.
F.E.A.R
First Encounter Assault Recon or F.E.A.R. Anyone who has played this game knows that it brings any computer to it's knees. Fantastic visuals, this is one of the most advanced graphic engines we have seen. If you haven't played this game you should really check it out. Both graphics and machine settings were on "Maximum" in the F.E.A.R. performance menu. Soft Shadows were turned OFF. Settings were at 4xAA and 16xAF.
This is starting to sound like a broken record... err... I guess alot of you do not know what records are, so let's just say that this is the same song, different verse! The ECS board does very well with all of our gaming tests. I am very impressed to see this board perform as well as it does. Ok, so now we have seen our overall system performance, memory bandwidth and gaming tests and the results are all the same: ECS has a good board here. Anyone looking to run a board at default setting really has no need to buy a more expensive board, and should take a look at this offering from ECS. So what more could you ask for? If you are an enthusiast, you want to see what extra performance you can get from a board, so you would ask for overclocking results! Well, let's push the board a little and see what we get!
The Tests: Overclocking
While overclocking for AMD and Intel are both exciting and can produce some good results and alot of extra performance, Intel overclocking is a little different, as you are dealing with a locked multiplier for the CPU (unless you have an ES chip!). Leaving our Intel Pentium at default vcore, and running our ram at a 1:1 setting (and 2.0 vdimm, 4-4-4-12) we were able to push the board to a FSB setting of 183! Not to bad for this budget board. And to tell you the truth, this is the first board that I have overclocked my PD 805, so I am not sure if this was a board limit or a CPU limit.
The Conclusion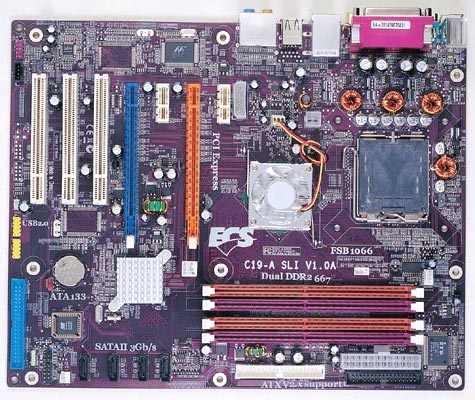 Basically there is not much that I can say that is negative about this board. There was the minor issue of IDE placement, but that did not really hinder me since I do not use IDE drives. I am not real fond of the tab releases that they use on the pcie slots. They are nearly useless as you must find some sort of tool to actually get to them to release the card. There is really not much more to say on the negative side.
On the positive, I like the color purple! Actaully I don't, but I do like seeing variety of color, and if you are into purple, I am sure you will find this board to be right up your alley! The included bundle, while not extravagent, was certainly plenty to get you up and running. The CD that is included in the bundle has all the drivers that you need as well. In fact, I had no issues at all installing the drivers or the included apllications that came on the CD. The board was as stable as they come, with no issues at all during all of our benchmarking.

I also have to say that even the overclocking was simple on this board, as it either booted or it didn't. It is not very often that I get to look at a board with no real issues during testing. Actually, I can't say that we had no issues, as the first ECS board that we had seemed to die on us right before we got to the overclocking testing. We quickly got our replacement board though, and had just as easy a time with it as the first one until it died (may it rest in pieces!). It is also nice to see motherboards being produced with HD sound; certainly that is a nice added touch.

I was pretty impressed to run a $125 CPU at 3.65 (and only 1.328 vcore) on a $80 motherboard. That is a pretty cheap investment for dual core. I will be anxious to see how our chip does on some other boards that we get in to test (other than the Intel boards of course), that way I have something to compare the overclocking to. I would have to say that you get more than you pay for with this board, and that is not something that you can say about alot of computer hardware these days. Most enthusiasts are all about the price to performance value when buying equipment. This board certainly would be a leader in that area for me. To round out the great features of this board, we have to mention as well that is has a one-year warranty, with a US location that should get you a good turn around time.

The Legit Bottom Line
What can I say? This board performs great, has a little style with color, and provides some great high end features, such as HD audio, SATA II and SLI. Above all, this board, with all of those features is cheap! Not in quality, but in price. This is definately a bang-for-your-buck type of board that is worth looking at if you are building a low cost Intel box.