Intel Announces Iris Graphics
Did you know that Intel HD Graphics are the highest-volume graphics solution for PCs sold today? Hardcore gamers are all about discrete graphics, but the shocking truth is that most mainstream users and casual gamers are getting by just fine with integrated graphics. This afternoon Intel briefed us about what is coming in terms of graphics capabilities on the upcoming 4th generation Intel Core processor family that goes by the codename Haswell. While we explain what Intel is working on, we'll be showing you slides from a press briefing that are no longer under embargo!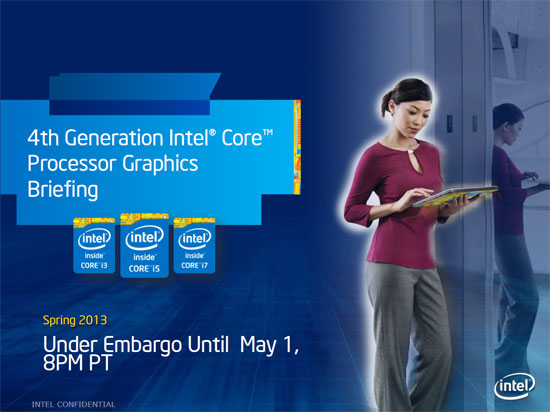 Intel today formally announced Intel Iris graphics, but before they did that they talked about the incredible gains that can be had with 4th Gen Intel Core processors with Intel Iris Graphics, when compared to 3rd Gen Intel Core processors. When it comes to 3D graphics performance Intel informed us that you can see gains such as:
2x 3D performance increase over Intel HD Graphics for the high performing U-series processors designed specifically for Ultrabooks, with Intel Iris graphics.
2x 3D performance increase for Mobile H-series processors (designed for more robust notebook PCs) compared to Intel HD Graphics with Intel Iris Pro graphics and High Speed Memory (eDRAM)
3x 3D performance increase for desktop R-series processors with Intel Iris Pro graphics and High Speed Memory (eDRAM)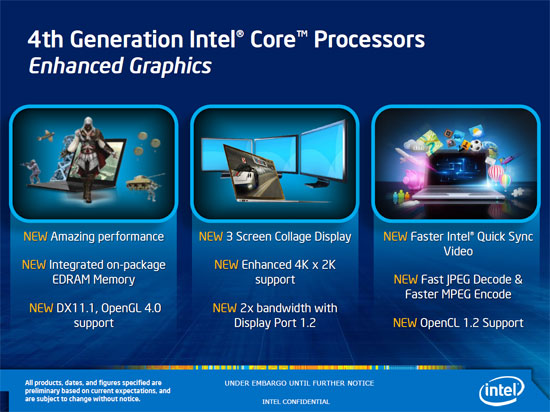 Intel Iris graphics are faster than anything the company has released before, but they also have more advanced video & photo editing features and more robust capabilities. Intel highlighted that 4th Generation Intel Core processors feature faster Intel Quick Sync Video technology, MJPEG acceleration, 4K x 2K UltraHD display resolution support, 3 screen collage mode display, OpenCL 1.2, DirectX 11.1, OpenGL4.1 and DX extensions.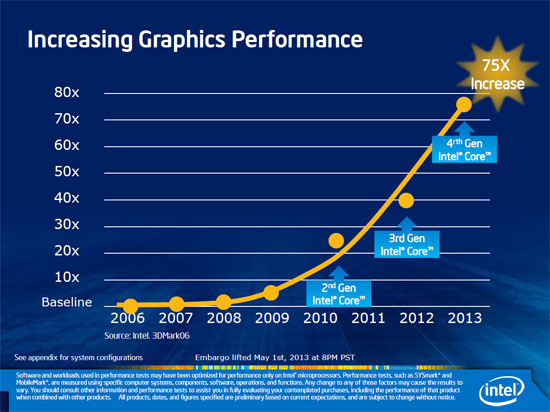 If you go back and look at the performance of the Intel graphics performance from 2006 to 2013 on Futuremark 3DMark06 you'll find a 75x performance increase in this benchmark. Intel gave an example of a consumer that is that will be upgrading a four year old notebook with an Intel Core2 Duo processor to a new Intel Ultrabook with a 4th Gen Intel Core i5 4200U processor with Intel Iris graphics will experience these performance gains.
Almost half as thin and half the weight
17X faster video conversion (optimize a video for a social media site)
25X faster graphics performance (playing visually rich, mainstream PC games)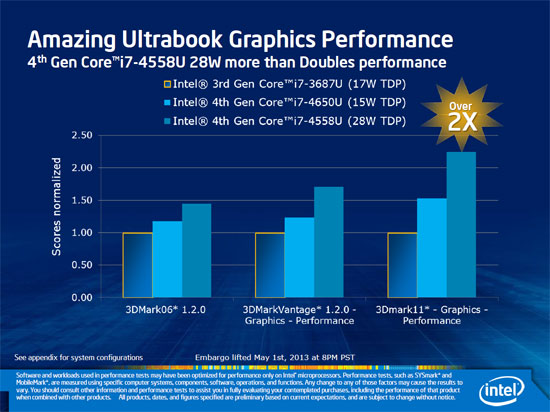 When it comes to Intel Ultrabook performance Intel has some performance charts with 3DMark06, 3DMark Vantage and 3DMark11 being run on the Intel 3rd Gen Core i7-3687U (17W TDP) versus the Intel 4th Gen Core i7-4650U (15W TDP) and the Intel 4th Gen Core i7-4558U (28W TDP). The performance of the Intel Core i7-4650U is 50% faster than the Intel Core i7-3687U in 3DMark11 and the processor has a 2W lower TDP! More performance and less power use is what you want to see in an Ultrabook!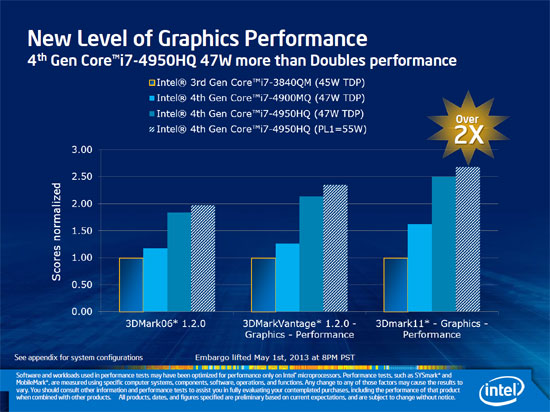 The next example Intel used has the Intel Core i7-3840QM 'Ivy Bridge' processor going up against the Core i7-4900HQ and the Core i7-4950HQ. The Intel Core i7-4950HQ is a quad-core with Hyper-Threading high-end mobile processor that uses GT3e graphics with embedded memory (Intel HD 5200), so this is as good as it gets for mobile processors. You can see that it doubles the performance of the Intel Core i7-3840QM quad-core processor with Intel HD Graphics 4000.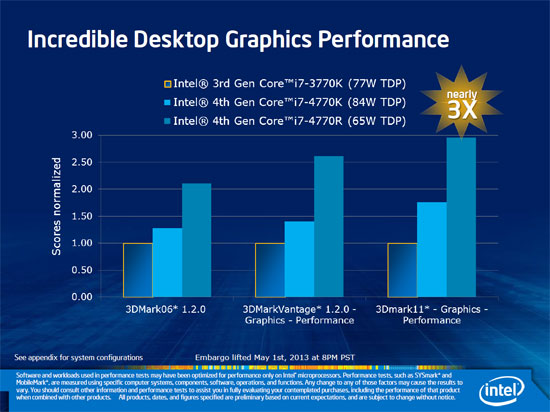 This is the most interesting slide of the bunch for desktop users. It shows the current flagship desktop processor for LGA1155 platforms, the Intel Core i7-3770K 3.9GHz quad-core processor with Intel HD 4000 Graphics as the baseline going against some new Haswell processors. The first comparison is against the Intel Core i7-4770K 3.9GHz quad-processor that has Intel HD 4600 Graphics. Since both processors have the same clock frequencies and number of cores/threads it shows that Intel was able to get a 20-70% performance gain in the three 3DMark benchmarks shown. The final processor shown in this chart is the Intel Core i7-4770R and it dominates. Before you get too excited, this upcoming Haswell processor is available in the BGA form factor only and is not for LGA1150 socketed systems. This quad-core processor still runs at 3.9GHz, but has 6MB of cache instead of 8MB. It makes up for the smaller cache by having the massive Intel GT3e graphics chip with embedded memory, so this 'desktop' processor is running Intel HD 5200 graphics. As you can see it destroys the Intel Core i7-3770K when it comes to performance, but it is BGA only.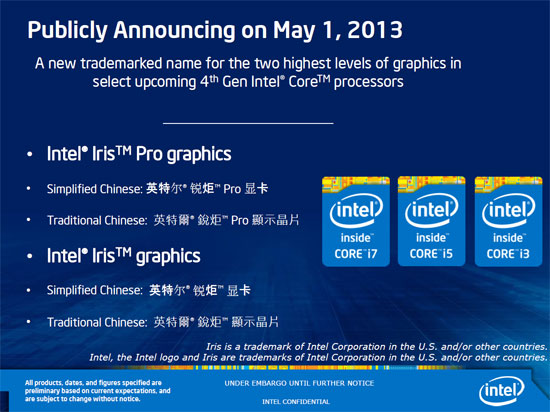 Other than some exciting performance details, Intel also announced a trademarked name for the two highest levels of graphics for the 4th Generation Intel Core processors. The Intel GT3e (Intel HD Graphics 5200) will be known as Intel Iris Pro Graphics 5200 and what we've been calling the Intel GT3 (Intel HD Graphics 5100) will be called Intel Iris Graphics 5100. The next slide will help you immensely if you are getting confused.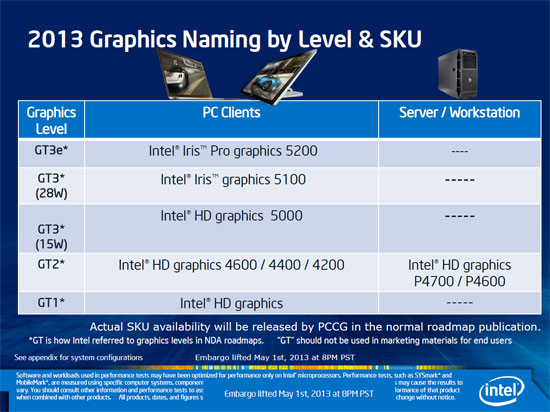 As you can see the is basically just swapping out the 'HD' for 'Iris' on the top two skus to help separate them from the bunch. It should be noted that Intel Iris Pro and Intel Iris graphics will only be available as BGA parts.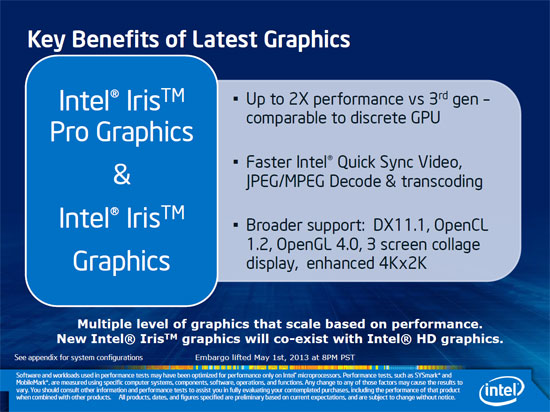 It is interesting that Intel is focusing so much on graphics performance for this processor launch. In fact, this is the most we have ever seen Intel talk about graphics since we started reviewing computer hardware over a decade ago. It just goes to show that graphics performance is one of the main features of these upcoming processors.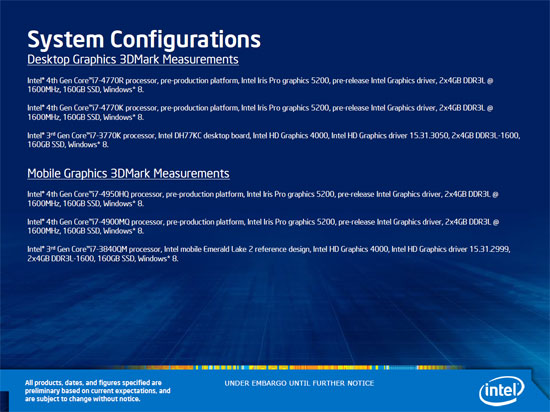 Since the readers of Legit Reviews are technical and performance minded, we'll close with the system configurations that Intel used to get the 3DMark numbers! We'll be back with more Intel Haswell information when we have it to share!