Yonah A Year Early
The move to multi-core seems to be going quite well for Intel these days. While walking around the multi-core booth area at IDF 2005 we were pleasantly suprised to see Yonah up and running on a demo system. This is a big deal because Yonah is on the roadmaps for the mobile processor line in 2006; not 2005! For those that don't know Yonah is going to be the replacement processor for the current Dothan mobile processor. Below is an image of the system that Intel had up and running. Note the Windows Task Manager window on the monitor showing both cores running a video from the hard drive.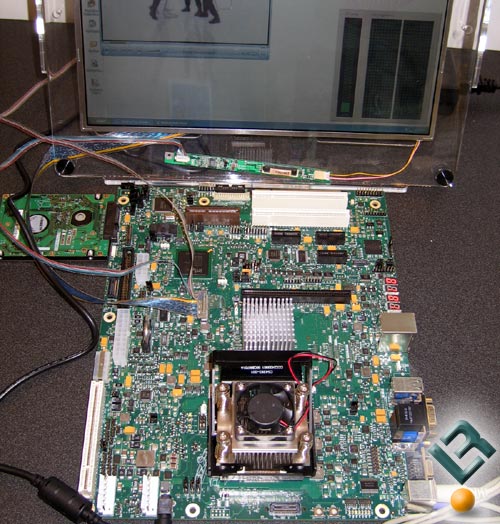 Intel didn't have much to say about their display, and to be honest they just said it was Yonah, 65nm, and due out in 2006 for use to quote on the record. We happen to know a little bit more than that though! ;) Yonah is one of the first Intel processors that is to feature 65nm process technology. They are being produced at D1D Fab, which just happens to be the 65nm development center located in Oregon and is where the other 65nm CPU's will soon be coming from. Yonah will be implemented on a single piece of silicon, but will feature two execution cores. Although the Dothan processor's replacement will sure take performance to the next level it is currently missing a few features that many thought would be included. Hyper-Threading has not been added and neither has EMT64 support. Intel may make some changes before the final die revision, but only time will tell. For a processor due out in 2006 and the recent move to 64-bit processors one would have expected Intel to support these bleeding edge features.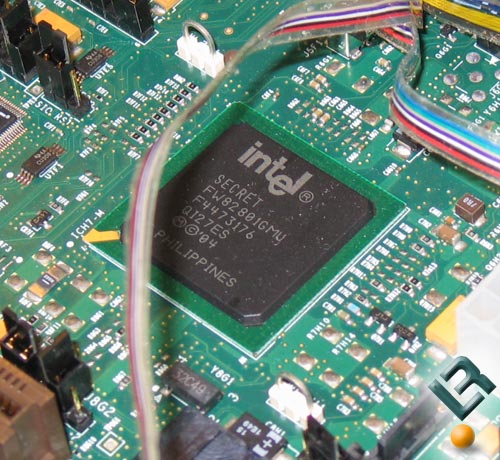 This processor will be used on the new mobile platform is known as the "Napa Platform". Since there is a new platform that means there are new chipsets to go along with it, and the code name for that is Calistoga. The above image shows "secret" on the southbridge chipset, but good thing for us/you Intel silk screened ICH7-M on the motherboard (left corner of chipset) for us to know what they are using on the south side of the board. If you also take a close look around the southbridge you'll note the optional heatsink mounts. Intel also informed Legit Reviews that the Wireless LAN being developed is known under the code name Golan.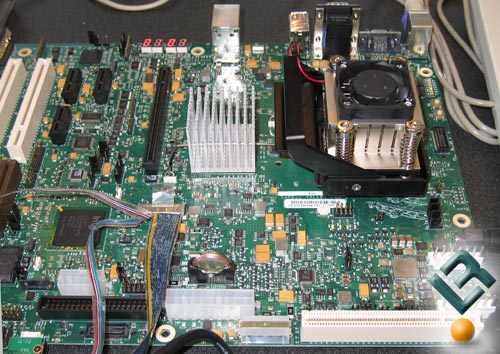 Mobile users and enthusiasts know that the Dothan processor is by far one of the best cpu revisions that Intel is shipping today. Adding dual core technology will only make it better and it is nice to see that 65nm CPU's are being produced -- not to mention up and running! Expect Intel's 65nm mobile and dual core processor, Yonah, to ship at the end of 2005 and have a formal introduction in the first quarter of 2006. Yonah will be part of the new "Napa" mobile platform, and if all goes as Intel plans, will be able to hold off AMD's attempts at the mobile market for years to come.