Samsung 470 Series 256GB SSD - MZ-5PA256/US
With just about every major technology company jumping on the solid state drive gravy train, it was only a matter of time before one landed on our desk with the Samsung brand name proudly displayed. After all, Samsung is no stranger to storage devices and their platter drives have enjoyed commercial success for some time now. Unlike some of the other SSD makers, Samsung has forged their path using their own components rather than taking the SandForce, Indilinx or JMicron route - the three most popular controllers which encompass the majority of consumer SSDs available today.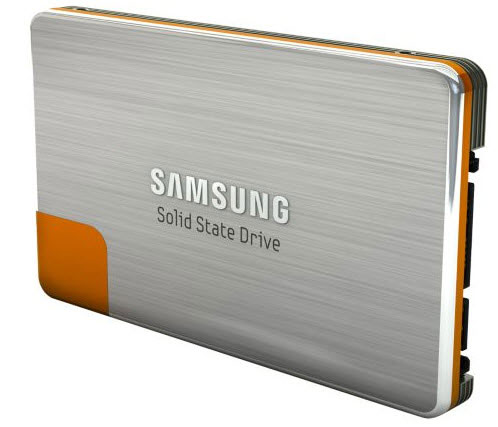 The big question is, can they put out a product that stands out from the crowd? Before we had the drive in hand, we couldn't help but wonder how well they would compete with the drives already on the market. Forgoing the suspense, we'll state up front that the 256GB Samsung 470 Series drive we received performed extremely well and stood tall with some of the best drives we've tested to date. Samsung lists the performance of the 256GB drive as 250MB/s reads and 220MB/s writes which is how they derived the naming convention with 470 being the sum of both metrics. Those are big performance numbers to match its equally large price tag of $486 for the 256GB drive.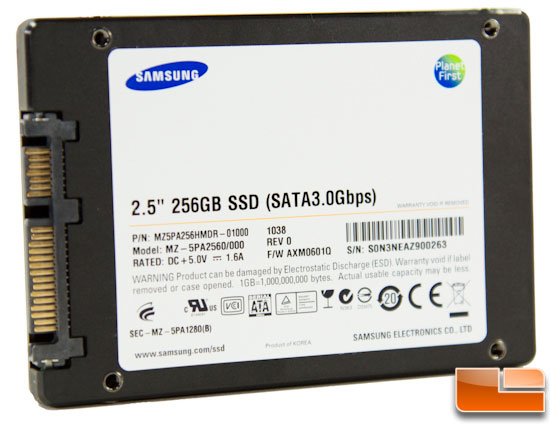 While our sample drive arrived as a rather unassuming black plastic shell in a 2.5" form factor and generic model stickers, the retail version is much more appealing with a brushed metal casing and orange accents. Samsung has three capacities available at 64GB, 128GB and 256GB and we've listed the specifications for each below. All carry a 3-year warranty and Mean Time Between Failures (MTBF) rate of 1.5 million hours. The drives do support TRIM and garbage collection which just about everyone is on the lookout for these days.

Samsung 470 Series Specifications:
Model
470 Series
470 Series
470 Series
Capacity
64GB
128GB
256GB
Form factor
2.5-Inch
2.5-Inch
2.5-Inch
Dimensions (HxWxL)
9.5x69.85x100 (mm)
9.5x69.85x100 (mm)
9.5x69.85x100 (mm)
Weight
Max 64g
Max 68g
Max 68g
Interface
Serial ATA 3.0Gbps
Serial ATA 3.0Gbps
Serial ATA 3.0Gbps
Sequential read
Up to 250 MB/sec
Up to 250 MB/sec
Up to 250 MB/sec
Sequential write
Up to 170 MB/sec
Up to 220 MB/sec
Up to 220 MB/sec
Random read
Up to 31,000 IOPS
Up to 31,000 IOPS
Up to 31,000 IOPS
Random write
Up to 11,000 IOPS
Up to 20,000 IOPS
Up to 21,000 IOPS
Active power use
0.24W
0.24W
0.24W
Idle power use
0.14W
0.14W
0.14W
Allowable voltage
5V ± 5%
5V ± 5%
5V ± 5%
TRIM support
YES
YES
YES
Reliability (MTBF)
1.5 million hours
1.5 million hours
1.5 million hours
Warranty
3 year (= 21.9TBW, [email protected])
3 year (= 21.9TBW, [email protected])
3 year (= 21.9TBW, [email protected])
Temperature
-55℃ to 95℃ (Non-Operating)
-55℃ to 95℃ (Non-Operating)
-55℃ to 95℃ (Non-Operating)
Humidity
5% to 95% (Non-Operating)
5% to 95% (Non-Operating)
5% to 95% (Non-Operating)
Vibration
Operating: Random 2.17Grms(5~700Hz)
Non-Operating: Random 3.13Grms(5~800Hz)
Swept sine: 20G peak @10~2KHz

Operating: Random 2.17Grms(5~700Hz)
Non-Operating: Random 3.13Grms(5~800Hz)
Swept sine: 20G peak @10~2KHz

Operating: Random 2.17Grms(5~700Hz)
Non-Operating: Random 3.13Grms(5~800Hz)
Swept sine: 20G peak @10~2KHz

Shock
1500G, duration 0.5ms, Half Sine Wave
1500G, duration 0.5ms, Half Sine Wave
1500G, duration 0.5ms, Half Sine Wave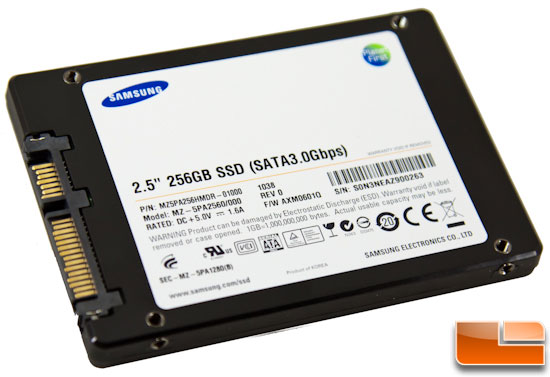 We were a little surprised as to what we found we when opened up the shell to get a look at the guts of the drive. Intrigued? Let's have a look!

Samsung 470 Series Internals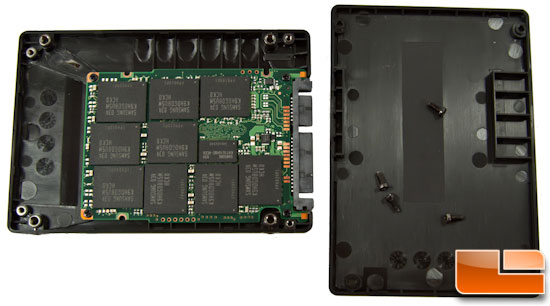 The first thing we noticed was the size of the PCB as compared to the drive casing. We're accustomed to seeing the PCB fill the entire area of the case but not so with the Samsung 470 Series.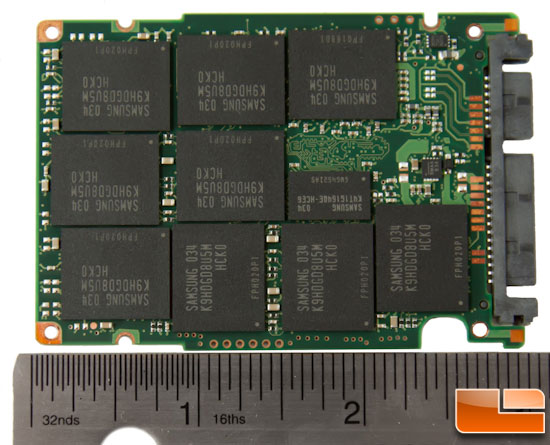 At just 3" long and 1.8" wide, there's precious little real estate left on the PCB after all of the chips are in place and it's possible that this same board could be used in a 1.8" form factor drive.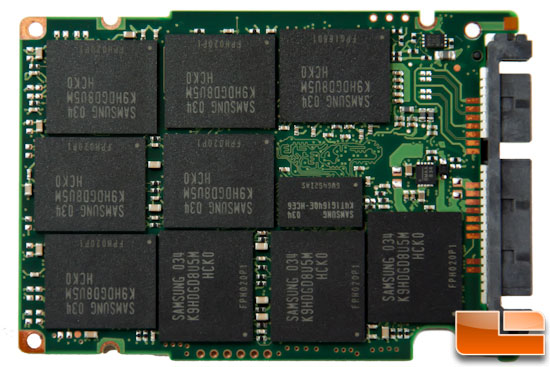 One side features nine of the sixteen MLC NAND chips on board which are clearly Samsung's own manufacture as evidenced by the branding. Also on this side is one of two (yes two!) K4T1G164QE-HCE6 64MB DDR2-667 cache chips for a total of 128MB of cache on board. That should be more than ample for buffering data and is rather unusual to see two cache chips.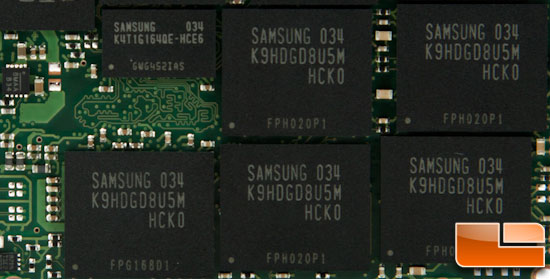 A closer look shows the part number of the NAND as K9HDGD8U5M-HCK0 which is of the 32nm Toggle DDR 1.0 variety- each at 16GB. Those not familiar with ToggleDDR NAND, should head over to Samsung's semiconductor site where they do a lot better job at explaining it than I'll be able to do here.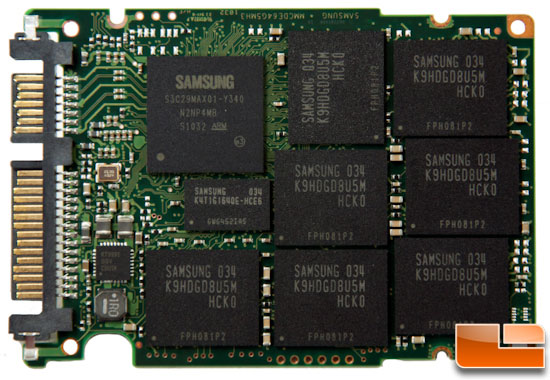 Only the other side of the board lies the other seven NAND chips along with the second cache and the Samsung controller which supports both TRIM and garbage collection. We were unable to locate the part number S3C29MAX01-Y340 for the controller on their site but it appears to be a 32-bit ARM9 processor which is confirmed by the ARM etched right on there.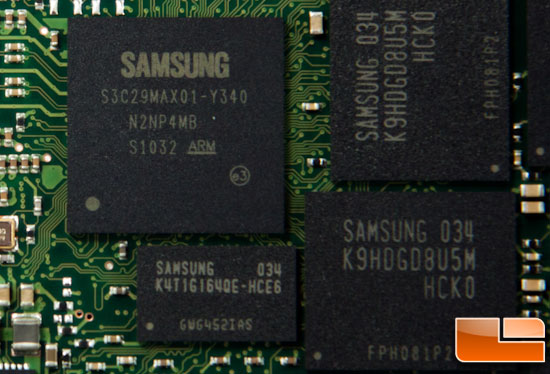 These components and versions may or may not be what the final production drive ships with but we'd be surprised to see any major differences other than maybe some revision differences in the part numbers.

Samsung 470 Series - Test System
TEST SYSTEM
All tests were performed on a fresh and up-to-date install of Windows 7 Pro x64 with no other applications running while using AHCI mode set through the BIOS. Synthetic Benchmarks were run with the OS loaded on a 40GB Corsair Force SSD. The ASUS P6T Deluxe (BIOS v1701) motherboard uses an ICH10R south bridge chipset which supports TRIM. In between every test, the drive was secure erased. As such, all results should be indicative of optimal performance. All components were set to their default speeds and are listed below:
Intel LGA 1366 Test Platform
Component
Brand/Model
Live Pricing

Processor

Core i7 920

Motherboard

ASUS P6T Deluxe V1 (1701)


Memory

CORSAIR XMS3 3GB DDR3 1333

Video Card

Gigabyte GeForce GT 430

OS Drive

Corsair Force 40GB

Power Supply

Corsair HX1000

Operating System

Windows 7 Pro 64-Bit
Comparison Drives & Other Models We Have Tested

Since there are so many SSDs out there now with different controllers, we started a reference table of which controllers are used by each drive to help you compare results. Different controllers definitely perform differently and each has various strengths and weaknesses. Like CPU's, even identical drives will have variations in performance and part of that variance may be attributable to the NAND flash used.

The readout on CrystalDiskInfo 3.9.1, both NCQ and S.M.A.R.T. are enabled, as is TRIM. This is a great free tool to see what version of firmware the drive is running in the event there are updates available.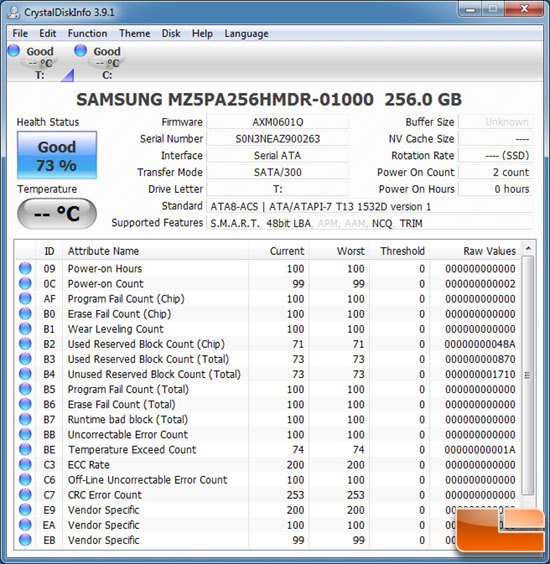 On to the benchmarks!
ATTO & AS-SSD Synthetic Benches
ATTO v2.41
ATTO is one of the oldest drive benchmarks still being used today and is still very relevant in the SSD world. ATTO measures transfers across a specific volume length. It measures raw transfer rates for both reads and writes and places the data into graphs that can be very easily interpreted. The test was run with the default runs of 0.5kb through 8192kb transfer sizes with the total length being 256mb.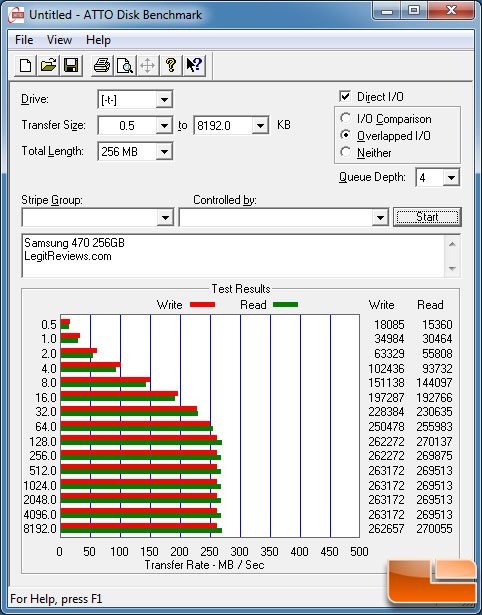 Benchmark Results: Solid scores here with the reads and writes both exceeding the specifications put forth by Samsung of 250MB/s & 220MB/s respectively. The 256GB 470 series drive keeps pace with every SATA II based drive in our comparison.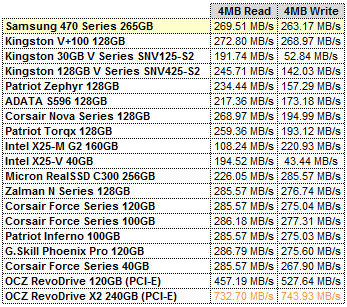 AS-SSD Benchmark
We have been running the AS-SSD Benchmark app for over a year now and found that it gives a broad result set. Many testers are using the 4k file size read/write results for the IO Meter benchmark which is an old tool and the AS-SSD benchmark essentially shows the same metric in its results set. The programmer worked very hard on this software and continues to make updates often so if you use it, show him some love.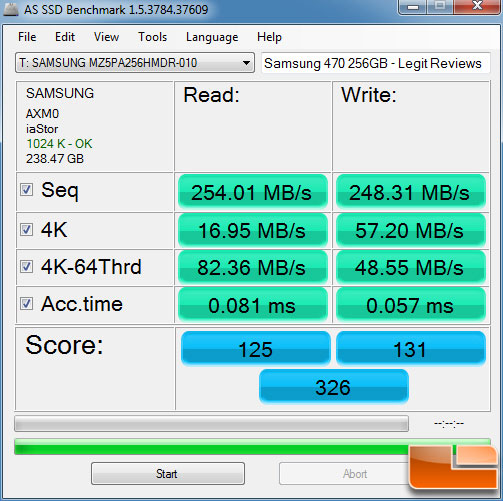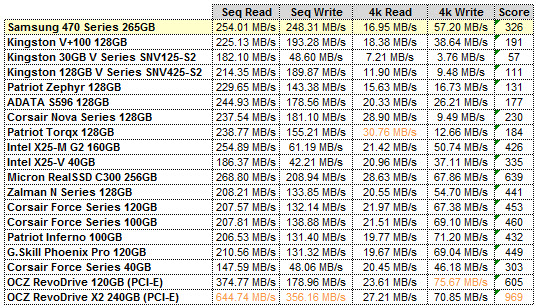 Benchmark Results: Again the final numbers exceed expectations and bested nearly every drive in the sequential read/writes. The 4k read/writes weren't quite as fast as the other drives but they are in the ballpark and as such, the overall score fell a little short of what we see for some of the better drives in the comparison.

HD Tach & CrystalDiskMark Synthetic Benches
HD TACH 3.0.4.0
HD Tach is a low level hardware benchmark for random access read/write storage devices such as hard drives, removable drives (ZIP/JAZZ), flash devices, and RAID arrays. HD Tach uses custom device drivers and other low level Windows interfaces to bypass as many layers of software as possible and get as close to the physical performance of the device as possible.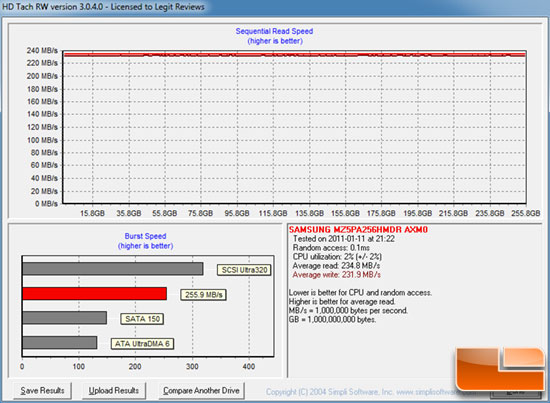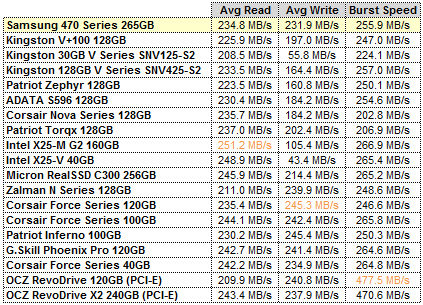 Benchmark Results: A very clean and smooth graph indicates consistent performance but this is the first benchmark to show read scores falling below rated specifications. That's not unusual for this benchmark though. Writes did exceed the specification and overall performance was excellent.
CrystalDiskMark 3.0.0h
CrystalDiskMark is a small benchmark utility for drives and enables rapid measurement of sequential and random read/write speeds. Note that CDM only supports Native Command Queuing (NCQ) with a queue depth of 32 (as noted) for the last listed benchmark score. This can skew some results in favor of controllers that also do not support NCQ.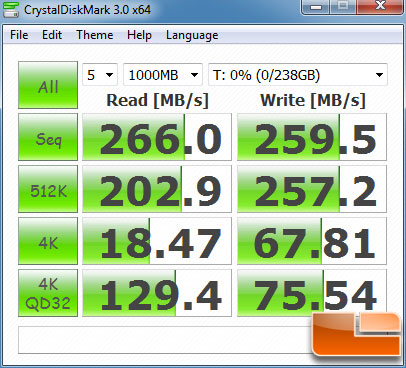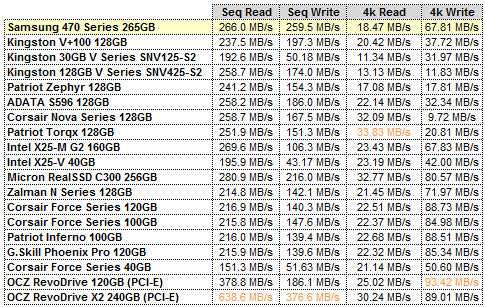 Benchmark Results: We see a lot of drives begin to struggle here because CrystalDiskMark uses incompressible data. The 470 Series chugged right along here exceeding rated specifications for both reads and writes while posting some of the best scores of any SATA II based drive - especially in the sequential writes.

PCMark Vantage Synthetic Benchmark
PC Mark Vantage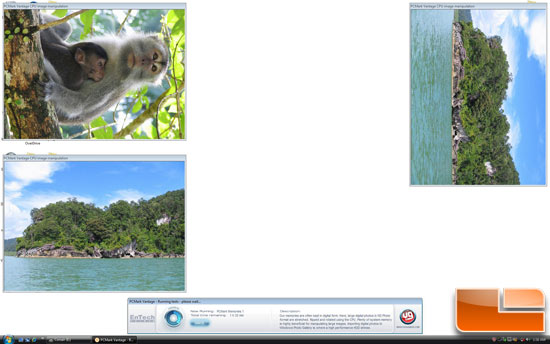 PCMark Vantage v1.01 measures the performance of the latest PC hardware across a variety of common scenarios. PCMark Vantage supports both system level and component level benchmarking and comprises several different test suites but for the purposes of this review, we stuck with just the HDD suite. The nice thing about PCMark Vantage is that you can submit your scores online and compare against others.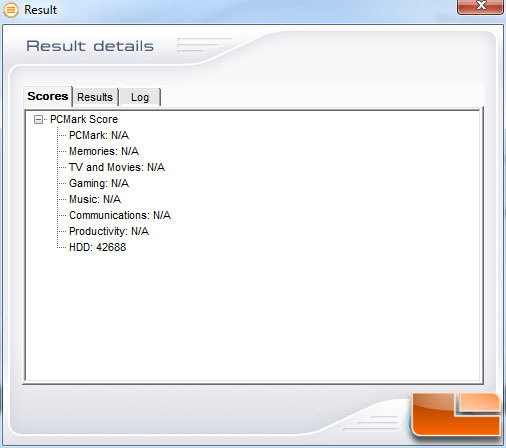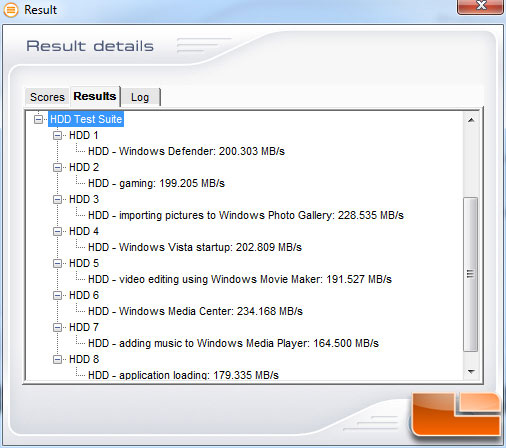 Benchmark Results: Again the Samsung 470 Series has no problem keeping pace with the pack and posts a very respectable overall score of 42,688.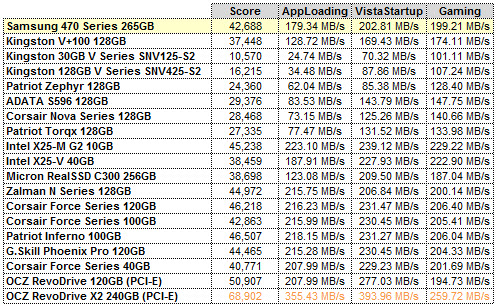 Samsung 470 Series - Real World Tests
One of the most common operations performed on a PC is moving/copying files. Using a free application called Teracopy, we copied large numbers of two file types from one folder to another on the same drive. Teracopy allows us to objectively measure the time of transfer and using the same drive prevents other devices from tainting the outcome. The operation requires the drive to perform both sustained read and writes simultaneously. The first was a 2.12GB collection of mostly JPG files (with a few .MOV files thrown in) of variable sizes which were taken at CES in January of 2010.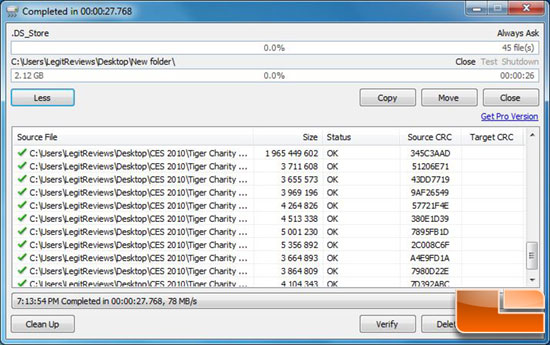 The second was a collection of MP3 files of various sizes that totaled 4.65GB collectively. These file types were chosen due to their wide use and mixture of file sizes and compression levels.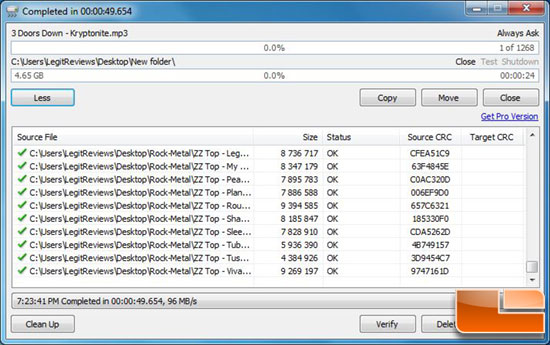 Install Results: I'll admit, I was surprised at just how well the Samsung 470 Series performed here. The real-world performance is impressive, posting some of the best times we have seen.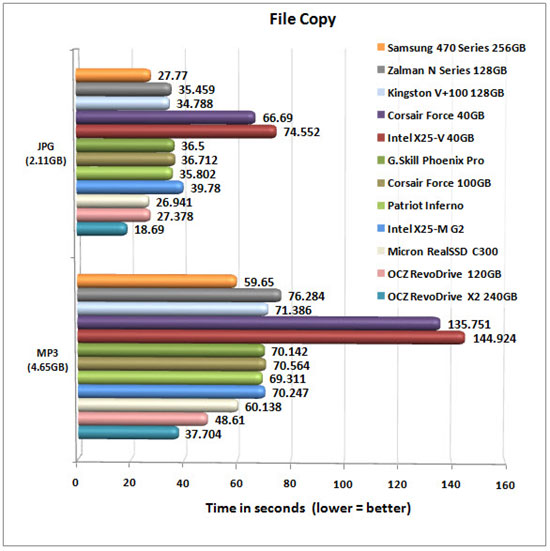 We also timed the installation of a few rather lengthy applications/suites as app installs is something everyone does and waiting for completion can be a drag. We used Adobe Dreamweaver CS5, Microsoft Office 2010 Professional and Futuremark's 3DMark Vantage as our test subjects with all install settings at default. Both were installed from an installer located on the target drive itself as installing from another drive, especially an optical drive, would cause a bottle-neck that would corrupt the results. The timing for these had to be done via stopwatch so there should be about a half second +/- error margin. Again, with the source and target drives being the same, concurrent read/write activity is required.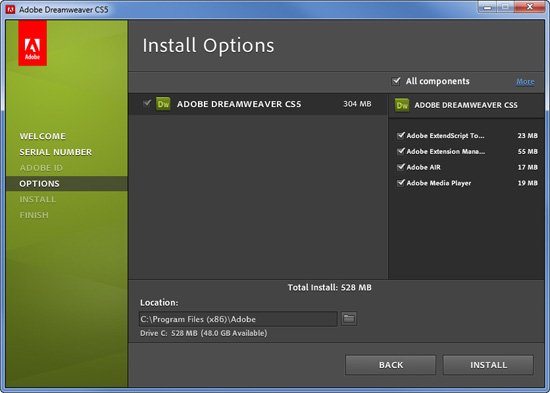 Install Results: Again, scores are very good here with negligible differences in times between the 470 Series and the rest of the comparison drives.

Last but not least, everyone's favorite is the Windows startup/shutdown time check. This is one of the big reasons you want an SSD as your boot drive!

This test was also performed with a manual timing method via stopwatch and should also carry the same half second +/- margin of error. The methodology employed was to force the BIOS to allow user selection of startup drive after load and begin timing from the time the enter button is pressed until the Windows desktop appears on the screen. All of the instances of Windows were identical and freshly installed with only the NVIDIA video driver manually installed.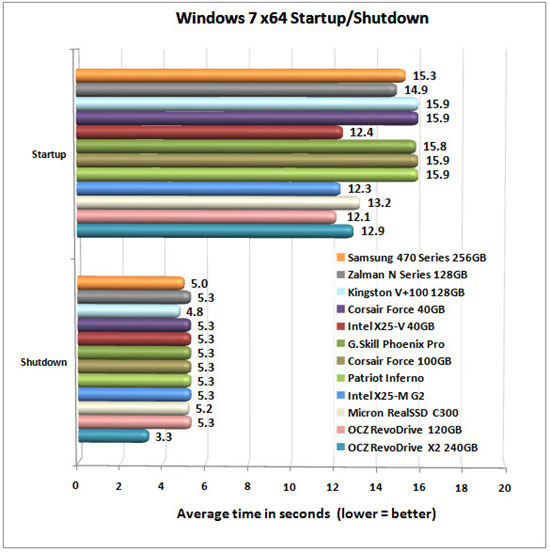 Install Results: Scores here are pretty much what we expected with times being roughly equal to most of the other drives. Frankly, there aren't many SSDs anymore that will stand out in terms of performance in Windows start up and shut down so the metric is losing its relevance.
We'll wrap this with a look at the total drive capacity and our final thoughts.

Capacity, Final Thoughts & Conclusions
As with all SSDs today, the portion of storage actually available to the user is less that what is physically on board and the Samsung 470 Series is no different. After Windows takes its administrative cut and the chunk set aside in overprovisioning, the user is left with 238GB usable space. This is only 7% unavailable which is a rather low percentage knowing that some drives set aside nearly 20%.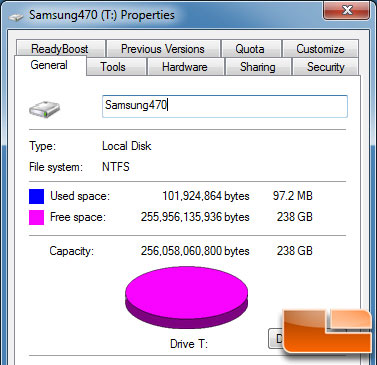 The cheapest we could find the 256GB version online is $486 but in many places it is selling for over a hundred dollars more. At a cost of $2.04 per usable GB, the price is pretty much in line with what we see with its competition. Being one of the newer drives on the market, the price is going to reflect a premium and we'd expect to see that price to drop as supply increases.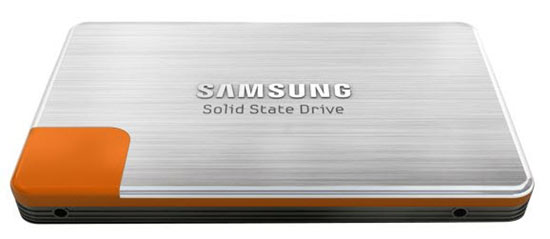 Overall, we were duly impressed with the 470 Series and it exceeded its rated specifications of 250MB/s reads and 220MB/s writes in nearly every benchmark we threw at it. With Samsung being a relatively new player in the consumer SSD market, they are getting off to a great start. With a 3-year warranty and Samsung's reputation in the industry, this is a very solid offering. This is especially true with the fact that they are using their own components and not leveraging more seasoned third party parts. We'd be surprised if we didn't see more drives popping up with Samsung exclusive components.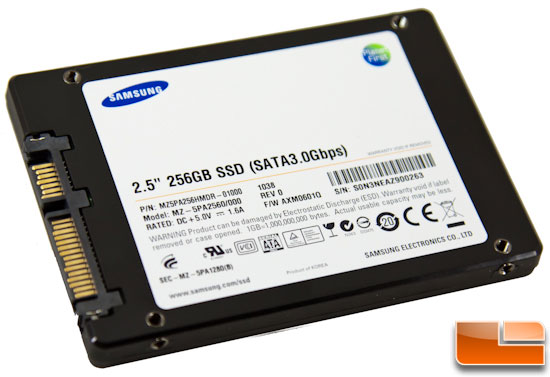 Still, though the controller supports both TRIM and garbage collection, we wonder just how the drive will perform over time. So much so that, we decided that for the new year, we'll do something different and document a longer term usage study just to find out. This will also satisfy one of the most requested actions by our readers as many people are still reluctant to take the step to move to SSDs for fear of long term performance issues. At the completion of this writing, this very drive will be used in this writer's main (non-bench) desktop PC for the next three months. A few benchmarks will be executed at the beginning, middle and end of the trial to see how performance is impacted over time with regular use on a machine that sees a variety of normal user applications like gaming, photo/video editing, web/email and various multimedia activities.

To see how this all pans out, you'll have to wait for the follow-up article. However, in the meantime, we'd be interested to see how you think this little experiment will turn out and what else would you like to see in our SSD reviews. Chime in on the thread for this article in our forums and we'll take the feedback to tailor our content to more of what you would like to see.

Legit Bottom Line: Samsung really surprised us with their 256GB 470 Series solid state drive. It performed above expectations on nearly every benchmark and kept pace with the SandForce drives that seem to the darling of the industry right now. Barring more data on long-term performance, we have no hesitations recommending the 470 Series to anyone looking to upgrade.