What Embargo? Intel Core i7-4960X Gets Fully Benchmarked
Fri, Jul 19, 2013 - 10:59 AM
Tom's Hardware and Anandtech have become known in recent years of magically acquiring and benchmarking early engineering sample of the upcoming processors and it appears that trend continues as Tom's Hardware has posted up a 'preview' of the Intel Core i7-4960X processor.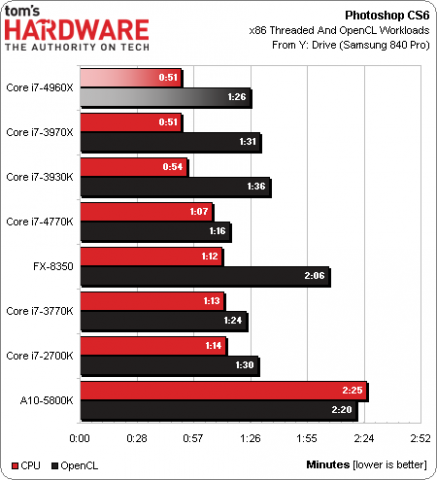 Tom's Hardware shows that the Intel Core i7-4960X pretty much ties the Sandy Bridge-E-based -3970X in their Photoshop benchmarks.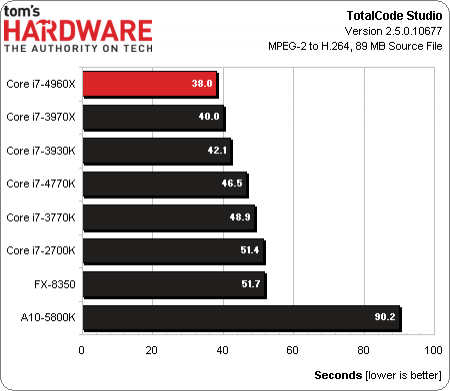 MWhen it comes to video transcoding Tom's Hardware used the well-threaded TotalCode Studio (formerly MainConcept) app and showed that the Intel Core i7-4960X Ivy Bridge-E processors was in the lead, but was only 5% faster than the Intel Core i7-3970X Sandy Bridge-E CPU. The 4960X was found to be 18% faster than the quad-core Intel Core i7-4770K Haswell processor.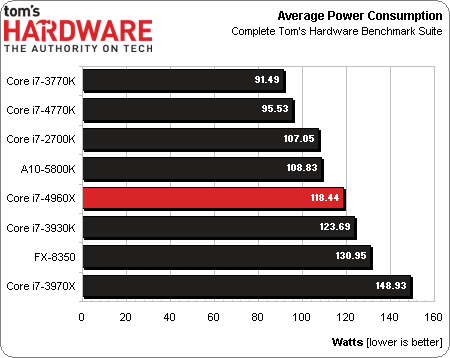 When it comes to power consumption things look very good as it uses far less than Sandy Bridge-E, so guess what? We have a new processor that is coming out that is slightly faster than what it replaces and is much more efficient! Sounds like the same old song that we are all used to! If you start saving now, you might be able to shell out $1000 for when the processor is due to be released (September 11th, 2013 is the rumored date).
"Does Intel's Core i7-4960X, specifically, get me all revved up about upgrading? Well, no. Not really. But then again, those thousand-dollar CPUs rarely do. What about a hypothetical Core i7-4930K replacing the -3930K under $600? That'd be a tough sell for all of the same reasons. Mainly, it doesn't push performance high enough to warrant a big price tag. Any interest in a Core i7-4820K? I'd be more inclined to bet on a -4770K/Z87 platform, if only for the newer chipset's extra functionality." – Chris Angelini