Western Digital WD TV Play Media Player Review
Wed, Feb 20, 2013 - 12:00 AM
Setting up the WD TV Play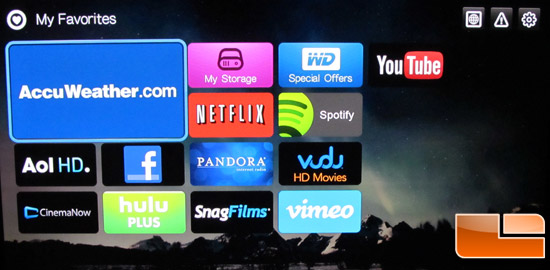 Setting up the WD TV Play was very simple. Western Digital has really made set up very simple and fool-proof. After unpacking the unit from the box, all we did was connect the power cord and HDMI to our television.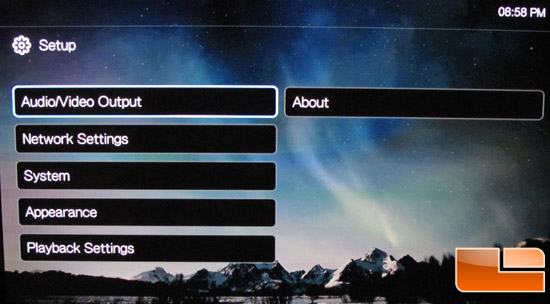 After powering up, the WD TV Play asks what language we wanted to use and then proceeded to search for a wireless connection.
For a small box, the WD TV Play had no trouble finding our Wi-Fi – as well as a bunch in our neighborhood. Even if you have your SSID hidden, the WD TV allows you type out whatever you need. Typing isn't exactly fast, but once you have it set up, you will never have to go back.
Western Digital offers free 30-day support from the date of your first support call so this should ease the minds of those nervous about setting the player up. Even though the set up might be easy, you never know when you need a hand or the help of a friendly customer service professional!
For those familiar with the WD TV Live or WD TV Live Hub, the user interface will look very familiar. Western Digital has taken the latest GUI and tweaked it slightly to make it button or "app"-based. Now when you get into the WD TV Play environment, you are greeted with your "Favorite App" menu. Western Digital has made it so that the user can customize the GUI and display their most used or favorite app. You can move and rearrange the apps as well as set up apps to auto-run when the unit starts.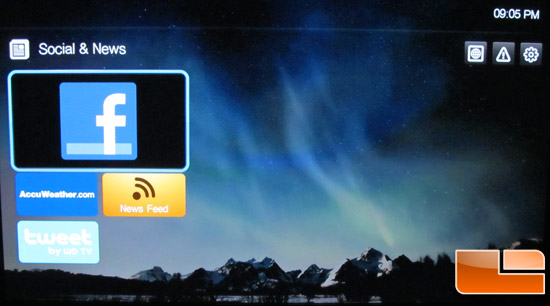 There are certain apps that you can "pin" to the large parking place on the front page – AccuWeather, Facebook, Twitter, Spotify, Picasa, Newsfeed, or a mapped folder from the My Storage app. For those who are family conscious, you can also block apps with a password just to make little Johnny isn't watching the wrong things on Netflix or Hulu.
Here is the full list of applications available to the WD TV Play:
AOL HD
AccuWeather.com
CinemaNow
Comedy Time
Dailymotion
Facebook
Flickr
Flixster
Funspot
Hulu Plus
Launchpad by Flingo
Live 365
Netflix
News Feed (RSS)
Pandora
Picasa Web Albums
Red Bull TV
SEC Digital Network
Shoutcast Radio
SlingPlayer
Snagfilms
Spotify
TuneIn
Tweet by WD TV
Vudu
Viewster
Vimeo
Watch Mojo
XO's College Sports
YouTube
YuppTV
There are a total of 33 apps including the "My Storage" app that lets you access attached storage, and "WD Special Offers" tile that notify a user of certain special offers in their region.