Western Digital WD TV Play Media Player Review
Wed, Feb 20, 2013 - 12:00 AM
Introducing the newest WD TV Player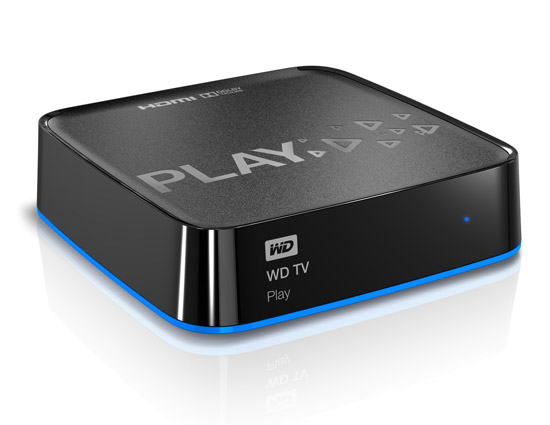 This week, Western Digital has released the WD TV Play Media Player. This player is continues Western Digital's established tradition of providing quality set-top boxes to those looking to get the best out of their home theater. Priced at $69.99 shipped, the WD TV Play is designed to be a very versatile box that streams tons of internet channels, but can also play your personal multimedia that is housed on your network.
In the new day of smart phones, smart TVs, and tablets that are able to grab multimedia from all over the internet, Western Digital allows you to do the same with any Television in your possession making it one of the smartest devices in your home or office. With the WD TV Play's built-in Wi-Fi (Wireless-N), you can set the box up anywhere to stream videos, music, photos, or attached USB storage. Since the player can interface with your DLNA or UPnP shared drives, you don't even need a dedicated server in your house to enjoy your personal media – just a shared drive or folder on your PC, MAC, or smartphone!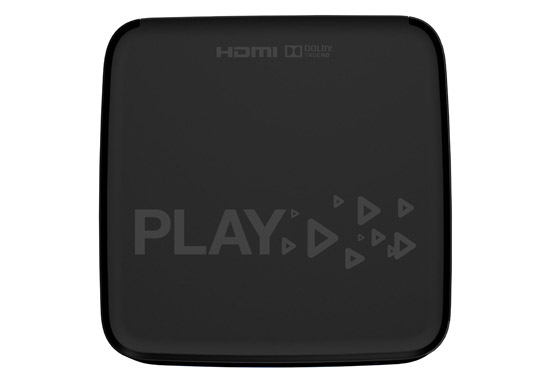 Even if you don't care about viewing grandma's birthday video, you can take advantage of Western Digital's partnerships with Netflix, Hulu, Vudu, and Spotify to stream hit movies and videos all in full-HD 1080p.
Similar to the Netgear streaming media player we reviewed recently, the remote control can let the user access your favorite application or channel with the touch of a button. In fact, you can even use your iOS or Android-based smartphone as a remote control for the WD TV Play by downloading the WD TV Remote app.
Key Specifications:
Easy to set up, easy to use with built-in Wi-Fi
One-touch access using remote control or smartphone
Plays your photos and home videos in Full-HD 1080p
Supported Media Formats:

Video: AVI (Xvid, AVC, MPEG4, VC-1), MKV (h.264, x.264, AVC, MPEG4, VC-1), TS/TP/M2T/M2TS (MPEG4, AVC, VC-1), MP4/MOV (MPEG4, AVC), WMV9, FLV (AVC)
Image: JPEG, GIF, TIF/TIFF, BMP, PNG
Audio: MP3, WAV/PCM/LPCM, WMA, AAC, FLAC, MKA, AIF/AIFF, OGG, Dolby TrueHD

Dimensions: 4.2 x 4.1 x 1.1 inches ; 5.1 ounces
When you put the WD TV play up against some of the more popular set-top boxes on the market today, it looks very impressive – especially when you consider the suggested retail price.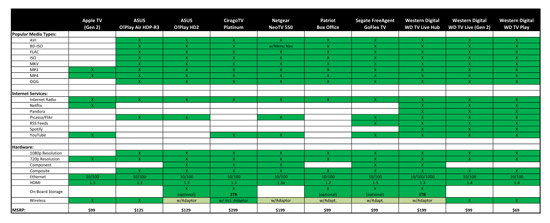 (Click for larger Image)