WD Red 3TB NAS Hard Drive Review
Tue, Dec 11, 2012 - 12:00 AM
Final Thoughts and Conclusions
The Western Digital Red series was designed for NAS servers and it leaves us wondering why no one did this before! Industry analysts believe that the NAS market will greatly expand in the years to come and WD now has a product to fill the void that was present. Buying the least expensive drive at your desired capacity and using it in a NAS was the popular way to find drives to populate a NAS, but now there is a hard drive series made just for NAS and RAID environments. WD's exclusive NASware technology might sound like a catchy marketing term, but it isn't! These drives have real hardware and firmware changes that differentiate them from a standard desktop hard drive.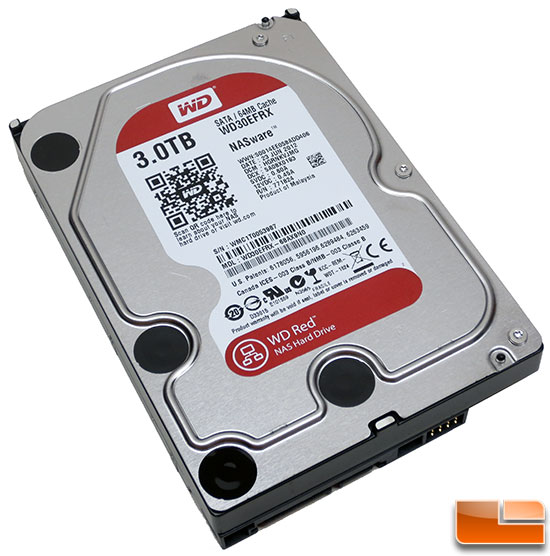 The performance of the WD Red 3TB hard drive was rather impressive. With a single drive installed on our desktop PC as a secondary storage drive we were able to get ~150MB/s sequential read/write speeds in CrystalDiskMark and HDTune showed burst speeds of nearly 350MB/s! Not bad performance numbers from a single drive. We showed you these numbers to give you an idea how a single WD Red 3TB performs with its three 1TB platters and variable RPMs (IntelliPower). Using the WD Red 3TB in a NAS is the proper way to test these drives, so we ran five of them in RAID5 on the Thecus N5550 NAS. There are thousands of different combinations with a NAS device as you can alter the RAID array type, stripe sizes and encryption modes that we could have tried out. We obviously don't have time to try out each mode, but we've had solid performance and no degraded RAID arrays since using the WD Red drives in the device. We also used the WD Red hard drive series in a number of NAS servers from QNAP, Promise, Thecus and Synology that we have around the lab and had 100% success across the board.
WD Red Hard Drive Models & Pricing:
When it comes to pricing the WD Red NAS drives are slightly more expensive than the green series, but the additional cost is worth the peace of mind and easy installation process. The WD Red WD30EFRX drive that we used here today comes out to 5 cents per GB, which is fairly inexpensive when you think about it that way. Storage is very affordable right now and if you are looking for a way to backup your digital lifestyle, using a NAS is certainly the way to go! All WD Red NAS drives are backed by a 3-year warranty and have 24/7 support on a dedicated hotline just for this series.
After using the Western Digital Red Hard Drives in a NAS environment and checking out the performance and features first hand, we can easily recommend them to anyone building a NAS that is looking for a fast and reliable storage solution. The only thing better than these drives would be to move up to the WD RE Enterprise series of drives, but you are looking at $303.65 for a WD RE 3TB (WD3000FYYZ) drive. At double the cost it really isn't justifiable for the home user, so WD Red NAS drives get our thumbs up!
Legit Bottom Line: The WD Red 3TB NAS Hard Drive performed great and spending a little extra for the NASware technology appears to be well worth it!