Vantec Expands NexStar Hard Drive Dock Series w/ HDD Duplicators
Tue, Jul 30, 2013 - 10:07 AM
Vantec Thermal Technologies announced two new addition to company's Hard Drive Dock lineup, the NexStar HDD Duplicator and the HDD Duplicator II. Both allow users a simple one touch duplication solution of the entire content of a hard drive. The HDD Duplicator can also serve as a USB 3.0 SuperSpeed Hard Drive Dock when connected to a system. The NexStar Duplicators will be available on the market this August.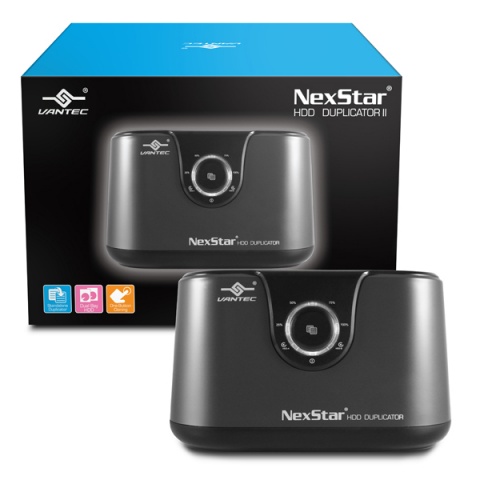 Vantec NexStar HDD Duplicator II Features:
Standalone Hard Drive Duplicator Dock
One Button Sector-by-Sector Cloning
LED Display Lights For Duplication Status and Progress
Hard Drive Dock Design For Quick and Easy Access
Multi-Function: Duplication or Storage Mode
Supports Two 2.5″ or 3.5″ SATA I/II/III Hard Drives
USB 3.0 Transfer Rates With Hard Drive Dock Mode
The Vantec NexStar HDD Duplicator II is a versatile storage device for duplicating hard drives as well as a high capacity USB 3.0 storage. The simple docking design offers quick access and removal of your hard drives for storage or data duplication. With its' built-in one-button cloning; you can copy sector-by-sector as a standalone device without even connecting to a computer. When connected to a computer, the device transforms into a SuperSpeed USB 3.0 storage device for up to 2 high capacity hard drives. Whether your need is storage or duplication, the Vantec NexStar HDD Duplicator II is the perfect solution.