US Economic Development Administration Destroys Keyboards and Mice To Remove Malware
Tue, Jul 09, 2013 - 4:35 PM
It appears that back in US Economic Development Administration Fixed a Malware infection back in 2011 by physically destroying uninfected desktop computers, printers, cameras, keyboards and even mice to a tune of $2.75 million dollars. That figure includes $823,000 that went to the security contractor to come up with the idea, $1,061,000 for the acquisition of temporary infrastructure (requisitioned from the Census Bureau), $4,300 to destroy $170,500 in IT equipment, and $688,000 paid to contractors to assist in development a long-term malware/security plan.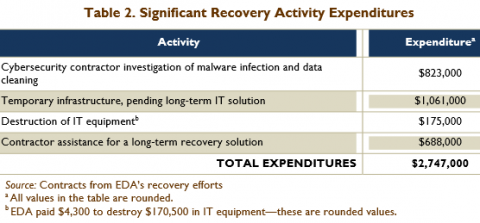 The details of this $2.7 million dollar blunder was exposed in a Department of Commerce audit that was released last month. Talk about overkill and ignorance! To make matters worse, the EDA estimated it would need over $26 million disbursed in the next 3 years (an increase from $3.6 million to approximately $8.83 million, or about 2.5 times more, to the bureau's average annual IT budget) to fund its recovery efforts.
Never heard of the Economic Development Administration (EDA)? It is an agency in the United States Department of Commerce that provides grants to economically distressed communities to generate new employment, help retain existing jobs and stimulate industrial and commercial growth. Sounds like they are generating some jobs alright!