Unauthorized Apple Lightning Connectors Coming Soon for iPhone 5 Users!
Wed, Oct 10, 2012 - 7:23 AM
Last month Apple revealed the iPhone 5 smartphone and we all found out that it uses a new cable, dubbed Lightning, that replaces the 30-pin connector Apple has used since 2003. By introducing the new connector, Apple has limited which companies can make accessories for the new Lightning interface and it is our understanding that no one else has been tapped to make Apple approved connectors. Apple uses an authorization chip inside the Lightning connector to 'handshake' with the phone in order for it to work. It appears that companies have found a way around this by using cracked chips from Apple's supplier and they work just the same.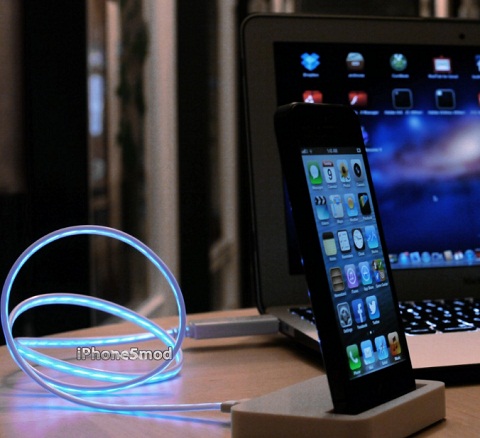 One of the first companies that appears to be making and selling unauthorized Lightning accessories is
iPhone5mod. The site announced a product called the Flash Lightning Dock for Apple iPhone 5 owners that retails for $39.90. The site says the dock fully supports iTunes, data sync, battery charging and even iOS upgrades. You can also buy the dock or the cable individually for $19.90 each. There is a video clip of the iPhone 5 Flash Lightning Dock in action below.
The iPhone 5 Flash Lightning Dock comes in 2 parts. A classic dock for iPhone 5 and an illuminated Lightning Cable. Charge and sync your iPhone 5 with the iPhone 5 Dock. Your iPhone sits upright in the dock as it syncs or charges, so it's perfect for a desk or countertop. It comes included with a specially made Lightning Cable that has an intelligent power managements system built in. You can actually see the flow of current going into your iPhone 5.