U.S. Navy Drone Completes First Carrier Landing
Wed, Jul 10, 2013 - 3:06 PM
The U.S. Navy conducted a historic flight test Wednesday off the coast of Virginia when an experimental X-47B drone made an arrested landing aboard an aircraft carrier for the first time. The drone, named "Salty Dog 502," took off from the Naval Air Station Patuxent River on a flight headed to the USS George H. W. Bush, in the Atlantic off the coast of Virginia. The craft performed a carrier-style "arrested landing" with no issues. This could redefine naval aviation as the X-47B was controlled almost entirely by a computer system. The drone relyed on pinpoint GPS coordinates and advanced avionics from the satellites and the carrier's computers to determine speed, crosswinds and other data as it approaches from miles away.
The carrier landing is the end of the road for this drone. After the exercises at sea this week, Salty Dog and its twin — the only two X-47Bs in existence — will be return to Patuxent, be demilitarized, and sent to a Navy museum.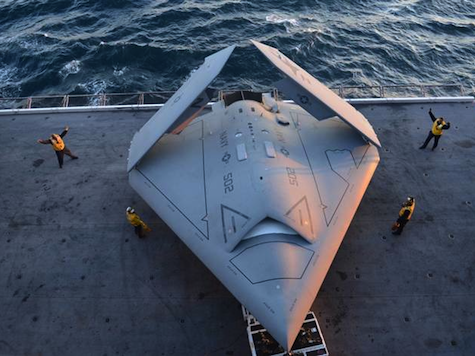 "By evolving and integrating new technology like the X-47B and the unmanned aircraft to follow, carriers will remain relevant throughout their 50-year lifespan," Secretary of the Navy Ray Mabus said in a statement.