Tt eSPORTS Level 10 M Gaming Mouse Review
Fri, Jan 04, 2013 - 12:00 AM
Level 10 M Lighting and Software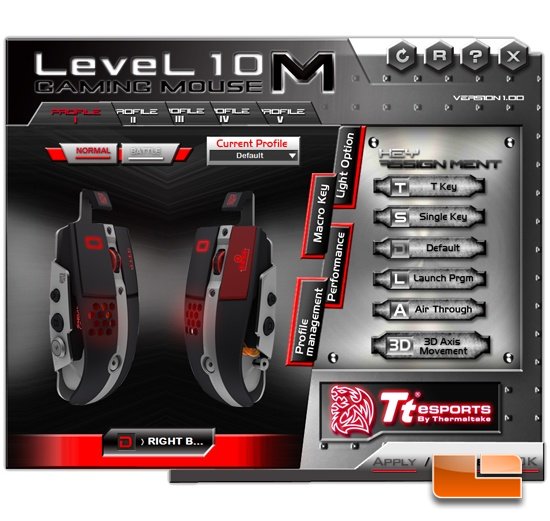 The mouse software was unintuitive at first and the help documentation was poorly organized. However, once I did figure out where everything was, it was a breeze changing the Level 10 M's settings.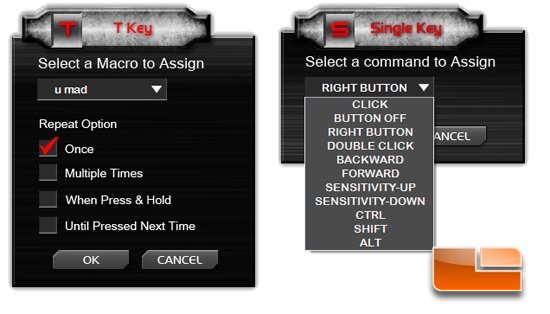 Five profiles can be independently configured to apply sets of lighting, DPI, and macros to the Level 10 M. Let's first focus on the Key Assignment options towards the right side of the home page. The T Key selection, which I assume "T" stands for Thermaltake, assigns a macro to a button. The Single Key choice rebinds mouse commands onto the buttons. Finally the Launch Prgm option binds a program shortcut onto a mouse button. Default does what it means; selecting it returns the mouse key or macro button to its default function.
The menu options for Air Through and 3D Axis Movement are shortcuts to demonstration videos stored in the software install folder. A screencap from the 3D Axis Movement video is displayed on the previous page of this review. These videos spend much of their time displaying logos than actually displaying said features. Those two videos combined are over 37 MB in size – the software installation file is 47 MB.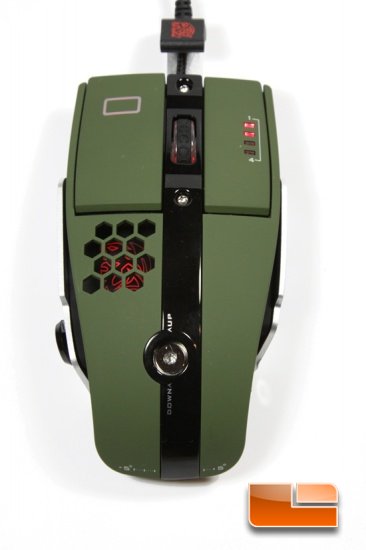 The Level 10 M has three custom lighting zones: underneath the ventilation holes, on the right mouse button, and the scroll wheel. The DPI indicators are lit by red LEDs.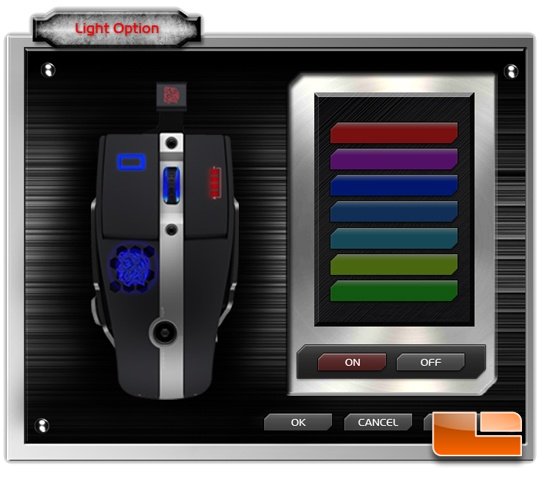 There are seven colors to choose from and can be assigned to all the zones or to each zone. The color options are bound to each profile.
Selecting Battle Mode on the home page will generate an informative popup displaying: "WARNING: When the mode is switched to battle detection, the illumination effects will change according to the clicking frequency." There's nothing to be afraid of and what happens is that the three lighting zones change color along the spectrum from blue to red in accordance with how quickly the mouse buttons are being clicked.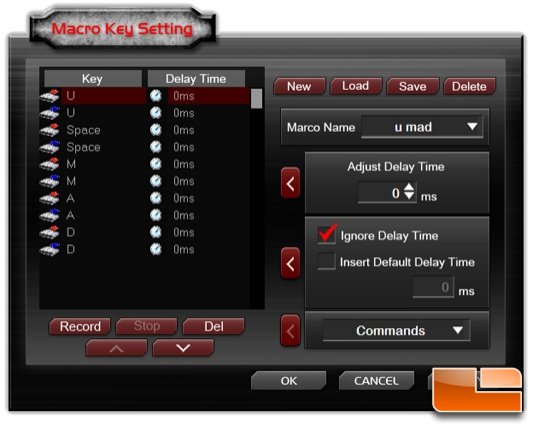 Clicking Macro Key on the home page brings up the Macro Key Setting page. An editor allows keystrokes and hotkeys to be saved. Macros are applied by returning to the home page and clicking the mouse buttons on the mouse images, selecting T Key towards the right, and then assigning a saved macro.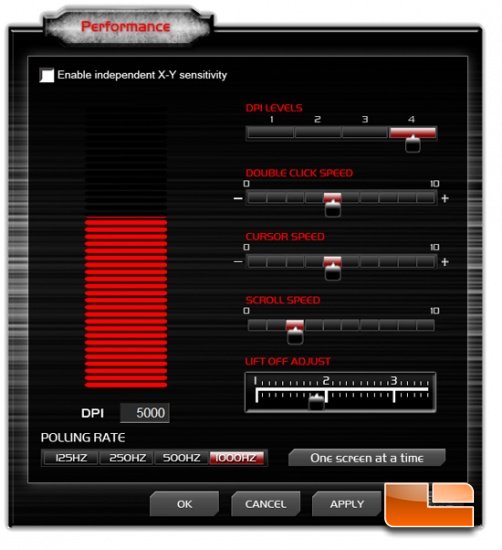 Clicking Performance on the home page brings up a window that allows several mouse settings to be changed. DPI, double click speed, cursor speed, scroll speed, lift off adjustment, and polling rate can be modified.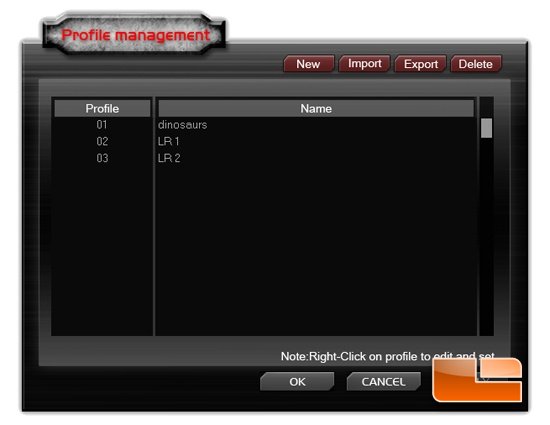 The last of the tabs in the center, Profile Management, organizes profiles.