Thermalright Archon SB-E X2 CPU Cooler Announced
Thu, Nov 22, 2012 - 12:29 PM
Ever since the introduction of the first Archon "Slim Tower Heatsink" back in 2010, Thermalright has never stopped improving on its own design. The Archon SB-E X2 inherits the same award wining heatpipe design from the Archon SB-E. Eight 6mm sintered copper heatpipes along with a massive 170mm x 150mm heatsink footprint allows the pipes to equally disperse heat from the CPU to the heatsink fins, so no bit of airflow is left to waste! Archon SB-E X2's Slim Tower design is only 53mm across. This allows the Archon SB-E X2 to be fully compatible with RAM of all kinds, so power users are free to fill their RAM slots with high-end overclocked RAM. The Archon SB-E X2 comes with two TY-141 140mm silent fans and has a $69.99 MSRP.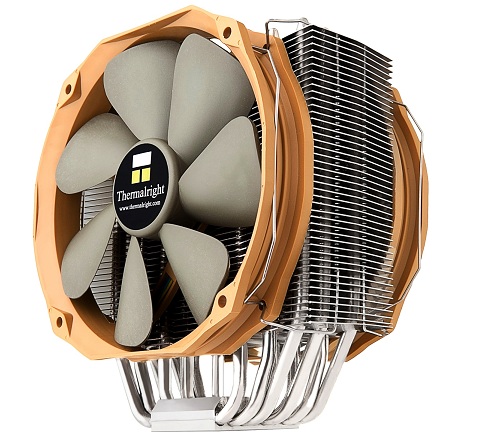 Thermalright Archon SB-E X2 Features:
Proprietary Pressure Adjustable Mounting Plate allows you to adjust your mounting pressure between 40- 70lbs of force.
Includes two Thermalright TY-141 140mm fans. TY-141's are PWM controlled and with max 73.6 CFM per fan for merely 21 DBA of silence.
Eight Sintered Copper Heatpipes and large surface area, easily cooling down any CPU on the market.
Mirror finish copper heatsink base and full heatsink nickel plating mitigates oxidization while maintaining shine.