Thecus N5550 5-Bay Home NAS Review
Fri, Dec 14, 2012 - 12:00 AM
Thecus N5550 NAS Storage Server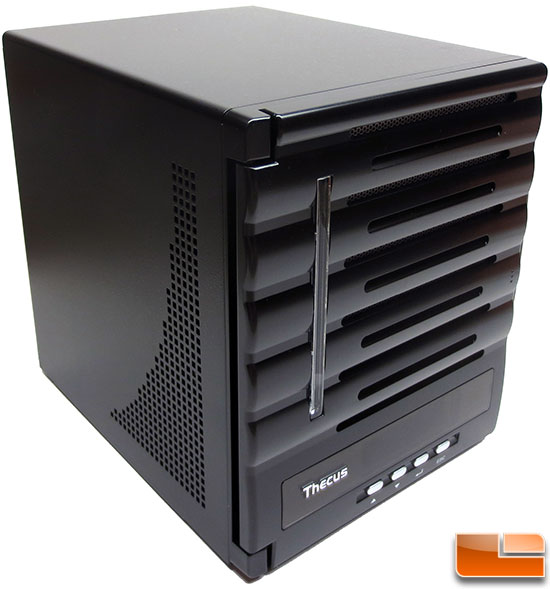 The Thecus N5550 5-bay NAS (shown above), looks very much like the N5500 that came out in 2009, but don't let the looks fool you. With front with the door closed, the N5550 and N5500 look almost identical, with the only exception being the logo on the front of the unit. Once you open the door and start looking around, you'll begin seeing that the new N5550 has hard a major hardware update. On thh front panel you'll see that there is now a SuperSpeed USB 3.0 port and on the back of the NAS you'll find audio and HDMI ports. Thecus didn't stop there though as this unit is powered by an Intel Atom platform (Cedarview) with 2GB of DDR3 memory and an updated operating system. The best part is that the MSRP of the Thecus N5550 is $599.99 and the street price is just $439.00 shipped. The Thecus N5500 had an MSRP of $869 when it came out just three years ago! With all the hardware and software beefed up and the price slashed in half, this should be an interesting product to review!
The Thecus N550 is aimed at home and small business users that are looking for an affordable storage solution for their network. The Intel Atom D2700 processor and 2GB of memory make it one of the most powerful units on the market and one of the lowest priced. Having features like USB 3.0, HDMI video output and 2GB of memory really help the Thecus N5550 stand out from the crowd.
You can find the hardware and software features out below and we'll jump straight to unboxing the NAS on the next page!
Thecus N5550 Hardware Platform
Item
Spec
Processor
Intel Atom D2700 Processor
System Memory
2GB DDR3
LAN Interface
RJ-45×2: 10/100/1000 BASE-TX Auto MDI/MDI-X
WOL supported
USB Interface
USB 2.0 host port x4 (back x4)
USB 3.0 host port x1 (front x1)
LCM Module
LCM display
4 buttons (ENTER, ESC, UP, DOWN)
SATA DOM
1GB
HDMI Output
HDMI port (back x1)
VGA Output
VGA port (back x1)
Audio
MIC input, Line input, Audio output
Disk Interface
5 x SATA for internal
1 x eSATA for external
Power Supply
200W Power Supply
USB UPS
Supported
Thermal/Fan control
Thermal sensor on processor temperature
System FAN speed controlled by temperature
System Clock
Battery-backed up system clock
Power Management
Auto power on after shutdown due to power loss
Buzzer
Adjustable frequency alarm
Buttons
Power button
LCM button
Environment
Temperature: 5°C to 40°C
Humidity: 0 ~ 80 % R.H. (Non-condensing)
Chassis
Tower Metal Chassis
Dimensions (HxWxD)
230 x 190 x 240 (mm)
Certificates
CE/FCC/C-Tick/VCCI/BSMI
RoHS
WEEE
VMware, Citrix

Thecus N5550 Software Functions
RAID
RAID Modes
RAID 0, 1, 5, 6, 10 and JBOD
Auto-rebuild
Supported
Hot-swap
Supported
Hot Spare
Supported
Online RAID Migration
Supported
Online RAID Expansion
Supported
RAID Volume Encryption
AES256bit
Disk
Power Management
Available spin-down on idle setting
Bad Block Scanning
Supported
SMART Info
Supported
SMART Test
Supported
Disk Roaming
Supports volume-based roaming to other Thecus NAS
Network
Configuration
Fixed IP address, dynamic IP address
Transport Protocols
TCP/IP/AppleTalk
File Protocols
SMB/CIFS, HTTP/HTTPS, FTP, NFS v4, AFP
Link Aggregation
Load balance, Failover, 802.3ad, Balance-XOR, Balance-TLB, Balance-ALB
TCP/IP
IPV6 & IPV4
DDNS
Supported
SSH
Supported
UPnP
Supported
UPnP Port forwarding
Supported
System status
System Monitor
Monitoring CPU, memory, temperature, fan, network utilization and protocols access user count
Syslog Management
Send syslog to assigned location
Act as syslog server to receive log info from other systems
Data Access
Client OS Support
Windows 8/7/Vista/2003/XP/2000
UNIX/Linux
Mac OS X
FTP
Built-in FTP server with bandwidth control
Secure FTP
Built-in secure FTP server with bandwidth control
TFTP
Users can download and upload files with TFTP programs
Download Manager
BT download (via Transmission module)
NZB download (via NZB module)
Printer Server (IPP)
Supports USB printers
Supports a wide range of IPP printers
Client can manage print tasks (list/delete) via web user interface
Data Backup
Client Incremental Data Backup
Acronis True Image (OEM version)
Client System Disaster Recovery
Acronis True Image (OEM version)
Client Side Backup Software
Thecus Backup Utility (Windows/Mac OS X)
Data Burn
Create files to ISO image and burn to optical disc
Create files to ISO image
Read ISO image from optical disc and write to NAS
Mac OS X Time Machine
Supported
Data Guard
Remote Backup/Local Backup
Block Level Access
iSCSI Target/Initiator
Supports Microsoft/Mac OS X/Linux initiators and Thecus NAS targets
iSCSI Thin Provisioning
Supported
MPIO
Supported
MCS
Supported
Clustering
Supported
SCSI3 Persistent Group Reservation
Supported
Power Management
Scheduled Power On/Off
Supported
Volume Management
Multiple RAID
Supported
Multiple File System Selectable
EXT3/EXT4/XFS
Multimedia Support
iTunes Server
Supports AAC, MP3 w/ID3 tag and WAV
Piczza!™ Photo Server (via module)
Supports GIF, JPG (JPEG), BMP and PNG
Supports EXIF display
Supports slide shows
Media Server
Supports uPnP AV streaming protocol (via Twonkymedia module)
User Authentication
Local User
Supports built-in user accounts
Local Group
Supports built-in user groups
Windows ADS
Supported
LDAP
Supported
Access Guard
Supports Black & White list/IP Filter
Cloud Backup
DropBox
Supported (via module)
ElephantDriver
Supported (via module)
Amazon S3
Supported
File System
Type
Journaling File System
Language Support
Unicode Support
Authorization (ACL)
"Read", "write", or "deny" privileges to individual users or groups in folders and sub-folders
User Quota
Supported
Administration
User Interface
Web-based user interface supports English, Traditional Chinese, Simplified Chinese, Japanese, Korean, French, German, Italian, Spanish, Russian, Polish, Portuguese, Turkish and Czech.
Utility Program
MS Windows Setup Wizard
Supports Windows 8/7/Vista/2003/XP/2000
Mac OS X Setup Wizard
Email Notifications
Sends system messages via email to the system administrator
SNMP Trap
System information trap out
Mobile Applications (iOS/Android)
Thecus Dashboard
Mobile monitoring and administration (via module)
T-OnTheGo™ (iOS)
Upload, download and stream multimedia
Data Security
Virus Scan
Supports McAfee (via module)
Capacity Expansion
Stackable
Can extend for 5 additional iSCSI volumes from other Thecus NAS
Others
Recycle Bin
Supported
Web Disk
Supported (via module)
Web Server
Supported (via module)
ISO Mount
Supported
IP Cam Surveillance
Supports up to 5 IP cameras (via module)
Auto Module Installation
Thecus' module server automatically provides the latest modules and updates through the user interface.
Local Display
X-Window via HDMI output