The Sandia Cooler Now Being Licensed – Will CPU Cooling Ever Be The Same?
Tue, Jun 26, 2012 - 7:48 PM
Do you remember the Sandia Cooler that we first showed you last year that was supposed to be a CPU Cooler breakthrough? It appears that cooling technology is still being developed and have learned that Sandia National Laboratories has begun licensing the technology out to interested parties. So far two companies (one computer HSF maker and one LED light maker) have licensed the technology. The Sandia Cooler is basically a cast metal impeller that floats on a hydrodynamic air bearing just a thousandth of an inch (0.03 millimeters) above a metal heat pipe spreader, powered by a brushless motor in the middle.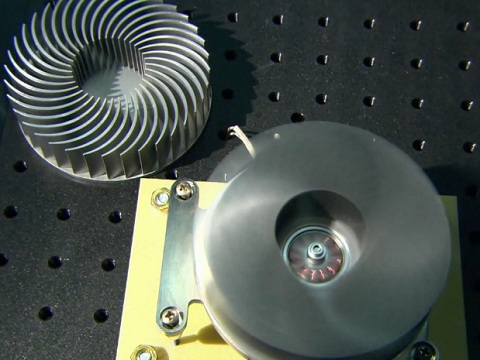 The end result is a cooler that is very quiet and 30 times more efficient than a fan-and-heatsink solutions. The prototype is roughly 10 times smaller than a commercial state-of-the-art cooler, but has the same cooling performance. The impeller spins at around 2000 RPM and it sounds rather quiet, but you can still certainly hear it. It almost sounds like hard drive platters spinning. This is still a prototype though and the final design will have a cover that effectively 'kills' the sound. The design has managed to catch our attention since July 2011, but where are the performance numbers? Also, all the videos show this design working horizontally, but will it be as effective in a vertical position?
The Sandia Cooler is 30-times more efficient than conventional air-cooled heat exchangers and is available for licensing to electronics and solid state lighting cooling manufacturers.