The DFI LANParty NF4 SLI-DR
Fri, Mar 11, 2005 - 12:00 AM
Testing
For testing I used the following system
AMD 3500+ Winchester CPU
1 GB Corsair XMS 4400 C25PT (200FSB @ 2-2-2-7, all other at 2.5-4-4-7)
Two XFX 6600GT video cards
Maxtor DiamondMax 10 300GB SATA HDD Antec NeoPower 480W PSU
? All testing was done on a fresh install of WinXP Pro with SP 2. All tests were run twice with the first score thrown out to get a more realistic gauge of the components performance.
CPU Testing
3DMark 05 CPU Test
Sisoft Sandra 2005 CPU Test
AquaMark 3 CPU Test
Memory Testing
Sisoft Sandra
Rightmark
Everest V1.51
Graphics Testing
3DMark05 Graphics
AquaMark 3 Graphics
Doom 3 Time Demo 1
Far Cry V 1.41
I am going to use some settings that I feel are good….. and realistic indications of what people can expect from the DFI SLI-DR. Aside from the stock CPU/board settings, I will also use the highest stable O/C with the multiplier set at 10 well as 9. I don't like to compare different board for reviews. I believe in simply showing you what the product I am reviewing will do at different settings. If you want a comparison, please check out our past review section for other boards and results.
Before moving on to the actual testing of the board I want to hit on a couple of things DFI included with the NF4 SLI_DR,"Smart Guardian" and "Smart Speed". "Smart Guardian" is a monitoring utility that works within Windows much like the monitoring utlities found on other motherboards. I found "Smart Guardian" to be a very useful little tool in that it also allows you to customize fan speeds as well adjust itself automatically based on DFI recommended settings.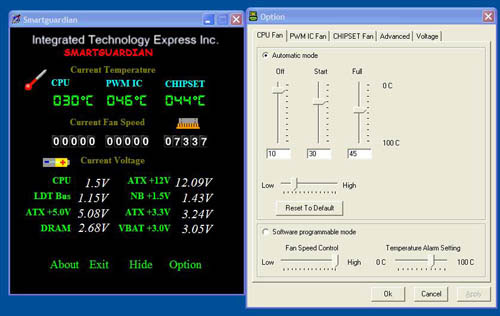 DFI also included "Smart Speed", another nice utility that lets you customize and store different voltage settings for your board within Windows. "Smart Speed" also shows your systems vital signs as well as lets you make adjustments to your components voltages.
I'd like to see DFI integrate both of these into one solid utility. both worked well, seemd accurate, and were easy to customize.
Another feature new with the DFI SLI-DR is DFI's Front-X panel, a nice little gadget that fits in one of your 5.25 drive bays. I'm not going to go too far into this as I was unable to use the Front-X. My problem was that the bay cover that slides into the case was too short to actually lock into a bay in my Cooler Master case, so I was unable to secure it at all. I think the idea was great, but i also think the Front-X needs to be better configured to make it a universal fit. Included with the customizable Front-X panel were a SPDIF optical input, a pair of USB 2.0 inputs, as well as an external SATA connector. With SATA becoming much more mainstream I really like this feature and expect more manufacturues to be placing it on their external device ports.
DFI also placed aset of diagnostic LEDs on the Front-X panel, these LEDs alllow you to diagnose any problem in your system while booting up. DFI also places these LEDs on the lower right corner of your board, but by using these you do not have to open your case to diagnose any problems.
Though I thought the Front-X had a cheap feel to it, it does what it is supposed to and allows the user all the benefits of USB, SATA, and Digital Audio without reaching for the back of your case. In the future i would expect this to be much more refined than it is now….but then again this is a brand new feature.