Testing Memory Speeds on AMD's A10-5800K Trinity APU
Mon, Dec 31, 2012 - 12:00 AM
The Test System
Before we look at the numbers, here is a brief glance at the test system that was used. All testing was done on a fresh install of Windows 7 Ultimate 64-bit. All benchmarks were completed on the desktop with no other software programs running.
The AMD Trinity APU Test System: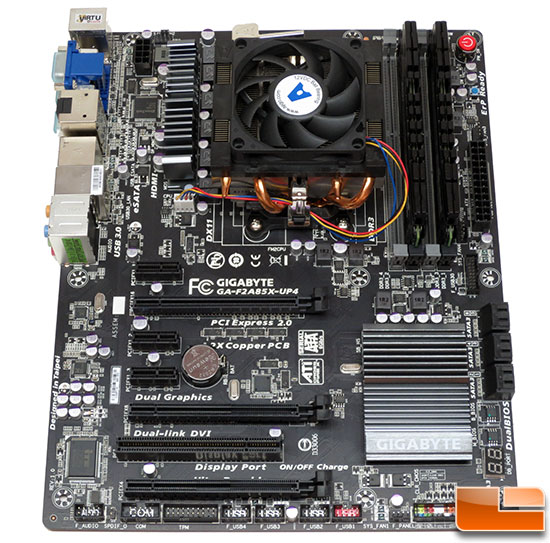 The test system was run in dual-channel memory in four configurations:
2x8GB at 1333MHz with 9-9-9-24 1T timings and 1.50V
2x8GB at 1600MHz with 9-9-9-24 1T timings and 1.60V
2x8GB at 1866MHz with 10-10-10-27 1T timings and 1.60V
2x8GB at 2133MHz with 11-12-11-27 2T timings and 1.65V
We had to change the memory timings and voltages on each clock frequency for the system to become stable. Even though we had to adjust the memory clock speed, timings and voltages, we were able to do that with memory divider in the BIOS, so the GPU and CPU clock speeds remain constant throughout the benchmarking process. The Gigabyte GA-F2A85X-UP4 motherboard was running BIOS F3k, which was the latest build available when testing was completed. You can see all of the CPU-Z and GPU-Z information for this test platform below.
The integrated graphics comes up as Radeon HD 7660D according to CPU-Z and we used AMD CATALYST 12.10 drivers for testing.
AMD Test Platform

Component

Brand/Model

Live Pricing

Processor

A10-5800K APU

Motherboard

Gigabyte GA-F2A85X-UP4

Click Here

Memory

16GB Kingston HyperX Beast

Click Here

Video Card

n/a

Click Here

Hard Drive

OCZ Vertex 3 240GB SSD

Click Here

Cooling

AMD Retail Boxed

Click Here

Power Supply

Corsair HX850W

Click Here

Operating System

Windows 7 Ultimate 64-Bit

Click Here