StarTech 2.5-Inch to USB 3.0 Encrypted Hard Drive Enclosure Review
Fri, Mar 15, 2013 - 12:00 AM
USB 3.0 Performance Testing
CrystalDiskMark v3.0.2e
CrystalDiskMark is a small HDD benchmark utility for your hard drive that enables you to rapidly measure sequential and random read/write speeds.
1000MB Files Test Benchmark Unencrypted: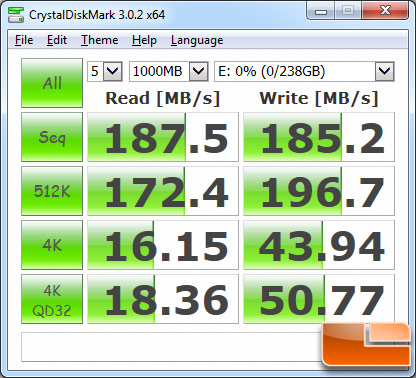 1000MB Files Test Benchmark Encrypted: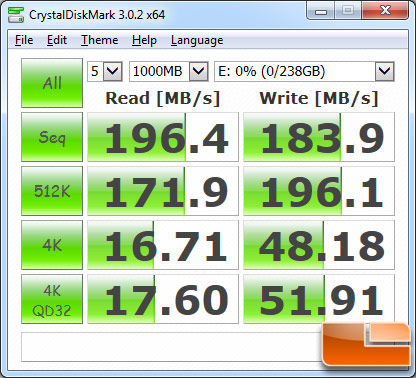 Benchmark Results: The StarTech USB 3.0 encrypted enclosure had great performance! The difference with the 256-bit AES hardware encryption enabled and disabled was minor. Without encryption we were able to get 188MB/s read and 185MB/s write on the sequential file transfer tests and with encryption we got 196MB/s and 184MB/s.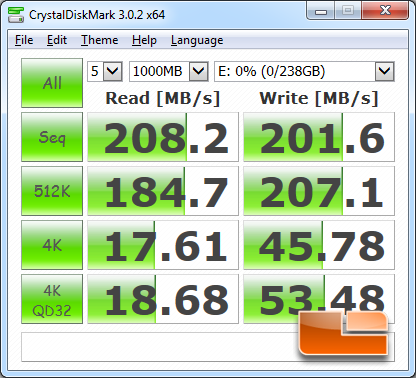 Thermaltake BlacX 5G USB Docking Station Benchmark Results: How does the Crucial m4 256GB SSD perform in other USB 3.0 enclosures? We placed the freshly formatted drive in the Thermaltake BlacX 5G and found sequential read and write speeds of 208MB/s and 202MB/s, respectively. As you can see this is a bit faster than the StarTech encrypted enclosure as the sequential write speed increased by roughly 10%. 
ATTO Disk Benchmark v2.47
ATTO is one of the oldest hard drive benchmarks that is still used today. ATTO measures transfers across a specific volume length. It measures raw transfer rates for both reads and writes and places the data into graphs that you can easily interpret. The benchmark was run with file sizes from 0.5kb through 8192kb with the total length being 256mb.
Benchmark Results Unencrypted: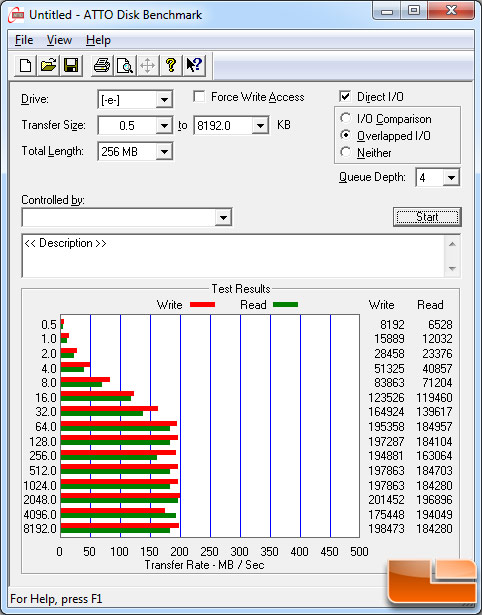 Benchmark Results Encrypted: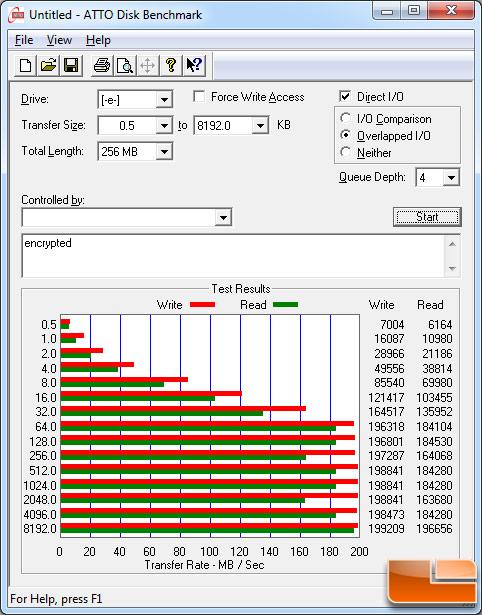 Benchmark Results: ATTO Disk Benchmark had the unencrypted drive topping out at 197MB/s read and 201MB/s write. With the encryption enabled we were at 197MB/s read and 199MB/s write, which isn't even a significant performance change. Having hardware encryption enabled doesn't appear to impact data performance whatsoever. 
AS-SSD (1.7.4739.38088) Benchmark
We have been running the AS-SSD Benchmark app for over some time now and found that it gives a broad result set. The programmer has worked very hard on this software and continues to make updates often so if you use it, show him some love and send him a donation. There are now three tests that are found within the tool and we'll show the results from two of them.
Benchmark Results Unencrypted: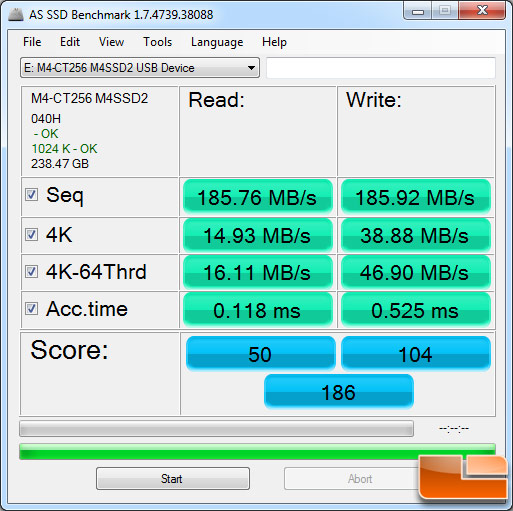 Benchmark Results Encrypted: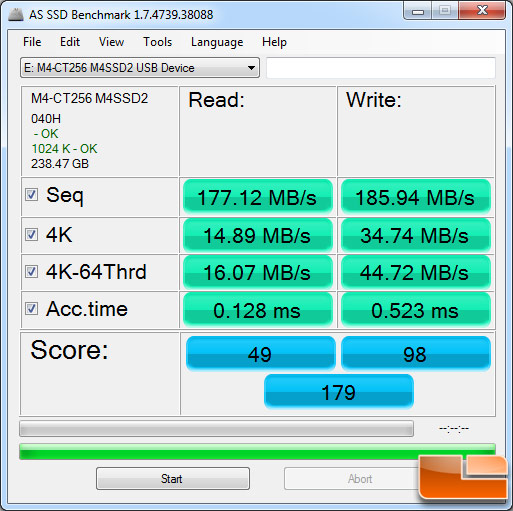 Benchmark Results: AS SSD shows a very small performance decrease with encryption enabled, but once again it is not a significant performance decrease.