Spring Storm Preparedness – A Look At Energizer & Maglite LED Flashlights
Mon, Apr 29, 2013 - 12:00 AM
Hand Crank Flashlight & Final Thoughts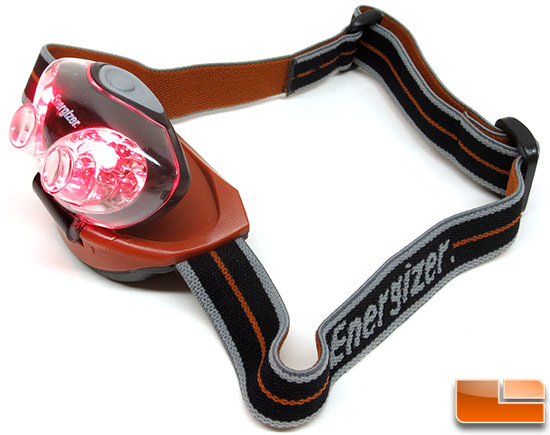 Next up we have the Energizer 6 LED Headlight that runs $14.88 shipped and is perfect for those situations when you want a hands free work flashlight. Like the name suggests it uses six 5mm LEDs for lighting. It comes with three AAA energizer alkaline batteries and has four lighting modes that are activated with the switch on top of the light. The first setting turns the light on in spot mode, which uses two white 5mm LEDs behind small collimeter lenses. The next mode turns the light on in flood mode, which uses two 5mm white LEDs. The third setting uses both spot and flood modes at the same time. The fourth and final mode turns on two red 5mm LEDs for the night vision setting. It should be noted that you have to cycle through all the modes to turn the light off.
Spot and Flood Both On – 4 bright Nichia LED's delivering 36 lumens with 19 hour run time
Spot or Flood Mode = 2 bright Nichia LED's on delivers 28 lumens and a 30 hour run time
Night Vision = 2 Bright red LED's with 30 hour run time
Energizer said this is model is one of the most popular sold and is popular in disaster scenarios as it allows you to move around at night and without power when doing pretty much anything. It is also a favorite of outdoor enthusiasts that want to go camping, hiking, and climbing withing have to bother with holding a 'normal' flashlight light in their hand.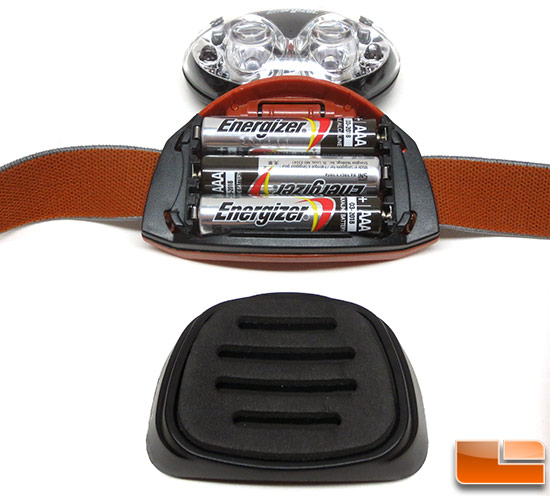 The headband is built into the battery compartment and it not removable. The headband itself though is adjustable and you can also tilt the headlight down into several grooves if needed. There is also a foam pad on the back for those long periods of time when you wear the headlight and want some comfort. The three AAA batteries are inserted through the back by unsnapping the battery cover and it is attached on there pretty good. You won't want to use a fingernail on this one unless its strong!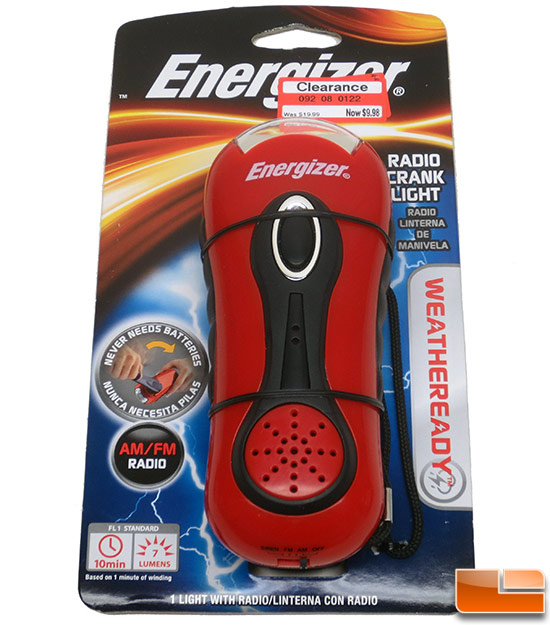 The last flashlight we are going to show you isn't the one that we'd pick up first in any sceneraio, but should be part of any emergency preparedness bag. That would be the Energizer Weatheready 5-LED Rechargeable Crank Light with Radio. This light uses 4 bright white Nichia LEDs for flashlight mode and 1 red LED for night vision. This flashlight doesn't feature any replaceable batteries, but rather a hand crank on the back. It also has an AM/FM radio and a emergency 'rape/find me' 120 decibel siren that can turned on. We found this little gem at Target on clearance rack for $9.98, but online it can be found for $18.81 shipped. The specs on this flashlight aren't that impressive with 7 lumens of light that lasts 10 minutes after one minute of hand cranking, but it shouldn't die on you (unless the internal rechargeable battery gives out.) The flashlight mode/power button is hard to press and the AM/FM tuner is super touchy, but what do you expect for this price range?
Final Thoughts and Conclusions:
There are thousands of flashlights out there and we hope that this look at five different lights from Maglite and Energizer was able to help you prepare for emergencies. All of the flashlights that we looked at cost under $30, came with the batteries and all are backed by a limited lifetime warranty. These prices should be affordable for all and you can't really put a price on being prepared. All of the flashlights in this review serve a different purpose and have all earned a spot in our preparedness plans. We always talk about battery backups for PCs and all that, but don't forget to prepare yourself and your family for power outages! Spring time storms are here and we want all of our readers to be prepared and safe this year!