Sapphire Radeon HD 7790 2GB OC Edition Video Card Review
Sun, Apr 21, 2013 - 12:00 AM
Dirt: Showdown
Dirt: Showdown is a video game published and developed by Codemasters for Microsoft Windows, Xbox 360 and PlayStation 3. It was released in May 2012 in Europe and in June in North America. It is part of the Colin McRae Rally game series.
Dirt: Showdown removes several of the gameplay modes featured Dirt 3, and introduces new ones. Gameplay modes can be classified as Racing, Demolition, Hoonigan or Party. We ran the built in Benchmark at Ultra settings to get a true feel of what this engine has to offer!
It is very important to note that Global Illumination and Advanced Lighting have massive performance penalties when enabled, something not seen in other titles in the Dirt series. We disabled this setting.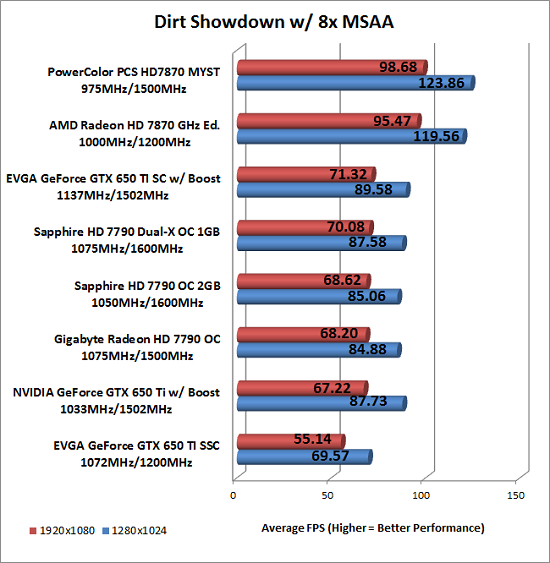 Benchmark Results: Here we see the 2GB Sapphire Radeon HD 7790 card performing slower than the 1GB version! It looks like the extra 25Mhz on the core clock are put to good use in Dirt Showdown.