Sandisk Extreme microSDXC UHS-I 64GB Memory Card Review
Wed, Jul 10, 2013 - 12:00 AM
Final Thoughts and Conclusions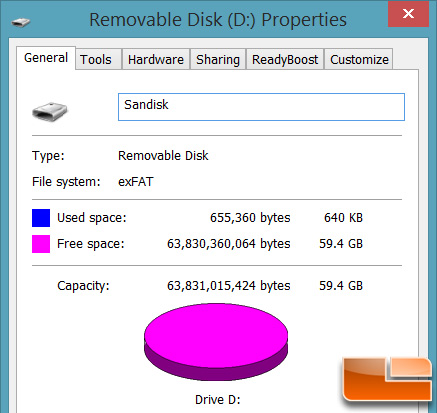 The total useable capacity of this 64GB card shows up at 59.4GB in Windows due to the conversion from physical GB to the virtual GiB. (1 GB=1,000,000,000 Bytes. Within a computer operating system, this number will be displayed as: 1,000,000,000Bytes/1024/1024/1024 = 0.93GB) You can see that the SanDisk Extreme microSDXC 64GB memory card uses the exFAT file system.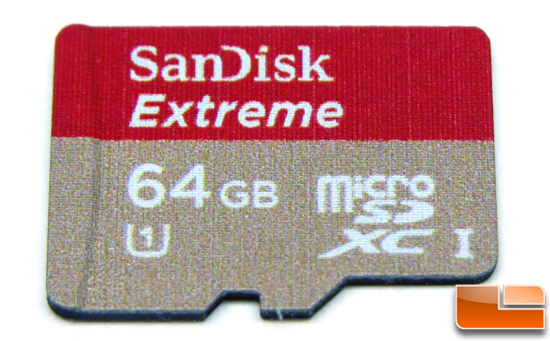 Final Thoughts and Conclusions:
If you are looking for are looking for a 64GB microSDXC memory card for your camera, smartphone or tablet you have a plethora of choices available to you. Newegg alone currently sells 42 different 64GB microSDXC cards and of those 29 are USH Speed Class 1 rated. The SanDisk Extreme microSDXC 64GB card that we reviewed today is special because it is the fastest of all of them! No other 64GB card on the market today offers up to 80MB/s read and 50MB/s write speeds, let alone the 95MB/s read and 61MB/ write speeds we observed in benchmarking.
When it comes to pricing the SanDisk Extreme runs $102.22 shipped. That makes it by far the most expensive 64GB microSDXC on the market, but you get what you pay for. For example the SanDisk Ultra 64GB microSDXC UHS-I card can be purchased for $50.47 shipped and has up to 30MB/s read and 10MB/s write speeds. For double the price you get nearly 3x more read performance and a massive 5x boost to write performance. If you are moving over a ton of data on a frequent basis, the added time savings from the SanDisk Extreme microSDXC series alone can justify the higher cost.
At the end of the day the SanDisk 64GB Extreme microSDXC memory card was found to be to be the fastest 64GB microSDXC card that we have ever tested and is ready for the future. If you want a memory card that can handle cameras with continuous burst mode and deliver Full HD5 and even 4K HD video recording and playback, look no further. We just need more smartphones and tablets than can fully utilize all this memory bandwidth! All SanDisk microSDXC cards are also backed by a limited lifetime warranty.
Legit Bottom Line: The SanDisk Extreme microSDXC 64GB card is the fastest 64GB microSDXC card on the market and should be able to handle anything your smartphone or tablet can throw at it!