SanDisk Connect Wireless Flash Drive Line Announced
Mon, Jul 22, 2013 - 10:41 AM
SanDisk today announced SanDisk Connect, a line of wireless flash memory storage devices including the SanDisk Connect Wireless Flash Drive and SanDisk Connect Wireless Media Drive. These new wireless devices represent the next generation of portable storage, delivering an easier way to access and share content across multiple mobile devices.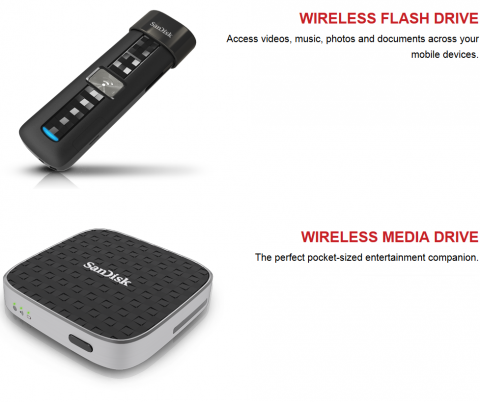 SanDisk Connect Wireless Flash Drive
The smallest wireless USB storage device available to date, providing a convenient and affordable way to wirelessly store, share and stream content across mobile devices and computers. The drive allows users to enjoy up to 32GB of extra storage for their devices, and simultaneously access photos, movies, music and documents on their drive from multiple devices without the need for an Internet connection or cables.
SanDisk Connect Wireless Media Drive
A pocket-sized device designed for convenience and portability, available in capacities up to 64GB with an SDHC/SDXC memory card slot offering additional storage. It's the perfect companion for travelers and parents who need entertainment on the go, providing up to eight hours of continuous HD streaming on a single charge
The SanDisk Connect Wireless Flash Drive is available in 16GB or 32GB capacities at an MSRP of $49.99 and $59.99 respectively. In the U.S., it is available for preorder on Amazon.com, Newegg.com and Micro Center, with availability at Best Buy starting in August. The SanDisk Connect Wireless Media Drive comes with 32GB or 64GB storage capacities at $79.99 and $99.99 respectively. It is available for pre-order in the U.S. on Amazon.com with Q4 availability in Germany and UK.
"Today's consumers own an increasing number of mobile devices and accessing content across them can be a challenge," said Dinesh Bahal, vice president, product marketing, SanDisk. "With the new SanDisk Connect product line, we're raising the bar on what consumers can expect from personal storage. We combined the portability of small flash memory storage devices with the convenience of wireless streaming and sharing functionality."