Samsung Unveils Series 7 Multi-Touch Monitor
Wed, Jan 02, 2013 - 11:21 PM
Samsung has just unveiled two new monitors to its Series 7 line of premium monitors, putting professional-grade picture quality in the hands of professionals and consumers alike.
The first in the lineup is the SC770 Touch Monitor (pictured below), optimized for Windows 8. This is Samsung's first take at a touch monitor, which features multi-touch support, allowing for up to 10 points of simultaneous input. With the 10 points of input, users will be able to rotate and select objects directly on the screen using just their fingers. The SC770 is a crisp 24″ screen, which allows the user to tilt the screen up to 60 degrees for comfortable use, a thin bezel that we've all come to love, a 1920×1080 native resolution, and a 5000:1 contrast ratio. The last thing to note on this monitor, is it includes a pair of built-in 3W stereo speakers.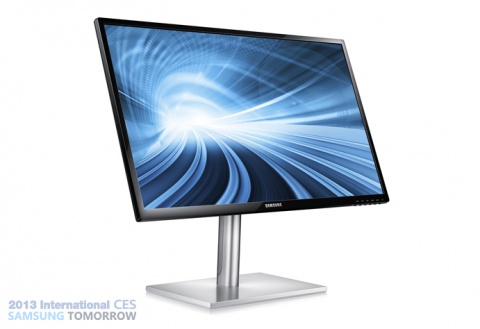 The next in the line is the SC750. This monitor does not feature the touch support that the SC770 does, but it boasts a nice 27″ screen that shares the same 1920×1080 resolution and 5000:1 contrast ratio. The SC750 does allow you to pivot the screen 90 degrees, to allow for either portrait or landscape modes. Unfortunately the SC750 does not include any integrated speakers, so if you plan to hear anything from your computer, you'll have to purchase your own speakers.
These monitors currently do not have any pricing information available, but Samsung has said they will be available first quarter 2013. You will be able to see both of these Series 7 monitors at CES next week!
Samsung Electronics debuted two new additions to its lineup of premium monitors, putting professional-grade picture quality within reach for professional and consumer audiences alike. The innovative Series 7 SC770 Touch Monitor comes optimized for Windows 8, while the Series 7 SC750 features a slim, ergonomic design and premium picture quality. These CES Innovation Award-winning monitors will be on display at the International Consumer Electronics Show (CES) in Samsung's booth, #12004 in Central Hall, from January 8th to 11th, 2013.