Samsung to Give Away 1 Million Copies of Jay-Z's New Album
Mon, Jun 17, 2013 - 11:33 AM
In Game 5 of the NBA finals Sunday night, a 3-minute long Samsung TV ad aired near the end of the second quarter featuring rap star Jay-Z and ended by saying the "The Next Big Thing." It turns out that Samsung has purchased 1 million copies of Jay-Z's coming album, entitled "Magna Carta Holy Grail," slated for release July 4, and plans to give them to Samsung Galaxy smartphone users for free – 72 hours ahead of the release. Samsung paid $5 apiece for the albums, according to a person familiar with the matter, so this is great news for Galaxy owners. The real winner here is Jay-Z, he has $5 million in sales before the album even releases! The Magna Carta app needed to get the album will be available for download starting on June 24th and you can download it here.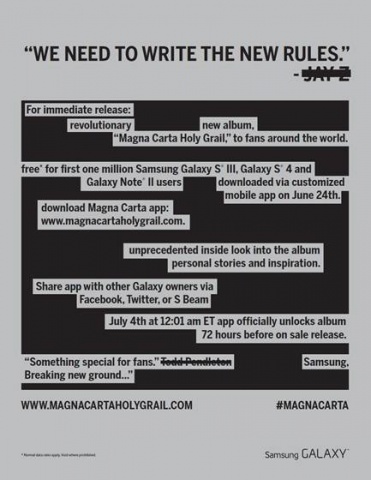 The 3-minute ad announcing the project just aired during the NBA Finals and can be viewed at this link:
JAY Z's new album "Magna Carta Holy Grail" comes to Samsung Galaxy fans first. Be among the first million to download the app on June 24th and get the album free July 4th, three days before the rest of the world.