Samsung Readies a 5.5-inch Flexible Display for CES 2013
Thu, Jan 03, 2013 - 9:16 AM
The folks over at CNET have pointed out that Samsung Display, a spin-off of Samsung Electronics, will be showing off two flexible screens at CES next week.
One of the displays that will be shown, is a 5.5-inch flexible screen with a 1280×720 resolution and 267 ppi. This display will definitely be ideal for future smart phones or like devices. One would think that with a display like this in future devices, you won't have to worry as much about accidentally dropping the device in question. With current displays being so fragile if you drop them or attempt to replace the covering glass, this one appears to be the opposite and should help remove some of those fears of a completely broken device. The second display that is going to be shown, is a 55-inch TV-sized screen. There were no specs released on this display, but we will hopefully catch the details at CES.
One important thing to note, is that while these screens can flex without breaking, they are not yet meant to be rolled up. We can only hope that some day this becomes true!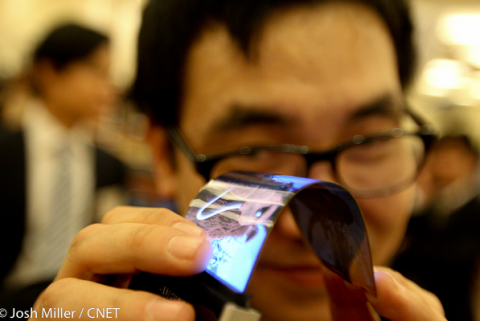 Samsung has been developing curving screens for some time, showing off smaller display demos, like the 4.5-inch WVGA screen with about a 200 pixel density that CNET saw at CES 2011. With this demo's increased resolution and screen size, Samsung is clearly keeping pace with today's smartphone expectations.