Rumor: Battlefield 4 To Be Announced Tonight At GDC – DICE Revisits Battlefield 3
Tue, Mar 26, 2013 - 11:19 AM
Electronic Arts is said to be holding an invite-only press event on tonight at the Game Developer Conference (GDC) where many expect the company to unveil Battlefield 4. Who knows what will be announced tonight, but Battlefield 4 leaks are starting to come out rather quickly today. A Chinese website Gamersky has published an image of what it claims is an EB Games poster advertising the Battlefield 4 release date and an exclusive pre-order bonus. The poster lists an Battlefield 4 release date of autumn 2013 and says those who pre-order the game will receive "a pair of real Battlefield 4 dog tags while supplies last".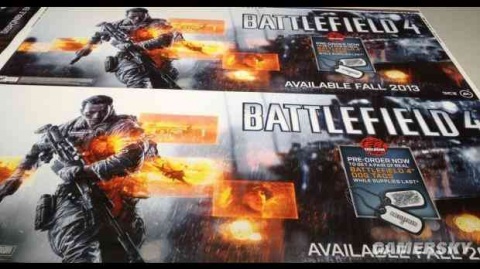 DICE has also posted up a video this morning that laooks back at development of the Battlefield series ahead of the Battlefield 4 reveal tonight. Word on the street is that the first Battlefield 4 trailer will be released on Wednesday! Today is a good day to be a gamer!
As Battlefield fans are busy enjoying its final piece of DLC Battlefield 3: End Game, it's time to say goodbye to Battlefield 3 with its sequel Battlefield 4 just over the horizon.