Rosewill Ultra Slim HDMI Cable with RedMere Technology Now Available
Tue, Mar 05, 2013 - 2:42 PM
Rosewill today launched a full line (12 SKUs) of Ultra Slim HDMI Cables with RedMere technology. What is RedMere technology? In simple terms, it's an accelerator. Each of these Rosewill cables have a RedMere chip in the cable to ensure that you receive the absolute best picture quality in a reduced weight and thin portable cable. It's something an HDMI cable has never seen before. The only downside to the cable is that is it directional, so you got to make sure the cable is plugged in correctly between devices. You can find all 12 of the Rosewill HDMI cables with RedMere technology here.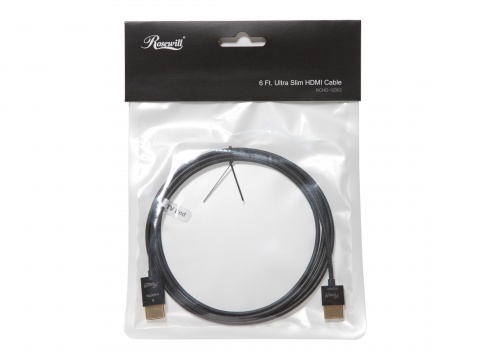 RedMere Technology Specs:
1080p HD picture quality
High speed rated at 10.2 gbps
55% thinner than comparable High Speed cables
SuperThin makes it very easy to manage, remains flat under carpeting, and runs along walls unobtrusively
Ultra flexible, bends at near right angles for no-hassle hookup in tight spaces
Your premium home theater system deserves premium cables. These Rosewill High Speed HDMI with Ethernet cables perfectly combine performance, quality and reliability, and feature RedMere technology that contributes to petite physical dimensions ideal for space-constrained environments. With 4K, 3D, Deep Color and a dedicated built-in Ethernet data channel, you can take advantage of the latest technology to bring your A/V experience to the next level. Make the ultra slim cables yours today, and you'll feel the difference.