ROCCAT Kone XTD 8200DPI Wired Gaming Mouse Review
Wed, Feb 27, 2013 - 12:00 AM
First Impressions And A Closer Look
My first impression of the Kone XTD was, "Wow, this is a great looking mouse!" The packaging certainly presents the mouse nicely. On the outside of the box, you'll see a great deal of information on the front and back, providing you with all the stats that you could ever want to know. If you lift up the magnetic flap on the right side, you'll see even more information! Should you see this in a store, there is such a vast amount of information all over the box, that you'd definitely be able to decide if this was the mouse for you or not.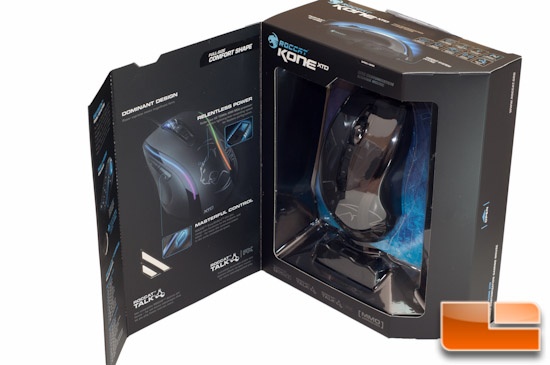 Once you get inside the box, you're given the Kone XTD, a quick installation guide, and the four 5 gram weights in a nice little case.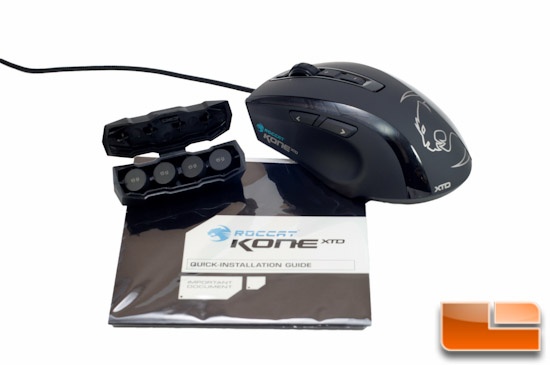 The Kone XTD is actually a rather large and heavy mouse. I do have pretty big hands, so this mouse is rather comfortable in my hands. My wife has substantially smaller hands, in which she said it felt OK, though it was a little big. The Kone XTD measures a max length of 13.5cm by 7.8cm at its widest. It weighs in at approximately 123 grams, and that's not including the four optional 5 gram weights that you can add in. I could see a lefty using this mouse, but they would lose the two buttons on the left side of the mouse. I did try it out in my left hand, and it still felt quite comfortable. With all of that said, this mouse is definitely designed for a right-handed gamer.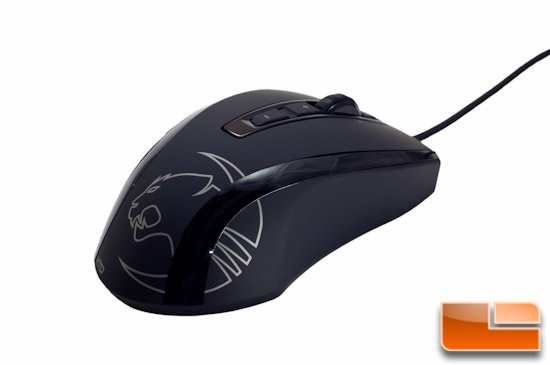 The Kone XTD has what feels like a durable rubberized coating on its shell, while sporting a total of eight physical buttons that offer 12 different functions. You get another 11 functions if you use the Easy-Shift[+] mode, for a total of 23 functions! Looking at these buttons, you have your standard left and right click, two buttons on the side, the scroll wheel – which offers lateral movements, and three additional buttons on top. These buttons are backed by the ROCCAT Click Master switch technology, which ensures that every click registers with extreme precision. I really like these buttons, because I never found myself mistakenly pressing the left or right click, like I have with some other mice. Talk about wasting ammo when in game! The scroll wheel's click is very firm and you can tell that you did it with the distinct click sound.
A quick note on the buttons is the front most button – the one in front of the scroll wheel – is extremely difficult to get to. It is in quite the odd position, that I found myself sometimes inadvertently scrolling the wheel forward when all of my concentration is in my game. I do not think I will find use for this button due to its odd placement.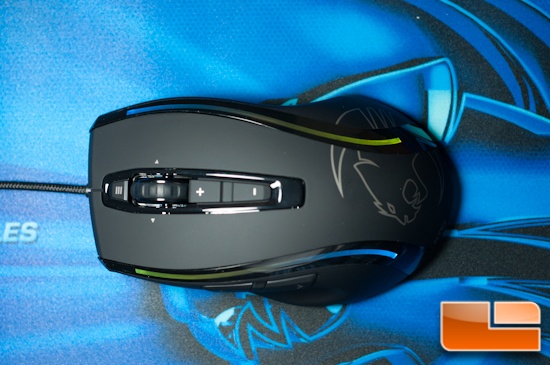 The two left side buttons are also a little small. I did not have much trouble using them, but I have to constantly think about my thumb placement a lot more, since they're smaller than the side buttons on any other mouse that I've used.
If you're unfamiliar, Easy-Shift[+] is ROCCAT's technology which allows you to assign a single physical button to have two different functions. Think of this like the Shift key on your keyboard – You hold Shift and press 2 which gives you the @ symbol. In the case of the mouse, you hold down the Easy-Shift[+] assigned button and press any one of the other buttons, including the scroll wheel up and down, to perform a new function. Some examples where this could be useful would be if you're listening to music, you can quickly and easily change a track, or in World of Warcraft, you can quickly mount up or use a macro. I'll touch more on the button assignments when I check out the ROCCAT software.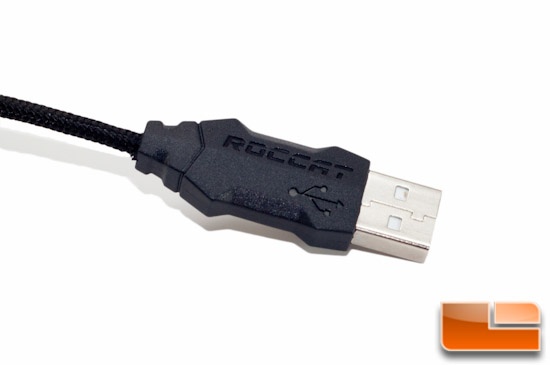 I tried out the Easy-Shift[+] mode, and for me it is honestly really difficult to get used to. I have grown accustom to the default assigned button (Button 5 – the rear thumb button), to being a regular button that goes back a page in my browser or within Windows Explorer itself. Some people may find this easy to get used to, but many may find it difficult, too. This technology does sure beat having 12 different thumb buttons, like you would find on the Logitech G600 mouse, but again, it can still be difficult to use or get used to. The only real unfortunate thing is the fact that you cannot assign this button function to anything other than the thumb buttons. I can understand why they did this, as it makes all of the other buttons easier to reach with your index and middle finger, if you're using your thumb to activate the Easy-Shift[+] functionality. Now if you could bind a key on your keyboard to utilize this function, I feel that would be pretty awesome! I think with time I will get used to this, and I will definitely continue to try it out.
Taking a look at the underside of the mouse, we see the stunning 8200DPI Pro-Aim R3 laser sensor, which offers superior tracking with virtually no lag! This laser polls at 1000Hz with a 1ms response time. That's pretty darn impressive!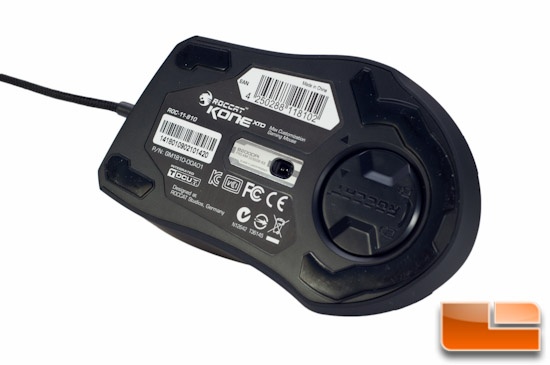 The other notable thing underneath, is the weight system access door. Removing this cap is fairly easy, though it can be tricky since it's fairly low profile. Inside you'll see four spots to place the 5 gram weights that ROCCAT provided. You can adjust the weight as you wish, though to me, the default no-weight added setup was perfect. I tried it with three weights – two on the sides, one on the front most spot, and it felt too heavy to me. Even one weight was just too much for me. To each their own, right? When I discovered that I didn't like the weight in place, I found it extremely difficult to remove. Let's just put it this way, I couldn't do it by hand. I had to whip out my trusty pliers just to get a grip and pull them out. That's a huge deal breaker when you're trying to test out configurations quickly.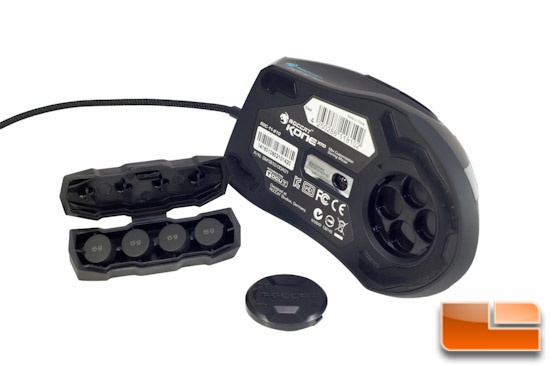 Finally we see the low friction pads on the underside. These pads definitely allow the mouse to glide with ease, but I have used mice that glide even easier, for example my Razer Mamba. Maybe my Razer's pads are broken in and the Kone XTD only needs time, but I will admit, out of the box it wasn't bad at all.