ROCCAT Kone XTD 8200DPI Wired Gaming Mouse Review
Wed, Feb 27, 2013 - 12:00 AM
First Look At The ROCCAT Kone XTD
ROCCAT is a German company, founded in 2007, and is best known for the original Kone gaming mouse. ROCCAT works to develop high quality gaming peripherals and accessories for the PC gamer, including (but not limited to) mice, keyboards, and headsets. They've been known to name their accessories after Finnish words – Kone in this case means Machine. Today we take a look at their latest and greatest, the Kone XTD (Model # ROC-11-810), so let's see what this machine has to deliver!
ROCCAT's Kone XTD can currently be found on Amazon for $89.99 and is eligible for free shipping.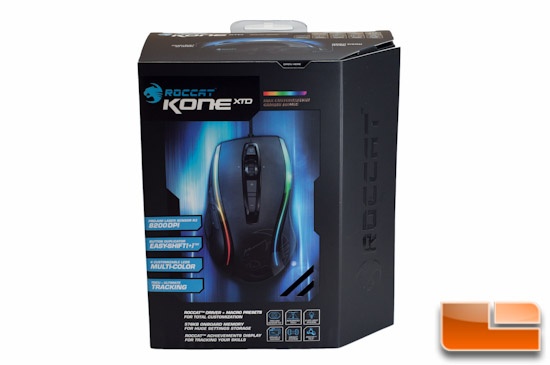 The Kone XTD is meant to be the successor to the Kone[+]. ROCCAT wanted to keep the Kone[+] design in place, while giving it even more, superior functionality. There isn't really much in terms of physical appearance that's different between the two mice, but there are a couple upgrades under the hood. The notable upgrades to the Kone XTD versus the Kone[+], include an upgraded 8200DPI laser sensor vs. 6000DPI, and a slightly better resolution at 10.8 MP capable of 12000 FPS vs. the 10.5 MP resolution sensor capable of 11750 FPS found in the Kone[+]. Short of that, they are pretty much the same.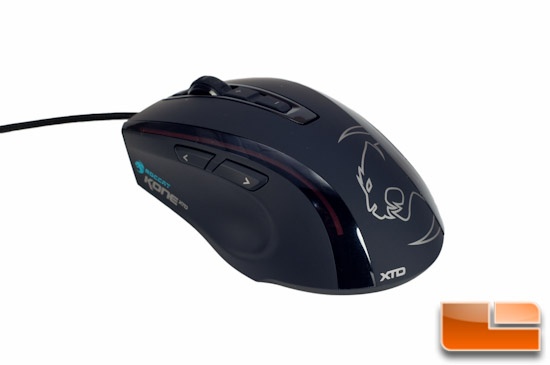 Take a look at some of the features and tech specs:
ROCCAT Kone XTD's Features
FULLY-ADJUSTABLE 8200DPI PRO-AIM (R3) SENSOR
with 41 true DPI setting ranging from 200 to 8200
ROCCAT CLICK MASTER
switch tech powered by Omron for precision button activation
EASY-SHIFT[+] BUTTON DUPLICATOR
with Easy-Aim + Easy-Wheel functions for max command power
32-BIT TURBO CORE V2 PROCESSOR
for lightning-fast computing speed
TRACKING & DISTANCE CONTROL UNIT
for less pick-up flight & more precise gaming
576KB ON-BOARD MEMORY
for storing a wealth of macros and settings
4-LED LIGHT SYSTEM
for customizable colors + effects
8 MOUSE BUTTONS + SOLID 4D WHEEL
for a full complement of command options
4 EASY-TO-CLIP-IN WEIGHTS (4 X 5G)
for customized weight adjustment
ROCCAT DRIVER + MACRO MANAGER
for advanced customization + presets for games & apps
ROCCAT ACHIEVEMENTS DISPLAY
for monitoring gaming performance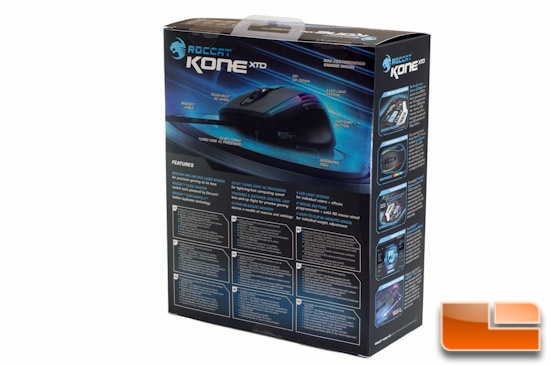 ROCCAT Kone XTD's Technical Specifications
Pro-Aim Laser Sensor R3 with up to 8200dpi
1000Hz polling rate
1ms response time
12000fps, 10.8megapixel
30G acceleration
3.8m/s (150ips)
16-bit data channel
1-5mm Lift off distance
Tracking & Distance Control Unit
72MHz Turbo Core V2 32-bit Arm based MCU
576kB onboard memory
Zero angle snapping/prediction
1.8m braided USB cable
The Kone XTD carries a 1 year limited warranty, should it decide to spill its guts. This is right on par with the warranty on their other mice, but is not as good as some other manufacturers. If you're spending in the neighborhood of $90 for a mouse, some people may prefer a longer warranty.
Read on to see what our impressions of this mouse are, what makes it perfect, and what kind of flaws it may have.