ROCCAT Isku FX Multicolor Gaming Keyboard Review
Mon, Apr 15, 2013 - 12:00 AM
Using the Isku FX & Conclusion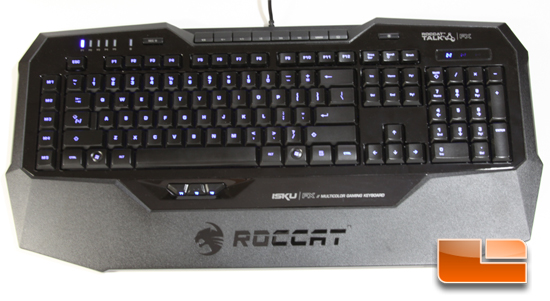 Brightly-lit environments overpower the Isku FX's backlight
Here's a bit of insight into the making of this review. The Isku FX was a difficult photograph subject and for the sake of demonstrating the backlight colors without overdoing the number of images, I elected to have the Isku FX's backlights turned on during most of the photoshoot. This is something most other reviwers don't do because the result isn't entirely honest. The reality is that the Isku FX's backlights aren't intense enough to shine through the keys in a brightly lit room or under a set of studio lights. By controlling exposure times and ambient lighting, I was able to enhance the appearance of the Isku FX's illumination in some of the review images. If the colored backlight appears bright and the keyboard looks dark, you can bet that it was photographed in low light.
Then there's the copious amount of gloss. Aside from of course being fingerprint magnets, so much of the keyboard's surface was glossy plastic that I had to be extra mindful of reflections in my photographs. Not enough backlight, too much gloss. This brings me to comment on an unfortunate motif going on with this keyboard. There's a bunch of thing about the Isku FX where there's too much of something, too little of another, for better and for worse.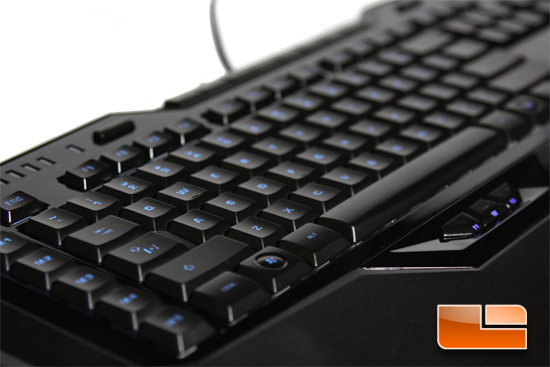 As a gaming keyboard, the ROCCAT Isku FX is great. The keys are neither too soft nor too stiff and the short keytravel along with anti-ghosting, low latency, and a fast polling rate makes the keyboard very responsive. The Isku FX is one of the finest membrane keyboards I have ever used. For $99.99 shipped at Amazon and with a 1 year warranty, the Isku FX is fair competition against other multicolor backlit membrane keyboards such as the Logitech G510s and the Alienware TactX keyboard. However, there's no denying that $99.99 is expensive for a keyboard and that money can easily snag a basic mechanical switch keyboard which are increasingly popular amongst gamers.
The number of possible macros keys is insane. It's possible to turn a good part of the left side of the Isku FX into something of a customizable pseudo-gamepad though it would be much easier if that could be done without either holding down the Easy-Shift[+] key or buying a Kone mouse and programming it with an Easy-Shift[+] lock/unlock macro.
Then there's ROCCAT Talk and Talk FX. There's a bunch of words on the product box and website about "Set Bonus advantages" and "sensory effects" and even a picture that shows the Isku FX and Kone XTD together with their lights synced in purple. The reality is that ROCCAT Talk doesn't do enough. It could do much more to unify the Isku FX and Kone mouse experience and worse yet, there's almost no "sensory effects" included. I wouldn't have cared had these driver features not been advertised, but ROCCAT Talk really is too much talk and too little action.
Ultimately, I feel ROCCAT could have done more. The hardware is wonderful, but ROCCAT's marketing hype has left me wanting so much more out of the software and backlights. If you are the type of gamer interested in a keyboard with lots of macros and good looks to boot, then I would highly recommend the Isku FX. Otherwise, save your money for elsewhere.
Legit Bottom Line: ROCCAT's Isku FX is beautifully made and packed with some very cool and useful macro features making it particularly interesting for MMO gamers. While it is expensive and seemingly less relevant in the face of mechanical keyboards, the Isku FX remains competitive amongst multicolored backlit keyboards. Disappointments are its dim backlights and the lack of promised software features.