ROCCAT Isku FX Multicolor Gaming Keyboard Review
Mon, Apr 15, 2013 - 12:00 AM
ROCCAT Software: ROCCAT Talk (feat. Kone XTD Mouse) and Talk FX
ROCCAT TALK (feat. Kone XTD Mouse)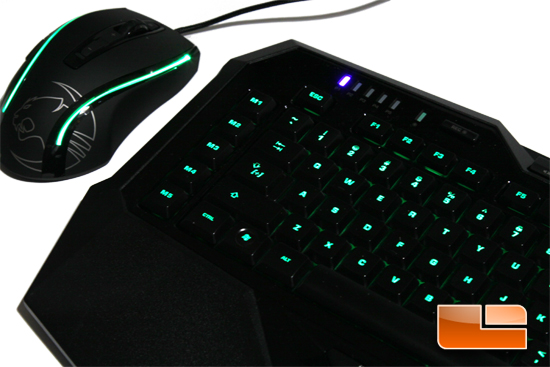 Like the original Isku, the Isku FX is compatible with ROCCAT's keyboard-mouse unity software called ROCCAT Talk. ROCCAT Talk is not a true standalone program, but instead extends some functionality of the drivers for each ROCCAT device. For our review of ROCCAT Talk, we used ROCCAT's Kone XTD gaming mouse alongside the Isku FX.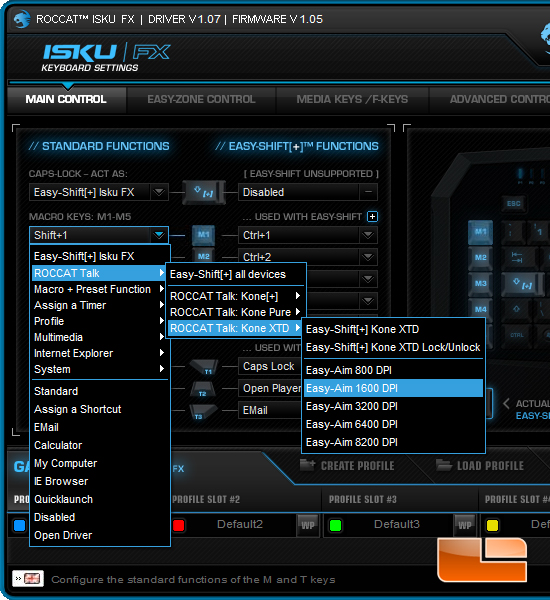 ROCCAT Talk allows hardware specific setting hotkeys to be used on the opposite device. For example, the Isku FX's macro keys can be assigned to trigger specific mouse DPIs. However, the options are limited. There is no hotkey command to rotate through the mouse DPIs, F-keys and media keys can't be programmed with ROCCAT Talk commands, and Easy-Shift[+] commands are disabled for those keys with assigned Talk functions.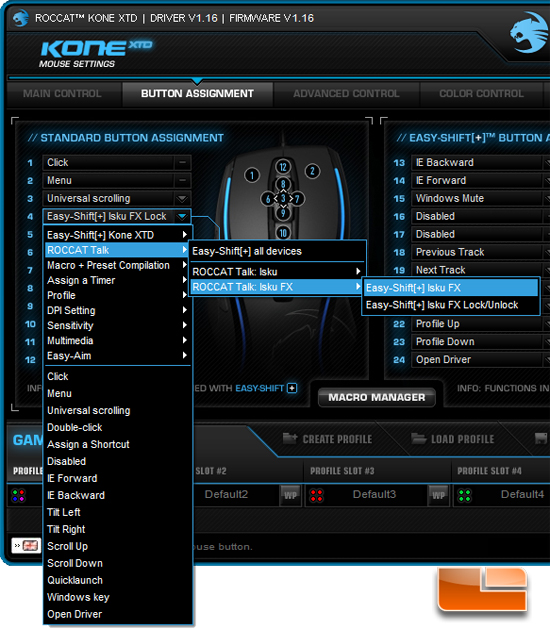 Usage of ROCCAT Talk on the Kone XTD is even more disappointingly inadequate. Only two buttons – the two right side buttons – can be programmed with ROCCAT Talk commands and there are only two available commands, both used to trigger the Isku FX's Easy-Shift[+] mode.
If there's room for more features in the future, I would like to see ROCCAT Talk have the ability to tie together mouse and keyboard profiles and synchronize the multicolor LED lights.
Talk FX
Talk FX is a reactive backlight driver extension included in ROCCAT Talk. This is a feature only found on ROCCAT products with multicolor LEDs which currently are the Isku FX keyboard and three mice, the Kone[+], Kone XTD, and Kone Pure. ROCCAT claims that onscreen actions can be expressed with mouse/keyboard color changes and effects. The official Talk FX trailer on YouTube gives examples of the Kone XTD mouse reacting from in-game events such as pulsing blue when mana is low, blinking red when health is critical, and flowing green when poisoned.
The worst part is that it's all too good to be true. Talk FX is half-baked and falls way short of what is advertised. At present, World of Tanks is the only listed game with support for Talk FX sensory effects.
If you watched our video on the first page demonstrating the Isku FX and Kone XTD changing colors in sync to the BioShock Infinite launch trailer, you might be wondering how that was possible after I just said that such a feature doesn't exist within Talk FX.
I used a modified driver created by YouTube user Maxigeek68 to drive those reactive color changes. Apparently, ROCCAT has a software development kit for the community to develop Talk FX features and Maxigeek68 created his Ambilight mod as something of a preview for the missing reactive color lights. This mod driver did suffer from some driver instability and our Isku review sample did occasionally lockup in my tests and so be wary of the risks if you are interested in using it for yourself.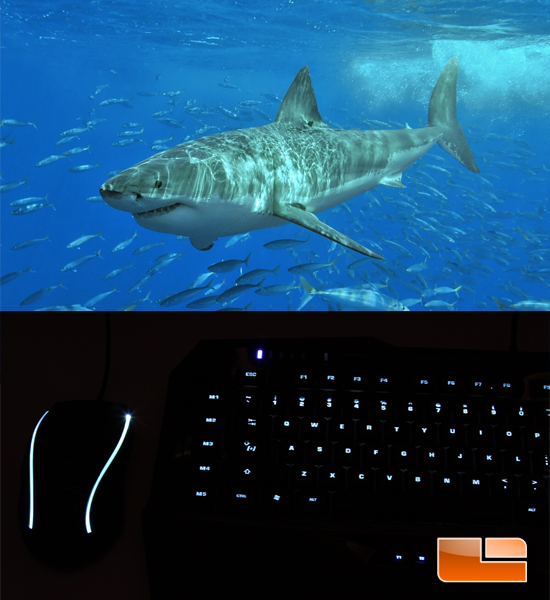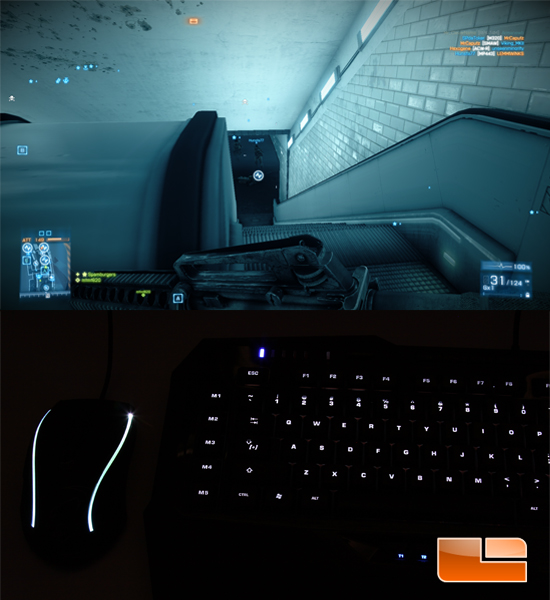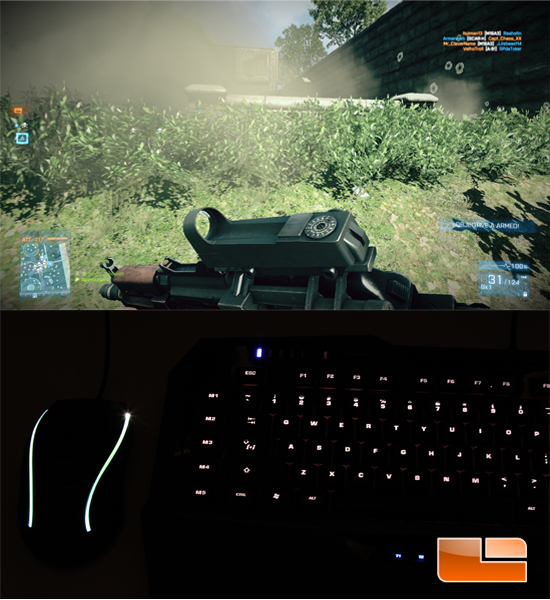 My usage of Ambilight exposed inherent problems with the behavior of the reactive lights from which I speculate are the reasons ROCCAT chose not to implement the sensory light feature into Talk FX. Most scenes in a movie, TV show, or game are a mixture of colors. If you've ever played with colors at some point in your life, whether it is with paint or crayons, then you should know that a mixture of colors is gray. Also realize that webpages and documents are not dominated by any one color and most images are color balanced. As such, the reactive lights on our Isku FX keyboard and Kone mouse was almost always white, becoming dimmer or brighter in reaction to the average of light and dark onscreen. An underwater image for example would trigger white lights with only a slight of blue. A scene in a forest would wind up making the light color shift slightly to red and make the "gray" light look brown. There are few instances when one color dominates the entire screen such as a fire that stretches across the whole scene which causes the FX lights to flicker orange.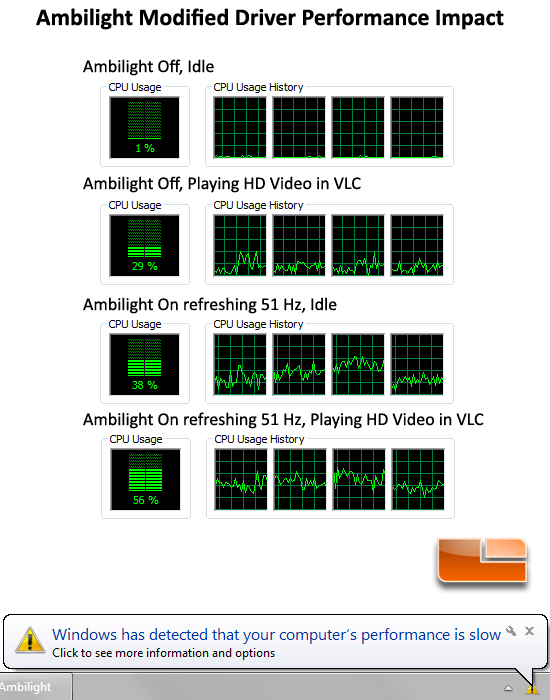 Faster reactive light refresh rates demand more processing power as evidenced by a look at Task Manager while the Ambillight mod was running. An Intel Core-i5 desktop processor idly running the mod was at around 35% load. Oftentimes, Windows detected this slow down and started cutting out nonessential processes. Logically, this would mean that the usage of reactive lighting in Talk FX would be restricted to fast modern computers and might have been a good decision on ROCCAT's part not to integrate this feature. However, I feel cheated to see the Isku FX box advertising reactive lighting as a core attribute without officially included it in the final product.