Prolimatech MK-26 VGA Cooler Announced – Can Handle 320W TDP Video Cards!
Thu, Aug 23, 2012 - 6:52 AM
Prolimatech just announced a new flagship video card GPU cooler called the MK-26. This VGA cooler was designed to provide up to 320 Watts TDP of baseline heat dissipation, which means that it can easily cool the NVIDIA GeForce GTX 680 or AMD Radeon HD 7970 video cards. The Prolimatech MK-26 is constructed with dual aluminum radiators that are bought heat by six 6mm thick nickel plated copper heat pipes. The dual aluminum finned radiators allow for the installation of two 140mm or two 120mm fans of your choice.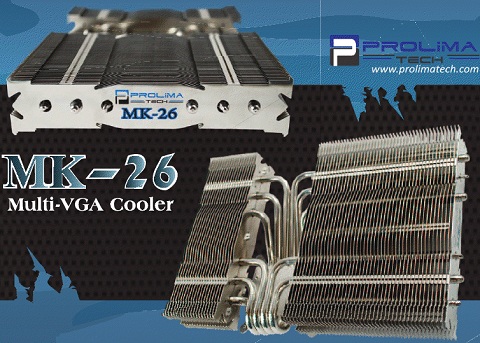 Prolimatech MK-26 Features:
Best in its class 320 Watts TDP
Industrial leading design and style
Six 6mm nickle plated sintered metal copper heat pipes
Nickel plated aluminum dual radiators
All lead-free nickel solder
Support for two 140mm or two 120mm fans
Omni-mount bracket mounting system for easy tool-free installation
Wide compatibility with new and future VGA cards
Excellent performance PK-3 thermal compound included
Y-split 4-pin connector for powering two fans with the VGA board