The Nexus 7 Gets Even Better
Last year we were impressed by the original Nexus 7 and the quality experience that could be had from a 7-inch Android tablet that cost just $200. The Nexus 7 was without a doubt the tablet to get if you were looking for something small. Over the course of the past year we saw the Nexus 7 available for well under $200 when on sale or when a store was offering a savings coupon. Even today the original Nexus 7 is still a solid platform and Google has done a good job at keeping it updated by pushing Android 4.3 out for the original model just this past week. ASUS did a great job with the build quality and hardware in the original model that came out in 2012, so we were really excited to hear that ASUS would be producing the second-generation Nexus 7!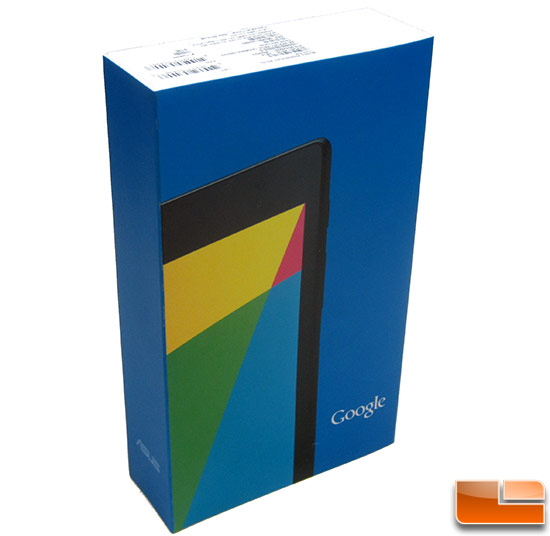 We ran out and purchased the 2013 Nexus 7 from Best Buy on July 26th and have been using it daily since we picked it up from the store. There are tons of Nexus 7 reviews already online, but we wanted to spend a few days actually using it rather than staying up all night and just posting up a 'quickie' on a product that we never really used.
The new 2013 Google Nexus 7 (16GB w/ WiFi) costs $229 shipped for the base model, which is more than the 2012 Nexus 7 (8GB w/ WiFi) that could be had for $199 at launch. This 15-percent price increase had us worried at first, but you'll see that you get much improved hardware that makes it easy to justify the higher prices. You get a thinner/lighter tablet, reduced bezel, higher screen quality and resolution, a faster processor, improved graphics processor, double the RAM, dual band wireless, updated Bluetooth, wireless charging, a rear facing camera and more. Literally everything that could have been updated has been! Take a look at the table below for a good side-by-side comparison between the two models.
 
Nexus 7 (2013)
Nexus 7 (2012)
Pricing
$229+
$199+
Dimensions
7.87 x 4.49 x 0.34 inches (200 x 114 x 8.7mm)
7.81 x 4.72 x 0.41 inches (198.5 x 120 x 10.5mm
Weight

WiFi: 10.23 oz. (290g);

LTE: 10.55 oz. (299g)

WiFi: 11.99 oz. (340g);

3G: 12.24 oz (347g)

Screen size
7.02 inches
7.02 inches
Screen resolution
1,920 x 1,200 pixels (323 ppi)
1,280 x 800 pixels (216 ppi)
Screen type
IPS LCD
IPS LCD
Side Bezel Width
0.8-inch
1.0-inch
Maximum brightness
570 cd/m2
288 cd/m2
Battery
3,950mAh
4,325mAh
Internal storage
16/32GB
8/16GB
External storage
None
None
Rear camera
5MP, AF

No rear camera

Front-facing cam
1.2MP
1.2MP
Video capture
1080p/30fps
720p (using front camera)
NFC
Yes
Yes
Radios

varies by market;

LTE/HSPA+/GSM/EDGE

varies by market;

HSPA+/GSM/EDGE

Bluetooth
v4.0
v3.0
SoC
Snapdragon S4 Pro
NVIDIA Tegra 3
CPU
1.5GHz quad-core Krait (28nm)
1.2GHz quad-core Cortex-A9 (40nm)
GPU
Adreno 320
ULP GeForce
RAM
2GB
1GB
Wireless Charging
Yes
No
WiFi
Dual-band, a/b/g/n
b/g/n
Operating system
Android 4.3
Upgradeable to Android 4.3
These are really impressive hardware specifications and to see them in a $229 tablet is really great. Keep in mind that the Apple ipad mini costs $100 more and has just a 1024 x 768 screen resolution with 163 pixels per inch (PPI). The screen quality on this IPS LCD display is something to see at 1920 x1200 with 323 PPI!  Apple's 16GB iPad w/ Retina Display (264 PPI) costs $499 and the new Nexus 7 looks just as good when it comes to screen quality!
The icing on the cake is that the new Nexus 7 is the first device in the world to run Android 4.3! This means that you use new Android 4.3 features like Restricted Profiles, which allows you to control access permissions on an app by app basis. This is great for tablets as it is likely that the whole family will use the device and you can limit what apps different users can access including, should you choose, a complete restriction on accessing Google Play to add new apps or entire social networks (think Facebook or Twitter blocking). Android 4.2 already lets you create different profiles so each family memory can all have their own log ins, but Restricted Profiles builds on this idea significantly. Other notable new OS features would be OpenGL ES 3.0 support and Bluetooth Smart. OpenGL ES 3.0 improves polygonal graphics performance and allows the tablet to better handles effects like lens flares, shadows, and other shader effects. With Bluetooth Smart, the Nexus 7 can connect to a newer generation of Bluetooth devices as well as transmit metadata like song titles.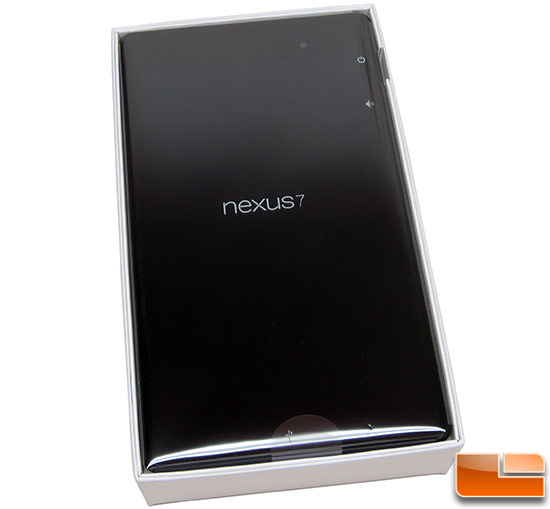 The second-generation Nexus 7 is available in three models. The first two are Wi-Fi only, with support for 802.11a/b/g/n on the 2.4GHz and 5GHz bands, hence the dual-band support. The 16GB Wi-Fi model is $229 shipped and the 32GB Wi-Fi version is $269 shipped. The third and most expensive model is the 32GB model that has 4G LTE support (there is no 16GB option with the 4G LTE modem).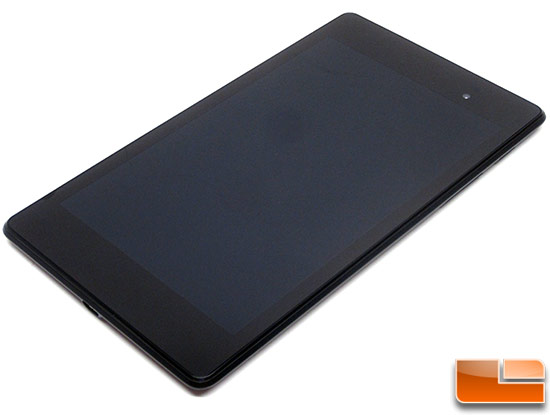 We purchased the Nexus 7 16GB Wi-Fi model and that is the model that we'll be showing you in this review.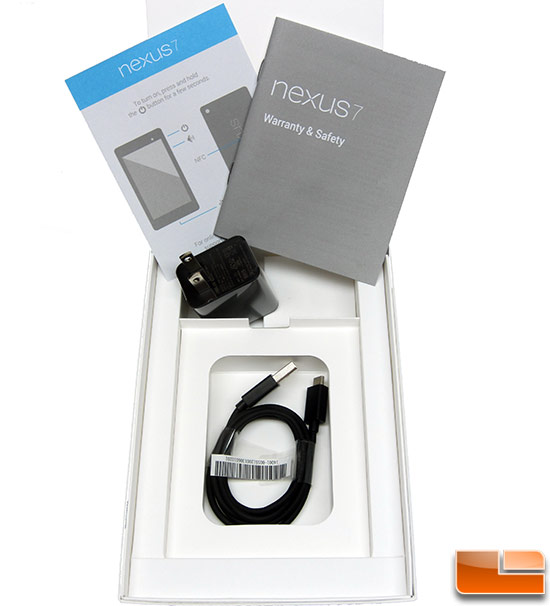 Inside the retail packaging you'll find the USB charging/data cable, wall charger, warranty & safety guide and a quick setup manual.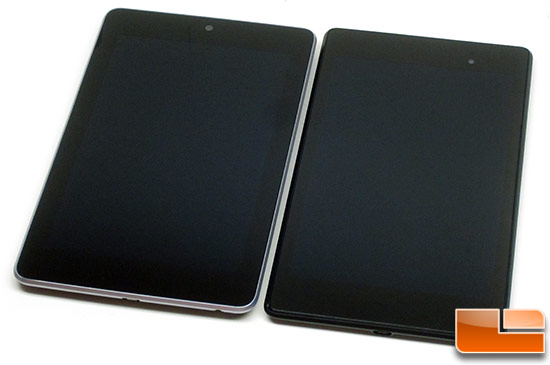 Here is a side-by-side shoot with last year's Nexus 7 on the left and this years model on the right. They look similar, but you can see the 2013 Nexus 7 is a tad taller and all black. The headphone jack has been moved from the bottom to the top and the front facing cameras is now offset to the right side. When it comes to looks the new model does look nicer and has a nice weight to it.

The 2013 Nexus 7 measures 7.87 x 4.49 x 0.34 inches versus 7.81 x 4.72 x 0.41 inches on the 2012 Nexus 7. So, it is taller/longer, but noticeably narrower and thinner. It also only weighs 10.23 ounces verses 11.99 ounces for the last version. The cheap looking silver plastic rim around the display is gone and we are happy about that. Now the soft-touch-coated back wraps around the side to the glass display.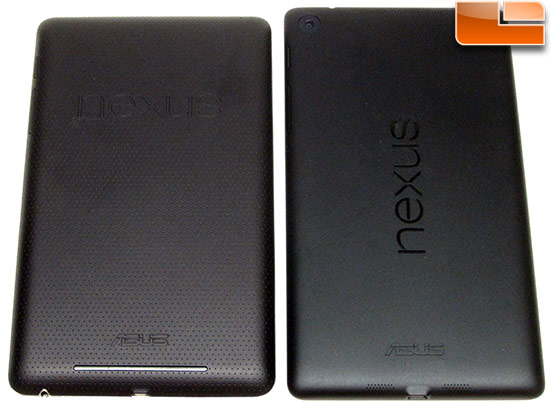 Here is a look at the aforementioned soft-touch coating on the back of the Nexus 7. Notice that ASUS also did away with the leather-like finish on the original and that the the back is entirely smooth now. The build quality just feels better this time around!
Nexus 7 Camera and Hardware Performance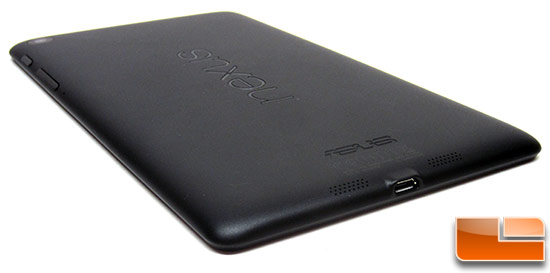 The back of the Nexus 7 hosts the two rear-facing stereo speakers, on left and right sides when held in landscape mode. We noticed an increase in both volume and quality when listening to music and movies. Hidden inside you also have GPS, a gyroscope, accelerometer, wireless charging, NFC and a digital compass!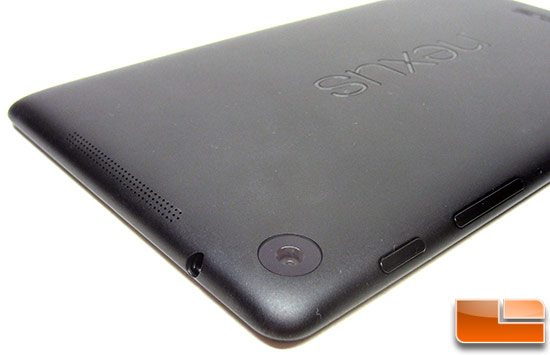 The power and volume keys are still on the top right edge of the tablet, although there's a bit more room between the two. The microphone has been repositioned from the bottom edge to directly under the volume buttons, and the headphone jack moved from the bottom up to the top. The rear-facing camera is also located on this corner, so there is a lot going on here!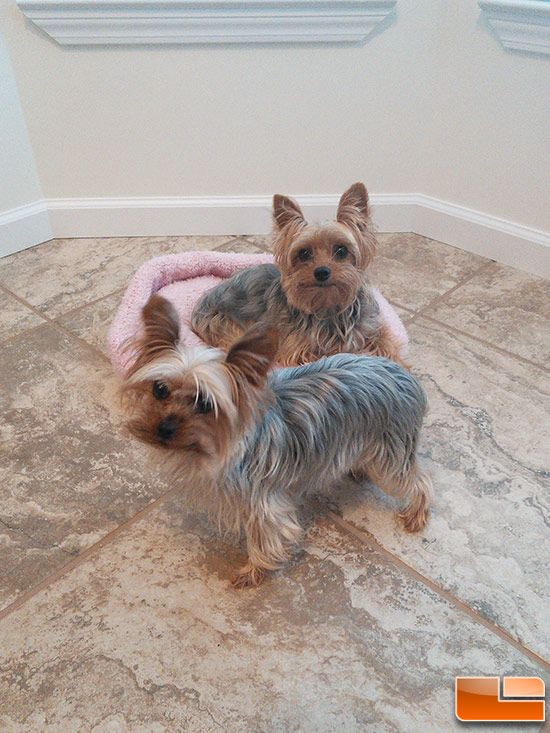 Having the 5.0mp rear facing camera is a welcomed addition as you can snap pictures of whatever your heat desires. We found the camera works great outdoors during periods of good light. Indoor shots, especially low light situations, left something to be desired and were often grainy. The image above is of the shaggy LR Yorkies before their hair cut appointment tomorrow!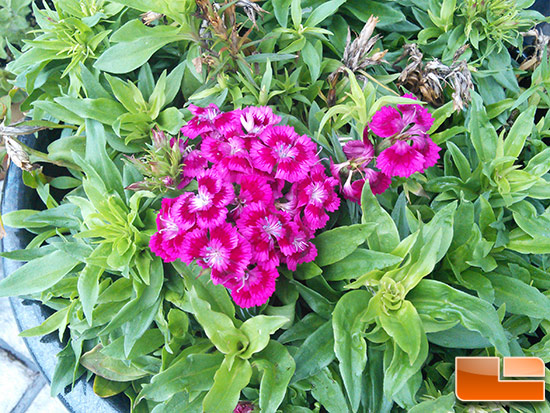 The focus was good for all those close-up shots and the ability to shoot panoramic shots was also nice to see. Obviously the camera isn't going to win any awards for clarity, but it is better than not having one at all.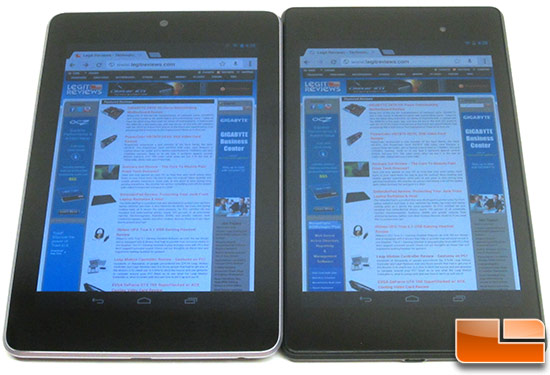 When it comes to the display performance for general use and gaming we couldn't be happier. The 2013 Nexus 7 with its ultra high-resolution screen at 323 pixels per inch, blows away the old display. Text and HD images can be viewed with incredible clarity on this budget friendly tablet. We have a Google Chromecast on order because we hope to be able to wireless stream images and content to our HDTV with the Nexus 7. If you want to connect this tablet to your HDTV you need to buy a SlimPort micro-USB-to-HDMI adapter or the Google Chromecast since there is no HDMI output. Both solutions are right around $35 shipped, so it is up to you on which one is right for your situation.
2013 Google Nexus 7 by ASUS Performance:
The new Nexus 7 features Qualcomm's Snapdragon S4 Pro quad-core processor running at 1.5GHz. There are fair number of people complaining about how it is old and slow compared to what is on the market today. For a $230 tablet, it is hard to complain about the 1.5 GHz quad-core Qualcomm Snapdragon S4 Pro CPU, Adreno 320 GPU, and 2GB of RAM that powers this tablet. Sure, the Snapdragon 600 might be faster or they could have waited for the Snapdragon 800 to come out, but that would have raised the build cost of this tablet greatly.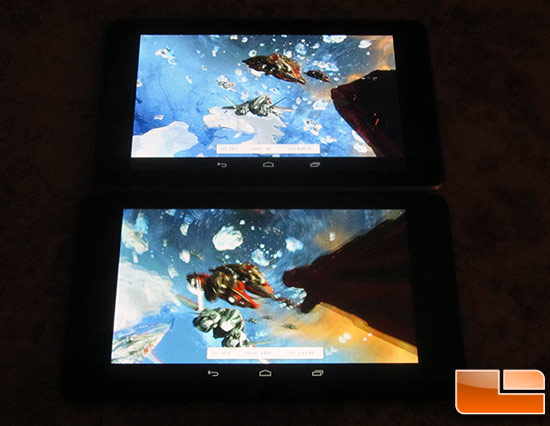 One of the reasons we waited to publish this review is that we had to wait for the GOTA Android 4.3 OS update to become available on our original Nexus 7 tablet. We wanted to benchmark both tablets on Android 4.3!
 
 Nexus 7 (2013)  
 Nexus 7 (2012)
Quadrant 2.1.1
5,241
3,525
Vellamo 2.0 HTML5

1,649
1,383
Vellamo 2.0 Metal

743
404
AnTuTu v3.3.2
20,011
12,270
CF-Bench 1.3

15,364
11,657
SunSpider 1.0 (ms)
1083
1468
GFXBench 2.7.2 T-Rex Offscreen

15
 3.2
GFXBench 2.7.2 T-Rex Onscreen

15
 5.4
GFXBench 2.7.2 Egypt Offscreen

40
 9.7
GFXBench 2.7.2 Egypt Onscreen

39
 14
3DMark Ice Storm
11,872
3,523
BasemarkX Offscreen

7.893
6.153
BasemarkX Onscreen

8.252
3.086

SunSpider: lower scores are better.  Higher is better on all other benchmarks.

When using the Nexus 7 it feels fast and snappy!  When we started to run a number of benchmarks it was apparent that things were much faster. Java performance in SunSpider improved by 26% and the gaming performance jumped up by roughly 3.5x in 3DMark Ice Storm and 4x in GFXBench 2.7.2 in the Egypt scene. AnTuTu also showed an amazing 63% performance improvement. The new 2013 Nexus 7 absolutely hauls ass compared to the original!
We have also learned that TRIM is now supported in Android 4.3, so you should see more consistent performance over time with both versions of the Nexus 7 thanks to this new feature.
Nexus 7 Final Thoughts
If you liked the original Google Nexus 7, you are going to fall in love with the new Google Nexus 7! The Google and ASUS partnership once again pulled it off and have married together some great hardware and software in this 7-inch tablet. The improvements were across the board too, so you get a much more refined user experience. At the end of the day it really all boils down to the user experience and that is stellar on this particular tablet. If you are looking for a 7-inch tablet, this is the new gold standard!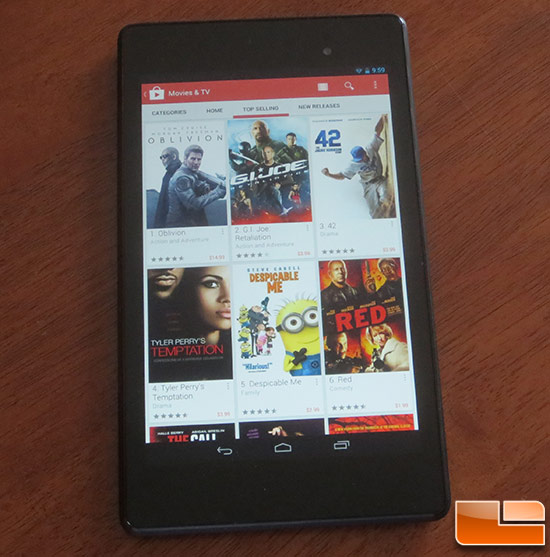 When it comes to pricing the 16GB Wi-Fi model is $229 shipped and the 32GB Wi-Fi version is $269 shipped. Keep in mind that there is no external storage, so you can't expand the storage space by installing a microSD card into the Nexus 7. The entry price has gone up, but you get so much more for your money that it is easily justified with all the improvements. It also peforms better and is less expensive than the Apple iPad Mini and the Samsung Galaxy Tab 3 (8-inch).
The 2013 Nexus 7 is easily the small tablet of choice and we recommend it to anyone looking for such a device!
 Legit Bottom Line: The 2nd Generation Google Nexus 7 with Android 4.3 is a tablet done right and in our opinion is the best small tablet on the market today.