Corsair Carbide 300R Introduction
As much as we'd all love to own the most expensive of everything, it's only when you come back to reality that you realize that most people cannot. Today we have Corsair's Carbide 300R in the house, which is supposed to be built and designed for those who have a tighter budget, but can spend closer to a Benjamin on a case. We will take a look and see what kind of features this case has, and see if spending a few bucks less will be worth it to you.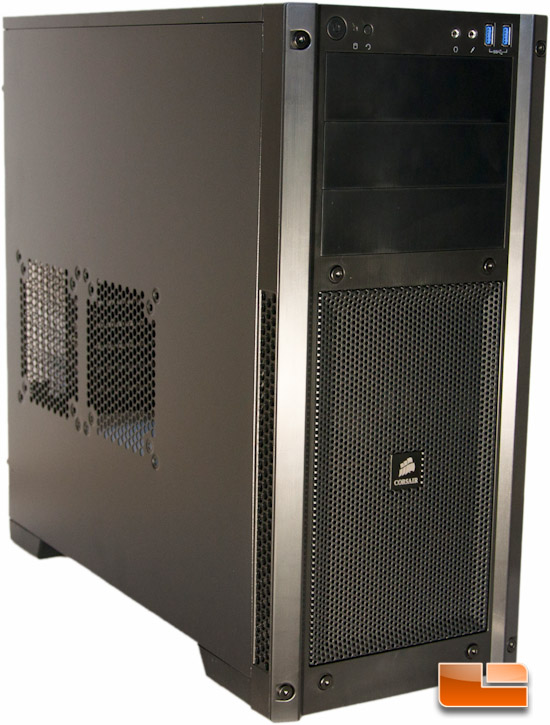 The 300R is a mid-tower chassis that is part of Corsair's Carbide line. If you are unaware, the Carbide line is meant to be your more budget friendly line in Corsair's PC case lineup. This chassis is designed with the gamer in mind, keeping everything tight, to the point, and also offering the ability to install some large components.
Coming in a sleek flat black, inside and out, the 300R (CC-9011014-WW) will run you $86.00 shipped on Amazon for the windowless version, or $89.99 shipped for the windowed version (CC-9011017-WW). Included is a full two year warranty to cover any troubles you may have with the case. Again, the version that we're going to review today is the windowless version.
Corsair Carbide 300R Technical Specifications:
Three 5.25" drive bays
Four3.5" hard drive bays with 2.5" compatibility
Seven expansion slots
Two-year warranty
Front I/O panel contains:

Two USB 3.0 connectors
3.5" headphone and microphone connector
Power and reset switches

Dimensions: 19.1" x 8.3" x 18.7"
Supports graphics cards up to 450mm in length
Two 120mm/140mm top fan mount locations
Two side panel 120/140mm fan mount locations
Two front panel 120/140mm fan mount locations
Includes one front-mounted 140mm fan and one rear 120mm fan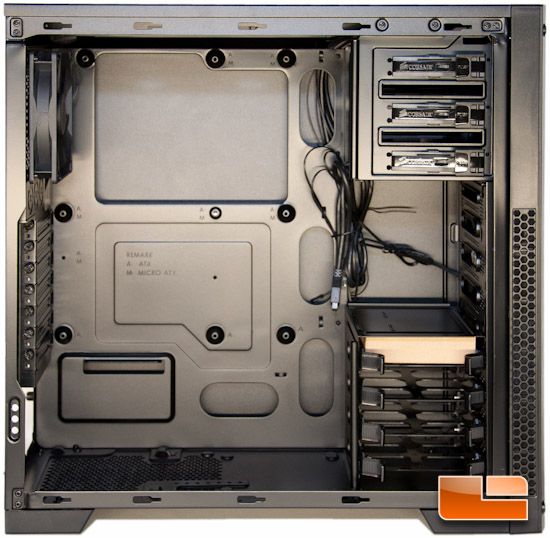 Since Corsair has the gamer in mind for this case, they also offer super cooling potential over the competition. With this case, you will have the ability to install up to 7 fans, with 2 of those fans being included. There is also support for water cooling inside this case!
Next up I will take a quick look at the packaging choice Corsair made for the 300R, and how well they accounted for punishment from shippers, when buying online.
Corsair Carbide 300R Packaging & Unboxing
The 300R may be a budget minded case, but Corsair still needs to do a good job of packing up the case. The 300R that I'm reviewing today, definitely had a small amount of punishment in shipping, but I'm pretty sure it'll be just fine. Let's take a quick look at the packaging and see how well Corsair accounted for a little neglect.
Corsair opted for a very plain cardboard packaging with basic black printing on it. Not having flashy packaging will cut down on their costs, and inevitably yours. Who doesn't like saving money, right?
Starting with the front, is nice drawing of the 300R, 300R in huge letters to let you know what you're getting, and a nice description on what Corsair has in store for you.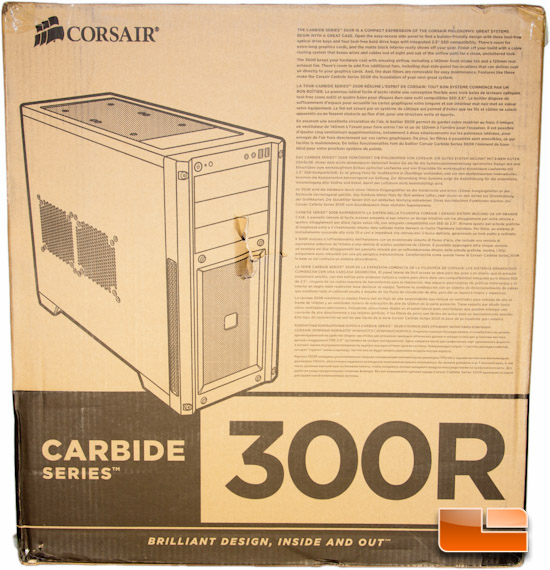 Turn it around a quarter turn and Corsair shows you a drawing of the interior of the case, as well as the front. Described here is everything in three languages other than English.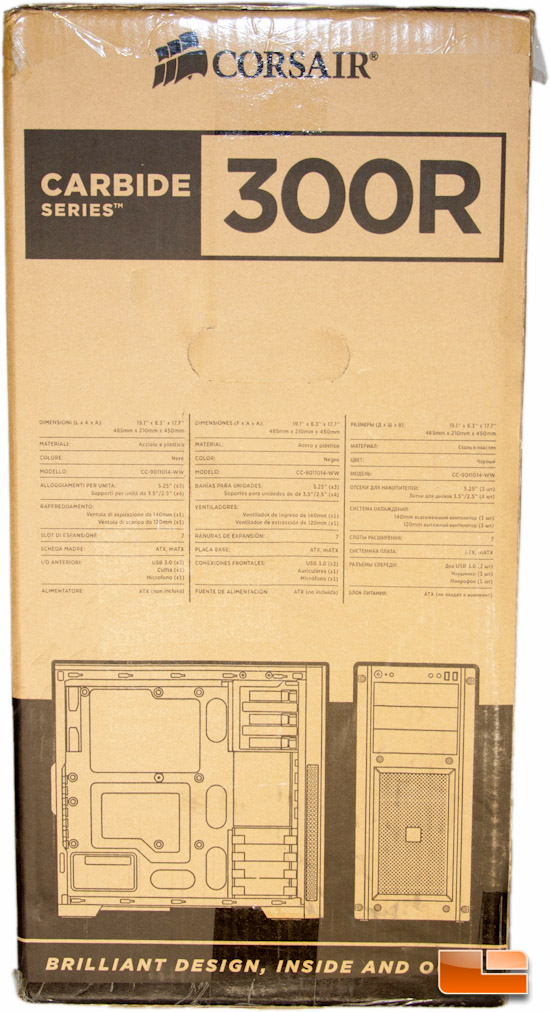 Another turn exposes the back side of the box, which shows you an exploded diagram, and descriptions, of the features you'll find with the 300R.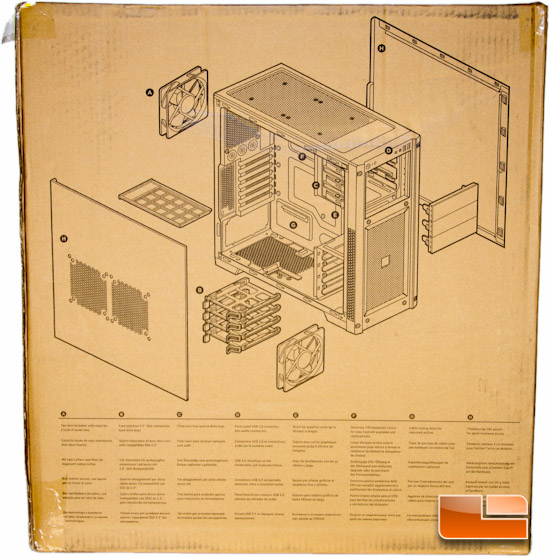 One final 90 degree turn and you have the tech specs in English and two other languages.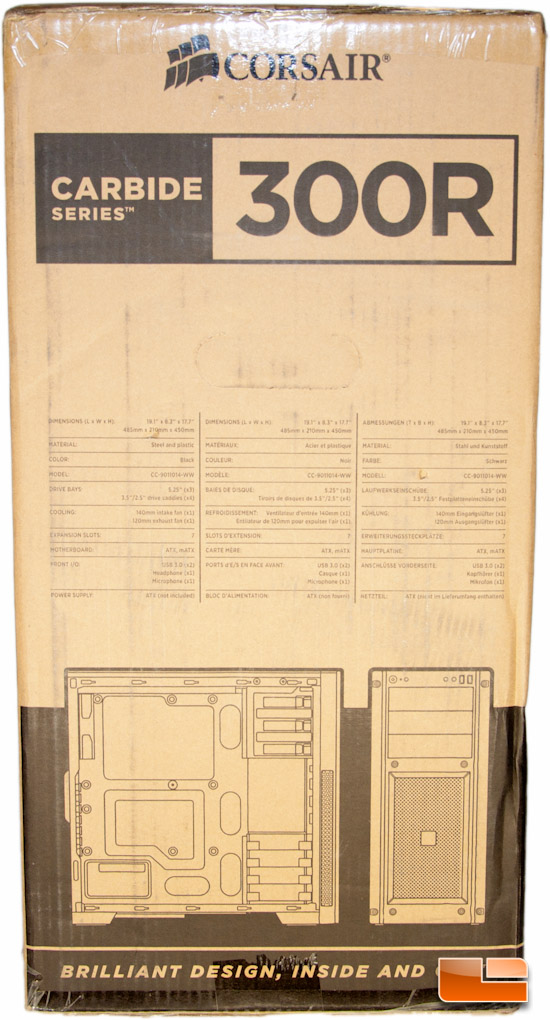 Cracking the top of the box, we expose the Styrofoam blocks housing the 300R. The 300R is also wrapped in plastic, which is always a nice sight to see.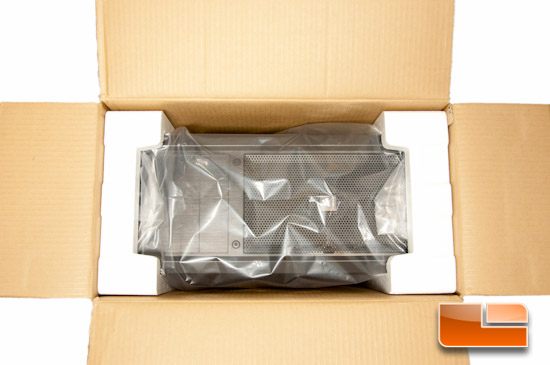 Pulling the 300R out of the box, you can see one more time how Corsair packaged it.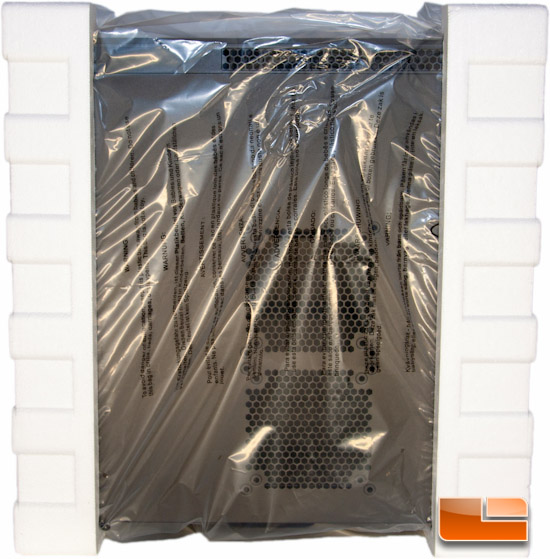 Also included in the box, is a quick start guide, and actually hidden inside the case is the box which contains various screws for mounting 2.5" drives and fans.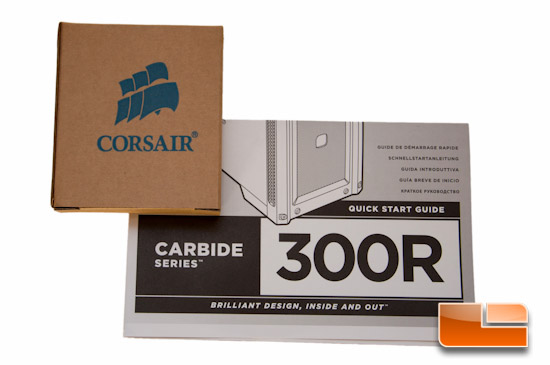 And finally out of the box, we see the sleekness of Corsair's Carbide 300R.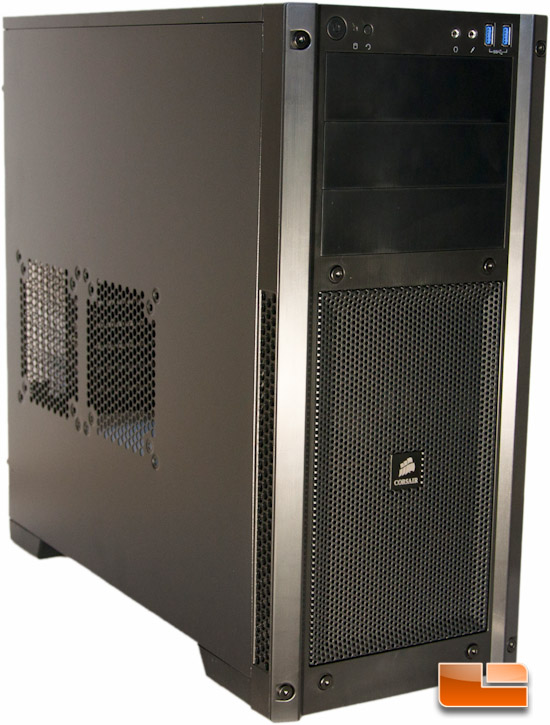 Next up I will take a tour around the 300R and will provide my impressions along the way.
Corsair Carbide 300R Exterior Impressions
The 300R is actually one slick looking case. I have always enjoyed the appearance of a flat black finish over a flashy colored finish.
My very first impression was with how light the case is. Without hardware installed, the combination of plastic and steel has this case weighing less than 16 US pounds (~7.3kg). It doesn't feel overly chinsey and the plastic to steel ratio feels good.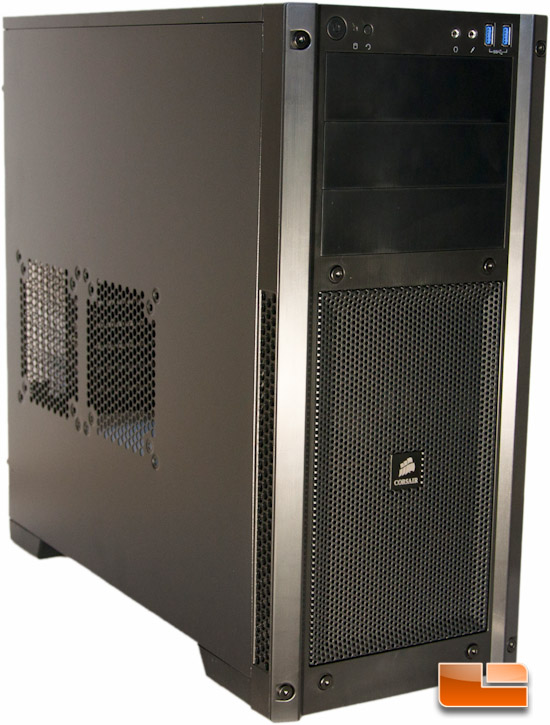 Starting off with the face of the 300R, you can see the I/O panel up top, the three 5.25" drive bays just below that, and actually hidden behind the mesh is a single intake fan, with room for a second. The hex screws are strictly aesthetic and not a part of tearing the case apart. I actually quite like these and feel it's a nice little touch to an already pretty plain front.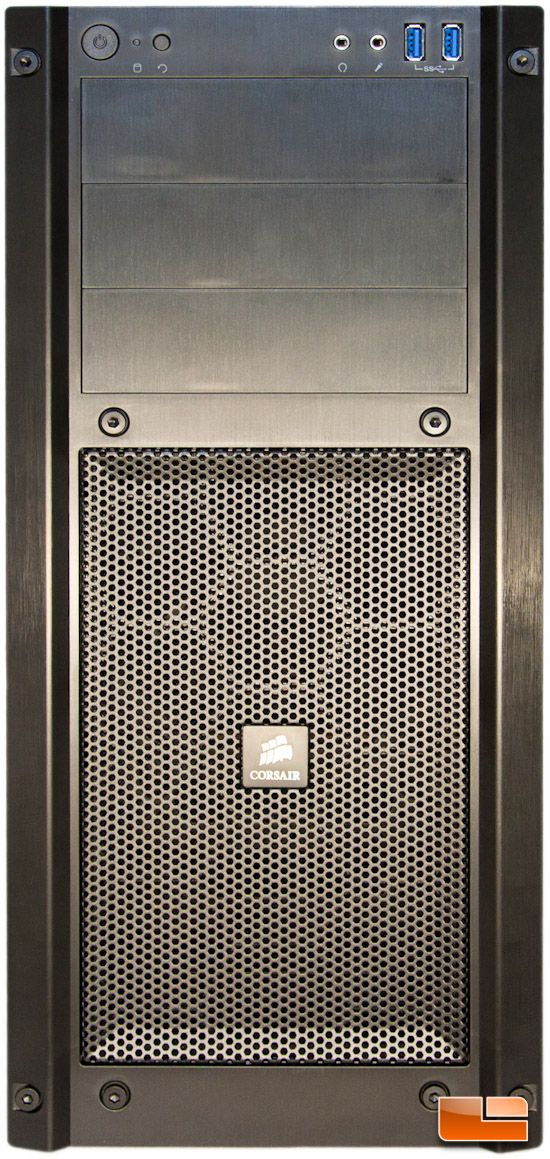 A quick run through the I/O panel, working left to right, there is a power button, HDD activity light, reset button, headphone and mic jacks, and finally two USB 3.0 ports. I am happy to see Corsair include a reset button on their case, as cases that don't have these drive me nuts sometimes.

You can pull off the front panel by reaching underneath the face and pulling towards you. I've seen many cases over the years have methods like this, and it's definitely simple enough to work with. As mentioned previously, under here you expose the single mounted 140mm intake fan, with room to mount another 120/140mm fan just below.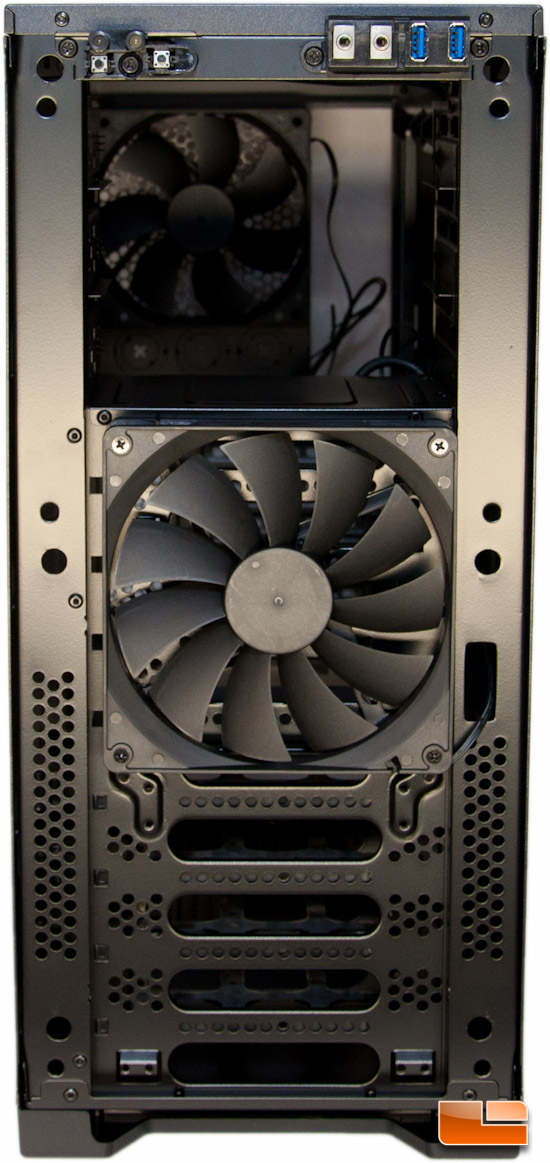 There is a filter that is mounted to the panel that you just removed, but it isn't able to be removed from what I can tell.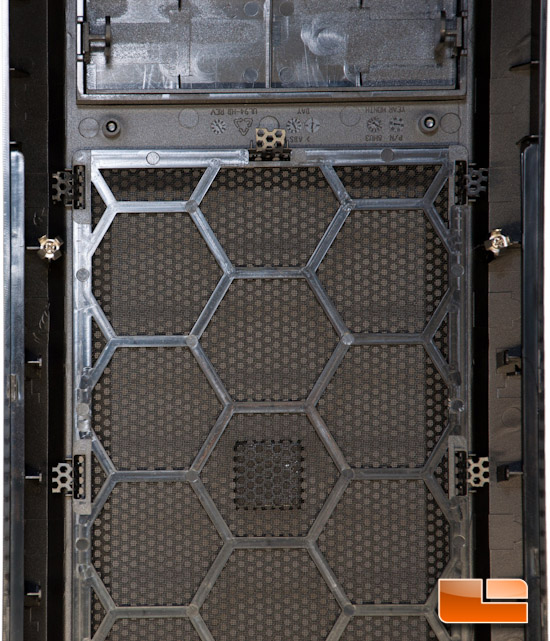 Moving over to the left hand side of the case, the very right edge has some ventilation holes, while on the left you have two mounts for 120/140mm fans. These fans will line up horizontally on the side panel to provide extra cooling to your video card(s).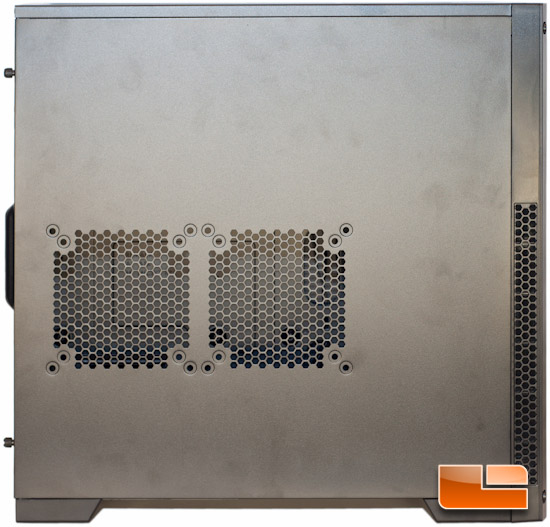 Moving to the rear, up top you catch a view of the single 120mm exhaust fan. Just below that are three knockouts for water cooling piping. I honestly would have liked to see these protected a little more with grommets. Finally this case includes room for seven (7) expansion cards.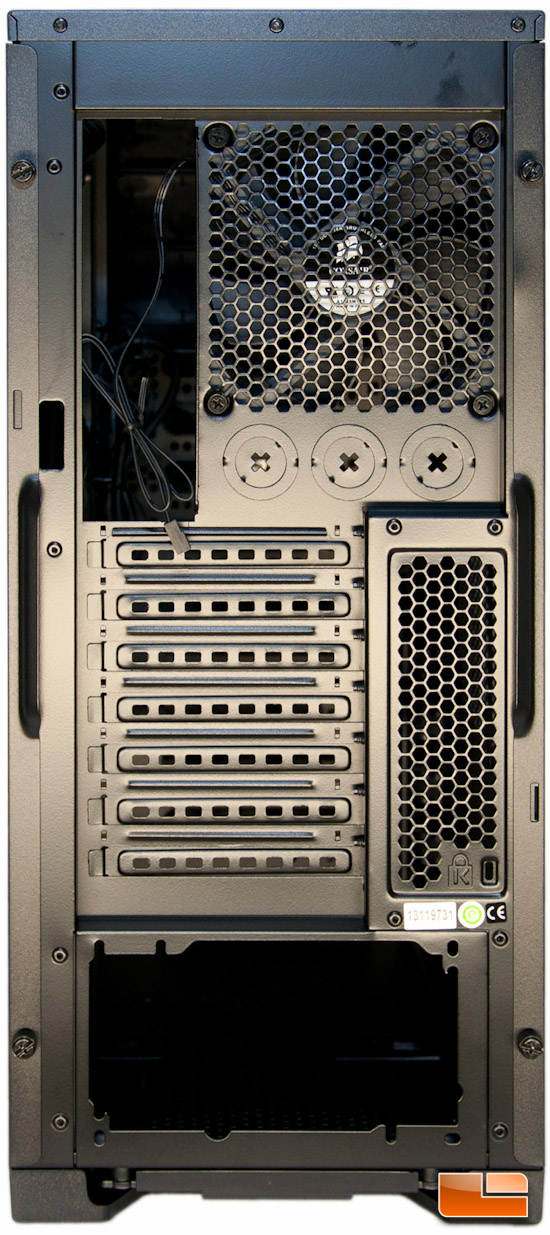 Another thing to note is the addition of grip points on the side panels. The side panels are held on with two thumb screws each on the rear, and these grip points are always a great touch when trying to remove it.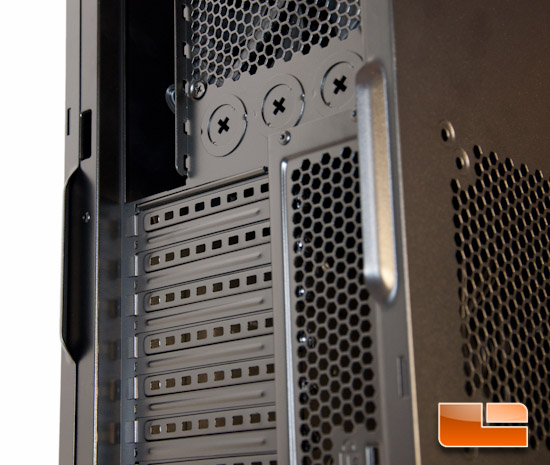 The right hand side of the case doesn't really show you much of anything, other than the ventilation holes on the left hand side.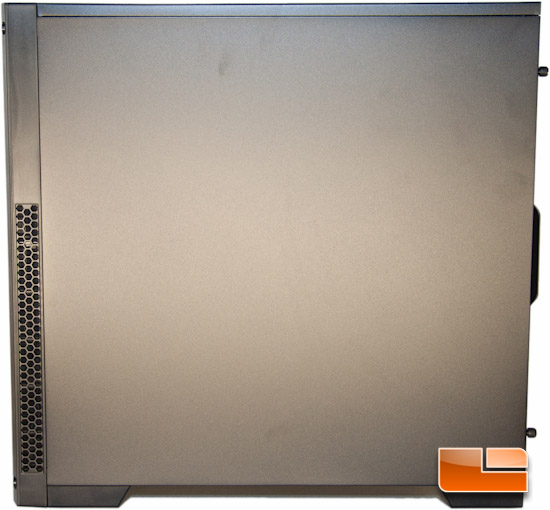 Up top we can see this is nice and open. There is room for both 120mm and 140mm fans to be mounted, with the 120mm fans being pushed towards the outside edge for easier 120/240mm radiator mounting. This area probably could use filtration, but that will be up to the user to take care of, should they want to.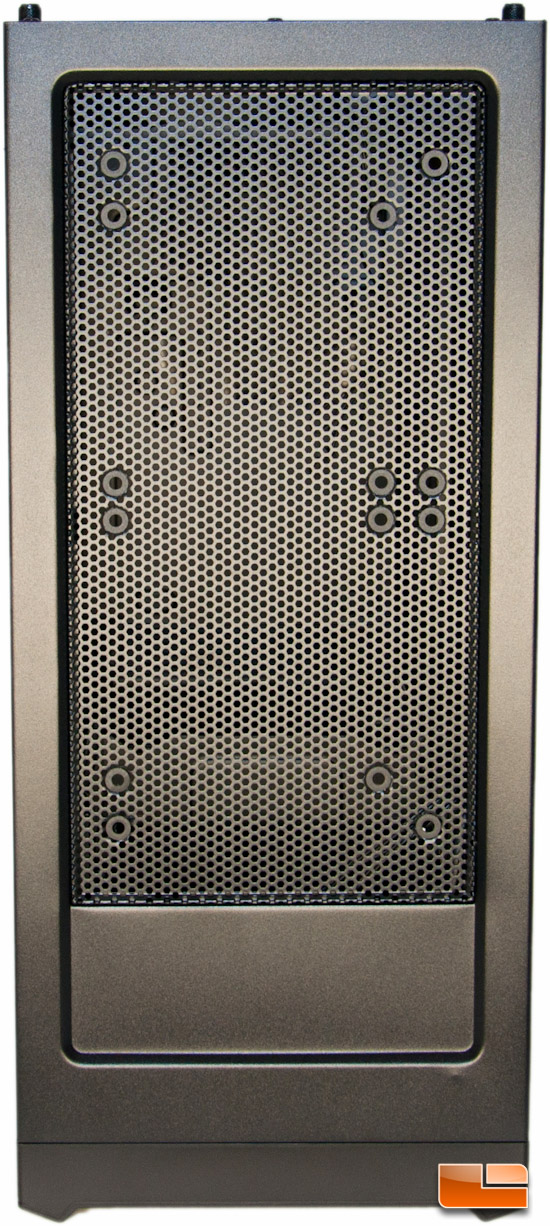 Finally, looking at the bottom of the 300R, you catch a glimpse of how Corsair wanted this case to not slip and slide on smooth surfaces; there are four rubber pads for feet. At the very bottom of the below picture, is the grip point that you will put your fingers to assist you with removing the front panel.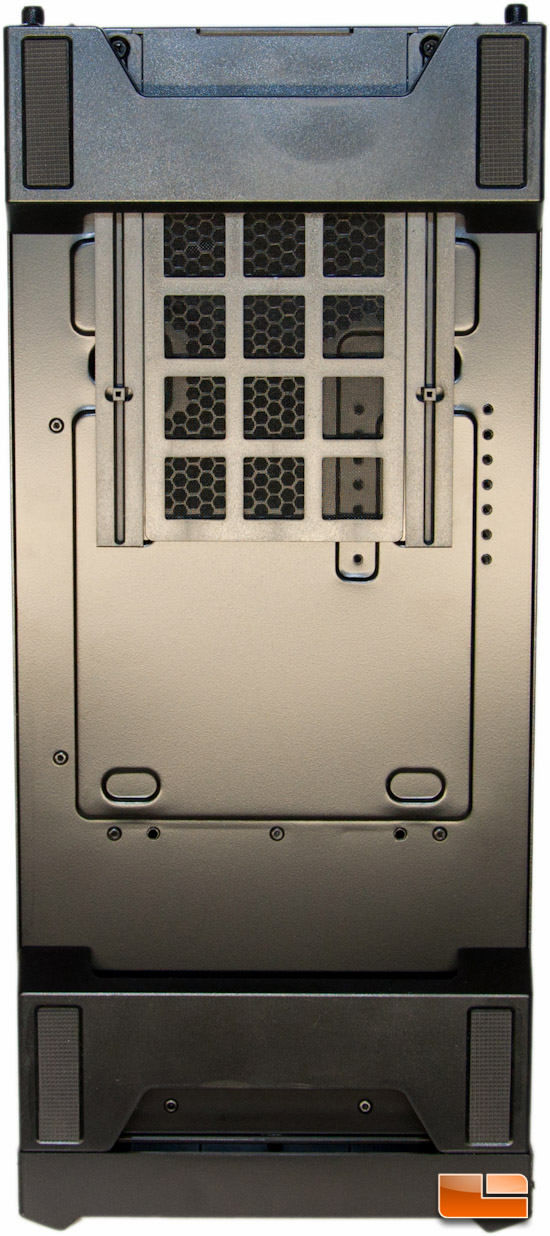 Also down here is a filter for the PSU. This filter is much easier to remove, as you just simply slide it from the back.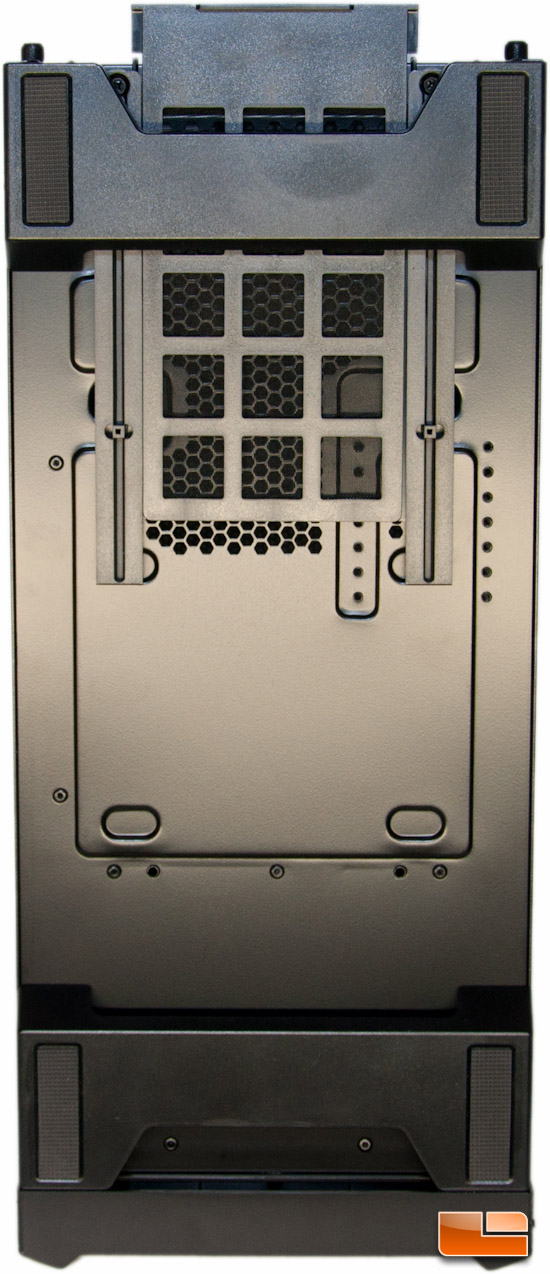 That's about it on the outside, so next up I will take a look and see what the inside has to offer.
Corsair Carbide 300R Interior Impressions
Getting inside Corsair's Carbide 300R is fairly easy. On the back end of the case, you simply remove the two thumb screws that hold the door to the chassis, and then pull it off. I did find in rare cases, that the door stuck a little more than it should. Everything was made easier by the grip points on the back end of the door, however.
Inside the 300R, you'll find a very familiar layout, so let's take a tour around it.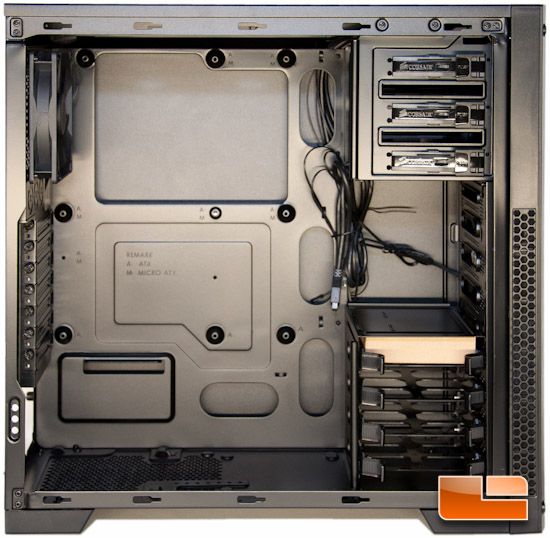 Starting with the HDD bay, you will find a place to mount four drives. The cages that hold the drives come out by simply pinching them at the ends, then tugging out. This is a nice and easy design, so I have no complaints here. The trays will fit both 3.5" and 2.5" drives; 3.5" drives will be completely tool-less, while 2.5" drives will require screws.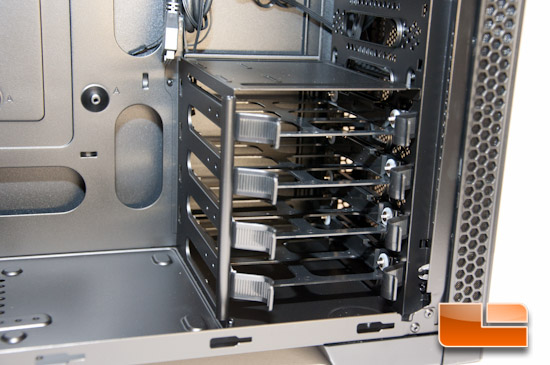 Moving up to the 5.25" drive bay, this is where you will have the ability to mount up to three ODDs or other devices that can fit here. When mounting a drive here, you just simply pop out the filler and slide the drive into place. Corsair has a nice tool-less option here, which makes mounting and removal an absolute snap!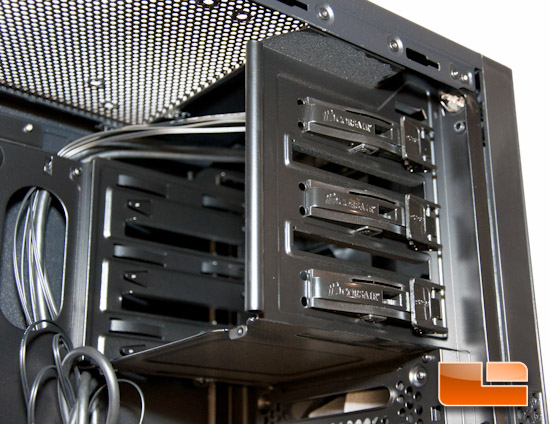 On the very top of the 300R is where either 120mm or 140mm fans can be mounted. Corsair has not included any here by default, so it's up to you to supply these. Thankfully these were thought out well, as if you wanted to mount a 120mm or 240mm radiator, it will be offset from the motherboard tray enough to avoid interference with the motherboard and its components. The picture below is a view from the outside to understand how close you are to the outer edge.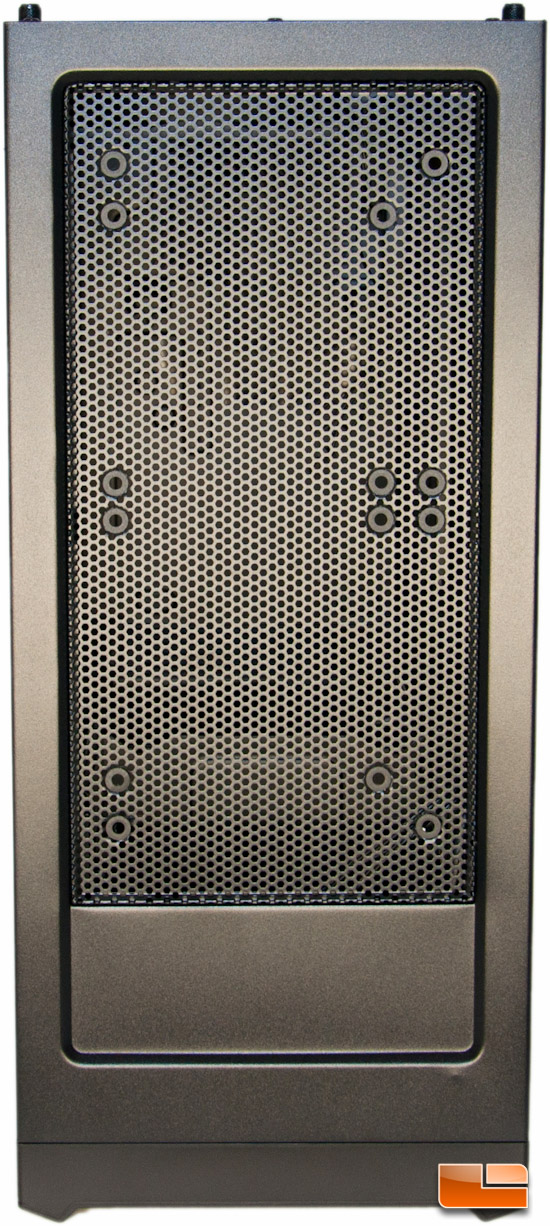 Looking at the motherboard tray itself, you can't help but notice the nice over-sized hole to get to the back of your motherboard. If you want to mount a large and heavy HSF or a water block, this will make installing the required bracket a piece of cake.
Corsair has integrated the standoffs into the motherboard tray. These are a neat idea, but it does limit the amount of motherboard compatibility to just ATX and Micro ATX. Corsair does label what is for what, which will help your more novice users. Also installed in the center-most position is an alignment stud. This should help make motherboard installation easier.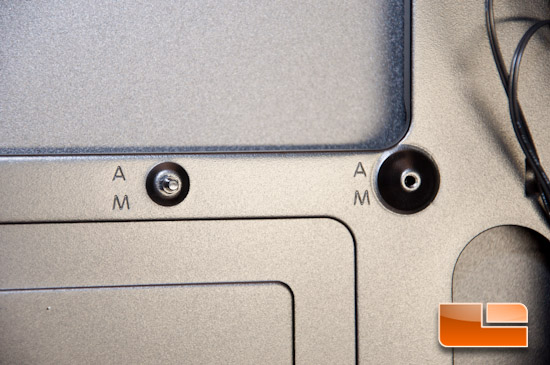 Right next to where the motherboard mounts, are four separate wire routing holes. These holes have rolled over steel rather than grommets, which I would have preferred to have seen rubber grommets here. These holes seem like they might be in a strange configuration or missing spots, so I'll have to evaluate that more when I do the hardware installation.
On the back of the case is a single 120mm exhaust fan. These come pretty standard in cases today. This case also has room for 7 expansion cards, tool-free mind you, which should prove to be flexible enough for most people. A lot of other mid-tower cases have 8 slots, but honestly this shouldn't be a problem having one less.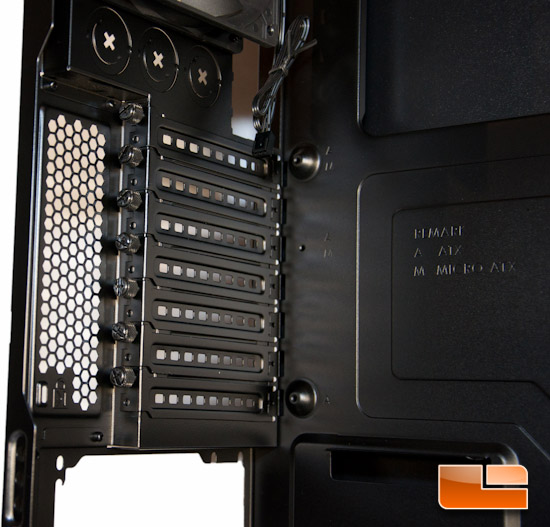 Expansion cards can be installed up to 450mm in length, which is absolutely gigantic! For your reference, the Nvidia GTX Titan measures 10.5" (267mm), the GTX 690 measures 11" (280mm), and the AMD 6990 measures 12" (305mm).
Looking at the bottom is the ventilation hole for your PSU. There are no rubber bumpers here to reduce vibration on the points that your PSU stands. One thing that I have to point out are the holes on the bottom right of the below picture. After reviewing Corsair's Carbide Air 540, it had similar holes for tool-less PSU mounting. I grabbed the bracket from that, and sure enough, the holes line up perfectly, but the bracket is too tall for this case. I'm not sure why Corsair bothered with these holes – perhaps this is just a cookie cutter section – but there is no tool-free bracket included with the 300R.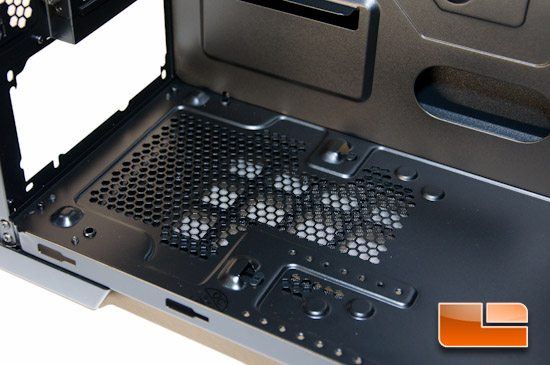 Flipping to the right hand side of the case, we see yet another familiar configuration.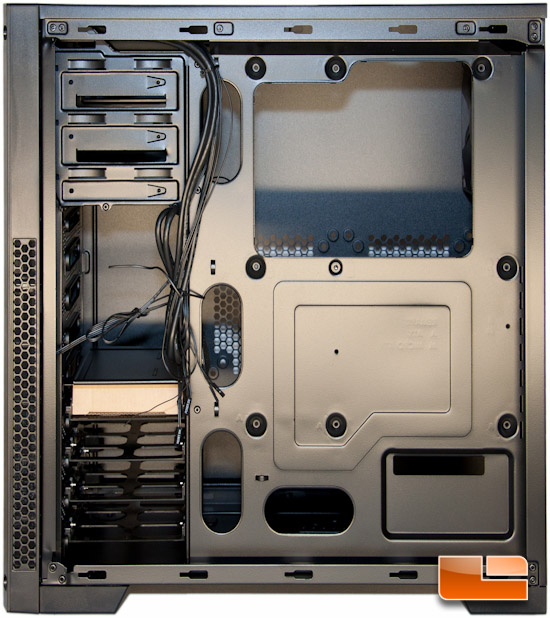 To start off, behind the motherboard tray you get approximately 3/4" (19mm) of room between the tray and the door. This isn't as much as I've seen on other cases, but it is still a nice generous amount compared to what you used to get, and should prove to be enough to get you by.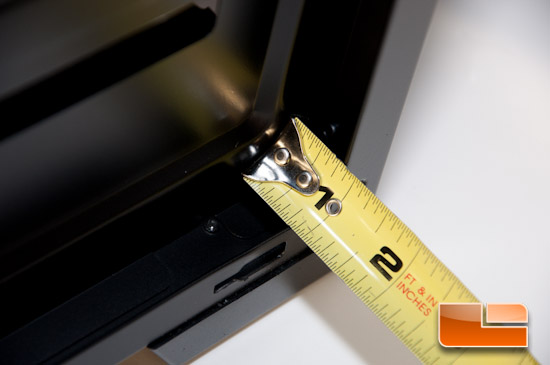 On the left hand side, the rear of the 2.5"/3.5" drive bays is where you will connect your HDDs or SSDs. This definitely makes for a cleaner installation, and I'm happy this method was ever invented.
Next to that are the I/O connectors, which again include your power button, HDD activity, reset button, HD audio, and USB 3.0. Unfortunately the USB 3.0 connector is NOT backwards compatible with USB 2.0, so if you don't have a front USB 3.0 header on your motherboard, you're out of luck with these ports.
That about wraps up the tour of the inside of Corsair's Carbide 300R, so let's take a look and see how easy it was to install your average hardware inside.
Hardware Installation Inside the 300R
Corsair designed the 300R with the Carbide series motto: "Everything You Need, Nothing You Don't." They wanted to make sure the case was compact and to the point. Let's see how well things fit inside this budget minded mid-tower chassis.
Starting off with the motherboard, I was happy to have the alignment stud in the center to make mounting simpler. The integrated standoffs were also pretty nice to work with and had zero fitment issues.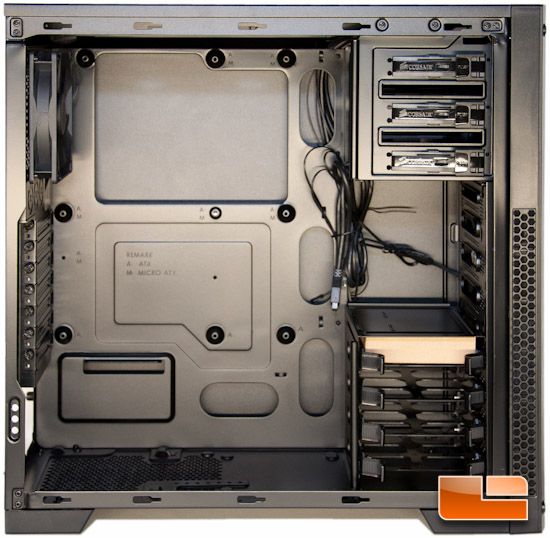 Video card and CPU/HSF mounting were both easy as always. Screw out two screws and pull out two filler plates, and you've got your video card in. Should you need a piece of mind when mounting your HSF, you've always got a gigantic hole on the motherboard tray to make sure you mounted it properly.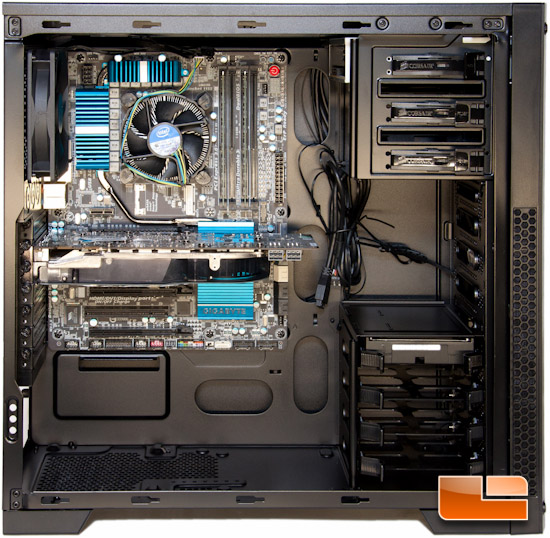 Hard drive installation was another very simple thing to do with the 300R. The drive trays come out by pinching them and pulling out. Then all you have to do is simply flex the tray enough so you can plop the 3.5" drive in, and it'll wrap out quite nicely; no screws needed. Should you want to mount a 2.5" drive (IE: SSD), you will end up using screws to hold it down.
Getting a 5.25" ODD into the respective bay was as easy as it gets. Remove the filler plate from inside the case, then slide your ODD in place.
This case stays easy with PSU mounting. It mounts via traditional means; with screws on the rear. You just shove the PSU into its respective space and it fits nice and snug. There is a wire routing hole right next to the PSU, which makes hiding your ATX power connector an easy start. I did have troubles routing the 8-pin behind the motherboard tray, as my wire was a bit short. There is a hole just on the top left that is just big enough to pass this cable through. So with these troubles, you'll notice I had to be "creative" when routing this cable.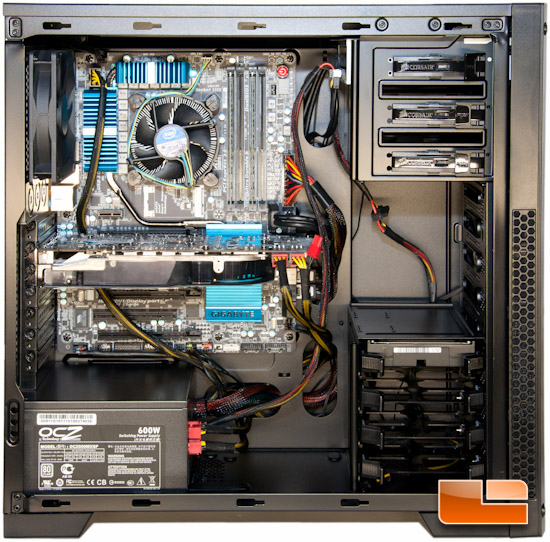 Another spot that I had to be messy with, in order to cut down on the number of wires that were hanging around inside the 300R, was the SATA power connector. The wire routing holes were slightly off here, which required me to ignore putting this behind the motherboard tray.
Everything else seemed to go well. I/O connector cables were all a wee bit short out of the box, but I noticed they were held in place with a zip tie towards the top of the case. Once I cut this tie off, I gained a good 2-3 inches and all the length I needed.
A quick shot of the backside of the motherboard tray, where you can be messy with your wires.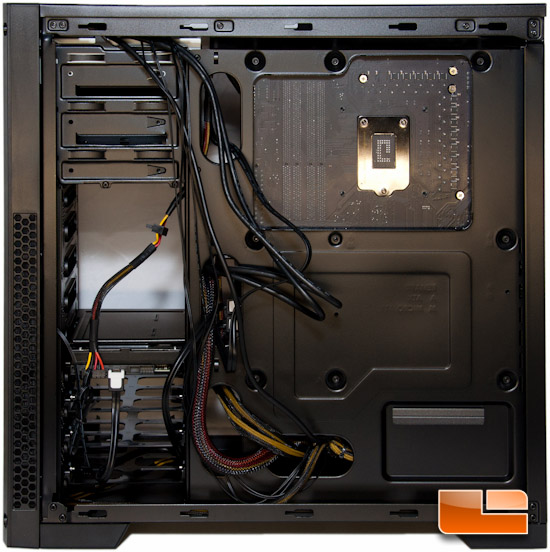 When I was closing up the 300R, I actually had some troubles. The doors on the 300R need a tongue and groove design on the top and bottom, or just a perpendicular piece of steel to assist with reattaching them to the case. I found it really difficult to get the side panels on at times, which was rather frustrating. As you can see in the below picture, it is a triangular bump-out and few points that will hold in place.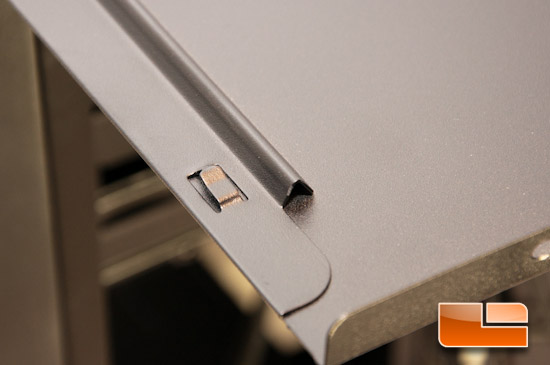 Once I got a chance to fire everything up, I noticed the fans were nice and quiet, as expected. The LED on the power button was a nice white color and not overly bright. I honestly really dig white for back lighting.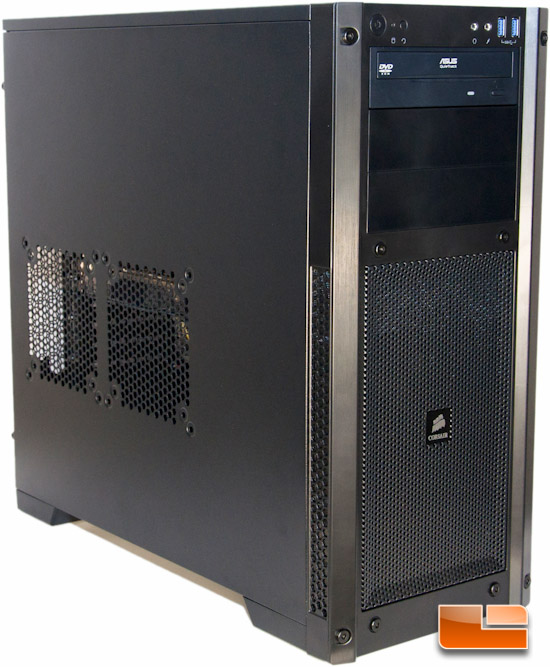 Overall I felt installation was fairly easy, but it ended up being messier than it should have. Should Corsair included the rubber grommets and re-positioned these holes, I think going for a cleaner install would have been easier with my PSU.
That's all there is to this case, so let's move onto the conclusion of this article for a recap of what I've found and experienced.
Corsair Carbide 300R Final Thoughts & Conclusion
Corsair's Carbide Series 300R was a case designed to be more budget friendly. They wanted to ensure that the features you needed were there, and things you didn't weren't. After all, Corsair's motto for the Carbide series is: "Everything You Need, Nothing You Don't."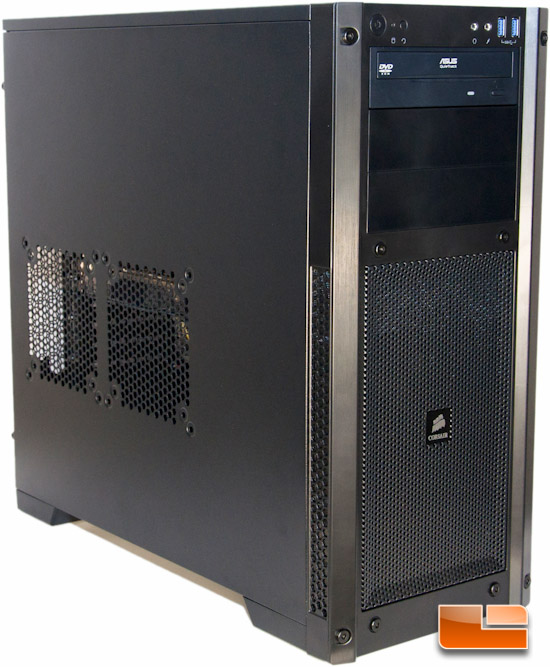 At first glance, I really liked the simple appearance of the 300R. The sleek flat black finish is always a winner in my books. On the front, Corsair added some extra design elements which were very welcome. These elements included things like the hex screw heads and the recessed mesh in front of the intake fan. The location of the I/O connectors, at the very top of the face, were definitely placed properly for those who place their computer on the ground or low.
I noticed the holes on the rear of the case for water cooling piping to be routed, aren't really that great. You actually have to knock these out and you are left with a not so clean edge. A lot of the time you'll find these lined with a rubber grommet to make everything clean and easy.
Jumping to the inside of the case, I really liked the built-in standoffs. The inclusion of a guide pin was also quite nice and makes your install that much easier. All of the tool-less items inside the 300R were great and worked with ease.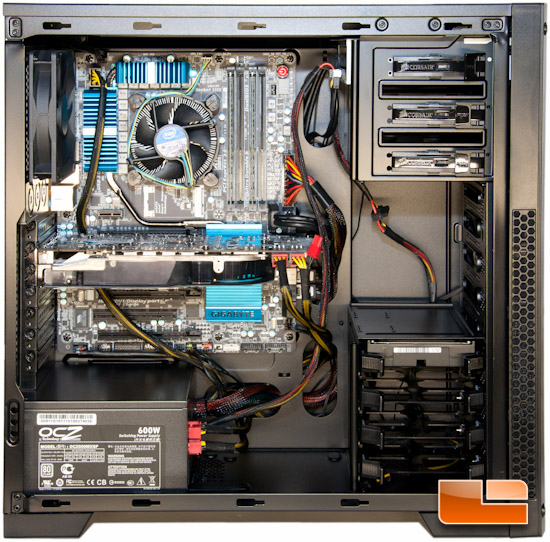 I didn't care for the wire routing holes inside the 300R. I will be honest, they were absolutely better than nothing. I've had cases that never had this type of routing system, and it was a royal pain trying to make things clean. Should Corsair included rubber grommets and a couple different placement options, it would have made the wire routing system darn near perfect. You can really tell what features were not included to keep the build costs down and grommets is certainly one of them.
The only other problem that I had was the way the side panels mount to the case. These proved to be a little difficult at times to put back in place. To remedy this problem, Corsair could have done a tongue and groove design on the bottom, or just had a perpendicular piece of steel to assist with guiding it in place. Instead, it has a triangular piece of steel, which makes getting the panel lined up difficult.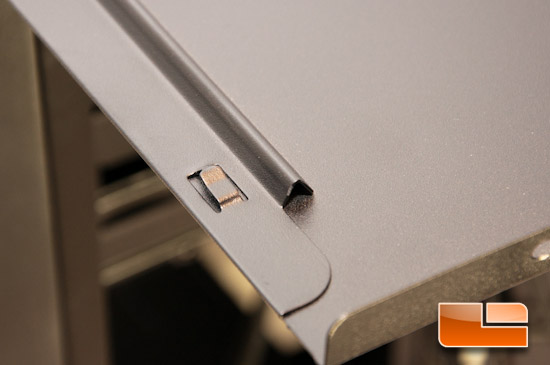 The 300R mid-tower chassis that we reviewed today will run you $86.00 shipped on Amazon. This seems a bit high, but still within the ballpark for the features that you receive. The aforementioned items would have definitely added to the value of the case. Speaking of value, Corsair does give you piece of mind with a two year warranty on the 300R, which I feel is quite generous on a computer case.
Legit Bottom Line: The Corsair Carbide 300R is a semi-budget friendly mid-tower chassis that is sleek and is definitely a worthy contender in the price category it is placed in.