Corsair Carbide Air 540 Introduction
Over the years, Corsair has been coming out with new products in their lineup, and one of those products that they've added to their lineup in the recent years is computer cases. They have made standard sized and styled cases and they have also braved making cases with different features. Today, we will take a look at Corsair's Carbide Air 540, which falls along that different category.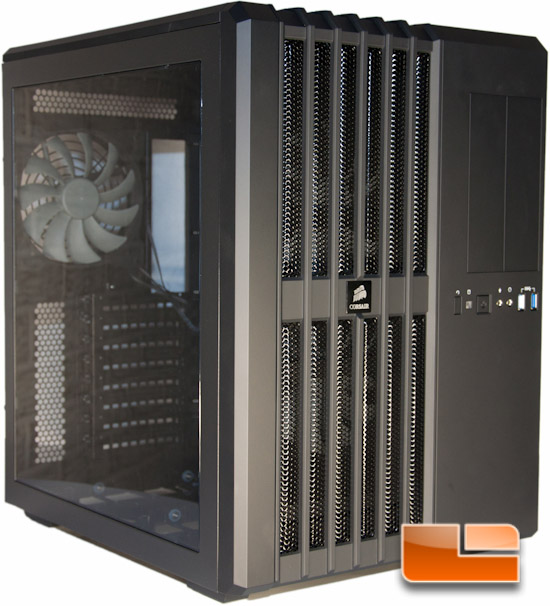 The Corsair Carbide Air 540 is an ATX mid-tower case and is a very interesting design concept. With dual chambers of a decent size, separated by the motherboard tray, one side allows superior airflow while keeping wires out of the way, while the other side allows you to be as messy as you want with your wire management. The main (left) side of the case is designed for devices that need active cooling, which you will install your CPU, motherboard, expansion cards, water cooler(s), fans, and up to two hot-swappable HDDs or SSDs. The other side of this case is for those parts that don't need active cooling and will house the PSU, two ODD's, and up to four 2.5" drives – namely SSDs are in mind here.
This steel and plastic case only comes in one color, and it's a color that you can't go wrong with: flat black. It does sport a large flush mount and slightly tinted window on the left hand side to help show off the sexiness of your hardware that is installed.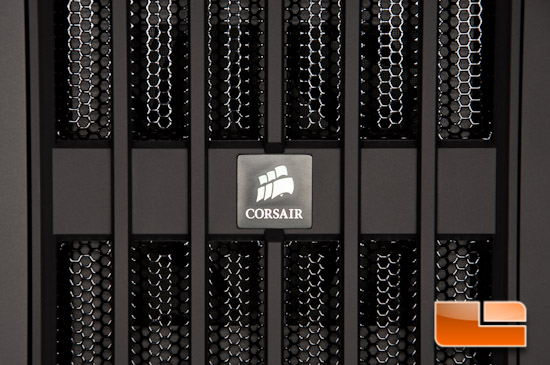 Carbide Air 540 Cube Case Technical Specifications:
Warranty: Two years
Dimension: 415mm x 332mm x 458mm
Weight: Approx 20 lbs (9 kg)
MB Support: ATX, EATX, Micro ATX, Mini ITX
Expansion Slots: 8
Form Factor: Mid-tower
Material: Steel and Plastic
Drive Bays:

(x2) 5.25" tool-free
(x2) 3.5"/2.5" tool-free Drive Caddies (Hot Swap)
(x4) 2.5" tool-free SSD cage

Cooling:

(x2) Corsair Air Series AF140L 140mm Intake fans
(x1) Corsair Air Series AF140L 140mm Exhaust fan

Front I/O:

(x2) USB 3.0
(x1) Headphone
(x1) Mic

Power Supply: ATX

The Air 540 is currently selling for $128.38 shipped on Amazon, which feels like a pretty fair price for this case. One thing that I really like to see, and you'll find similar generous numbers on their other products, is a cool 2 year warranty. Should something need help, Corsair has your back!
Next up, we'll take a look at how well Corsair accounted for the punishment from shippers when you buy this case online.
Corsair Carbide Air 540 Packaging & Unboxing
I can't say it enough, but seeing how squished some packages come from various shippers, it always scares me to think of what the contents inside could look like. Fortunately for Corsair, it looks like they did a pretty good job packaging the Air 540.
The packaging is quite plain, which also describes specs and features of the case inside. The plain packaging is just fine by us, because that will inevitably translate to a lower cost for the consumer. I don't think I'd need a flashy packaging, since it's only going to get tossed.
Starting with the front of the box, you'll catch the product name in large text and some information about the cooling system.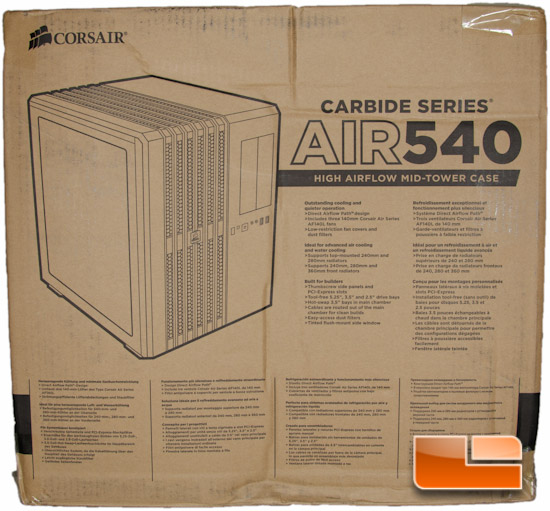 Turn 90 degrees and you will catch more technical specifications in English and a couple other languages.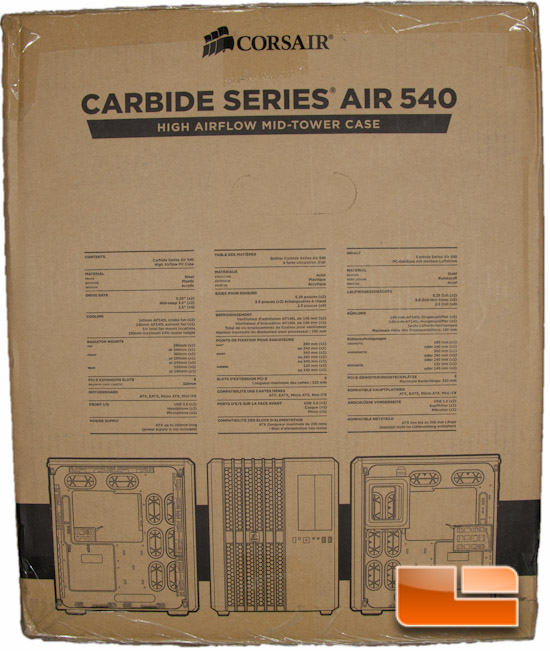 Another turn and the rear of the box shows you an exploded drawing of what the Air 540 looks like. There is plenty of other text which talks about the features and describes a bit about the case.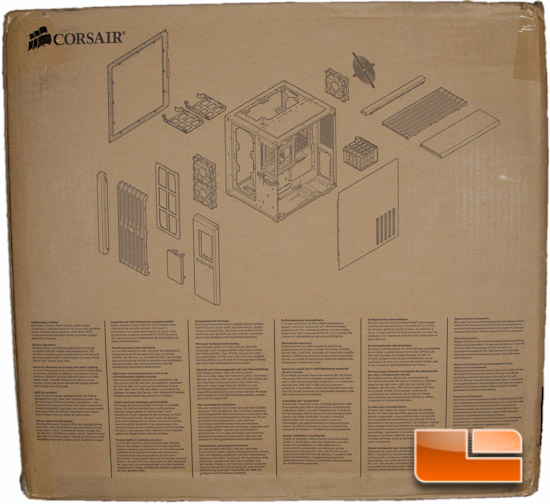 The last side is the exact same thing as the second side, but in a couple other languages.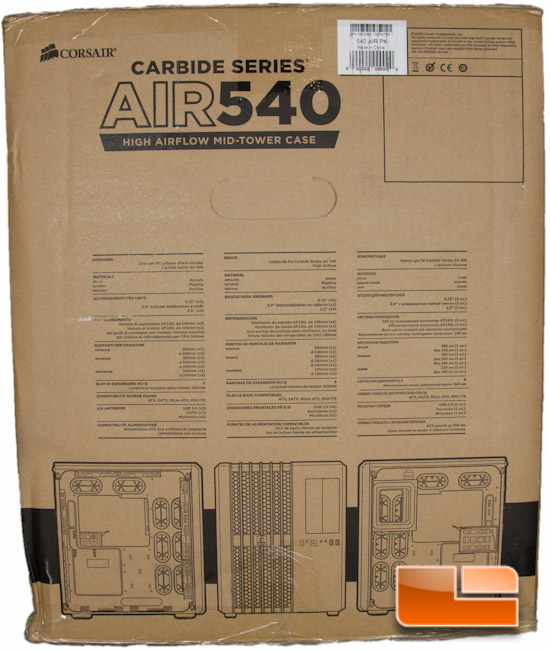 Overall, the box is plenty descriptive and should help you make a decision on buying, should you ever find one on a retail shelf.
Cracking the top of the box, I noticed that Corsair put a very generous amount of Styrofoam on the ends, as well as they wrapped the case itself in fabric.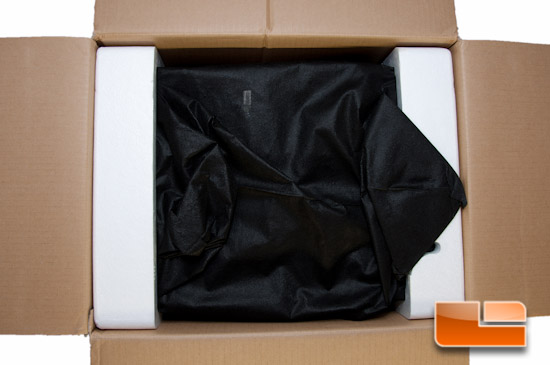 Here's one last shot of how it was packaged after I pulled the case out.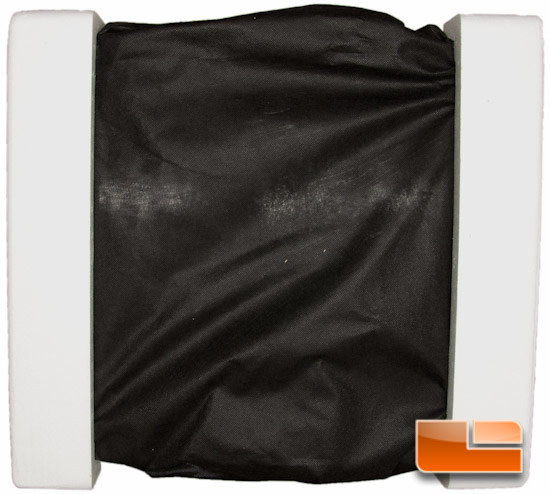 Also included in the box, and one of these items was nicely placed inside the case, are the instructions and a box that contains various screws and some zip ties.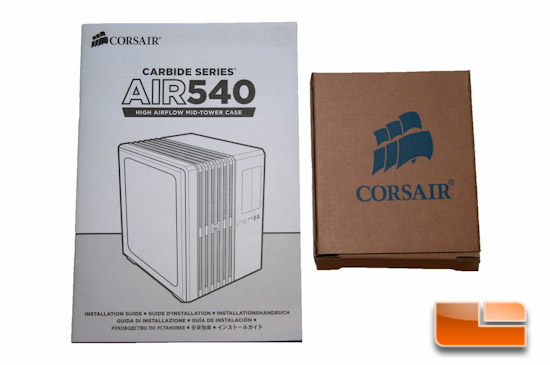 Pulling the packing materials off, you're greeted by the glorious Air 540. There is a nice protective piece of plastic covering the window, which did a good job to make sure the acrylic didn't get scratched up.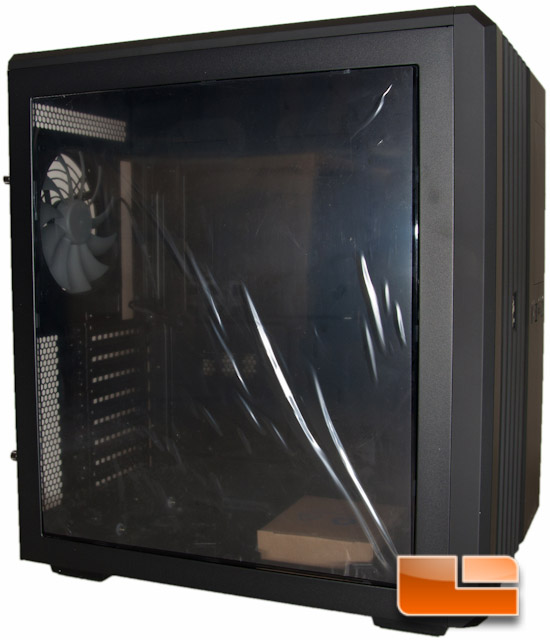 Before we get too deep into it on this page, starting on the next page I will take a walk around the outside of the Air 540, while providing my impressions along the way.
Corsair Carbide Air 540 Exterior Impressions
Corsair's Carbide Air 540 is not exactly a space efficient case, as it is a wide form factor case. I'd be willing to bet that your average Joe will not want something with the girth that this case has, but rather this case will be targeting your enthusiast looking for great cooling potential. When I saw this case arrive on my doorstep, I was quickly intrigued by it.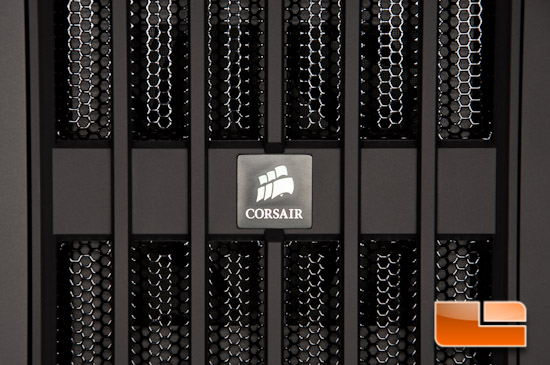 Starting with the front of the case, you can't help but notice Corsair's logo nicely placed in the middle of the honeycomb style metal mesh. To the right of that are the two 5.25" slots placed on their side, and below those is your I/O panel.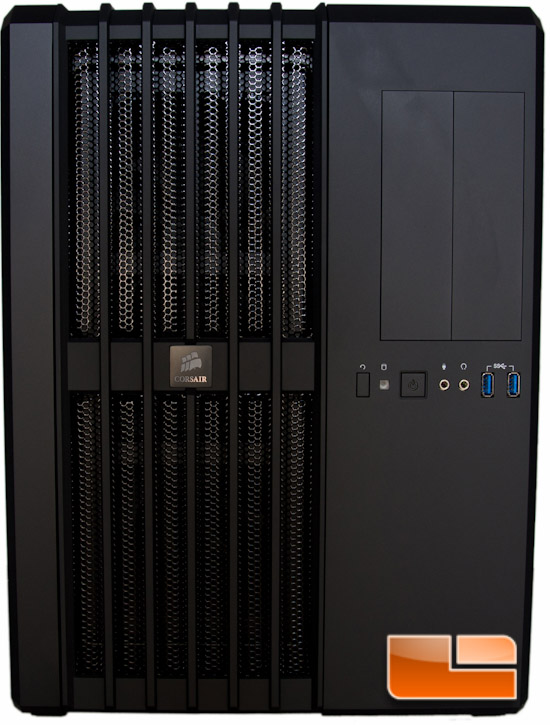 Within the I/O panel, starting left and working right, you have a reset button, HDD activity LED, power button, microphone in, headset out, and two USB 3.0 ports. It's nice seeing a reset button included here, as you don't find this on every case, and that really bugs me sometimes.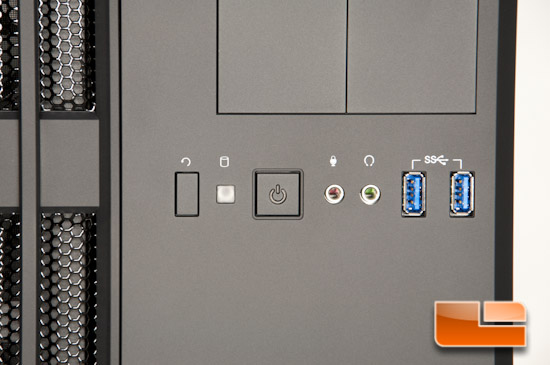 I'll get to what's behind the mesh in just a little bit, when I start pulling the case apart some.
Moving over to the left hand side, you can't help but notice the large 13" x 15" (WxH) tinted Plexiglas window. This again is covered by protective plastic from the factory when you pull it out of the box. Some may not like the slight tint because they want to show off their hardware unobstructed, but I think it looks great and adds to the aesthetic value of the case. Simply put, I feel it's the right amount of tint without making the window pointless.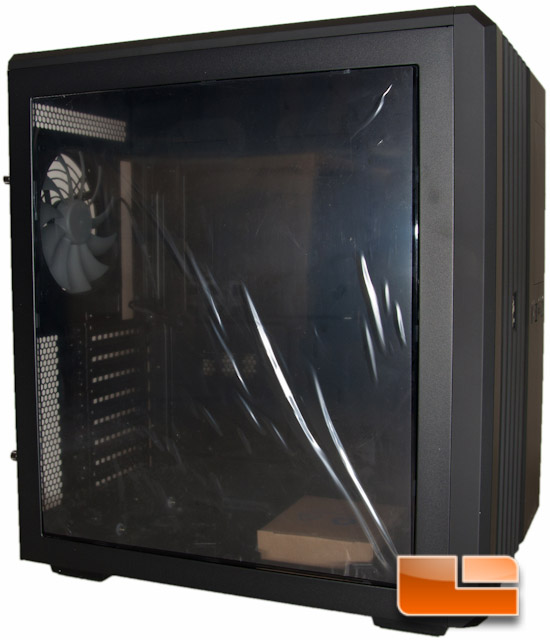 On the rear of the Air 540 you can better understand the separation of the case. Starting on the top right, there is a large 140mm Corsair Air Series AF140L 140mm exhaust fan mounted with honeycomb ventilation holes above and below it.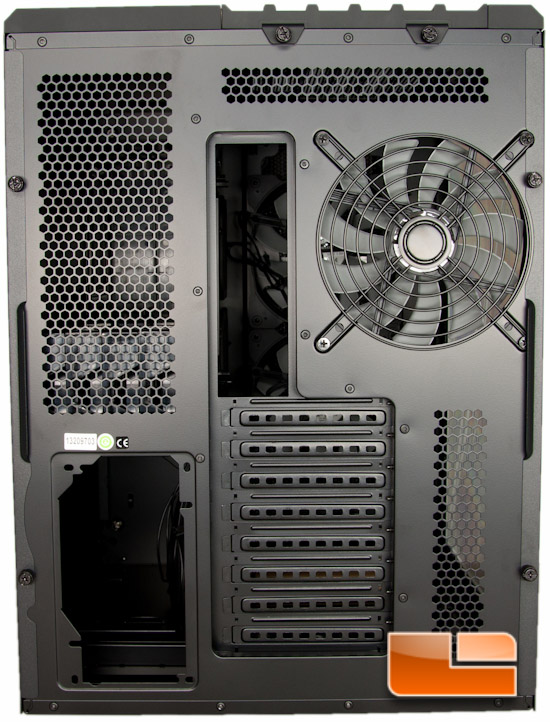 Placed to the left of the bottom ventilation holes, are 8 expansion slots. This should hopefully provide a good amount of options for adding expansion cards. With most video cards taking up 2 of these slots, doing Tri-SLI or Crossfire won't be an issue.
The doors are held in with two thumb screws per door.
One thing to note on the doors yet, is the bump out grip point. With this grip point, you will have no troubles getting the doors off. I've seen some cases that don't have this simple feature, so I am happy to see Corsair did include it.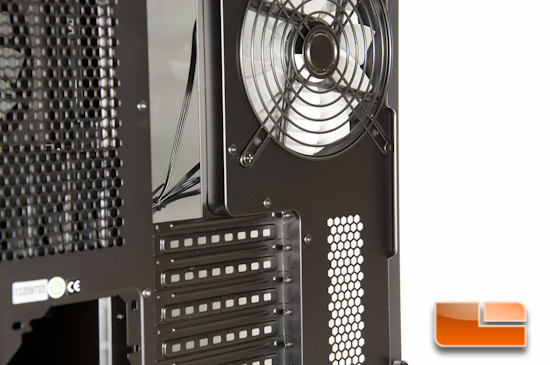 Over to the left is the other chamber. Here you can see where the PSU mounts at the bottom of the case, and above that is a large area for ventilation on that side of the case. Also in this ventilation area, is where you'll find the four 2.5" drive slots.
The right hand side of the case shows you pretty much nothing, as usual with ATX cases. On the bottom right hand corner is another ventilation section for the PSU. There is no active cooling on this side, as the components installed here shouldn't need it, so they opened it up pretty good.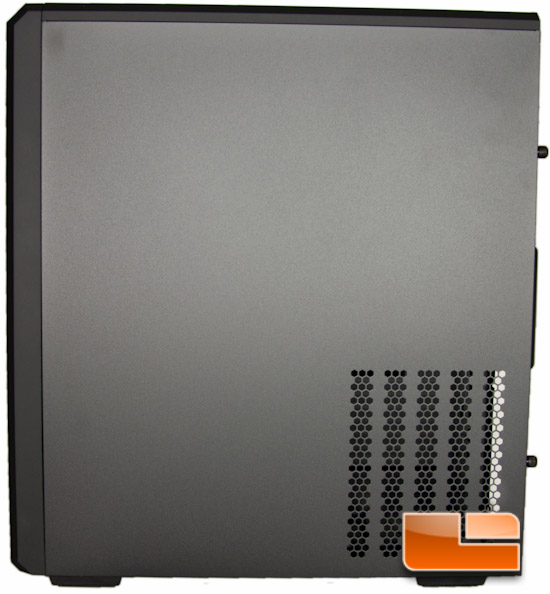 Alright, so the top shows you close to nothing as well, but this is the point that lets me show you the front taken apart. Up here you have the honeycomb mesh worked in nicely with the plastic panel. This panel is held in with two thumb screws, which when removed, you can pull/push this panel backwards a bit, then lift up, exposing the interior of the case.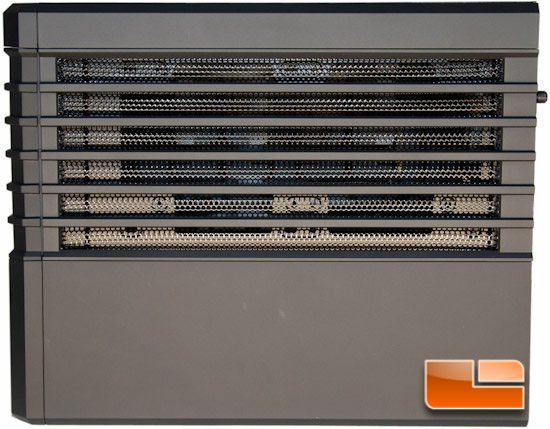 One quick look at the top with the panel removed.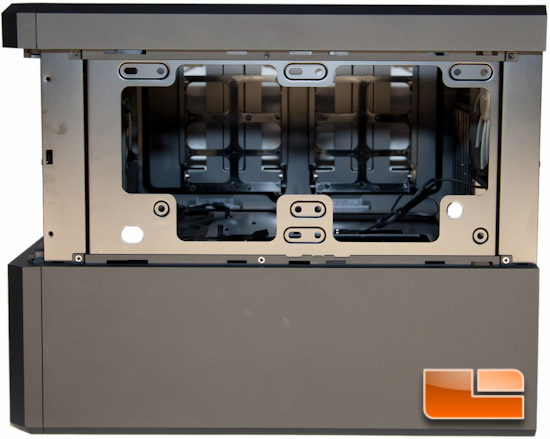 With the top panel off, the front panel will slide right up and out with ease. Everything is held in place with basically an L shaped connector. You can permanently mount this in place if you want, as there are two screw mounting points at the top, but when you put the top panel back in place, the front panel is held firmly in place.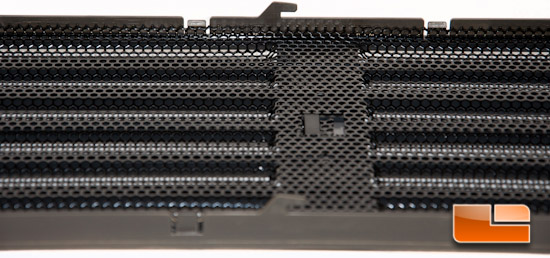 With the front panel off, you expose the front Air Series AF140L 140mm intake fans. There is an awesome magnetic dust filter in front of these, which is a genius idea for removing the filter. You can easily remove the filter if you have a flat blade (standard) screw driver to help you pry it off.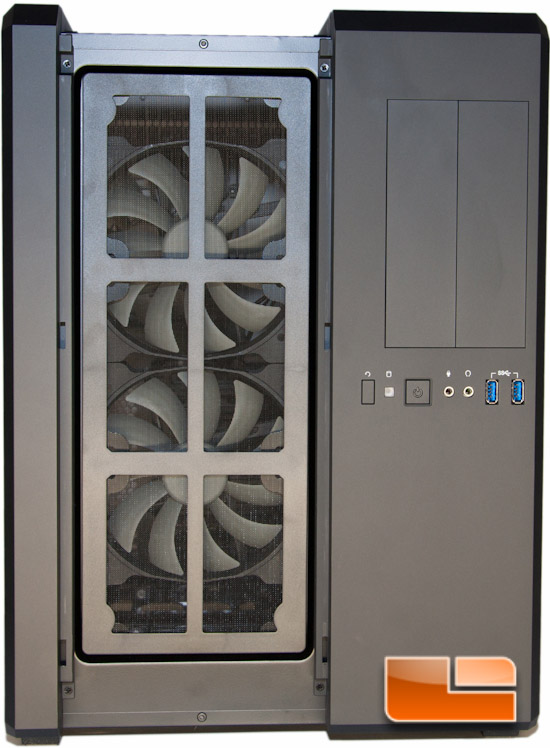 A shot of the filter removed from the front of the case.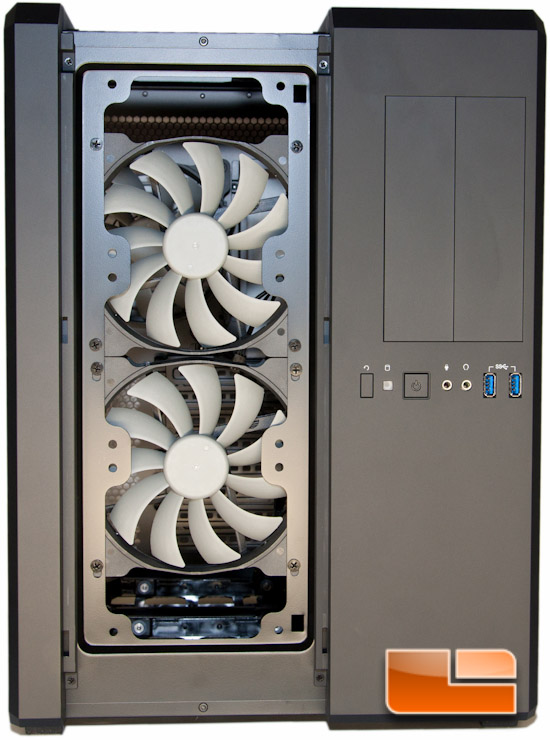 And finally here's all that the filter consists of.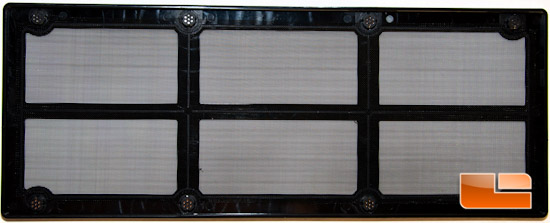 On the bottom of the case are four slits, which is exactly where the hard drives will be mounted. These I can only assume are for ventilation, and in that case a filter would be nice to have here since it will be sitting on the ground. It does almost appear as if Corsair had intentions of putting a filter here, based on the shape of the indentation, but they did not include another filter.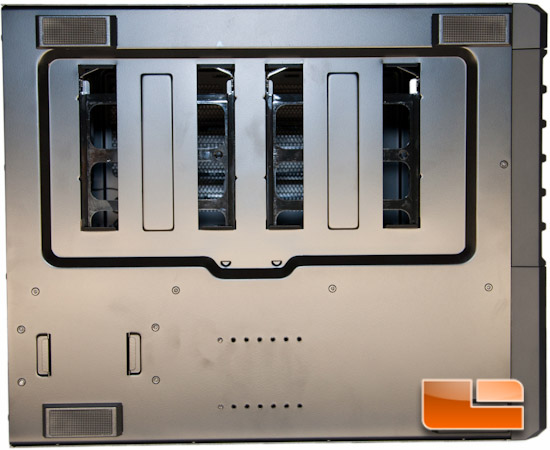 Also down here are the four feet that hold this gorgeous beast off the ground a bit. They're essentially plastic feet with rubber inserts to help prevent sliding, should you place the Air 540 on a smooth surface.
I was impressed with how lightweight this case is without hardware installed. It comes in at approximately 20 lbs, and based on how large this case is, you'd perceive it as weighing a lot more. When I first picked it up, I thought of it as a can of soda that I thought was full, but was really empty, and I lifted it up unintentionally quick. I feel this weight deception is due part to a proper combination of steel and plastic.
Next up I will pull off the two side doors and take a peek inside!
Corsair Carbide Air 540 Interior Impressions
Getting inside the Air 540 is a piece of cake. All you have to do is unscrew two thumb screws, grab the handy gripping point on the back end of the panel, and pull away. I have seen simpler solutions, but I greatly appreciate any sort of tool-less option for removing these doors, and the 540 is very easy to work with.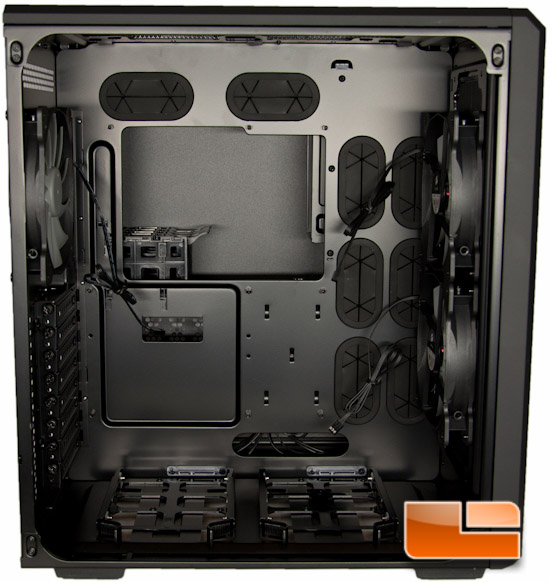 Starting with the left side of the case, this is where you will mount all of your main heat generating devices that need active cooling. Working from the front of the case to the back, you can find the two 140mm intake fans. These fans are Corsair's Air Series AF140L fans, which they designed with airflow in mind while producing minimal noise. At this location, you can mount either a 280mm or 360mm radiator, should you choose to.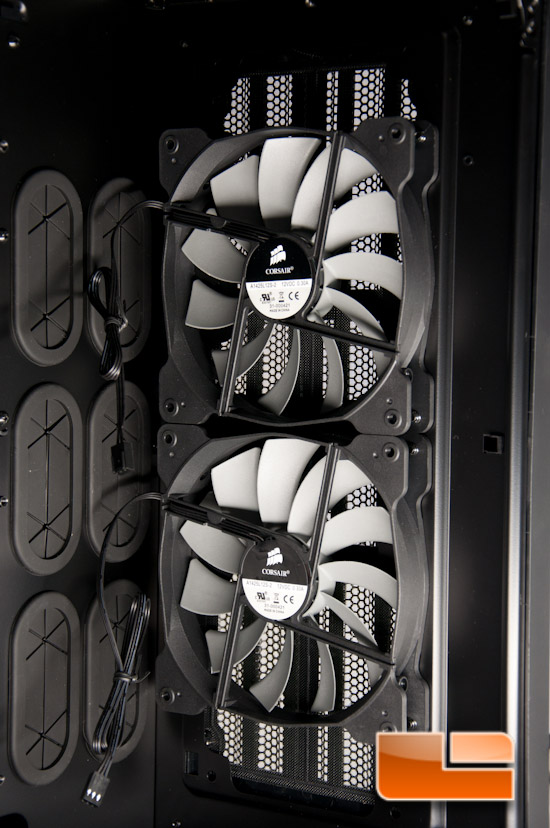 On the motherboard tray are a ton of grommet holes to make wire management and routing simple. You will notice that at the very bottom, is a hole that doesn't have the rubber material in place. I would have personally liked to see that placed here, as well, because when routing any wires I like how everything gets hidden and held in place by these.
Also on the motherboard tray is a very generous sized hole to make backing plate installation easier, should you want to install a water cooler or a really heavy HSF, all without actually removing the motherboard.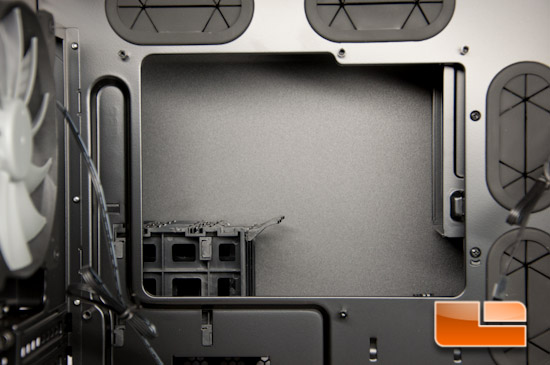 Installed on the motherboard tray, are the 9 standoffs for your motherboard. Actually, the center most standoff is meant for alignment, as it has a little nub. This should make motherboard installation very simple. These are placed in an ATX board configuration, but you can remove them should you have another supported board type (EATX, Micro ATX, Mini ITX). One thing that I like seeing on cases is a stamp of where a standoff should go for the various motherboard types. Unfortunately Corsair chose not to do this, but in all honesty it isn't that big of a deal.
At the very bottom of the case, are two spots for hot-swappable HDDs. These trays come out by simply pinching them at the front, and then simply pull out. You can put either 2.5" or 3.5" drives here, but if you have any 3.5" drives that need to be mounted in this case, here is your only spot outside of taking over a 5.25" slot. 3.5" drives will be completely tool-less, while 2.5" you will obviously have to screw into place.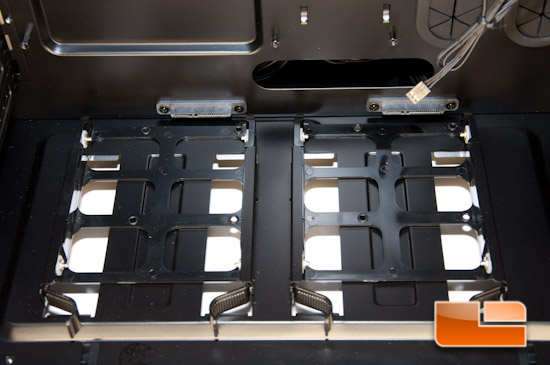 There are holes below these drives, which I assume are for ventilation. It is a prime spot that I would have liked to see a filter, since the case is already pretty slow to the ground.
On the rear of the case is another 140mm Air Series AF140L exhaust fan, which can be swapped out for a water cooler of similar size or a 120mm, as well as your 8 expansion slots with thumb screws.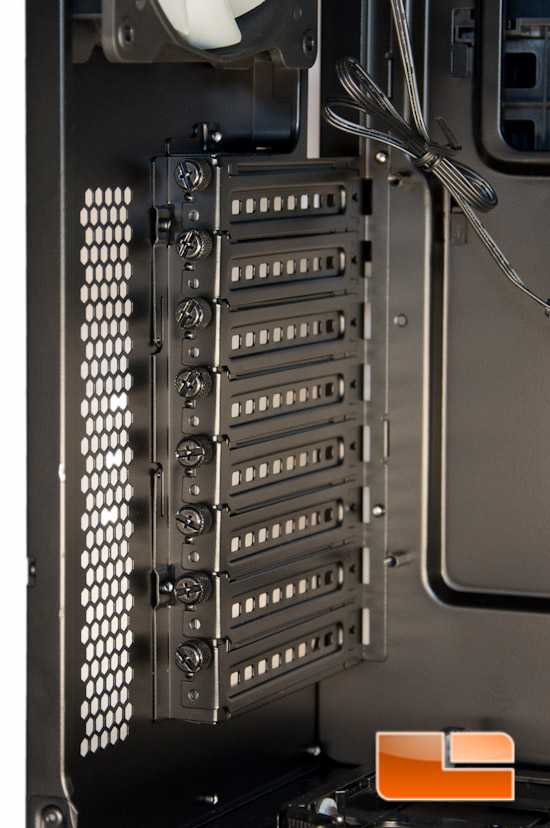 At the very top of this chamber, are two locations to mount two 120mm or 140mm fans or up to a 240mm or 280mm radiator.
Video cards of up to 320mm in length will fit inside of this case, while CPU coolers of up to 170mm high will also fit.
Moving over to the right hand side of the Air 540, is where you'll put all of your components that don't need active cooling. This will include things like ODD's, SSDs, and your PSU.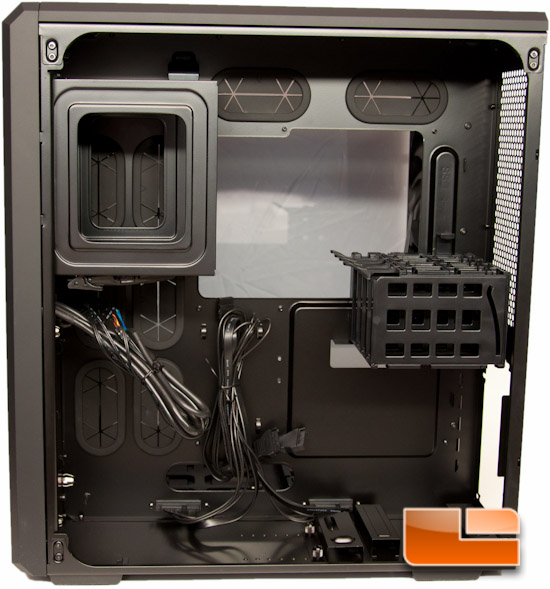 Starting on the left hand side is the ODD bay to fit two ODD's. You simply slide them in from the outside and they click into place. Should you want to remove them, all you have to do is push the button for the tool-less system, and then slide them out.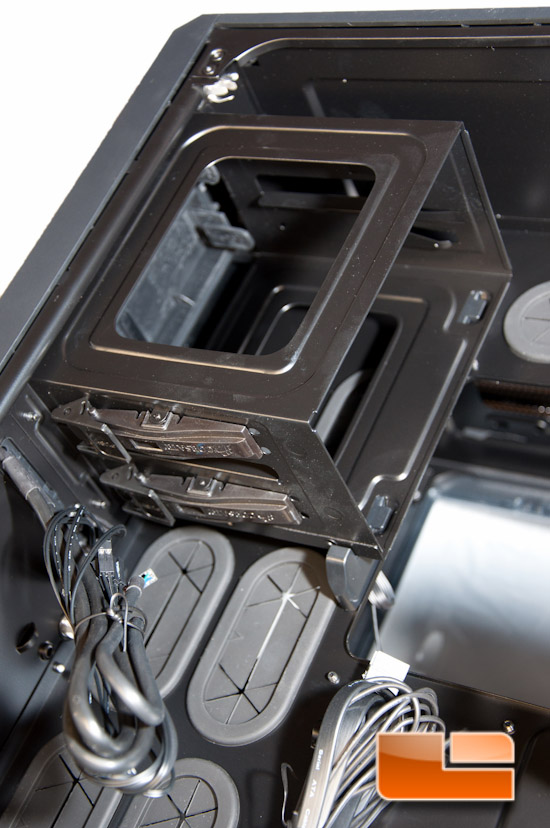 If you didn't catch it, your ODD's will mount sideways into this bay. If you want to use these for a water cooling reservoir instead, you're kind of screwed unless you orient the case in a way that you could use it. If you use this case how Corsair wanted you to, you're left to find a different reservoir, unfortunately. I know for myself, one of my personal systems has a Koolance dual 5.25" bay reservoir, and I wouldn't be able to use it on this case. That's unfortunate, but that's the nature of this case. I also probably wouldn't want change the orientation of the case to make it work, as it'll throw off the cooling and heat dissipation properties, leaving heat to soak at the window instead of rising through the open top.
Also, should you want to install a fan controller yourself that has an LCD readout, you may be annoyed with how 5.25" devices are installed.
Other thing that you might notice behind the 5.25" bays is the grommet holes. These are placed rather close, which this will likely be troublesome come cable routing.
Below the 5.25" bays are the connectors for the I/O panel, and to the right of that are the SATA connectors for the hot swappable drives on the other side.
On the back end of the case is the tool-less 2.5" bays that Corsair had SSD installation in mind. You could always get away with 2.5" laptop drives here, too, should you be so inclined.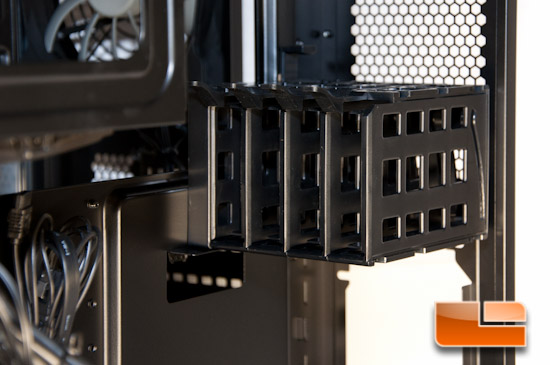 At the very bottom, where the PSU mounts, is a bracket that adjusts based on your PSU's length. Turn two screws and you can place it where needed. This will allow you to install a PSU up to 200mm in length.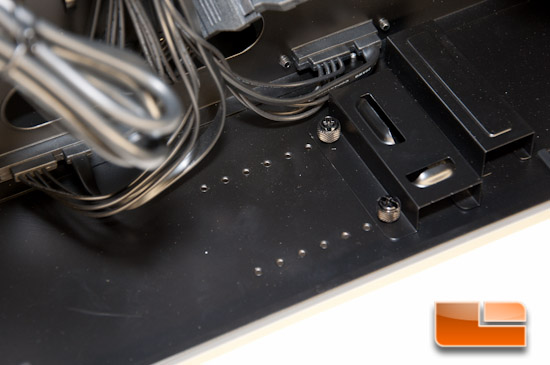 That's about it for looking around inside the case. There are very few problem areas that could be seen at this point, so I'm going to take a look and see how installing hardware inside the Air 540 is next.
Hardware Installation Inside the Air 540
Hardware installation is meant to be easy, but not every manufacturer perfects this. Mid-tower cases definitely are a bit trickier to install hardware in when compared to a full tower or larger case, so let's see how easy it is to get your components installed in the Air 540!
If you remember from the previous page, the standoffs were preinstalled for an ATX configuration. This makes life that much easier and system builds quicker, even though installing the standoffs isn't a difficult task by any means. One thing that they did to help make life even easier when installing the motherboard, was they installed a post for easy alignment on the center point. This just has a nub on the top of it and will keep the board in place for you.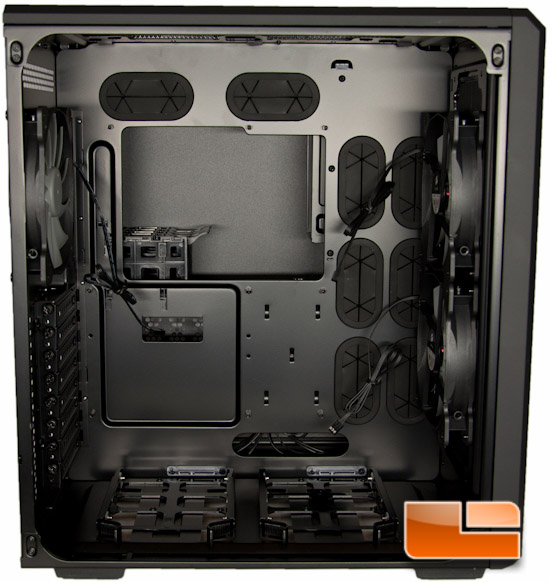 Installing the motherboard and video card were both a breeze. There is a ton of room inside this case, which assisted with making everything easy. For my CPU cooler, I currently only have the stock 1150 cooler, and this fits without issue and is plenty easy to install with tons of headroom above.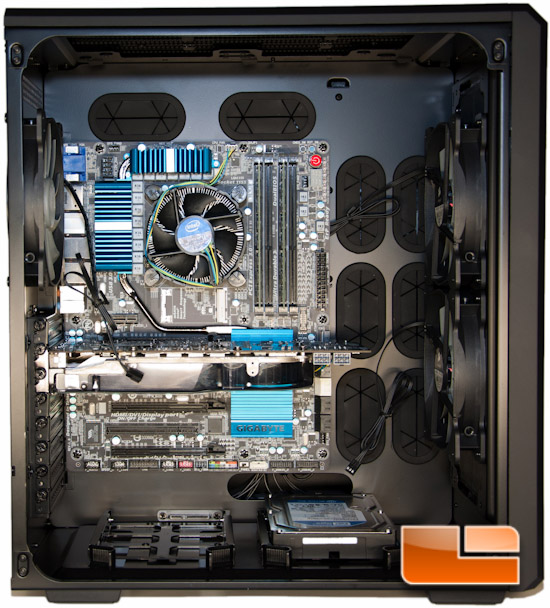 Above the motherboard, I had a fair amount of room to work with, should I want to mount a water cooler up there. I came in at 2-3/4 inches of room available before I hit the motherboard, which should be more than enough for a slim radiator and fans.
When installing the 3.5" HDD, I had zero issues getting the plastic tray to wrap around the drive. The plastic tray held the drive firmly without the need to install any screws, and slid into place with ease. I personally did not have any issues getting my drive to install, but I can see with the fixed SATA connectors, people may have some alignment woes.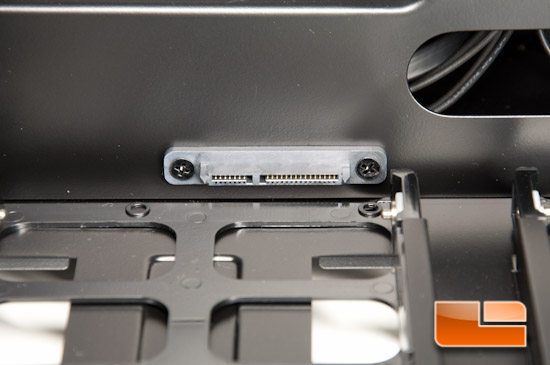 Since there is no onboard fan controller with this case, I had to route the fans to my motherboard. Doing this and hiding the wires on the other side of the case was made easy thanks to the many grommet holes.
Flipping to the non-active cooling devices side is where you install your PSU, ODD's, and SSDs. Installing my ODD's was quite simplistic. I just had to pop the filler out from the inside and then slide my drive in. I do have to note that this was a slightly tight fit for my DVD-ROM, which in the end I noticed that the drive was all scratched up on the side. I don't really care personally, since it isn't seen, but it is a note worthy item for those who may.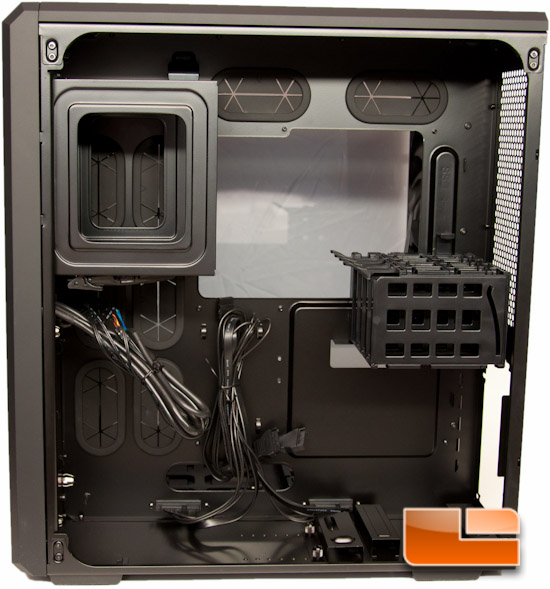 For my build, I just tested out the SSD (2.5") tray at the back end of the case with my laptop's HDD, and fitment was nice and easy to work with. You just slide it in, and *click* it snaps into place. I obviously had no intentions of leaving it in there, but rather it was just to see how fitment was. A tool-less 2.5" 4-slot bay will be awesome for those who like having a ton of SSDs in their system.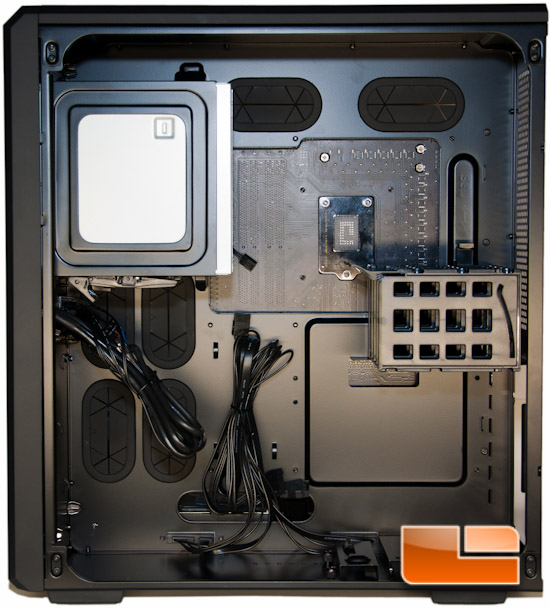 PSU mounting was also nice and easy to work with. Being that you don't have much in the way, you have a ton of room to work with. You're able to drop in a PSU up to 200mm in length here. On the bottom is a bracket that adjusts to your PSU length to help hold it snug. This bracket also assists in keeping PSU installation tool-less. The 2.5" SSD tool-less bay above it also assists with holding your PSU in place, so Corsair did a good job with the placement of this. Should you want to screw the PSU in place, you absolutely can via standard means, but if your PSU is held snug without those screws, I'd keep it screw-free.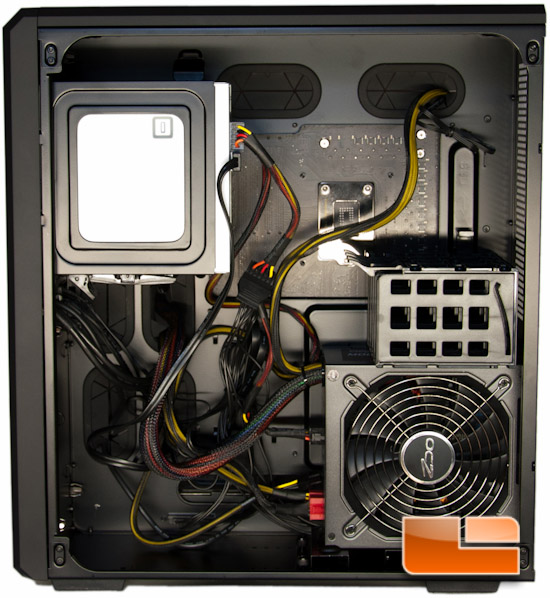 The grommet holes were placed nicely for the most part, but again, the bottom grommet is where I would have liked to see the rubber material in place. This would have provided a cleaner look and also help keep the wires in place better. The only other grommet holes that I had an issue with were the ones behind the 5.25" bay. These were quite tricky to get to, but not impossible.
When it was time to install the I/O connectors (USB 3.0, HD AUDIO, Power Button, Reset Button, and HDD Activity), which I always do in conjunction with my PSU install, I found that the power button, reset button, and HDD activity wires were a little short. I had to drape them across my motherboard instead of hiding them in the opposite chamber. These wires should have been a good 3-4 inches longer to make installation easy and clean.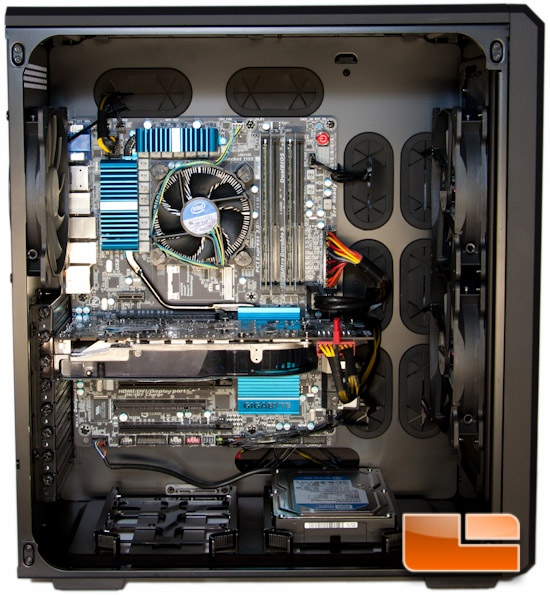 Here's a close-up view of how I had to route the power, reset, and HDD activity wires.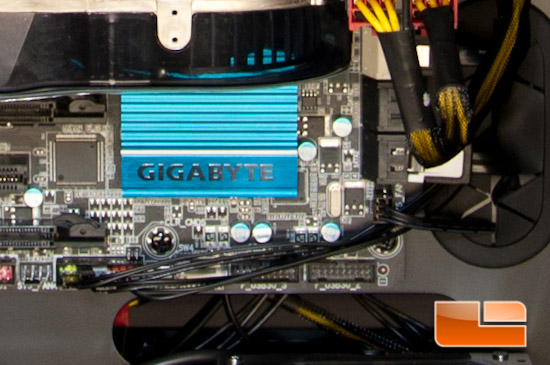 When everything was ready to fire up for the first time, you could hear just a whisper of the fans. A lot of people hate screaming loud fans, so most will be pleased with these. Rated at 24 dBA at 1150 RPMs while pushing 67.8 CFM, these Corsair Air Series AF140L fans are meant to be quiet and move a good amount of air.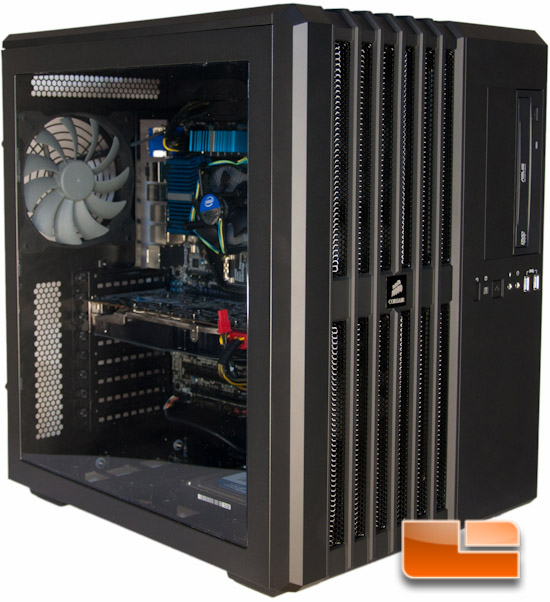 I'm going to wrap this review up and provide any final thoughts next!
Corsair Carbide Air 540 Final Thoughts & Conclusion
Corsair had to think outside of the box on this one, going with a non-standard style ATX computer case that had some great features. The moment the Corsair Carbide Air 540 cube case arrived on my doorstep, I was nothing short of intrigued just by the thought of dual chambers. I think Corsair nailed this case on the head and it will appeal to many enthusiasts.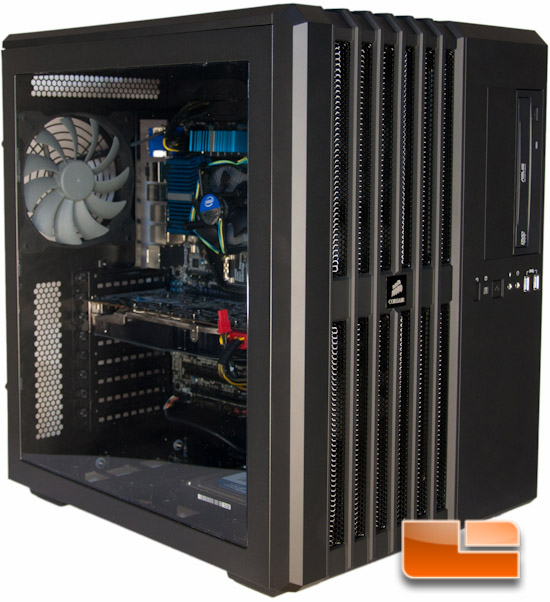 The cost of the Air 540 is quite reasonable in terms with the features and quality that you get. With the cost of $128.38 shipped on Amazon, they're still hitting the masses that can afford this case. Along with that price is a cool 2 year warranty.
The exterior of this case is kind of wild, but very cool and feels just right; not obnoxious. Corsair made the ventilation holes neat by utilizing a honeycomb pattern in the metal mesh and on the case itself, which adds to the attractiveness of the Air 540.
I know this case is rather wide, which is why I say this case is likely only going to appeal to enthusiasts. It is also fairly light weight thanks to a good combination of steel and plastic. There is also a ton of water cooling potential with the Air 540, though the only gripe that I had in regards to this was the 5.25" bays; they're mounted sideways, preventing the installation of a 5.25" bay reservoir for water cooling.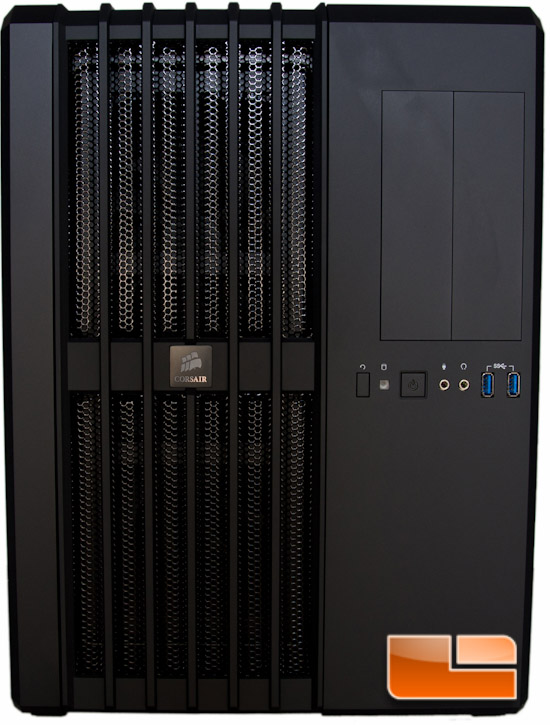 You could turn the case on its side to remedy the reservoir situation, though I'd be wary of this. We all know heat rises, and if you lay the case on the side without the window, you're just going to allow heat to stack against the door. You also wouldn't want to turn it on the window side, because you'd end up hiding the view of your sick hardware. Not only that, but laying your components in that orientation is something that I wouldn't do, either.
The interior of the case is laid out fairly well and installing components was made very easy. I had very few complaints with this. On the positive side, there is a ton of room to work with in this mid-tower chassis. With that amount of room comes the ability to install various water cooling components and radiator sizes. There is room for radiators that measure 120mm – 360mm inside the Air 540, which shows this case is flexible in this respect.
All of the tool-less options on this case are wonderful. You have darn near everything basic that can be installed without tools. The doors and expansion cards have thumb screws, 5.25" bays just slide in place and click in, and the HDDs and SSDs both have tool-less options. Even the PSU can be installed tool-free! You can't forget about the two hot-swappable bays in the main chamber, too. Those are a nice addition and were simple to work with.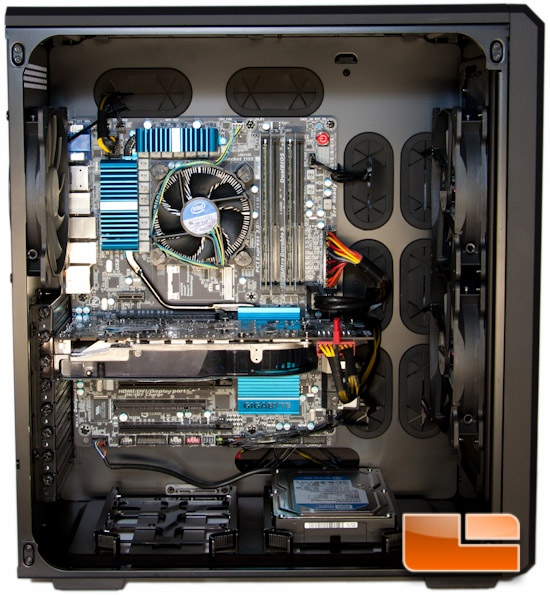 One trouble area inside this case was the I/O wires being a tad short, causing me to have to drape the wires across the motherboard. This definitely was not ideal and could be remedied if Corsair made them 3-4 inches longer. The only other concerns that I had, were the 5.25" bays seemed to squeeze my DVD-ROM a bit much, scratching it up, and the grommet hole at the bottom of the motherboard tray could use the rubber grommet insert to make things tidy and clean.
Overall, this case was a pleasure to work with, and it's definitely one that I'd recommend to someone who is looking for something different and has a ton of cooling potential.
Legit Bottom Line: Corsair's Carbide Air 540 is a style case that isn't seen much, and Corsair did a fine job of making sure it won't be the last.