AMD Kabini Mobile APUs Arrive
AMD introduced the Brazos mobile platform in January 2011 and it became the most successful launches in AMD's history. These platforms featured 40nm single or dual-core C-Series (Ontario 9W TDP) and E-Series (Zacate 18W TDP) processors that featured Bobcat x86 cores and Mobility Radeon HD 6000 series graphics. AMD shipped over 30 million Brazos APU's in the first year and that number is now over 48 million. AMD has also had over 160 different design wins with Brazos.The AMD Brazos platform ran circles around Intel Atom processors and had DX11 and OpenCL 1.1 support. The AMD Brazos platform was clearly a major success for AMD, but it is time to move on and introduce a new entry/mainstream mobile APU platform for AMD.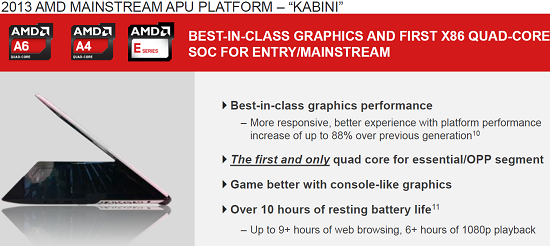 That platform would be called Kabini and it comes out today. Kabini APU's will utilize AMD's "Jaguar" 28nm microarchitecture, have from 2 to 4 CPU cores, and feature Radeon HD 8000 series graphics.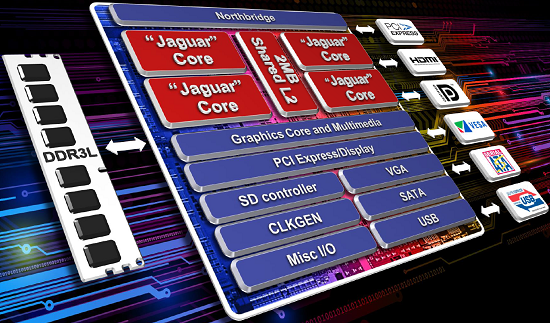 The Jaguar core brings support for SSE4.1, SSE4.2, AES, CLMUL, MOVBE, AVX, XSAVE/XSAVEOPT, F16C, BMI1, and has a 40-bit physical address space. Pretty much everything was enhanced and that means better performance. AMD says that jaguar improves IPC of single threaded applications by up to 20% over Bobcat, so the enhancements and added features have really helped improve performance. Kabini also has been overhualed when it comes to graphics and it features Radeon HD 8000-series DX11.1 graphics cores based on AMD's Graphics Core Next architecture. All Kabini APUs have 128 Radeon Cores and vary by clock speed only.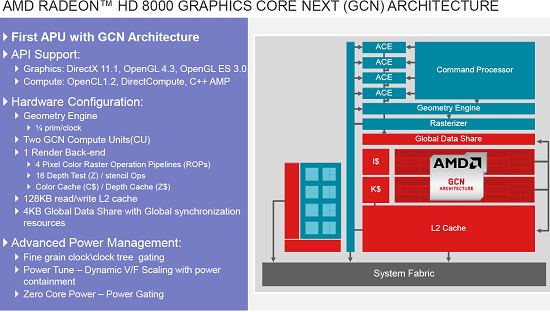 At launch AMD will have 5 'Kabini' APUs available. The AMD E-Series APUs will be dual-core processors with 1MB L2 cache in the 9W-15W TDP range. You have the E1-2100, E1-2500 and E2-3000. The Ultra Low Voltage 9W TDP part is the E1-2100 and it runs at 1GHz and uses Radeon HD 8210 graphics. From there you step up to the 15W part called the E1-2500 that runs at 1.4 GHz and uses Radeon HD 8240 GPU. The Flagship dual-core APU is the E2-3000 that operates at 1.65 GHz and has Radeon HD 8280 graphics. All of the AMD E-Series APUs have 128 Radeon cores, but differ on the clock speed that the graphics cores are running at. The clocks of Kabini parts are 5% - 6% lower than clocks of Bobcat-based E1-1500 and E2-2000 processors, but that does not necessarily mean that "Kabini" APUs are slower. It is likely that the difference in clock rate is more than compensated by improvements in the microarchitecture.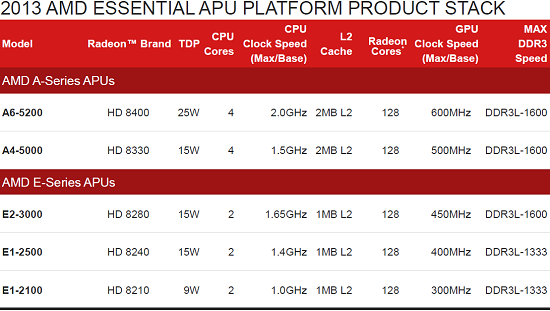 Those looking for more performance should look at the new AMD A Series APUs. You have the AMD A6-5200 (25W TDP) and A4-5000 (15W TDP) quad-core processors that have 2MB L2 cache! With twice the cores and twice the cache you can expect some good things from these processors. They are also clocked higher than the E-Series processors, at 2.0 GHz and 1.5 GHz respectively. When it comes to graphics the AMD A4-5000 uses Radeon HD 8330 graphics and the A6-5200 comes with Radeon HD 8400.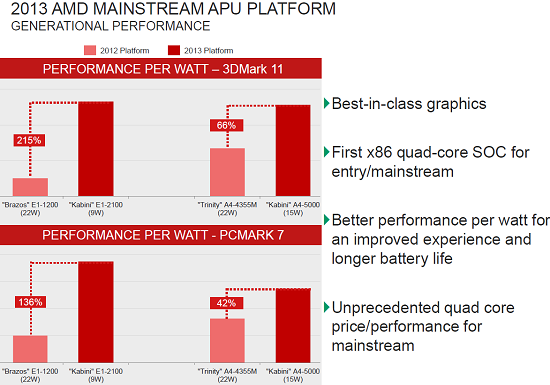 The new AMD A-Series and E-Series APUs offer significant performance gains compared to the 2012 platform refresh that AMD. This should allow AMD to continue targeting mainstream and entry-level price points and go head to head with Intel's Pentium and Celeron-class products in the mobile space.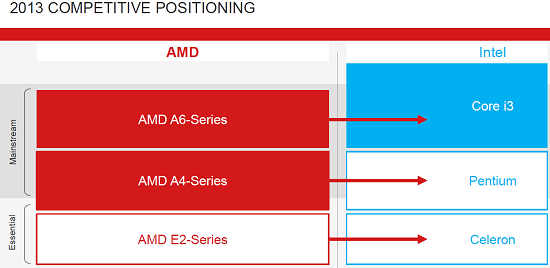 AMD feels that their new A6-Series parts can compete with Intel Core i3-class products and the A4-Series will be aimed more at the Pentium-class products. We will be looking at the performance of an AMD A4-5000 APU, so be sure to keep in mind that this is this platforms targeted market as we move forward.
AMD Kabini Reference Notebook
Since these platforms aren't out yet, AMD supplied us with a Kabini reference design whitebook, running Windows 8 Enterprise 64-bit. The machine had no branding and is one that you'll likely never ever be able to purchase. For this reason we won't go into much detail on it, but it should good enough to give you and us an idea how the AMD Kabini mobile platform will perform.
In case you are curious this Kabini reference design system is a 14" notebook that has a 1920x1080 display, but lacks a touchscreen display for optimal Windows 8 use.
The latest version of CPU-Z doesn't properly read this systems configuration, so we'll be looking at HWiNFO64 this time around. It properly reports that the AMD Kabini whitebook uses the AMD A4-5400 APU with AMD Radeon HD 8330 graphics. The Kabini platform only single-channel memory, so there is just one 4GB DDR3 Hynix memory module installed running 1600MHz with CL11 timings. There are two slots for memory in the notebook, but adding an extra module won't give you dual-channel performance.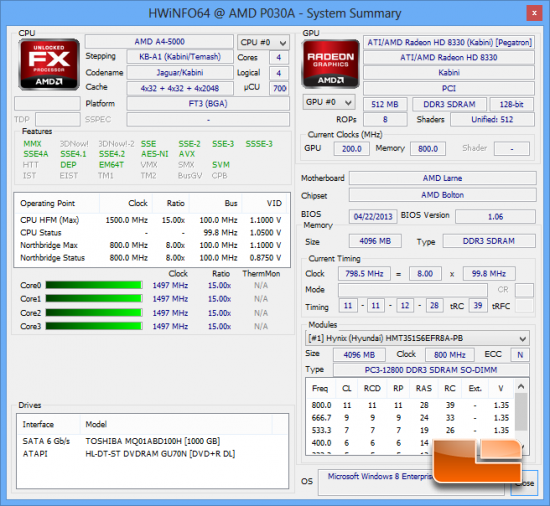 A Toshiba 1TB 2.5" notebook hard drive, a 45 WHr battery and a DVD+R DL optical drive round up other notable items inside this reference notebook.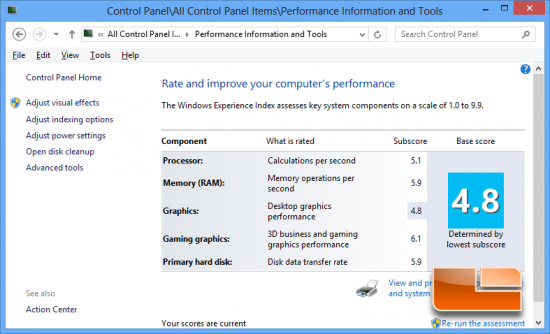 The Windows 8 Experience score was 4.8 on the AMD Kabini reference platform with the A4-5000 APU and the lowest subscore was the AMD Radeon HD 8330 graphics. Let's take a look at some performance numbers!
Benchmarking Kabini w/ A4-5000 APU
When it comes to 3DMark 11 and the Entry level benchmark the AMD Kabini reference platform does well and has an overall score of E946. This is more than double what we saw on the Sony VAIO Y Series notebook with the AMD E-350 dual-core APU at higher clock speeds, but not enough to compete with Intel Core i5/i7 processors used on many Ultrabooks today.
With 3DMark11 on the standard performance test we see a score of P592 on Kabini, which blows away the P273 that we saw on the original Brazos platform from 2011. AMD has shown a nice increase in performance with this new platform so far!
All of the notebooks we are using in the charts have vastly different memory configurations. The ACER Aspire S7 is using 1333MHz memory in Dual Channel while the Dell XPS14 is using 1600MHz memory though only in single channel. Both of those notebooks are way faster than what we see on the AMD platforms. The AMD Brazos and Kabini platforms both run single channel memory, but you can see a huge difference between the AMD E-350 APU with 1333MHz memory and the AMD A4-5000 APU with 1600MHz memory!
When it comes to video benchmarks x264 HD v5.0.1 was used and we see roughly three times the performance on the second pass on Kabini that we did with Brazos. AMD has significant performance improvements here and the Kabini entry/mainstream notebook platform isn't too far behind the Intel Ultrabooks that cost roughly triple.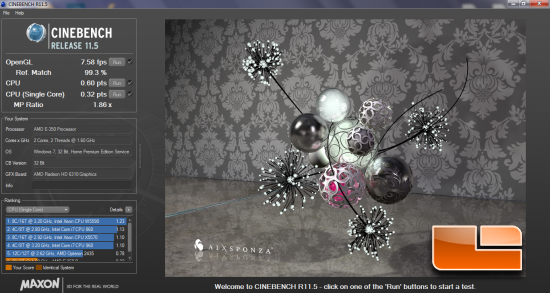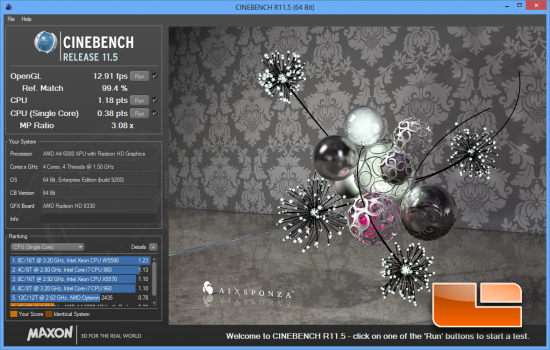 We didn't get a chance to run Cinebench R11.5 on all of the notebooks, but we did run it on the AMD Kabini and AMD Brazos platforms. OPenGL performance went from 7.58 FPS to 12.91 FPS and the multi-CPU benchmark score went from 0.60 pts to 1.18 pts. Not bad performance gains between the two generations, but keep in mind the number of cores also doubled.
The AMD Brazos platform scores 1569 with an SSD and the AMD Kabini reference system scores 2323 with a 1TB HDD. Not a bad performance increase considering the difference in storage drives.

The Sony VAIO Y Series notebook uses a 160GB Intel X25-M G2 SSD and the AMD Kabini reference system uses just a 1TB Toshiba hard drive. The Dell XPS14 storage systems consists of two parts, a 500GB Seagate ST500LT012 2.5" hard drive as well as s 32GB Samsung PM830 mSATA SSD. The Dell XPS14 is configured in Intel Smart Response Technology, this allows the system to cache the most commonly used files to speed up the system. The Acer Aspire S7 has a pair of Lite-on IT Corp CMT-128L3M mSATA SSDs running RAID 0, so that is why it blows everything out of the water. Knowing this is critical as it does impact the PCMark7 score.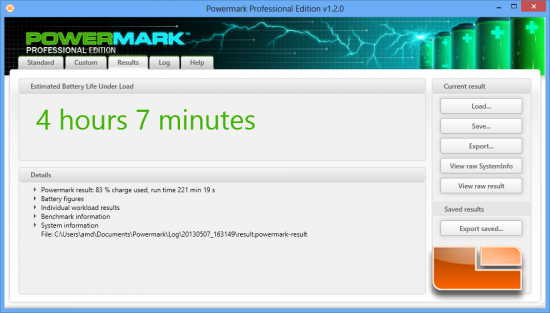 The AMD Kabini reference platform lasted 4 hours and 7 minutes in Futuremark Powermark with the system set to power saver with full screen brightness. Not bad for a quad-core platform with a 45000 mWh battery.
Power Consumption and Final Thoughts
Now that you have looked at the performance of the notebook, you are likely curious how much power that it uses. We showed you that the 45Wh battery lasts just over four hours in the battery test, but let's take a look at how much much power the system used while idling and under a few different CPU and GPU workloads. We are measuring total system power consumption at the wall outlet for this test. We wanted to compare Brazos to Kabini, so we hooked up a monitor via HDMI and disabled each notebooks primary display in Windows. This was done to factor out the different display sizes as that would greatly throw off the results.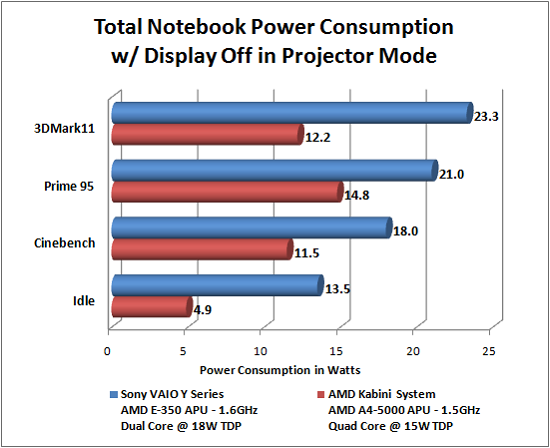 The power consumption results at idle and load are nothing short of amazing. The AMD Kabini reference platform was 2-3 times faster than the original Brazos platform (Sony Y Series) and uses far less power! The AMD A4-5400 APU isn't a power hog at all and at idle the entire system used just 4.9 Watts of power. In Prime95 the Kabini system peaked at just shy of 15W, which is very impressive. Futuremark 3DMark11 is a pretty good test that shows both GPU and CPU load and in game test one (GT1) we found the Kabini platform to use just 12.2 Watts, which is 11.1 Watts less than the Brazos platform. So, you are talking about double the performance and roughly half the power consumption. AMD has done an amazing job with power consumption between these two generations of notebook platforms.
Final Thoughts and Conclusions:
After pulling the AMD Brazos platform (Sony VAIO Y Series) out of storage and using it for the past few weeks along with the new AMD Kabini reference platform we can see that AMD has really come a long way in just two short years. AMD has sold over 48 million Brazos platforms and it was the most successful mobile platform every launched by AMD. It was great at the time and the price and performance was good back then, but today it leaves you wanting more. Switching directly to the AMD Kabini reference platform we could really tell that it felt noticeably faster and the benchmarks confirmed that it was roughly twice as fast as the original Brazos platform. It is also much more power efficient. Better performance and longer battery life at the same, if not lower, price point is the perfect scenario for consumers. This is also great news for AMD as they want to have a competitive platform again for the entry-level and mainstream notebook market and it looks like they do.
AMD says that will have more design wins with Kabini than any other platform, which is great news as they need design wins to sell products. We wish AMD would have given us a retail notebook to try out, but they aren't ready just yet and we were given a reference design for testing. It showed us what to expect with Kabini, but we really want to see some the A- and E- series products in something that is available for you to purchase.
At the end of the day the AMD Kabini reference platform looks to be headed in the right direction and we can't wait to see what the OEM partners do with it. We hope to see some affordable Windows 8.1 notebooks with touch and maybe even some hybrids with all-day battery life and the CPU and GPU power to do real work. It will be interesting to see how this AMD Kabini holds up against some of the upcoming Haswell powered platforms, but it should be competitive in a few key areas. We'll be sure to do some comparisons when those platforms come out!