WD My Passport Ultra 1TB Portable Hard Drive
When it comes to external portable hard drives one of the most recognized product lines is most certainly the My Passport series that was first introduced by WD in 2004. These little portable hard drive enclosures and the included WD SmartWare software that automatically and continuously backs up your critical data has saved God only knows how much digital data over the years. For example in 2008 the flagship My Passport featured a 320GB hard drive, used the USB 2.0 interface, measured 126.2 x 79.5 x 15 mm (LxWxH) and cost a cool $199.99. WD has kept the My Passport brand alive over the years by continually refreshing it and offering new models like Essential, Elite, Edge, Enterprise, Studio and so on. Today, WD announced the My Passport Ultra, which is the latest refresh for this popular brand line and it includes 500GB (
$99.99
) and 1TB (
$129.99
) models now and a 2TB model that comes out in Q3 2013. So, the flagship My Passport Ultra is a 1TB hard drive costs $129.99, uses the SuperSpeed USB 3.0 interface and measures just 110.5 x 82 x 15.4 mm (LxWxH). Not bad considering where the My Passport line started from!
Besides the rather impressive hardware specifications, most of the magic happens with the software. When it comes to software you get WD Drive Utilities and WDSmartWare Pro backup software. These programs allow you to choose when and where you backup your files, but it also allows you to password protect and hardware encrypt the files on the drive, run diagnostics and more. You can also now use your Dropbox account, if you have one, to back up your files to the cloud.  The WD My Passport allows you to back everything up locally on traditional media and then to the cloud if you want it, which is a nice touch. The WD My Passport Ultra comes backed by a 3-year warranty that covers both parts and labor. It is nice to see WD increase the warranty period on the My Passport series as it was previously just 2-years.
Inside the retail box you'll find the portable hard drive, 1.5-foot USB 3.0 cable, soft pouch, warranty card and the Quick Install Guide. WD lists that the WD SmartWare software, WD Security and WD Drive Utilities are included in the box, but you won't be getting a disc or flash drive with the bundle as the software is already on the portable hard drive. This is the first My Passport drive to come with a carrying pouch to protect the drive from scratches on the go.
Western Digital went with a grey plastic casing on the My Passport Ultra series that is adorned with a circular pattern and the WD logo and product name. This is the same exact pattern that was used on the My Passport Edge (soon to be phased out), so if it looks familiar that is why. The finish on the My Passport appears to be semi-gloss and it does not show finger prints and smudges. The size of the WD My Passport depends on which capacity that you get.
| | | | | |
| --- | --- | --- | --- | --- |
| My Passport Ultra Model | Height | Depth | Width | Weight |
| 500GB | 4.33 in. (110 mm) | 0.50 in. (12.8 mm) | 3.21 in. (81.6 mm) | 0.30 lb (0.13 kg) |
| 1TB | 4.35 in. (110.5 mm) | 0.61 in. (15.4 mm) | 3.23 in. (82 mm) | 0.34 lb (0.16 kg) |
| 2TB | 4.35 in. (110.5 mm) | 0.82 in. (20.9 mm) | 3.23 in. (82 mm) | 0.50 lb (0.23 kg) |
The WD My Passport Ultra 1TB drive that we are looking at today measures in at 110.5mm x 82mm x 15.4mm with a weight of 5.44 ounces. Western Digital is using a 1TB WD Blue 5400 RPM hard drive with two platters and a 7mm Z-height on this particular drive.
Flipping the My Passport Ultra over we see that WD placed four rubber pads on the bottom to keep the portable hard drive from sliding around the surface that you place it on. The designers of this enclosure obviously know that, and made indentations in the housing for the feet to sit down into. The back also lists the part number, serial number, where it was produced (Malaysia) and a whole bunch of logos that don't mean much to the general public.
Looking down the end of the WD My Passport Ultra we can see the SuperSpeed USB 3.0 port and off to the right of that there is a very small white LED activity indicator light. Even if you don't have USB 3.0 today you can use this drive and then down the road when you invest in a PC that has USB 3.0 it will work and actually be faster. Pretty much every new Desktop PC or laptop feature at least two USB 3.0 ports. Since the WD My Passport Ultra uses a derivative of a notebook hard drive it gets it power from the USB 3.0 port, so no power adapter needs to be plugged into the wall. This means the only cable that you need to bring with you when traveling is the USB 3.0 data cable that comes with the drive. Let's fire this drive up and take a look at the backup software as that is the main reason you are likely looking into buying this drive.
The My Passport Backup Software
The first time you install the WD My Passport Ultra 1TB drive into a USB port it will be automatically detected by your PC just like a traditional flash drive and you can open it up and look at the contents.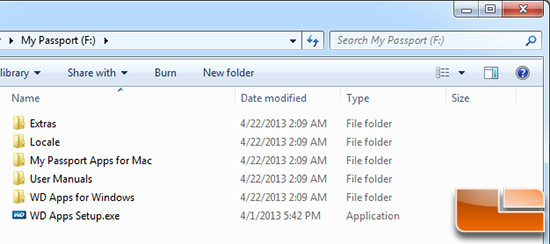 On the drive WD already has five folders and an application that you can run to setup the supplied WD software. The folder titled 'User Manuals' has PDF files in numerous languages that have a user manual that goes into great detail on how to use the My Passport. If you don't want to use any of the WD software you can delete the ~300MB worth of files and use the drive how you see fit.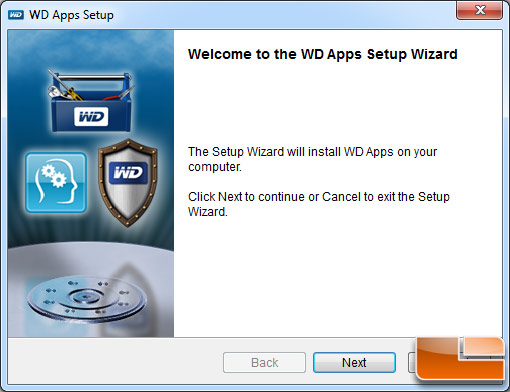 If you run the WD Apps Setup executable, you'll begin installing all the WD Software.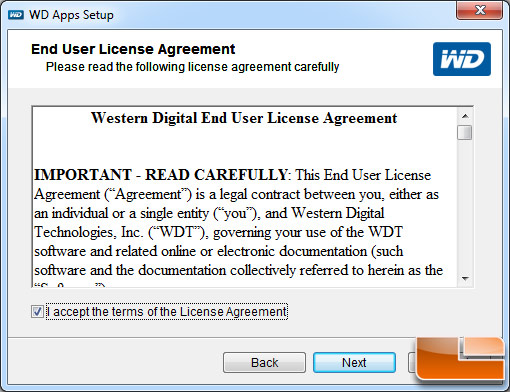 You have to accept the EULA.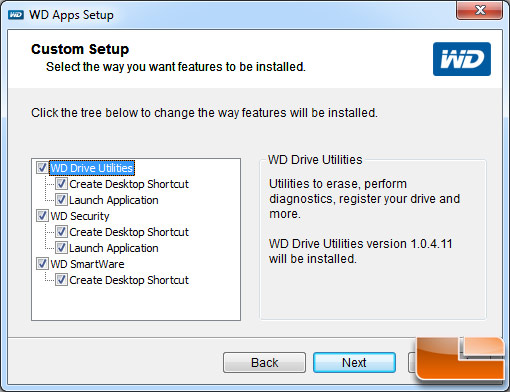 After you accept the license agreement you get to select which of the three software features that you wish to install.  By default WD has them all set to install. The WD Drive Utilities is a program that allows you do erase, perform diagnostics and also a registration page to register your device. WD security allows you to place passwords and to encrypt your files. WD SmartWare is needed for automatic and continuous backup of all your files.
We've installed all of these utilities before, but for this review we will focus on just the WD SmartWare utility.  You might only need this as well if you never plan on taking the My Passport out of the house, so no passwords are needed.  Sure, someone could break in and steal it and gain access to our data, but that risk might be worth it to some. Some people buy a small portable drive like this to easily fit inside a wall safe or a special hiding spot.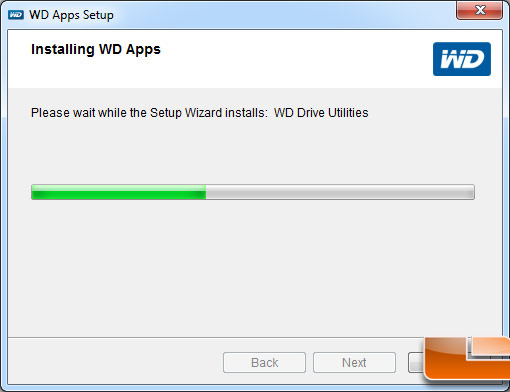 The installer will then install the selected software to the primary drive on the system you are using.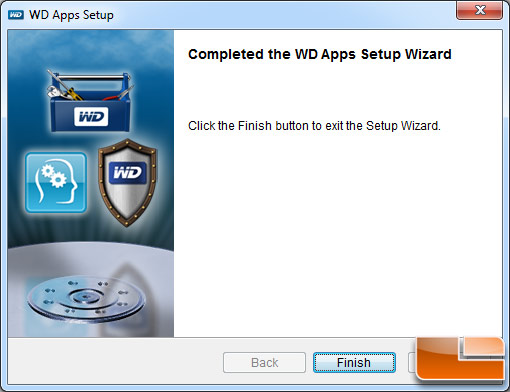 After that the setup wizard is complete, but don't think you are having your data backed up as you just installed the application and didn't actually setup the backup software.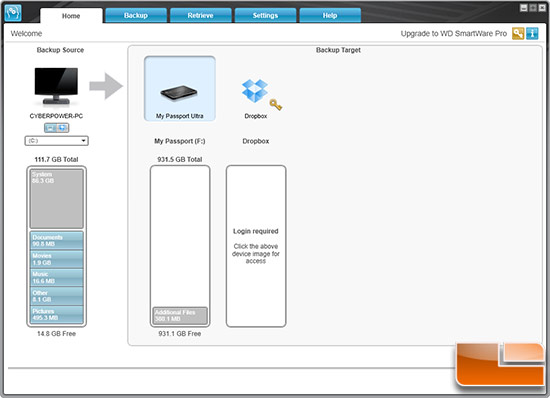 Now that the WD SmartWare application is installed you can open it and when you do you'll see the GUI above pop open. You must first select which backup target you'd like to do, the My Passport Ultra or to Dropbox.  You can do both, but you need to set each one up individually.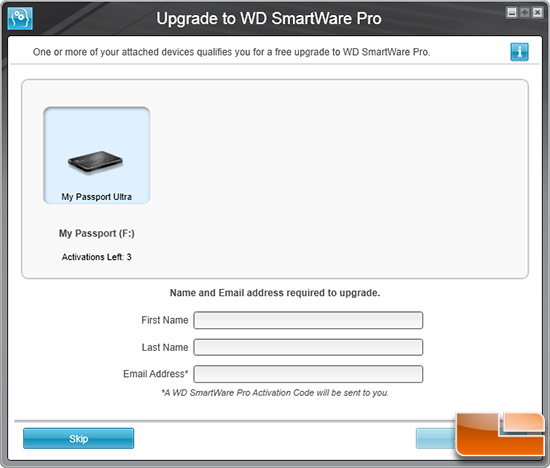 If you want to use dropbox you need to update the software you just installed to WD SmartWare Pro.  This is free for up to three devices, so you can use the WD My Passport Ultra to backup the data on three PCs without any extra charges. If you have a Dropbox account already you just need to put in that info to link the device and the WD software to your cloud storage account. Pretty easy stuff if you have all the accounts already, but if not it just takes a few minutes.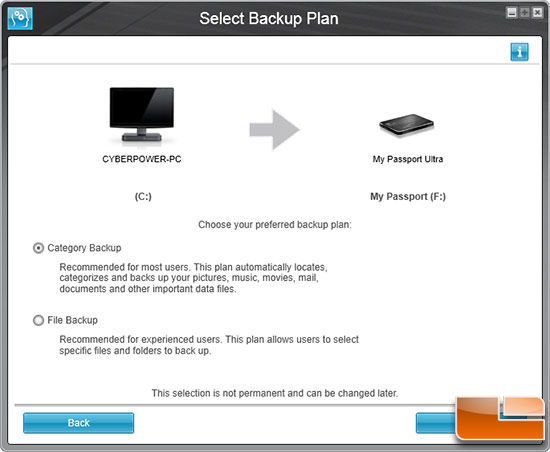 Setting up local data storage on the WD My Passport Ultra is pretty easy. You need to select category backup or file backup.  Category backup is the default setting.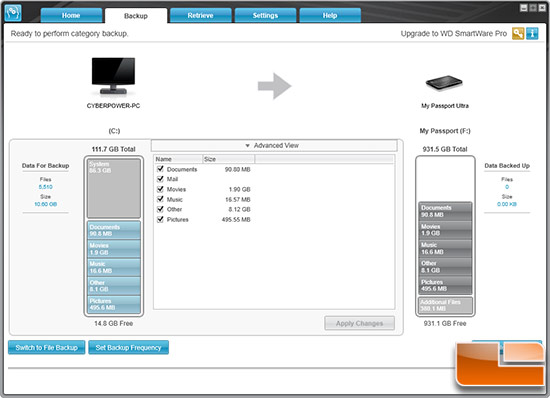 This mode will automatically backup your key files or you can click on advanced view you can enable and disable the six categories if you don't want to back them all up for some reason.  The software program places your files with certain extensions into one  of six general categories when backed up. They are documents, mail, music, movies, pictures and other.
It is important to note that the WD My Passport Ultra doesn't backup your operating system
or installed software/games and you can't  select specific folders to backup.  If you wanted to do a complete file  structure backup or be able to select what folders you wanted to backup  you'd have to purchase a 3rd party solution for that. The included WD SmartWare utility is aimed at backing up your general day to day items.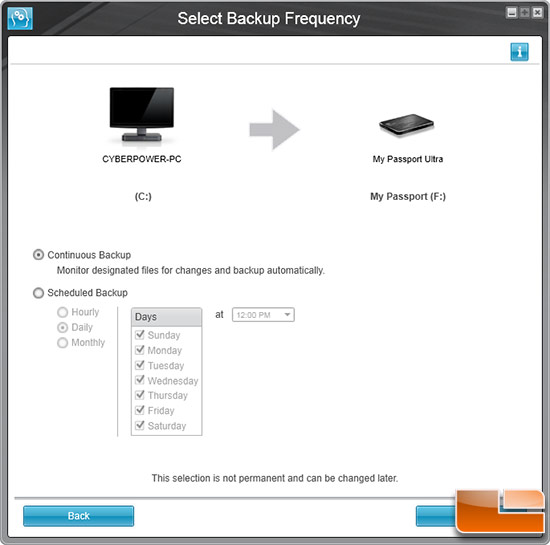 You can then select how often the backup is done and the default setting is continuous.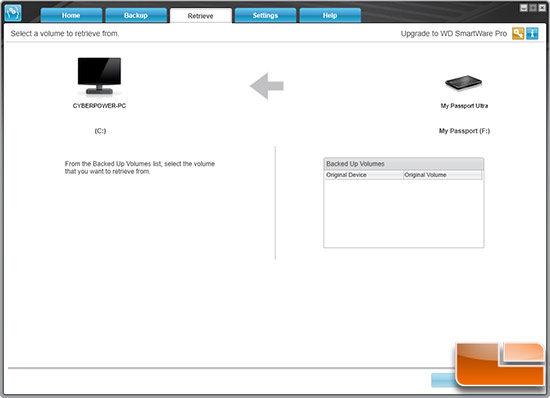 The screen you don't want to ever find yourself on is the the retrieve screen, which is where you go when you need to get files from a backup.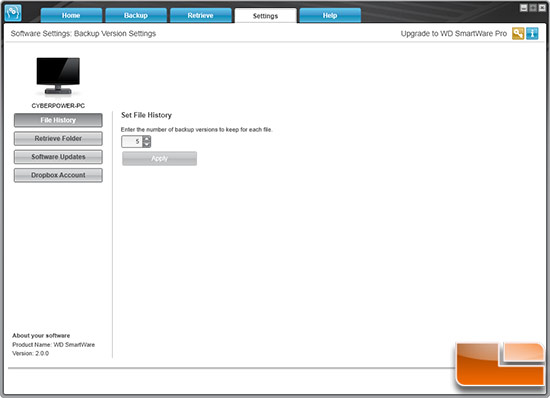 You can change settings of WD SmartWare under the Settings menu. Here you can change the file history backup versions to keep for each file under file history (default is 5), the retrieve folder location, update the software or edit your Dropbox account information.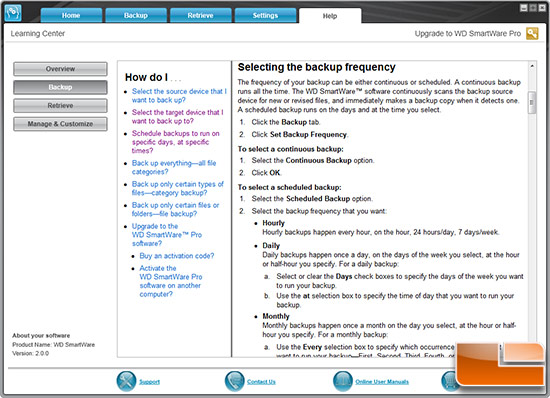 The final tab is 'help' and there you can find the answers to most of your basic questions on how the utility works. N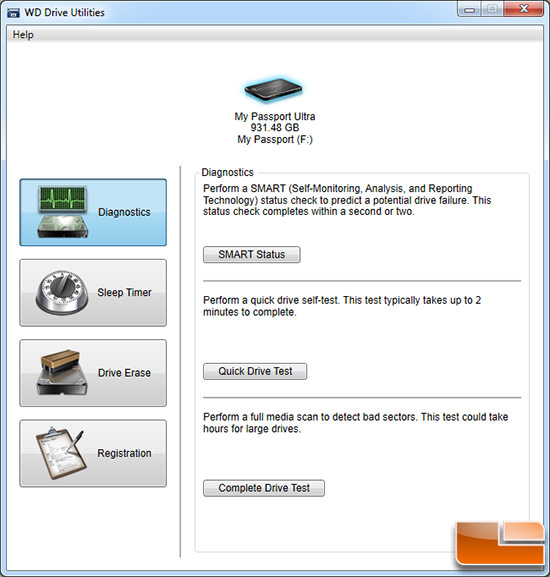 Here is a quick look at the main menu of WD Drive Utilities that will wipe the drive clean with Drive Erase, run several diagnostic tests and help you set up a sleep timer.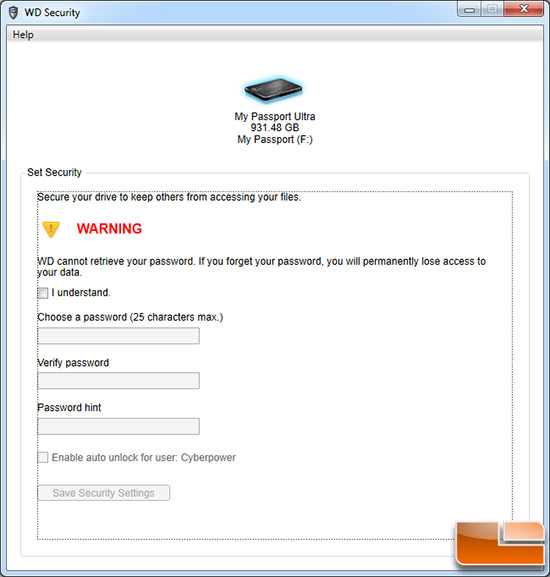 WD Security is where you need to head if you want to setup a password to enable encryption, but don't forget your password.  If you do there is no way to retrieve the data!
Now that we know what the software looks like we can get to testing.
Performance w/ CrystalDiskMark and ATTO
CrystalDiskMark v3.0.2f
CrystalDiskMark is a small HDD benchmark utility for your hard drive that enables you to rapidly measure sequential and random read/write speeds.
1000MB Files Test Benchmark on the My Passport Ultra 1TB:
On our test system we were seeing the WD My Passport Ultra 1TB USB 3.0 portable drive reach 115 MB/s read and 114 MB/s write in the sequential test. Not bad performance numbers from a 5400 RPM notebook hard drive, but we are clearly limited by the hard drive and not the USB 3.0 interface.
ATTO Disk Benchmark v2.47
ATTO is one of the oldest hard drive benchmarks that is still used today. ATTO measures transfers across a specific volume length. It measures raw transfer rates for both reads and writes and places the data into graphs that you can easily interpret. The benchmark was run with file sizes from 0.5kb through 8192kb with the total length being 256mb.
Benchmark Results: The WD My Passport Ultra 1TB USB 3.0 drive hit 114 MB/s read and 112 MB/s write in ATTO, which is a popular benchmark in the storage community. 
HD Tune Pro 5.50 Benchmarking
HD Tune Pro 5.50 is an extended version of HD Tune which includes many new features such as write benchmark, secure erasing, AAM setting, folder usage view, disk monitor, command line parameters and file benchmark.
Read Performance Testing
Benchmark Results: The WD My Passport Ultra 1TB portable drive had an average read speed of 86.7MB/s with a burst speed of 180.4MB/s and an access time of 16.2ms. The read performance is fairly linear and started out at 114MB/s on the outer edges of the platters before slowing to 54MB/s on the inner sectors.
Write Performance Testing
Benchmark Results: The WD My Passport Ultra 1TB had an average write speed of 82.0MB/s with a burst speed of 149.4MB/s and an access time of 16.3ms.
File Testing
Benchmark Results: The file benchmark results look good with greater than 100 MB/s writes for most file sizes over 16KB. Our real world testing and file backups bounced around a bit, but for the most part were between 75-100MB/s. The drive also felt warm to the touch during use, but never got much hotter than 31-34C during use.
Free Space and Final Thoughts
Taking a look at the capacity of the WD My Passport Ultra 1TB USB 3.0 portable hard drive we see that in Windows, there is 931GB available to the user as reported by Windows. This is with the applications and folders that WD shipped with on the drive. The WD software and users guides take up about 300 MB of space.
Final Thoughts and Conclusions:
The Western Digital My Passport Ultra isn't anything revolutionary when it comes to hardware specs. In recent years we have seen My Passport 1TB drives with similar USB 3.0 performance and right now 1TB is still the largest capacity that you can get. WD has a 2TB version of the My Passport Ultra coming out, but you'll have to wait until Q3 2013 for it to be ready. We see the release of the My Passport Ultra being an evolutionary product update and what the new features are predominately on the software side of things. Western Digital has been focusing on cloud integration and this is the first My Passport drive to come with new standalone WD SmartWare Pro app that just came out in 2013. Before the WD My Passport and accompanying WD SmartWare software would automatically back up file changes to the My Passport local drive on the fly, but now you can schedule backups to both the drive and a Dropbox account. If you wanted to you could even backup your Dropbox account to the external disk for even more redundancy. This is the major new selling point for the WD My Passport Ultra and shows that WD is fully embracing the cloud movement that is taking place right now worldwide. The thing is that you can purchase the WD SmartWare Pro app for $30 for a 3-computer license (on sale for $20 right now) and add it to an existing WD My Passport product if you wish. Therein lies our only concern. You can purchase a WD My Passport 1TB USB 3.0 drive for
$79.99 shipped
. Sure it is the 'old' model, but the new WD My Passport Ultra 1TB that we reviewed for you here has a retail price of
$129.99
(MSRP). The street price will likely be lower, but right now there is a $50 price difference between the this drive and the previous model. You can buy the WD SmartWare license right now for $20 since it is on sale, so what will make users go out and spend an extra $30 on this 'Ultra' drive? Sure the WD My Passport Ultra is slightly thinner (depending on the capacity), comes with a carrying pouch and has a 1-year longer warranty than the previous model, but is that enough to justify the price difference?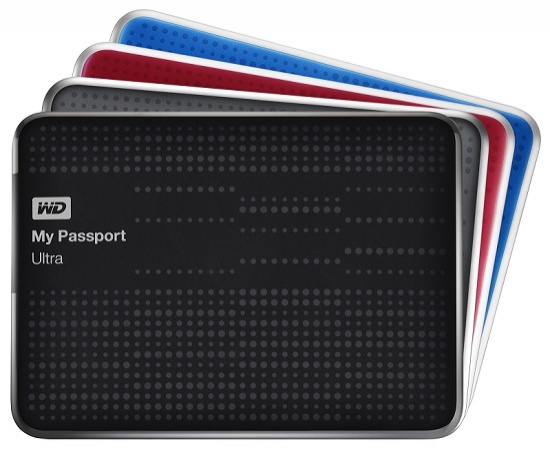 At the end of the day the choice is yours, but by reading this review you know about the price difference and can figure out drive that best suits your backup needs. The WD My Passport Ultra can also be personalized when it comes to colors as you can get the 500GB or 1TB capacities in black, blue, red, and titanium. We had the titanium finish in case you are curious. The Western Digital My Passport Ultra is an excellent portable drive and we found no flaws with it. WD has been selling portable backup drives in the Passport series for nine years and have an impressive track record with readability and stability over the years.  The WD My Passport Ultra is a solid backup device and you can't go wrong with using one to backup your data!
Legit Bottom Line:
The WD My Passport Ultra is an excellent portable hard drive that is easy to setup and quickly backs up files to itself and to the cloud!