Kingston MobileLite Wireless Introduction
Back at CES in January, Kingston showed off their Wi-Drive+ MobileLite, which was just a beta version of the product that we're about to review today. You can check out the initial preview this product here. There have been a few changes since then, which may be disappointing to some.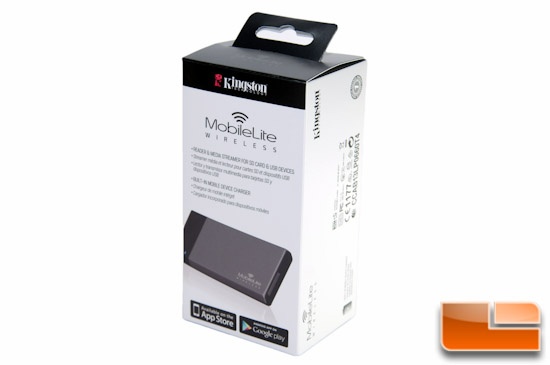 The MobileLite Wireless is designed to allow up to three users to wirelessly share photos, video, documents, etc., via a central hub. For devices like the iPhone, iPad, or HTC One, that all have strictly fixed storage, this product will allow you to pull data off of said device to allow for even more storage.
Kingston chopped off Wi-Drive+ from the name and stuck with MobileLite Wireless instead. Unlike the Wi-Drive series, Kingston did not include any internal storage. This is traded off for allowing you to plug in an SD card or USB flash drive, providing you with virtually unlimited storage. They kept the MobileLite name, as the original MobileLite was strictly a USB plug-in card reader, and then they added Wireless to the name, signifying that it can do those same functions via wireless.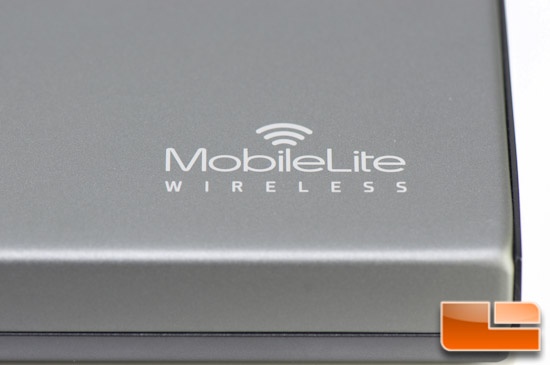 The MobileLite Wireless (or MLW for short), carries an MSRP of $69.99 and that is what it is listed for on Amazon with shipping. This is far off from their initial projected price point of under $40, which is rather disappointing.
Taking a quick look at the packaging, it tells you about the reader and streaming technologies, plus it informs you that it is a mobile device charger. It does fail to mention the finer details, such as what wireless standards it uses, SD card compatibility, battery capacity, etc. I would not feel informed enough to buy this, should I see it on a store shelf.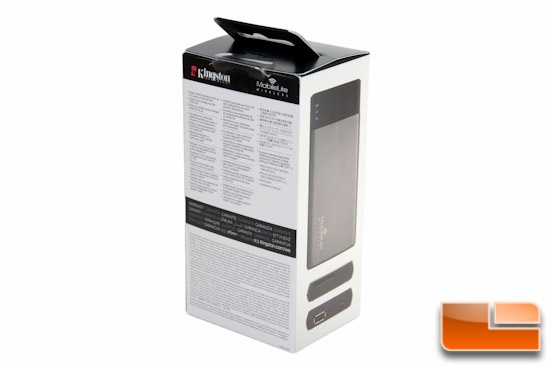 Kingston did a fine job of packaging the MLW device, as you can see in the picture below.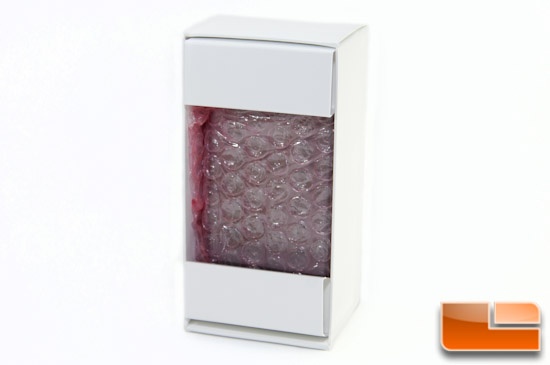 Included in the box was the MLW device itself, an 18" USB cable, a MicroSD card adapter, and the instruction booklet. Kingston also has a one year warranty on the MLW, and we know that they stand by their products, should you run into any issues.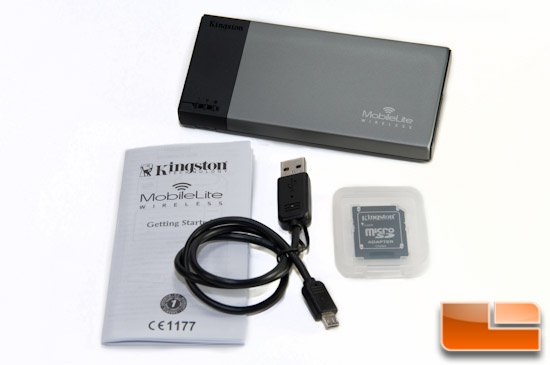 Kingston's MLW weighs in at 98 grams (3.46 ounces) and measures 124.8 x 59.9 x 16.65mm (4.91 x 2.36 x 0.66in). It is super light weight and small enough to fit in your pocket or purse.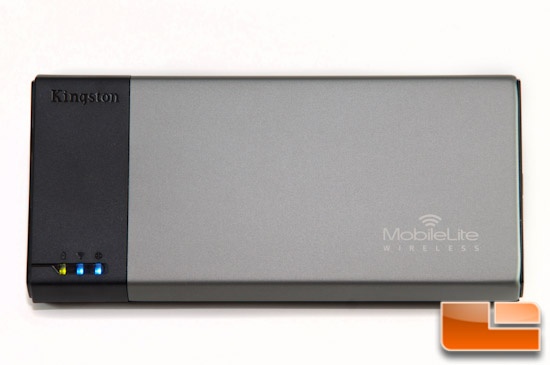 Read on to learn more about the Kingston MobileLite Wireless unit, to find out how it works, and how it performs.
A Closer Look at the MobileLite Wireless
Looking around the MLW, starting with the face, you'll see the LED indicators, which tell you if the unit is powered on or charging, when the hotspot is active, and if it is able to access the internet. The power LED will be green for above 50% charge, amber for 50-25%, and red when below 25%.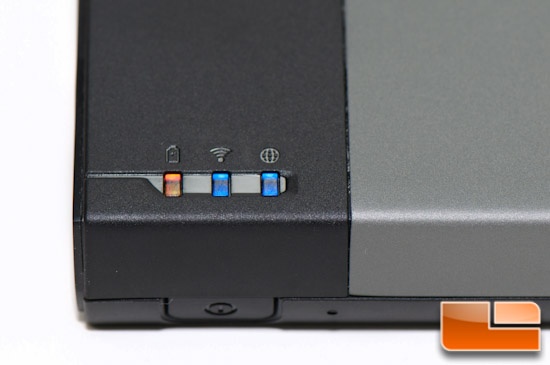 Moving onto the left side, you will have the MicroUSB port to charge the MLW, or to use as a standard SD card reader, and the full sized USB port to charge your mobile device or plug in a flash drive. The USB port is rated at 3.7v, which will allow you to charge most mobile devices.
The next side we're presented with the power button and reset button. To power on the MLW, you just have to hold the power button for 3-4 seconds. It is a little tough to press, since the button travels pretty far before it depresses, but it isn't a deal breaker. In all honesty, it's nice to have a little more difficult to press, just so you don't mistakenly turn the unit off. If you want to use it as a charging station, you just hold the power button for one second and it'll begin charging; flashing the power light repeatedly. The reset button is there should you need to reset the unit.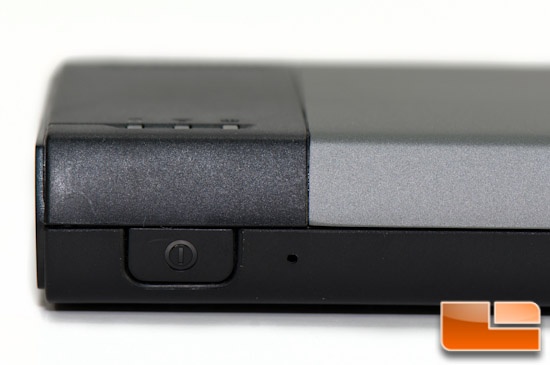 On the next side you have just a single SD card reader. The SD slot supports SD, SDHC, and SDXC cards. It can accommodate a MicroSD card, should you choose to utilize the included adapter. Unfortunately, this is a spot where Kingston cut a feature; they pulled out the dedicated MicroSD slot to save on cost. I know from my standpoint, if I want to pull out the MicroSD card from my phone, I'd much rather not have to carry an adapter. On the flip side, it is quite nice that Kingston actually supplies you with the MicroSD adapter.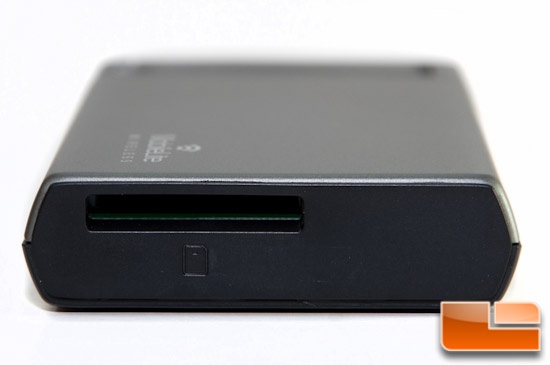 The SD card slot is actually quite tricky to put your card in and take it out. This is the very same problem that we had with our beta unit, in which we were hoping they would address this. Kingston was made aware of this problem on the beta unit and chose not to correct the problem.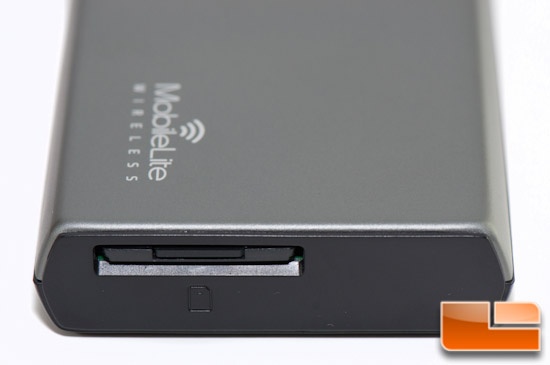 On the bottom of the MLW, we have the stickers providing serial numbers and other licensing. You'll also notice the four feet to help keep the bottom scratch free. Unfortunately these aren't non-slip feet, so it can easily slip and slide around, should you be in an environment where it could do such (IE: A car ride or in an airplane).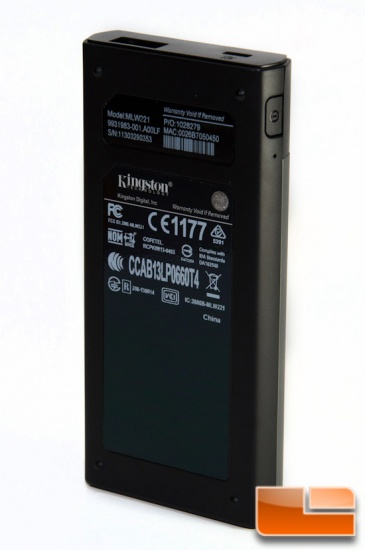 The guts of the MLW include an 1,800 mAh Li-Polymer battery to either charge most mobile devices, or to power the MLW itself for up to 5 hours. I only got roughly 40% of a charge on my Galaxy S3 before the MLW died. The only other thing worth of mention inside is the WiFi radio. It supports 802.11g/n, using WPA2 security. With the MLW utilizing strictly WPA2 security, you'll either have to leave out old devices completely, or have zero security on its wireless network, should you have a device that doesn't support WPA2. I personally wouldn't want to be caught with an unsecured network.
Next up we'll check out the software that helps drive this wonderful gadget.
MobileLite Wireless Software
Kingston initially only designed the MobileLite Wireless (MLW) for iOS users, but they did have plans to allow Android users to join the fun. Thankfully Kingston did finally release the Android software on Google Play recently, and we got to check it out.
When you first fire up the MobileLite software, you'll be presented with 5 different instruction pages on how to get your MLW unit running. You just simply have to hit the back button and you're at the main interface.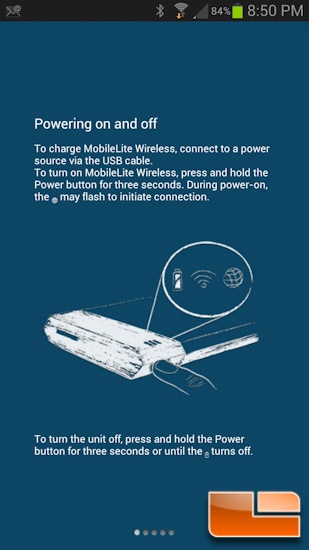 The next screen will let you tackle your MobileLiteWireless storage or your Local Storage. As you can see, a device like this would be perfect for me to unload pictures onto. My local storage on my Samsung Galaxy S3 is choking at approximately 1GB free.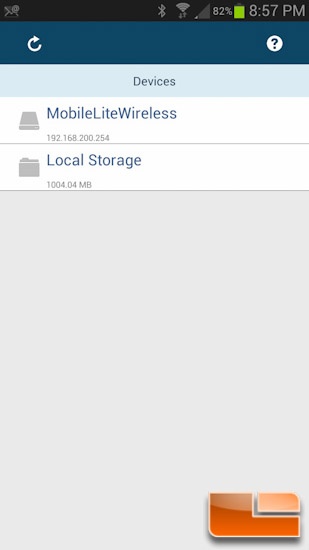 If you go to the MLW section, you'll see your SD_Card and/or a USB storage option.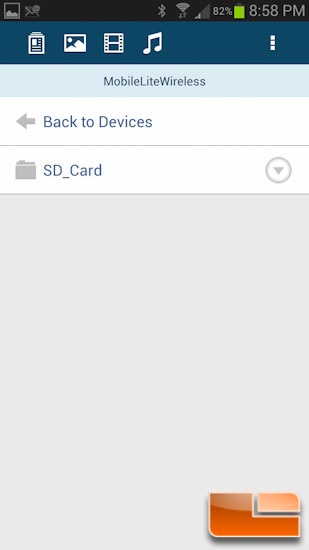 Should you just click on the folder itself, you'll be presented with strictly file names, no thumbnails. If you play a video for the first time, regardless of size, you will end up getting a pop-up that warns you that videos larger than 2GB may not work.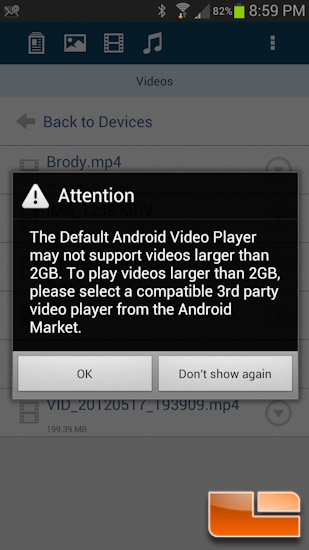 If you were to click the button to the very right of your video, you'll be able to email, move/copy, or delete one file at a time. You can also move/copy or delete an entire folder at a time, too. Should you click this same button on an image, Kingston's MobileLite software will also offer to let you upload the image to Facebook or Twitter.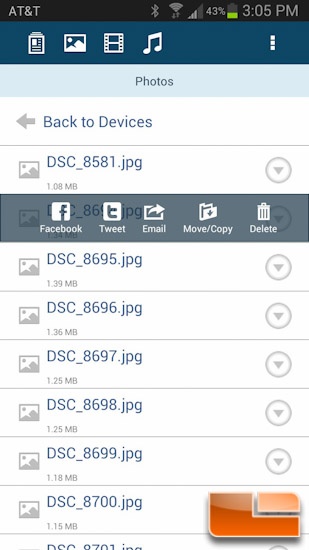 There are a couple buttons on the top for documents, pictures, videos, and music. If you go into the folders and hit these buttons, you'll now have thumbnails for pictures and cover art for music. Unfortunately you cannot download directly from here, which is only puzzling as to why they left that out.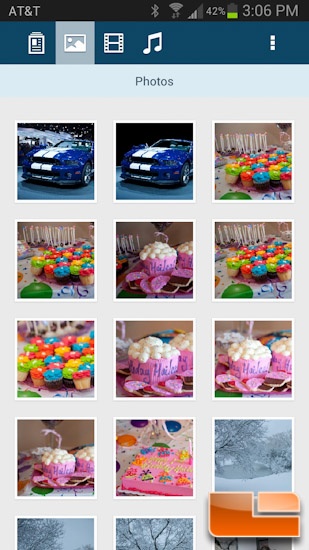 Finally, you've got the settings. In here you'll be able to rename the device, make the WiFi network visible or not, change the channel, turn on WPA2 security, or connect it to your wireless network to act as a regular access point.
Overall the Android software interface was a very pleasant experience.
Next up we will run a couple quick tests to see how the MLW performs, so read on to see what we thought!
MobileLite Wireless Testing
To start off, Kingston provided us with a 32GB Class 10 MicroSD card, which you can find on Amazon for $32.52 shipped. This card includes an SD card reader, exactly like the one the MLW includes, plus a USB MicroSD card reader. The USB card reader is pretty neat and handy, but it is extremely difficult to remove the MicroSD card.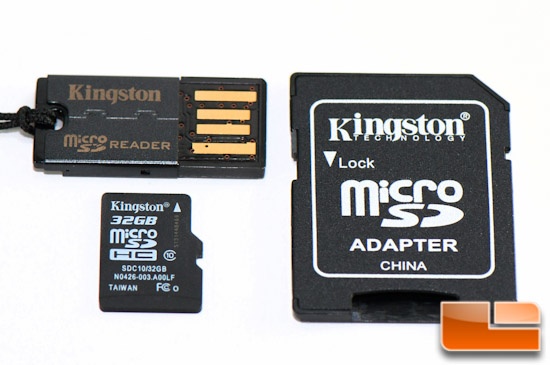 A quick bench of the MicroSD card yielded the following results: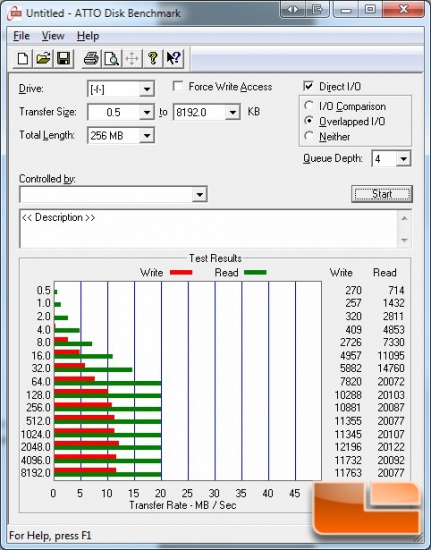 You will see that this SD card maxed out at 12Mbps write and 20Mbps read with ATTO Disk Benchmark.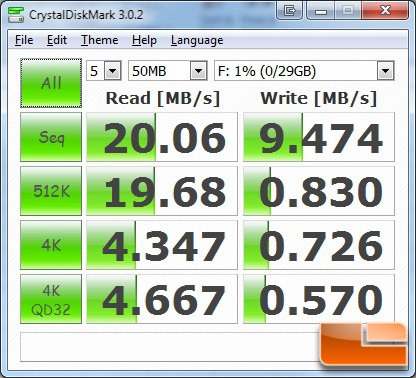 With CrystalDiskMark, we saw mostly similar results, yielding about 9.5Mbps write and 20Mbps read.
Testing out the transfer of multiple file sizes and a bunch of files, we got some pretty decent results. The testing was performed using the Samsung Galaxy S3 and a Dell notebook with an 802.11b/g WiFi card.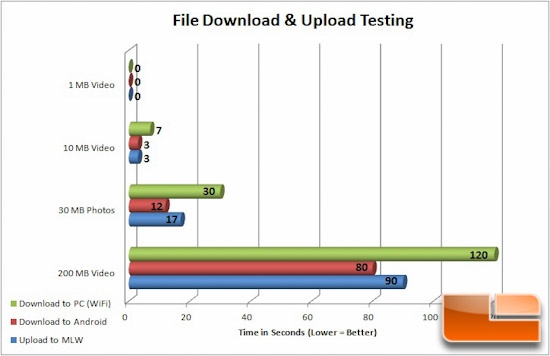 I am not at all disappointed by the results, as they were fairly reasonable and pretty much spot on with the ATTO and CrystalDiskMark tests. I'm sure if I used a faster card, I'd have even more impressive results.
I did test the MLW from a 50 foot distance, going through multiple walls in my house, and I got fairly impressive results. With most WiFi devices like this, you'll get a good 30 foot range before it fizzles out. At 50 feet, I still had a pretty strong wireless signal, and was able to download the 200MB video in just under 3 minutes.
Speed testing yielded decent results. I tested approximately 2 feet away from my wireless router. My 18Mbps connection was topping out at about 16.66Mbps at the time of testing, and it would cap out at right around 12Mbps when using the internet through the MLW. This is a 28% reduction from the initial test, which was very consistent. I wish it was better and didn't lose so much throughput, but it isn't horrible either.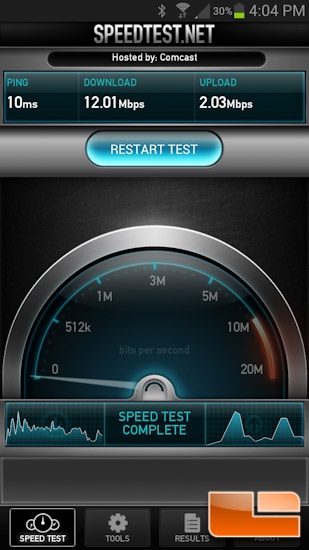 When I tried a speed test from my 50 foot mark, I averaged approximately 8.25Mbps, which I was quite pleased with.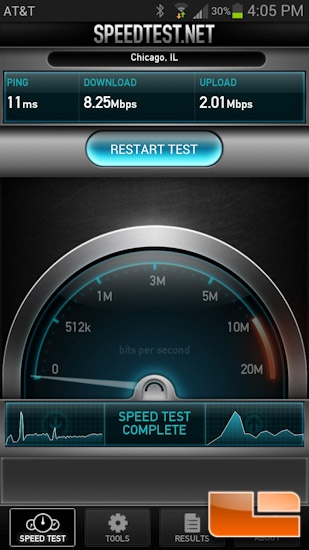 Let's wrap up this review. Read on to gather a summary of our thoughts.
MobileLite Wireless Final Thoughts & Conclusion
The MobileLite Wireless is a very handy gadget, which allows you to share files and media easily via the wireless network that it creates. With virtually unlimited storage, you will have no problem running out of room. It also creates an extension to your storage, should you own a device that doesn't allow you to insert a MicroSD card, such as an iPhone, iPad, or the new HTC One.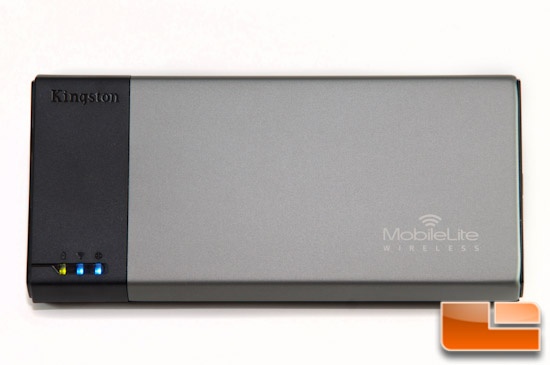 With the MLW running you $69.99, you sure do expect a little more out of it, but overall the unit is quite nice. The only gripes that we had with this production unit, were the lack of rubberized feet to prevent slipping, the removal of the MicroSD card slot, the SD card slot not being easily accessible, and a small battery. If these were changed up or fixed, it would definitely add more value to the $70 that you're dropping on this unit.
The software experience is very pleasant, even on Android. With a lot of Android apps having lack of quality control, even from big name companies, I have to give props to Kingston for taking the time to do it right.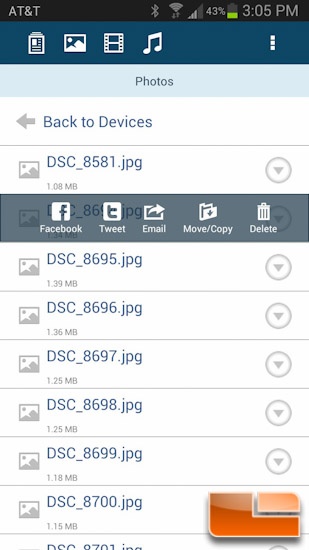 Overall I wouldn't have a problem recommending this unit to friends and family, but only when the price drops below the MSRP.
Legit Bottom Line: The Kingston MobileLite Wireless is a great player with the mobile media sharing market, despite its few flaws, but is still heavy on the price tag.