Ultra Thin RedMere HDMI Cables By Rosewill
Last month Rosewill launched a series of Ultra Slim HDMI Cables with RedMere technology. What is RedMere technology? In simple terms, it's an accelerator. Each of these super thin Rosewill cables have a RedMere chip in the cable to ensure that you receive the absolute best picture quality in a reduced weight and thin portable cable. The only downside to this new type of cable is that is it directional, so you have to make sure the cable is plugged in correctly between devices.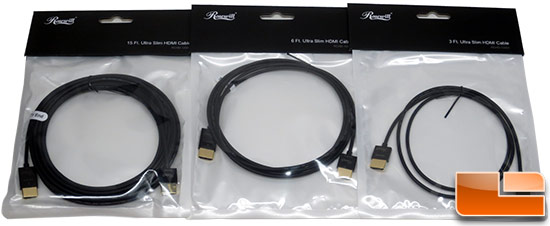 We were interested in these new super thin cables and wanted to see how they performed, so we got our hands on a 3 ft, 6 ft, and 15 ft set of Rosewill Ultra Slim HDMI cables w/ RedMere technology cables in black. They are also available in white. All the available models are shown below.
We hope that Rosewill will come out with longer lengths in the future as there are many people that could use longer lengths in the 25ft and 50ft range.
Rosewill Ultra-Slim HDMI Cables w/ RedMere Technology Specs:
1080p HD picture quality
High speed rated at 10.2 gbps
55% thinner than comparable High Speed cables
SuperThin makes it very easy to manage, remains flat under carpeting, and runs along walls unobtrusively
Ultra flexible, bends at near right angles for no-hassle hookup in tight spaces
1-year warranty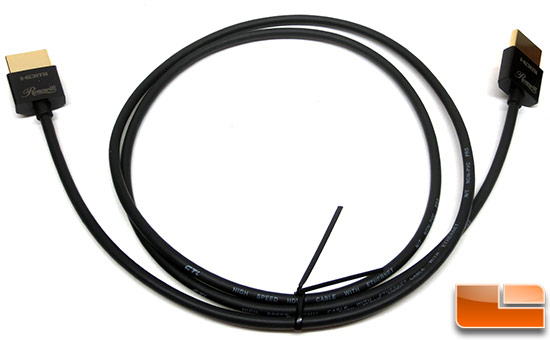 As you likely already know, HDMI (High-Definition Multimedia Interface) is a compact audio/video interface for transferring uncompressed video data and compressed/uncompressed digital audio data between supported devices. The HDMI cable has revolutionized the way we hook up items to monitors and displays. The HDMI interface standard was seen on products starting in 2003, so it has been around for a decade now. As of January 8, 2013, which is ten years after the release of the first HDMI specification, over 3 billion HDMI devices have shipped since the launch of the HDMI standard! Not too much has changed when it comes to cable thickness, so when when we saw how thin the Rosewill Ultra Slim HDMI cables we were in shock. The cable itself is just 3mm thick!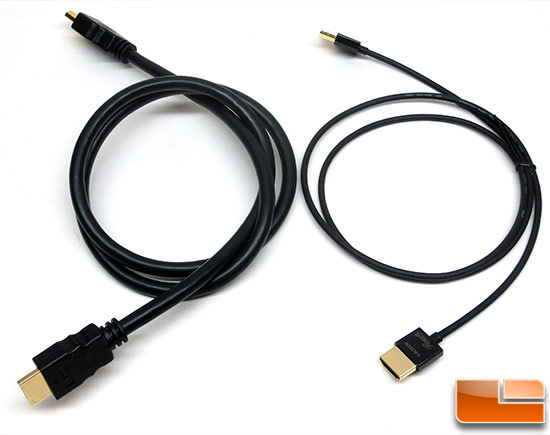 Here you see a pair of three foot long HDMI connectors. The one on the left is a generic three foot long HDMI 1.4 cable from a few years back and the one on the right is the Rosewill RCHD-12001. The cables that we have been using for years are roughly 7.5mm thick, so having a 3mm thick cable is amazing. Besides the cable thickness, the connectors are also smaller.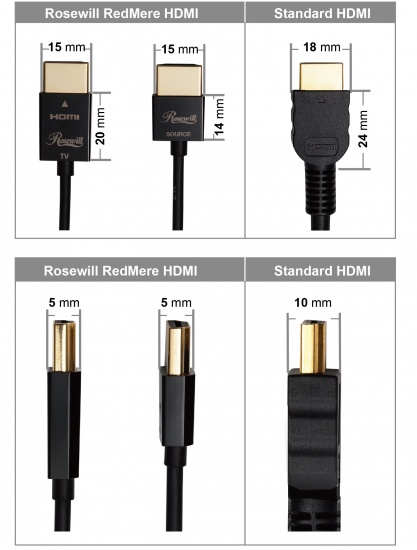 As you can see the HDMI connector housing is 3mm thinner and 4-10mm shorter depending on which end of the cable you are looking at. You you are routing HDMI cables through a TV stand or tubing, you know how nice it is to have a thinner solution! It also helps reduce the mass of wires (snakes nest) that you have going on behind the scenes!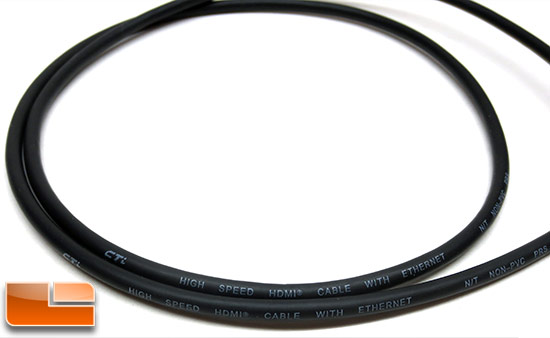 The Rosewill cables are 36 gauge and support 4K, 3D, Deep Color and have a dedicated built-in Ethernet data channel. This means you can take advantage of the latest technologies and not have to sacrifice features for the super thin form factor.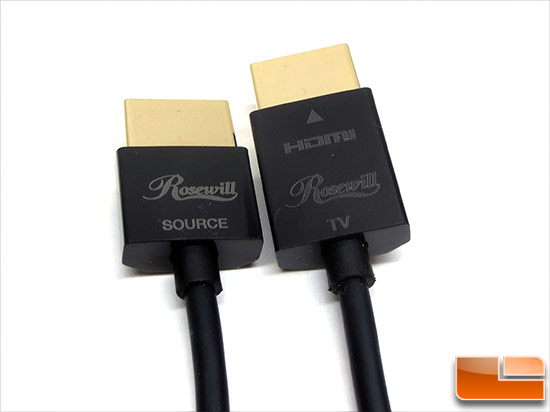 The six, ten and fifteen foot long cables feature labeled ends that show which one goes to the TV (Monitor) and the Source. There is also a small arrow on the cable that shows the direction the audio/video/data should be flowing.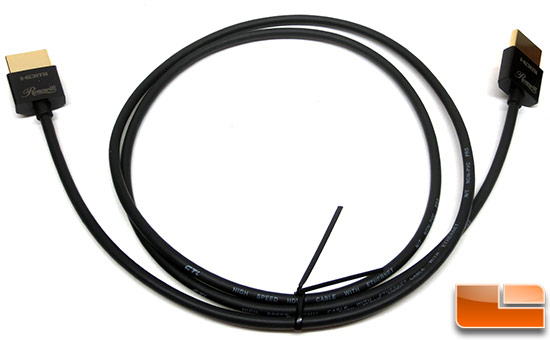 After using all the cables we noticed that the three foot long Rosewill Ultra-Slim cable had identical ends and they were not labeled. After trying out three foot cable we found that it does not feature RedMere technology. The end of the cable isn't large enough for the processor and we were able to 'flip' the cable and use it both directions, which is something we couldn't do on the other cables. The Rosewill website clearly shows that this cable has RedMere Technology though, so that is a mistake and we have told Rosewill about the error. We wanted to point it out the mistake to our readers as it is just a super thin cable with small HDMI connectors that is so short that it doesn't need the signal boost from RedMere technology to work properly.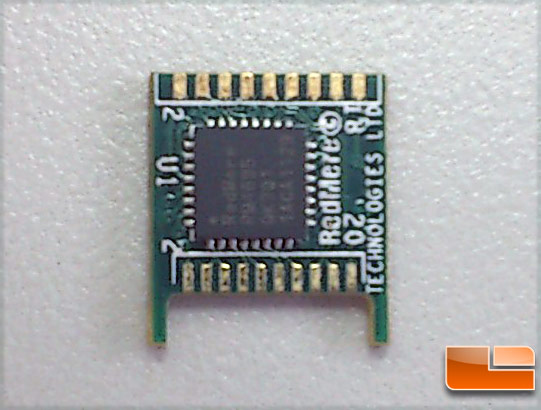 Rosewill provided the image above that shows the PCB along with the RedMere RM1695 mini booster module. The RedMere RM1695 mini booster module draws a small amount of power from the HDMI source (PC, Blu-ray player, cable box) and allows less copper to be used in the HDMI 1.4 cable. That is how these HDMI cables are able to be so thin and perform just like normal, besides the fact they are unidirectional.
Final Thoughts and Conclusions:
HDMI cables have been around for over ten years and are nothing new. We've used cables that cost hundreds of dollars and ones that were free after rebate and have never found a huge difference between cables. It's something that you just plugin and walk away from, which is how it should be. The Rosewill Ultra Slim HDMI Cables with RedMere Technology were exiting to us due to how thin they are. We were happy to get rid of our chunky HDMI cables and switch over to these cables on our systems and haven't looked back since.
Having directional cables means that you have to pay attention to how it is connected, but that just takes a couple seconds. We can't think of anyone that wouldn't benefit from having an overall smaller HDMI cable and found the Rosewill Ultra Thin HDMI cables w/ RedMere Technology to be a great product. Rosewill also puts a 1-year warranty on these HDMI cables, so if they should fail or have issues you are covered.
Legit Bottom Line: The Rosewull Ultra Slim HDMI Cables with RedMere technology work great and are super duper thin!