Transcend's Ultimate 64GB SDCX Card
If you are a camera enthusiast that is looking for a new memory card you should be looking for a Ultra-High Speed Class 1 (UHS-I) card to get the most from your camera. When you are shooting in 'burst' or 'continuous' mode your camera's internal buffer usually runs after a bit and you have to wait for the camera to catch up. Since you can't easily increase the buffer of the camera the only thing you can do is get a really fast memory card that allows the data to be written to the memory card from the buffer as fast as possible. The fastest memory cards today are UHS-I memory cards and on UHS-I supported devices, the cards should allow the camera to take more shots per burst and increase the frame rate (fps). UHS-I rated cards have speeds of up to 104 MB/s and when you see the logo on a product, you know it is one of the fastest SD cards available today. Today, Legit Reviews will be looking at the Transcend Ultimate 64GB SDXC UHS-I Memory Card that is available online for $62.66 shipped.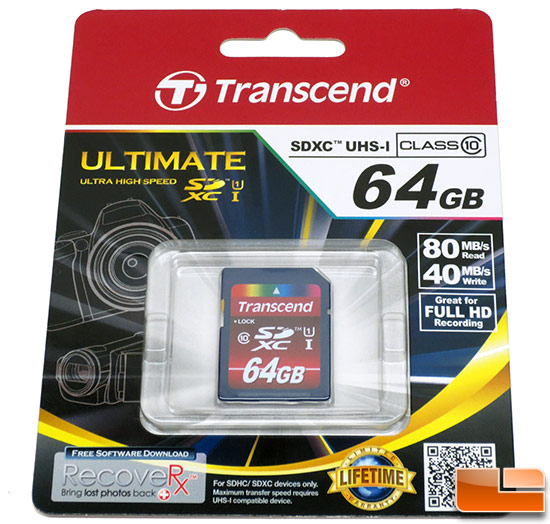 The Transcend 64GB SDXC Ultimate memory card comes in cardboard packaging that is easily opened without scissors. The packaging clearly shows the product name, speeds, what it is for and that is comes a free download of RecoveRx data recovery software. This SDXC card isn't the fastest on the market, but the 80MB/s read and 40MB/s write speeds put it in the top tier and only a few cards feature faster ratings.
According to Transcend, this 64GB SDXC card can store a full 16 hours of 1080p High-Definition footage (1920x1080 9Mbps H.264 AVC compression) or over 4000 RAW images (based on 14MB file size)!
Transcend 64GB SDXC Class 10 UHS-I Ultimate Features:
Supports Ultra High Speed Class 1 specification (U1)
Speed Class 10 compliant
Fully compatible with SD 3.01 standards
Supports exFAT file system
Easy to use, plug-and-play operation
Built-in Error Correcting Code (ECC) to detect and correct transfer errors
Supports Content Protection for Recordable Media (CPRM)
Supports auto-standby, power-off and sleep modes
Suitable for SDXC compatible devices
Mechanical write-protection switch
RoHS compliant
Free download of RecoveRx data recovery software
Limited Lifetime Warranty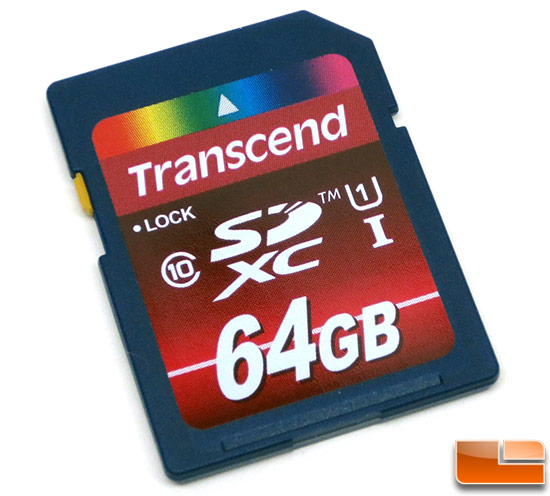 This memory card is called Secure Digital eXtended Capacity (SDXC) since it features a capacity over 32GB and below 2TB (2048GB). Any card that is under 32GB is considered a Secure Digital High Capacity (SDHC) card. The Transcend SDXC Ultimate line is only offered in capacities of up to 64GB, so this is as big as you can go. Transcend does offer a larger 128GB SDXC Class 10 card (TS128GSDXC10) for $109.99, but it is not UHS-I rated and is speed rated at up to just 22MB/s read. The Transcend 64GB SDXC Ultimate UHS-I card that we have today is rated at up to 80MB/s read!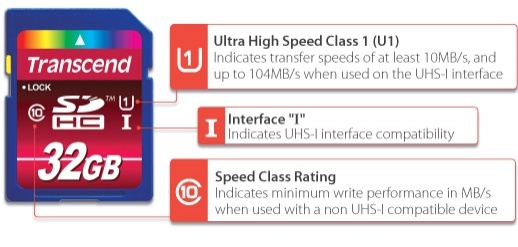 In case you are wondering what all the markings mean on the Transcend memory card here is a nice little break down that was provided by Transcend.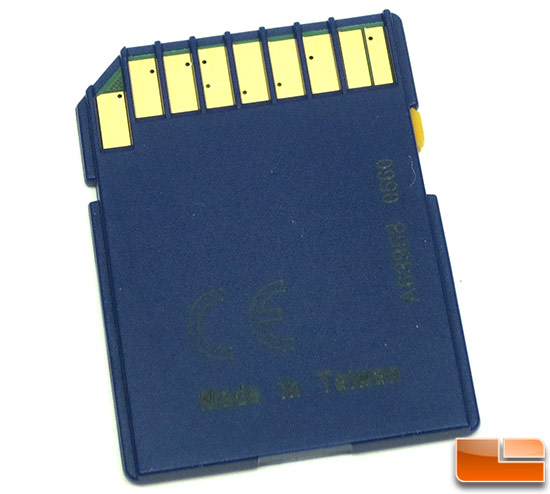 The back of the Transcend 64GB SDXC Ultimate card shows that it was made in Taiwan and has the usual CE marking that is required in teh European Economic Aera (EEA). With the CE marking on a product, the manufacturer declares that the product conforms with the essential requirements of the applicable EC directives. The gold pins on this SDXC cards in them have small holes in them, which are unlike anything we have seen before. Transcend says that this card is very durable and says that it can handle 10,000 insertion/removal cycles before the pins wear out. Transcend also puts a lifetime warranty on the memory card, so if it should ever malfunction or break you should be able to send it in for replacement.
USB 3.0 Speed Testing
Testing The SDXC UHS-I Card w/ USB 3.0
To try out the Transcend 64GB SDXC Ultimate memory card we will us using the SuperSpeed USB 3.0 interface on the ASUS Zenbook UX31A. We used Intel USB 3.0 driver version 1.0.5.235 for testing. This Intel Ultrabook comes with a built-in SD card reader, but it uses the USB 2.0 bus and doesn't give us the performance we are looking for.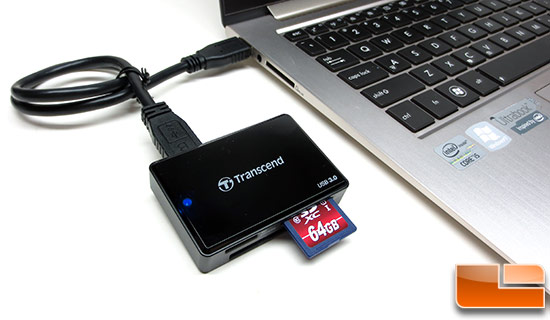 To get the best performance possible we used the Transcend RDF8 USB 3.0 card reader. This is an inexpensive multi-card reader that can be picked up for $15.99 with free shipping. We have a review on the Transcend RDF8 if you are interested in knowing more about that product.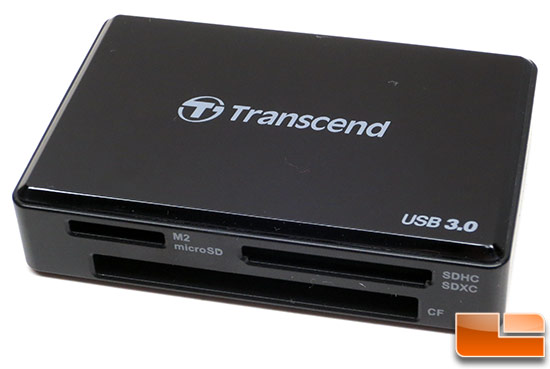 This memory card reader has been updated to the latest firmware (TS-25) and should easily be able to handle the speeds of the Transcend 64GB SDXC Ultimate memory card.
CrystalDiskMark 3.0.23 x64:
CrystalDiskMark is a small benchmark utility for drives and enables rapid measurement of sequential and random read/write speeds. Note that CDM only supports Native Command Queuing (NCQ) with a queue depth of 32 (as noted) for the last listed benchmark score.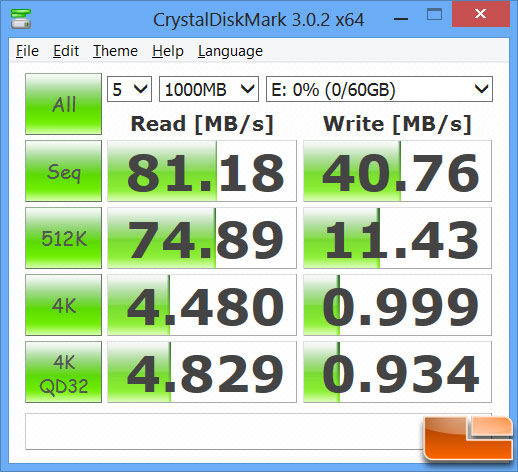 Benchmark Results: CrystalDiskMark showed that we hitting 81MB/s read and 41MB/s write on the sequential test! The Transcend 64GB SDXC Ultimate card is speed rated at 80MB/s read and 40MB/s write, so we are able to confirm those speed ratings with this benchmark.

ATTO v2.47:
ATTO is one of the oldest drive benchmarks still being used today and is still very relevant.. ATTO measures transfers across a specific volume length. It measures raw transfer rates for both reads and writes and places the data into graphs that can be very easily interpreted. The test was run with the default runs of 0.5kb through 8192kb transfer sizes with the total length being 256mb.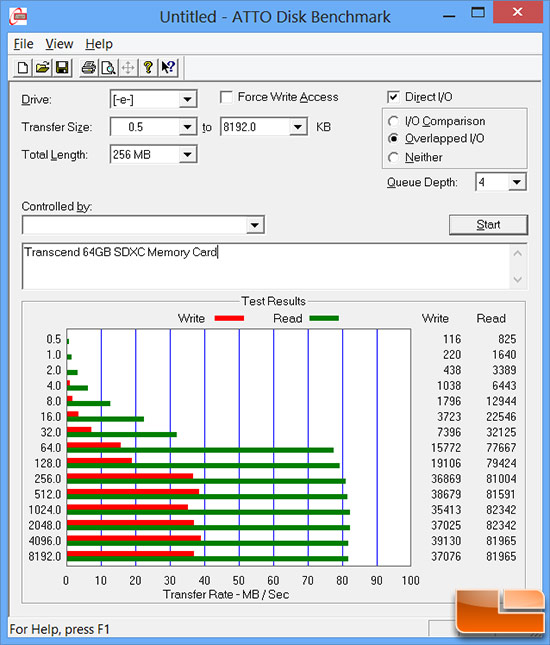 Benchmark Results: The Transcend 64GB SDXC card was able to reach 82MB/s read and 39MB/ write speeds in ATTO with the default benchmark settings.

Check Flash v1.16.2:
Check Flash is a multi-purpose flash drive testing and maintenance tool. This utility allows for error checking, speed tests, and much more.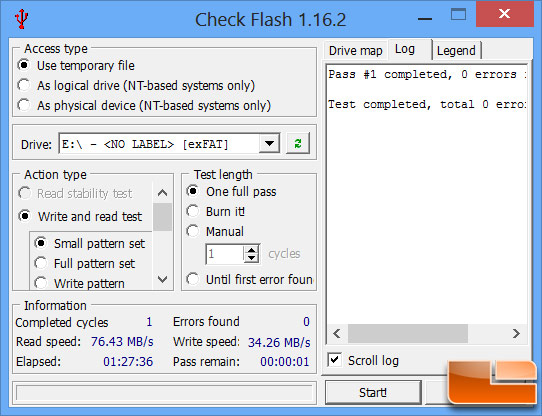 Benchmark Results: Check Flash took nearly 1.5 hours to check the card for errors, but didn't manage to find any after scanning the entire card. The highest read and write speeds observed by the utility were 76.43 MB/s read and 34.26 MB/s write.
Final Thoughts and Conclusions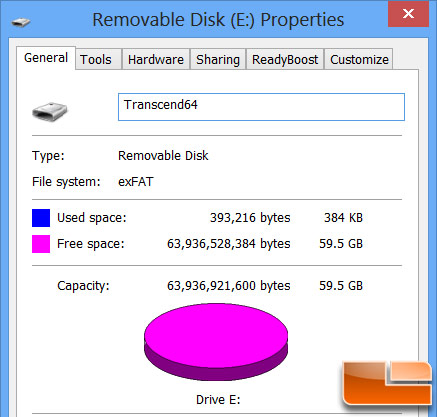 The total useable capacity of this 64GB card shows up at 59.5GB in Windows due to the conversion from physical GB to the virtual GiB. (1 GB=1,000,000,000 Bytes. Within a computer operating system, this number will be displayed as: 1,000,000,000Bytes/1024/1024/1024 = 0.93GB) You can see that the Transcend SDXC Ultimate memory card uses the exFAT file system.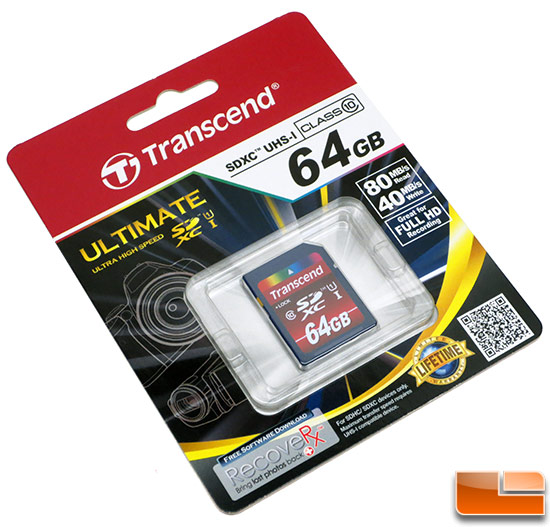 Final Thoughts and Conclusions:
If you are looking for are looking for a 64GB SDCX memory card you won't have any issues finding a card. Newegg alone currently sells 51 different 64GB SDXC cards and of those 30 are USH Speed Class 1 rated. The Transcend 64GB SDXC Ultimate card that we are looking at today isn't the fastest available, but it is up there when it comes to performance and the price is reasonable compared to some of the other cards available. The Transcend Ultimate 64GB SDXC UHS-I Memory Card that is available for $62.66 shipped on Amazon or $54.95 shipped from B&H. We can't find any other 64GB SDXC UHS-I card rated at 80MB/s read and 40MB/s write for under $55 shipped! It's tough to stand out when there are so many cards available in the market, but Transcend offers a pretty good bang for the buck and that is the key selling point about this card.
Our performance testing found that the rated read and write speeds were right where they were advertised to be. The write speed of 40MB/s is solid and means for faster shot-to-shot camera performance. Write performance is very important to photography professionals, especially those that do continuous burst mode shooting or do high dynamic range (HDR) imaging. We used this card on a number of fairly high-end cameras and found no pause or hesitation when taking high resolution pictures as the camera wasn't waiting on the memory card to finish writing!
At the end of the day the Transcend 64GB SDXC Ultimate memory card was found to be a good deal for the price and it is also backed by a lifetime warranty if anything should happen.
Legit Bottom Line: The Transcend 64GB SDXC Ultimate memory card is affordable, fast and ready for action photography, burst mode shooting and recording hours of HD video!