Cougar Spike - The $25 Micro-ATX Case!
When it comes to PC cases, I have pretty much seen it all over the past twenty years. Right now the desktop PC market is clearly in decline, but the one area that is doing rather well this very second is Small Form Factor (SFF) desktop PCs. People have finally realized that they don't have to use a full sized ATX motherboard to get the performance and features they want! This has fueled the boom of Micro-ATX and Mini-ITX chassis and today we'll be taking a look at an entry-level Micro-ATX case by Cougar called, Spike.
The average selling price on a PC case today in North America is right around $80, but today we are going well below that price point. The Cougar Spike micro-ATX chassis has an MSRP of $39.99, but it is available right now from Newegg for $24.99 shipped after a $5 rebate! That is a remarkable price considering the manufacturing costs, shipping from Asia, retailer markup and then shipping to your home. For $24.99 you might be wondering what you get and to be honest, it's not half bad!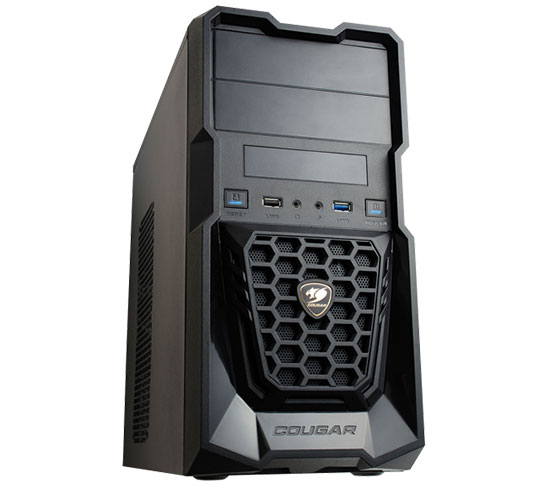 The Cougar Spike measures in at 180mm x 370mm x 425mm (LxHxD) and is clearly designed to be a mini-gaming tower. If you want something that will fit in tight places or easily be taken on the road to college or LAN parties this is certainly an easier to handle form factor! The Cougar Spike is blacked out on both the exterior and interior to go after the gaming enthusiast. The front grill has a nice large mesh area for fresh air intake and the Spike can handle up to a 200mm front fan, but sadly one is not included here. The Cougar Spike supports up to five cooling fans, but it only comes with a single 120mm fan mounted on the rear of the chassis. This was obviously done to keep the costs down, but this is expected for a sub $30 case. One of the interesting things to note is that Cougar did use a SuperSpeed USB 3.0 port on the front panel and while there is just one, it is better than having none!
Cougar Spike Micro-ATX Case Features:
Interior black painting.
SuperSpeed USB 3.0 port for maximum data transfer speed.
Support for longer high-end graphics card up to 330mm.
Screw-less mechanisms on 5.25" & HDD devices.
Support installing 2.5" HDD/SSD at bottom cover.
Support 4 fans for strong cooling performance
Front - 80/90/120mm Fan x1 (optional)
Left side - 120mm Fans x 2 (optional)
Rear: 80/120mm Fan x1 (120mm fan included)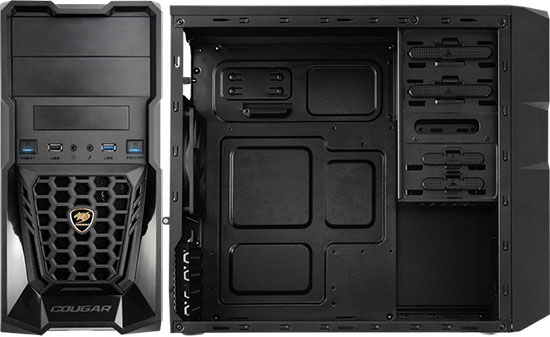 Other key features are the support of two 5.25" drive bays, three 3.5" drive slots (one external) and a place to mount the SSD at the bottom of the Spike. You won't find any removable drive cages, motherboard cutouts or special spots to route your wires with this case, but they did manage to go with a tool-less drive bay design and paint the interior black!
Cougar Spike Specifications:
Case Type

Mini Gaming Tower

Motherboard Type

Micro ATX

Dimension(mm)

180(W)x370(H)x425(D)

External 5.25" Drive Bays

2

External 3.5" Drive Bay

1

Internal 3.5" Drive Bays

2

Internal 2.5" Drive Bay

1 (at bottom cover)

I/O Panel

USB3.0 x1 & USB2.0 x1, Mic x1, Audio x1

Cooling System

Front 80/90/120mm Fan x1pcs (optional)
Rear 80/120mm Fan x1pcs (optional)
Left Side 120mm Fans x2pcs (optional)

COUGAR 120mm Fan (rear)

1 (pre-install)

Expansion Slots

4

Maximum Graphics Card Length

330mm

Power Supply

Standard ATX PS2 (optional)
Now that I covered the basics and you know a little bit about the Cougar Spike, let's take a closer look at the review sample that we were sent from China.
Cougar Spike Micro-ATX Case Unboxing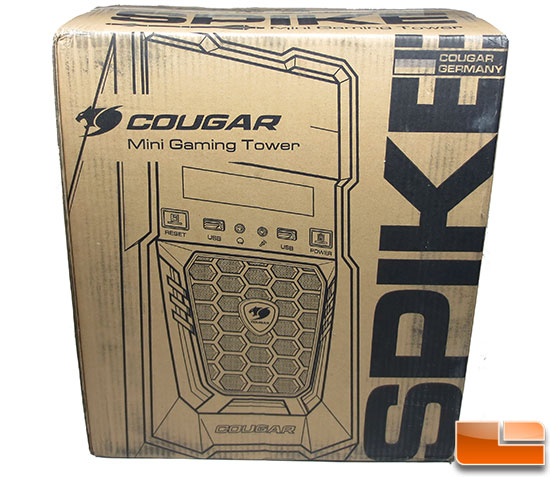 The Cougar Spike Mini Gaming Tower comes in a cardboard box that has just black printing on it. The box is pretty basic and was designed like this to keep costs down. The front of the retail packaging, clearly shows the brand, product name and a drawing of the actual product.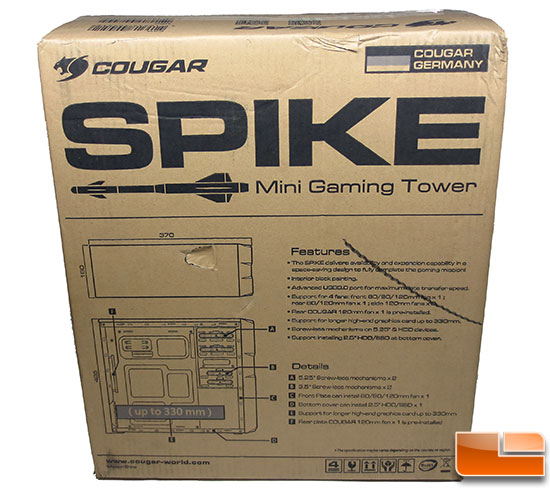 Spinning the box around we can see the features of the Spike are listed on the back along with an internal look at the case. It is nice to see Cougar listing that video cards up to 330mm (13 inches) in length will be able to fit inside this chassis.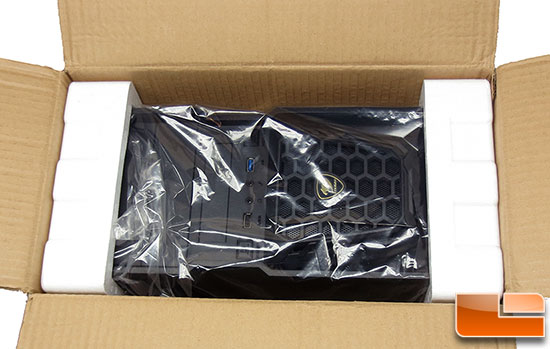 Opening up the retail box, we found that the Spike was wrapped in plastic to keep it from being scuffed with a pair of Styrofoam end caps to protect against larger drops and punctures that often happen during shipping. This is fairly standard packaging for PC cases and should do the trick unless your delivery driver likes to drop kick your packages all the way to your front door while acting like a David Beckham wannabie.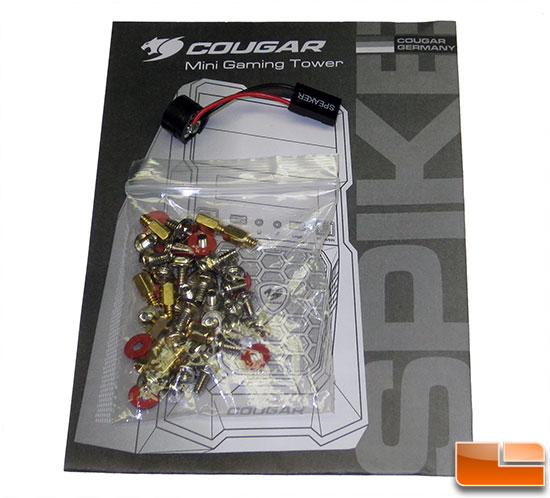 Inside the chassis you'll find an instruction manual on how to assemble the Cougar Spike Micro-ATX Mini-Gaming tower, a motherboard beep code speaker and a parts bag full of all the standoffs, spacers and screws that you will need to put all your hardware into this case.
Spike External Case Thoughts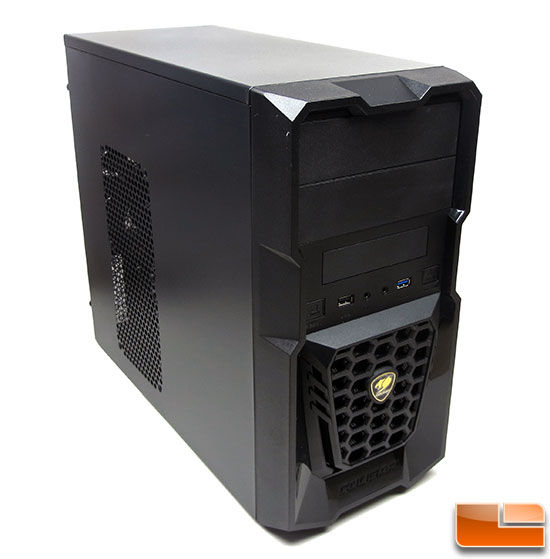 The Cougar Spike looks like what you'd expect a small gaming case could be. It's a metal box painted black both inside and out with a fairly aggressive looking front panel on it. The fit and finish it great for a $25 case and Cougar did a great job getting the color on the metal chassis and plastic front bezel to be very similar.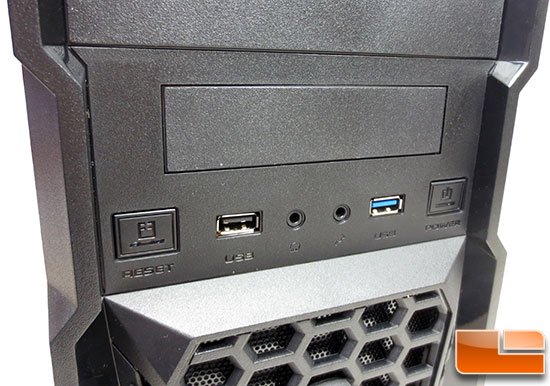 On the front of the Spike you have two 5.25" external drive bays and a single 3.5" external drive bay. Not too many people use floppy drives these days, but a 3.5" bay is nice to have for media card readers! The front panel has your power and reset buttons, a High-Speed USB 2.0 port, a SuperSpeed USB 3.0 port and headphone audio out along with a microphone input. This is pretty much all an average gamer would need, so Cougar did a good job of covering the basics for a case that is being launched in 2013.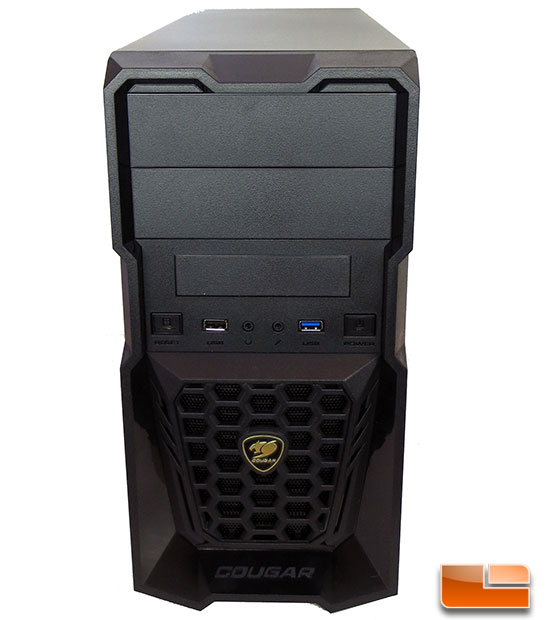 At the very bottom of the front panel there is a honeycomb pattern covering the a mesh panel for the fresh air intake. The Cougar badge and branding on the bottom lip of the case are subtle, which is nice as many companies go overboard with their branding.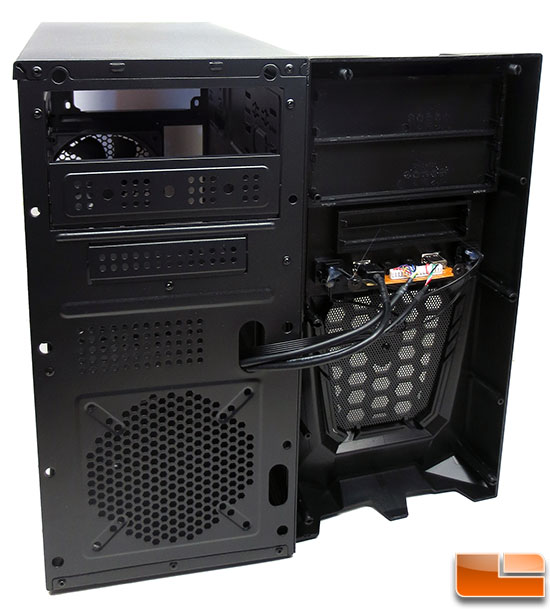 The plastic front bezel is held on by six plastic clips, so you just need to slowly pull it off to remove it. The power and reset buttons are hot glued into place and the circuit board for the audio and USB 2.0 port is basic, but gets the job done. One of the other reasons that the front panel was removed was to show you that the optional front fan can support an 80, 90 or 120mm case fan if you wanted to put one there. The metal mesh on the front bezel is held on by a screw, so it can be removed to be blown or rinsed off.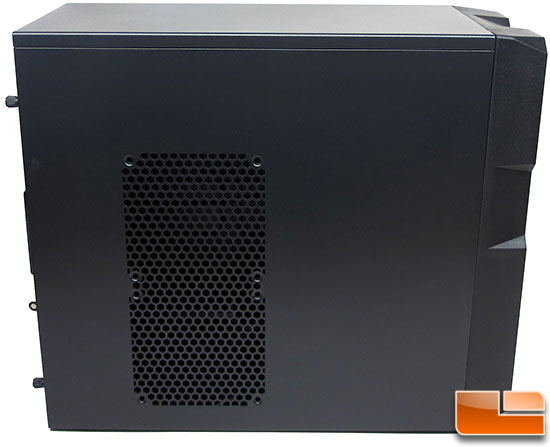 The left side of the Cougar Spike Micro-ATX chassis doesn't feature a window, but it does have spots for two optional 120mm case fans for improved airflow.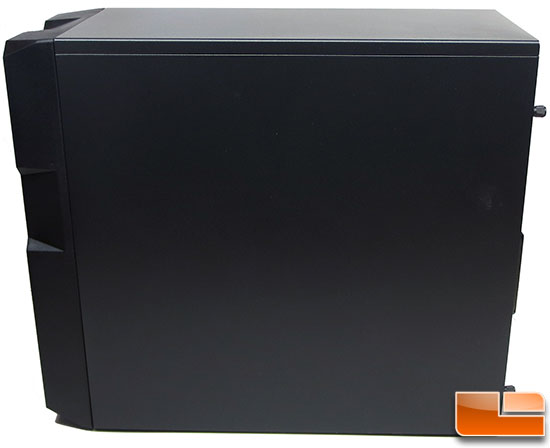 The right side panel is solid with no ventilation holes or features to talk about. Cougar doesn't mention the thickness of the SECC steel used on this case, but after asking them it turns out to be 0.5mm thick.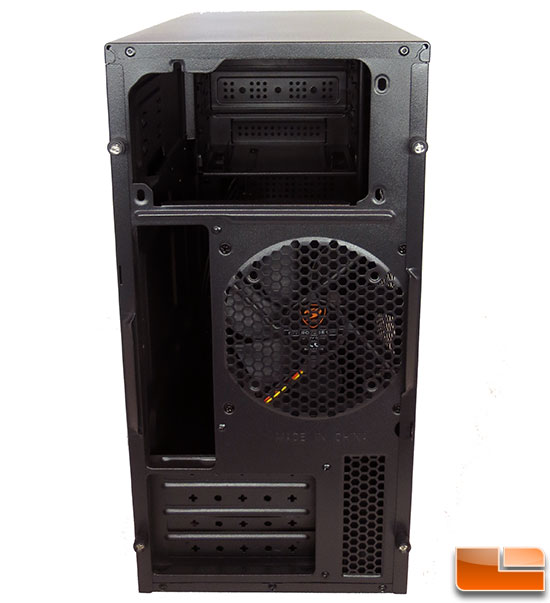 The back of the Cougar Spike is what you'd expect and we are happy to see the back of the case was painted black and that black fan screws were used. We've seen some companies not paint the back of the case and use silver fan screws to save on production costs, so it is nice to see the entire case is blacked out! As you can see the power supply mounts on top, which was very common a decade ago, but not often seen today.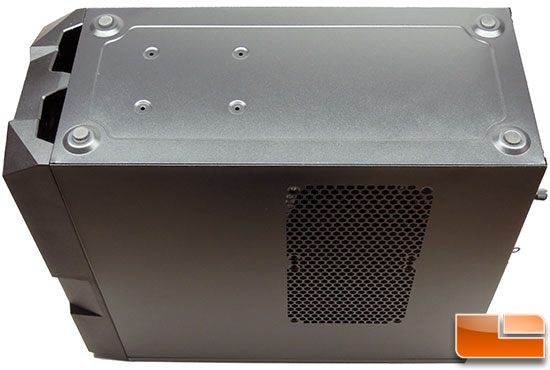 On the bottom of the Cougar Spike you'll find four rubber pads that are held on with adhesive. These rubber feet aren't screwed down, so as time passes and the glue dries out they will likely fall off and need to be replaced. In this image you can also see where the 2.5" internal hard drive or solid-state drive (SSD) mounts on the bottom of the case. You would actually screw the storage drive down from the bottom of the case, which is a little different. One last thing to point out is the two large gaps in the bottom of the front panel. Air can come in there and through the front fan location, which really negates the front mesh from actually helping keep out any real dust. It would be nice to see some fan filters since this is a gaming case, but for $24.99 shipped you don't get them.
Spike Internal Case Thoughts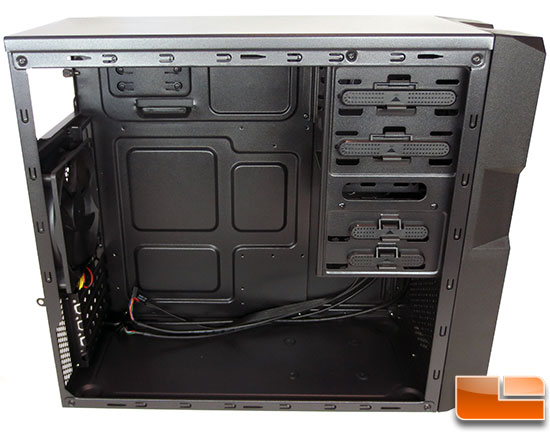 You'd think that the insides of the Cougar Spike would be small since it's a micro-ATX chassis, but there is quite a bit of room inside this chassis! Cougar says that you can install video cards up to 330mm long (13-inches) in this case with ease and we were able to confirm that was possible. The black finish inside the Cougar Spike was very nice and there were no unpainted spots that could be seen.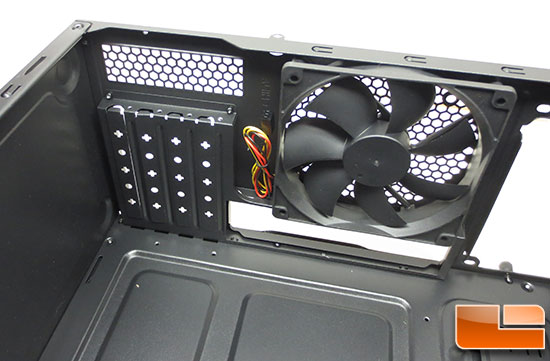 The PCI slots have blanks in them that can be broken off and accessed. It should be noted that these are not replaceable, which is a bummer if you like to change out hardware often. This was done as a cost cutting measure, but it makes sense on such an inexpensive chassis.
Cougar includes just one fan on the Spike and it is the rear 120mm 3-pin case fan shown above. This fan is made by Cougar and has part number QH12025SE12M on the fan motor housing. It looks like an inexpensive 120mm x 25mm sleeve fan and it is clearly not one of the higher-end Cougar fan models that they carry individually.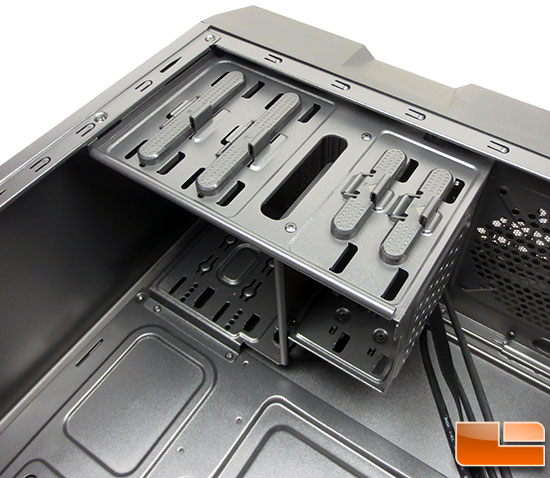 All of the internal and external 5.25" and 3.5" drive bays feature tool-free mounting systems, which makes installing and removing hardware a breeze. The 3.5" drive bays come close to where the motherboard will be installed, so if you are using any hardware that sticks out far it might interfere with tall memory modules.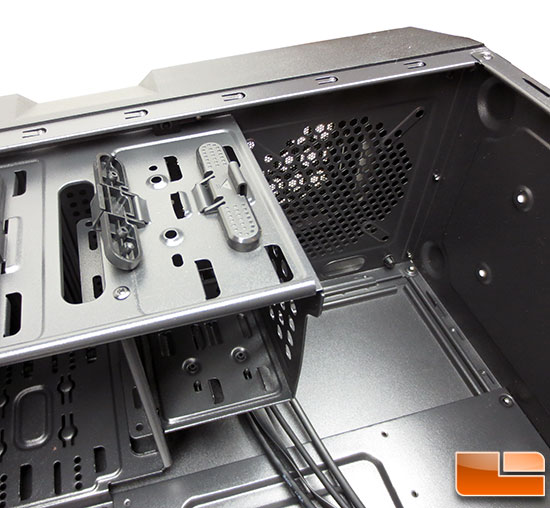 Here is a closer look at the tool-free design as one of the levers on the 3.5" drive bays was moved to the open position.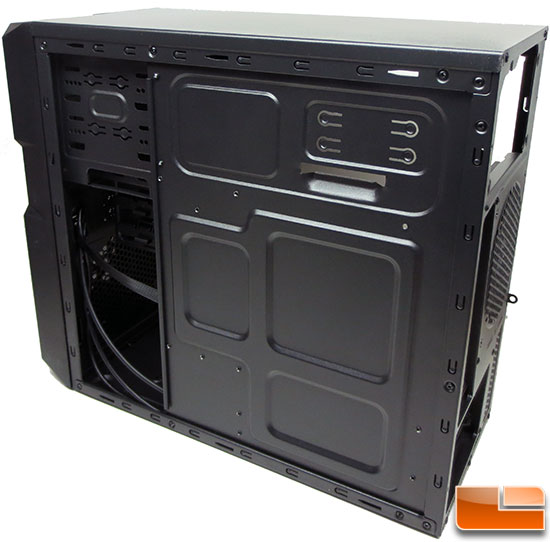 The Cougar Spike has no extra spacing at all behind the motherboard tray, so you'll be unable to hide any power supply cables on this chassis. If the Cougar Spike had one weak point it would have to be cable management as there just is none on this case. It also doesn't feature any cutouts in the motherboard tray, so you don't have access to the back of the motherboard to change out CPU coolers, route power supply cables or anything like that. Then again even it it had cutouts, there is no room to run anything!
Let's take a look at how building a system in this chassis goes!
System Build Images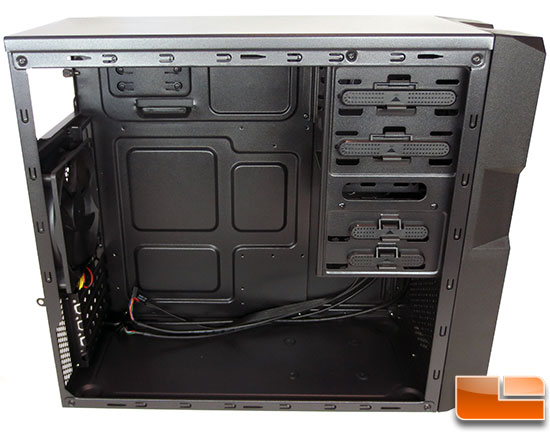 The Cougar Spike looks pretty big empty, but let's see what happens when we put some hardware inside this micro-ATX gaming chassis!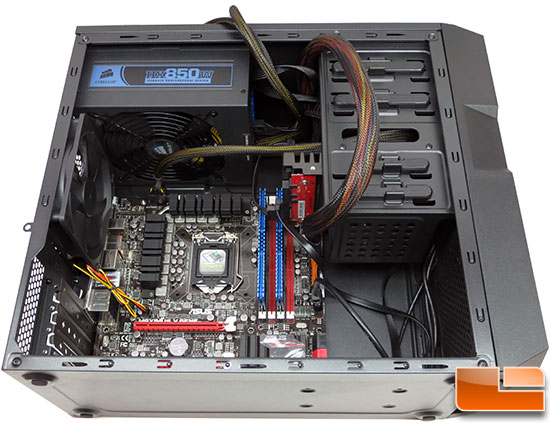 The Corsair HX850W semi-modular power supply easily fit in as did the ASUS Maximus Gene V micro-ATX motherboard. Next we installed a Western Digital VelociRaptor 1TB hard drive, but ran into a small issue when installing the Kingston HyperX Predator 16GB 1866MHz memory kit.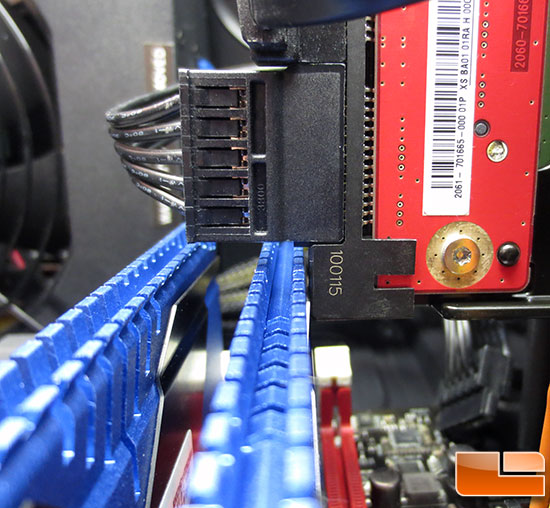 The 3.5" hard drive hangs out over the motherboard and is actually over one of the memory slots! The other set of slots aren't blocked at all, but when we plugged in the SATA power cable things were very snug. The Kingston HyperX Predator heat spreaders are 53.9mm tall, so anything taller than that is going to give you serious issues. If you had some low profile memory like the Crucial Ballistix Sport VLP that is just 18.75mm tall, none of this would be an issue and you can use all the memory slots without concern!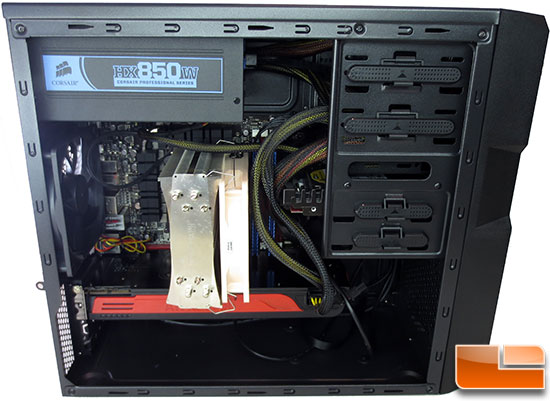 Wth the memory situation figured out we installed a Thermalright Ultra 120 CPU cooler and an AMD Radeon HD 5870 video card. This video card is 11.1-inches in length and while it isn't the newest card around, it is pretty long! Routing the 24-pin ATX power cable and PCIe power cabled to the video card was a bit iffy as they had to go in front of the CPU coolers fan. Then, we tried to put the door on the case!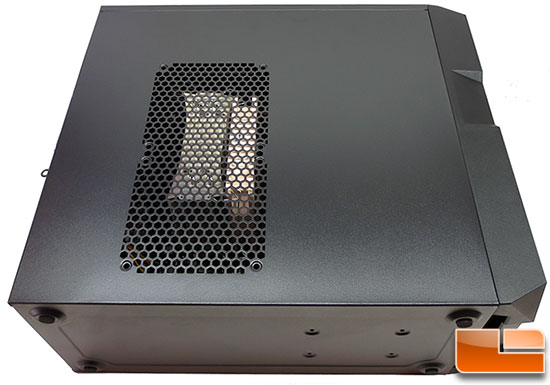 The door fit on just fine, but there was less than 1mm of space between the door and the CPU cooler, so be sure to watch how tall your CPU cooler is! The CPU cooler that we are using is 160.5mm in height, so anything over that height likely won't work unless you want to run your gaming PC with the door off!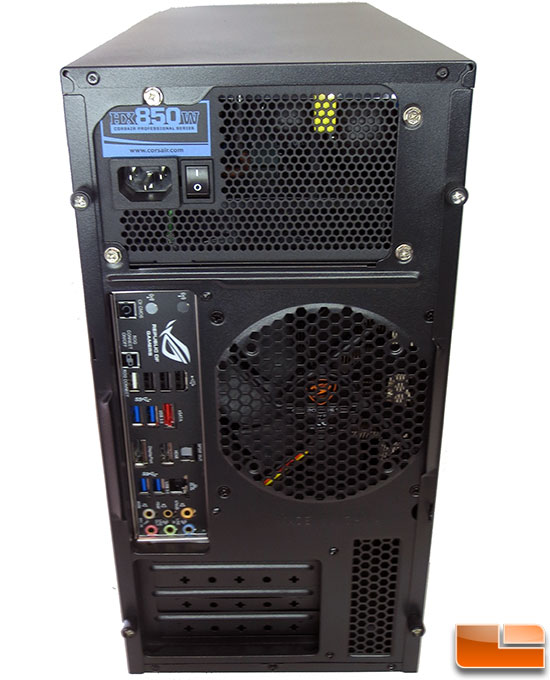 At the end of the day our build in the Cougar Spike came out okay, but it was a bit tricky getting everything to fit properly. If you have tall memory modules and a monster HSF you might have some issues, but for the most part you'll have that with any small form factor gaming case.
Final Thoughts and Conclusions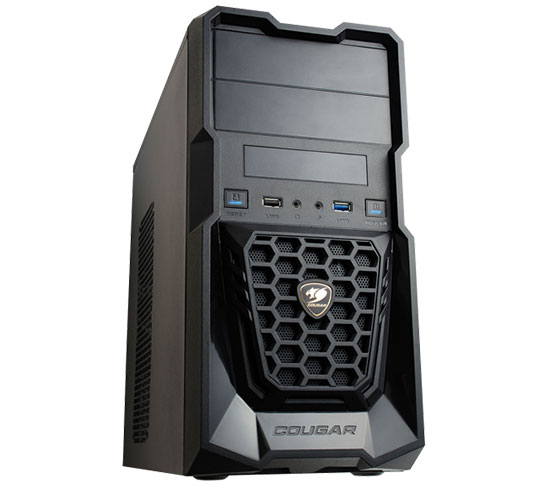 At the end of the day the Cougar Spike micro-ATX gaming case is a great value for $24.99 shipped after a $5 mail-in rebate at Newegg. If Cougar can produce and sell the Spike for so little it makes you wonder what kind of markup is on the other gaming cases out there. The Cougar Spike has is all blacked out, has a USB 3.0 front panel port and room for four case fans. There really isn't much not to like about this case and unless you have a ton of hard drives or solid-state drives, the Spike should do the trick!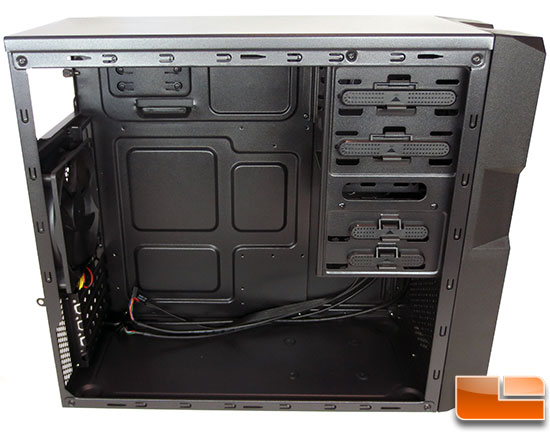 The only downside to a mini-gaming chassis like the Cougar Spike is that it is mini. The Cougar Spike measures in at 16.73" x 7.09" x 14.57" and that sounds fairly big, but we barely got all of our gaming hardware inside with the door close. If you decide to purchase this case be sure that the heights of your memory heat spreader and CPU cooler won't be an issue! This is one of those cases where low profile DDR3 memory and CPU cooler are nice things to have!
The Cougar Spike has all the key necessities that you must have in 2013 and is even backed by a one year warranty! If you are on a tight budget and are looking for a gaming case the Spike is going to be very hard to beat for $24.99 shipped. Due to the amazingly low price of $25 after rebate and the fact that this case is good enough for the vast majority of gamers, it easily wins the value award!
Legit Bottom Line: The Cougar Spike is priced unbelievably low and makes for a great entry-level gaming case!